Last Updated on
It's difficult to suggest specific road trips in New Mexico based on particular routes – seeing the Land of Enchantment simply presents too many possibilities. Of course, the state is full of famous scenic routes like the High Road to Taos and the Enchanted Circle Scenic Byway, but sometimes you must blaze your own path. Why not create your very own New Mexico road trip itinerary right now!
Road Trips in New Mexico Begin Here
Consider each of the following sights in this article, pick the ones which suit you, grab a good road map and cobble together your own road trips in New Mexico. For even more ideas check out my article featuring 4 southwest road trips here in New Mexico, Utah, Nevada and Colorado.
Great road trips in New Mexico include a mix of historical sites, natural wonders, quirky attractions, majestic scenery and plenty of red and green chile. So chart your next course right now – whether you're after a New Mexico weekend getaway or the ultimate southwest road trip, this article is full of ideas to keep you rolling.
---
Ice Cave and Bandera Volcano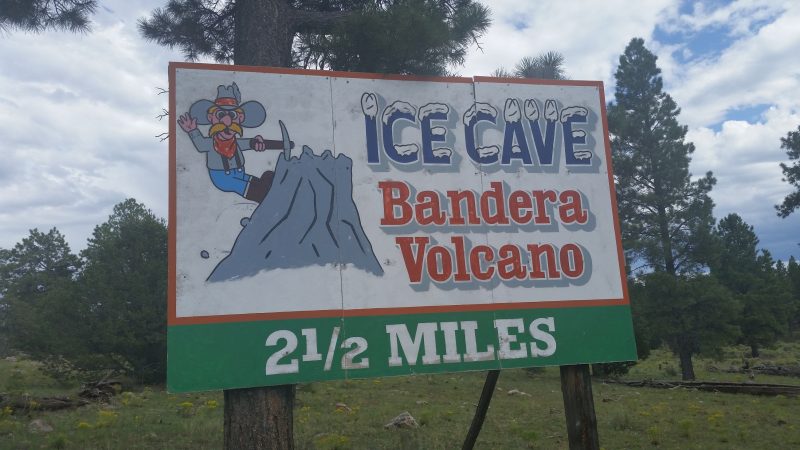 Where: 25 mi. south of Grants on NM 53.
Phone: (505) 783-4303
Website: www.icecaves.com
Get fired up and chill out at the premier ice cave in New Mexico. Bandera Volcano was active about 10,000 years ago; a collapsed lava tube, or cave, formed as a result of that past eruption. Today, that cave remains cool enough to form and maintain ice all year from rain and snow melt seeping in.
An easy trail leads to the rim of the volcano and steps lead visitors to a viewing platform overlooking the cave. Enjoy several additional trails, check out the museum and gift shop and enjoy the picnic grounds after taking in this rather cool sight. Combine Bandera with La Ventana Arch (below).
---
Sandia Crest
Where: Sandia Crest is located at the end of NM 536, also known as the Sandia Crest Scenic Highway.
Road trips in New Mexico bring you through Albuquerque sooner or later – when they do, include a scenic drive up to Sandia Crest. The scenery at the top continues for hundreds of miles in every direction and there's even a visitor center and restaurant up here to seal the deal!
Take a break from your New Mexico road trip and spend time in Albuquerque – you'll find plenty of free things to do and great places to eat. Stretch your legs and check out my list of unique hikes near Albuquerque before hitting the road again for more adventures.
---
Route 66, Tucumcari
Any Route 66 road trip in New Mexico must include Tucumcari – this town proudly features many vintage motels, restaurants and gift shops celebrating The Mother Road. Tucumcari is also home to the New Mexico Route 66 Museum, home of the world's largest Route 66 photo exhibit.
I recommend driving the strip at dusk to see the glowing neon signs before stopping at Del's for classic dishes, local specialties and cocktails. For many, Route 66 simply tops the list for New Mexico road trip attractions and the allure this bit of Americana holds will likely never fade away.
---
Four Corners Monument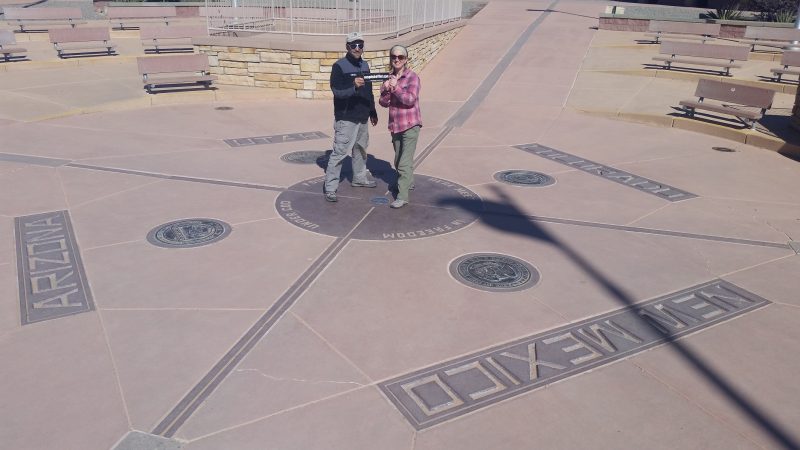 Where:  4 Corners Road, off US 160 in the northwest corner of New Mexico. Curiously, New Mexico is the only state in which to access Four Corners Monument!
Website: www,navajonationparks.net
Multitask on your New Mexico road trip by putting yourself in 4 states at once! The borders of Arizona, Utah, Colorado and New Mexico meet here at one point, making this an essential stop on any southwest road trip. Traditional Navajo foods await road trippers here, so arrive hungry.
Four Corners Monument seldom gets busy although someone will be around to take the obligatory photo of you in all 4 states at once. Interestingly, you cannot access Four Corners without leaving New Mexico first, then re-entering the state from either Arizona or Colorado.
---
Very Large Array (VLA)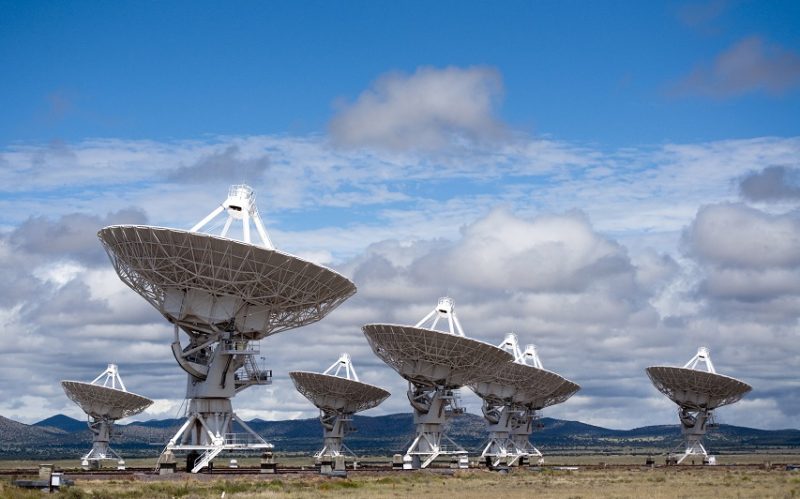 Where: 50 mi. west of Socorro, beyond the village of Magdalena on US 60, then left on NM 52; follow signs to VLA.
Website: www.vla.nrao.edu
This very odd-sounding site is very much out of this world. Here, 27 giant mobile radio telescopes allow astronomers to investigate many different celestial objects. These telescopes move on railroad tracks to prescribed positions for optimal pulsar and quasar observation!
Enjoy a self-guided tour of VLA and witness these super-seers in action or take a guided tour on the 1st and 3rd Saturday of each month at 11 am, 1 and 3 pm and learn all about supernovas and gamma-ray bursts. The telescopes, a museum and gift shop make this a road trip stop to…focus on.
---
Cuba
Where: US 550, roughly between Bloomfield and Bernalillo.
Our road trips in New Mexico always pass through Cuba, as US 550 is a major thoroughfare in the state. Cuba is a great place to stop for a bite or for the night; several vintage hotels and diners still exist here. Check out my article on where to find dinosaur bones near Cuba at White Ridge Trails.
For a scenic drive take NM 4 from the village of San Ysidro into the Jemez Mountains, where several hot springs await along with several other interesting nearby sites. Fans of the series Breaking Bad should stop at the now-closed Big Chief Gas Station on US 550, about 40 mi. south of Cuba.
Bonus Tip: US 550 is more scenic heading north. Also, from Cuba take NM 126 up into the mountains of Jemez National Recreation Area. This route becomes unpaved but easily passable; the countryside along the way makes this back road drive worth your effort.
---
Rio Puerco Bridge
Where: North side of Interstate 40, Exit 140. Rio Puerco Bridge is approximately 15 mi. west of Albuquerque.
Website: www.nps.gov/travel/route66/rio_puerco
Take a walk across the Rio Puerco Bridge and step back in time for a bit. This retired bridge was once part of Route 66, which is still visible between the two highways built to replace it.The Mother Road carries on for a few hundred feet either side of the bridge before sadly fading into the sands.
The Rio Puerco Bridge isn't one of the most well-known New Mexico Route 66 attractions, however this site is definitely worth a stop. If you get hungry during your road trip check out Laguna Burger next to the bridge and sample one of the best green chile cheeseburgers in the entire state!
---
Billy the Kid Museum & Grave
Where:  1435 Sumner Ave. Fort Sumner, NM.
Website: www.billythekidmuseumfortsumner.com
The Billy the Kid Museum in Fort Sumner is a New Mexico road trip classic! See Billy the Kid's rifle along with a few relics from the home Billy was shot and killed in. The Billy the Kid museum also showcases regional history, old tools, household goods and even several vintage automobiles.
The grave of Billy the Kid is in a small, nondescript walled "cemetery" off a very peaceful county road. You won't miss the protective steel cage housing his tombstone. The grave of Billy the Kid is an easy 5 mi. drive from his museum; ask for directions at the admission desk.
---
Chef Bernie's in Farmington
Where: 910 W. Main St. Farmington, NM.
Website: Visit Chef Bernie's on Facebook
Road Trips in New Mexico make you hungry and Chef Bernie awaits. After visiting Four Corners Monument (above) head east to Farmington for some tasty and filling food at Chef Bernie's. Breakfasts and lunches here set you back 5 or 6 bucks with change to spare for the table-side jukeboxes.
This is a no-frills diner serving basic food to hungry locals who order anything and everything smothered in green chile – follow their lead. Get here for Chef Bernie's famous cafeteria-style meals, or just eat in the diner and grab a booth or a seat at the counter. Don't forget those jukeboxes!
---
Mogollon, New Mexico Ghost Town
Where: NM 159, off US 180 in Gila National Forest.
This historic New Mexico ghost town oddly features a restaurant open (occasionally) at weekends. The remote, paved road to Mogollon Ghost Town offers an exciting and very scenic drive and you may even have this abandoned metropolis to yourself during the week.
Explore some rusted mining equipment and a seasonal museum open at weekends, or just enjoy this beautifully situated ghost town up in the hills of the Gila National Forest. The mining heyday of Mogollon, New Mexico is gone but this historic site makes for a great modern-day road trip.
---
Hot Springs in Truth or Consequences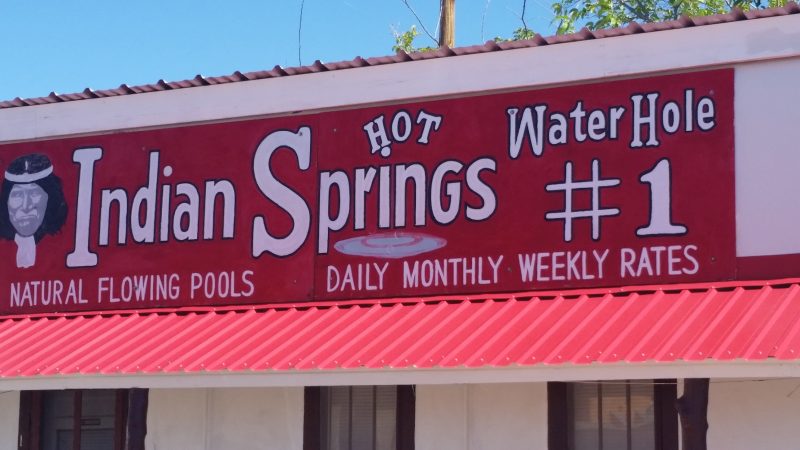 Truth or Consequences (T or C) is a very popular New Mexico weekend getaway and a great stop on any road trip. Need to spend the night? We suggest Blackstone Hotsprings for a thoughtful assortment of themed rooms, each featuring tubs with geothermally heated water.
The town of T or C has a few art galleries, good restaurants and an interesting historical museum making this a worthwhile stop. For an hourly soak without an overnight stay try Indian Springs. Enjoying the hot springs in Truth or Consequences is a great way break up your New Mexico road trip!
---
White Sands National Monument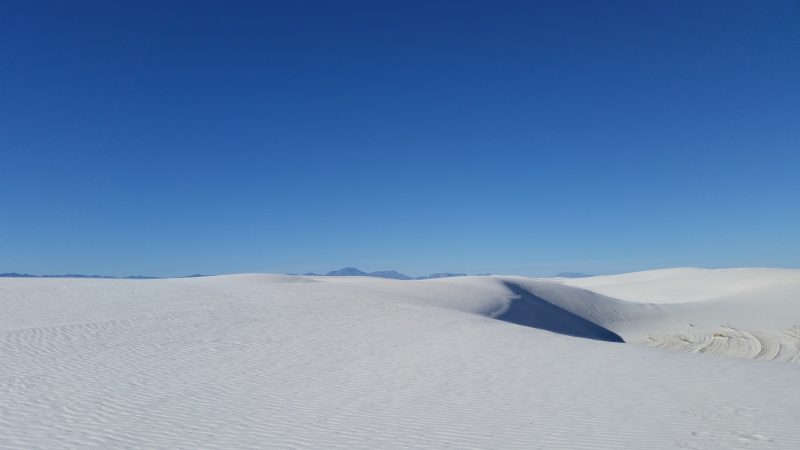 Where:  16 mi. south of Alamogordo, NM on US 70.
Website: www.nps.gov/whsa
Visiting White Sands National Monument on a New Mexico road trip is an absolute must! Have fun pretending you're in a winter wonderland, hiking up and down blinding white sand dunes and sledding down powdery hills – purchase one at the gift shop or bring your own.
I strongly recommend the FREE daily Sunset Stroll with a park ranger who takes visitors on a guided walk. The tour focuses on the unique ecosystem here and  just how all this white sand got here to begin with. Tours begin 1 hour prior to sunset; visit the NPS site for more information.
---
Blackwater Draw National Landmark and Museum
Where:
Blackwater Draw National Landmark is on NM 467, 7 mi. north of Portales, NM.
Blackwater Draw Museum is located at

1500 S. Ave K, 

Lea Hall, Rm. 163, 

Portales, NM.
Website: www.bwdarchaeology.com
This stream channel between Portales and Clovis is home to a major archaeological site discovered in 1929. At this site, previously unknown stone spear points and an entire 13,500 year-old Paleo-Indian culture associated with those points were discovered and internationally recognized.
Today, those stone weapons and that culture are both known as Clovis and take that name from a town just up the road from Portales. Pick up some heavy mammoth bones at the museum, then head to the dig site to see more bones and stone tools insitu waiting to be studied and recorded.
---
Capulin Volcano National Monument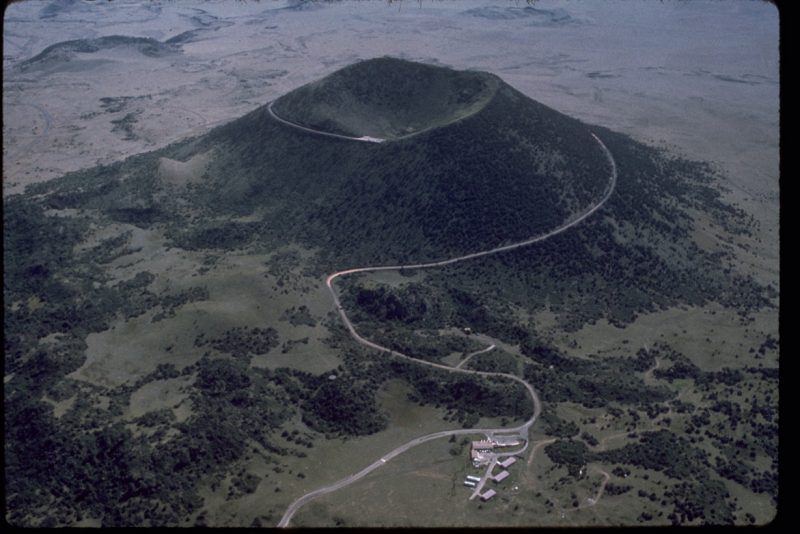 Where: Between Raton and Clayton on US 87. The entrance to Capulin Volcano Visitor Center and the road to the crater is off NM 325.
Website: www.nps/cavo
Looking for unique New Mexico road trip ideas? Don't overlook  the 2 mi. drive to the observation deck at the rim of this extinct volcano, or stretch your legs on one of several hikes to the top. Peer into the crater and enjoy fine views into Colorado, Texas, Oklahoma and even Kansas on a clear day.
The bushes at the crater rim get swarmed with thousands of mating ladybugs from mid June through early August – a biological phenomena known as hilltopping. This enchanted area also boasts some of the darkest night skies in the entire country for stargazing!
Note: At the time of writing (late August 2019) Capulin Volcano Road was closed due to washouts from heavy rain – check the official website for current local advisories before making your road trip.
---
Hatch
Where: Hatch is located off Interstate 25, approximately 40 mi. north of Las Cruces.
The name of the game in Hatch is red and green chile – this town is ground-zero for the crop that makes New Mexico famous. Try a green chile cheeseburger at Sparky's and see why this pepper is an addictive addition to any aliment. Red and green chile is all about flavor rather than heat.
Will your New Mexico road trip itinerary bring you here for the Hatch Chile Festival during the Labor Day weekend? If so, celebrate this humble crop and enjoy the fun (and the smell of roasting chile) that fills the air! The Hatch Chile Festival certainly makes for a classic New Mexico road trip.
---
International UFO Museum and Research Center
Video by acoupleofdrifters.com
Where: 114 N Main St, Roswell, NM.
Website: www.rosewllufomuseum.com
Every New Mexico road trip itinerary should include a visit to the UFO Museum. In 1947 an alleged UFO crash 100 mi. northwest of Roswell sparked national intrigue. The scandal surrounding that alleged crash happened here in Roswell, and earthlings have been fascinated by UFOs ever since.
Spend time here learning more about that crash and the world-wide phenomena of aliens, strange abductions and UFO sightings. The displays here are worth the stop and the gift shop alone will definitely keep you entertained. The city of Roswell also has a free zoo worth a look during your visit.
---
La Ventana Natural Arch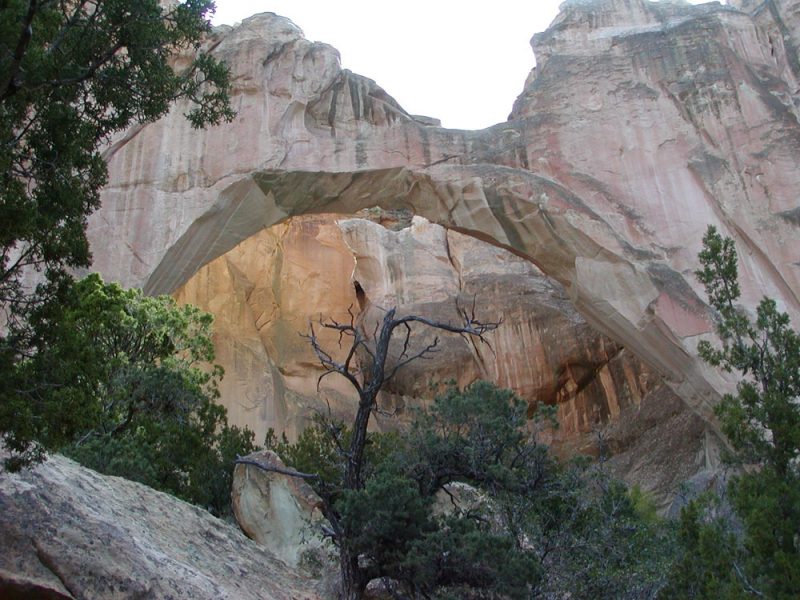 Where: El Malpais National Monument, on NM 117 (Interstate 40, Exit 89).
Website: www.blm.gov
While El Malpais National Monument is a vast area with rough roads, La Ventana Arch is quite easy to visit. An easy path from the parking lot leads to an observation area immediately below the arch. Take plenty of photos here – this is the closest you'll get to La Ventana Arch.
Just up the road from La Ventana is the scenic Sandstone Bluff Overlook. This spot is also easy to access from NM 117 and you'll likely have this scenic location to yourself. Combine a visit to La Ventana Arch and Sandstone Bluff Overlook with Bandera Volcano (above) on your New Mexico road trip.
---
In Conclusion…
From classic Route 66 road trips to New Mexico weekend getaways, there's something for everyone in the land of Enchantment! Again, I encourage you to simply grab a map and head off in any direction to find your next adventure.
If you really have time on your side I strongly recommend seeking out more New Mexico Route 66 attractions aside from Tucumcari and the Rio Puerco Bridge. You'll find plenty to explore in New Mexico on just about any road you wander down!
---
Pin Me Now!