Last Updated on
It's difficult to suggest road trips in New Mexico solely based on prescribed routes – seeing the Land of Enchantment simply presents too many possibilities. Of course, this state is full of road trips on specific routes but sometimes you must blaze your own path. Consider each suggestion in this article, pick which destinations suit you, grab a good road map and cobble together your own New Mexico road trips instead.
Road Trips in New Mexico Begin Here
The very best New Mexico road trips will include a mix of historical sites, natural wonders, quirky attractions, majestic scenery and plenty of red and green chile. So chart your next course right now – whether you're after a New Mexico weekend getaway or the ultimate southwest road trip, this article is full of ideas to keep you rolling for many miles.
---
Natural New Mexico Road Trip Attractions
The beauty of this state is certainly no secret; discover an impressive variety of natural wonders during your road trip through New Mexico.
---
Ice Cave and Bandera Volcano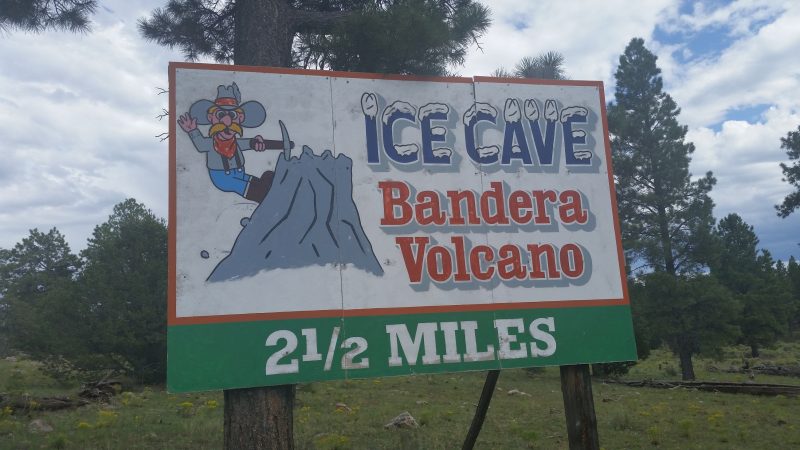 Where: 25 miles south of Grants on NM 53.
Phone: (505) 783-4303
Website: www.icecaves.com
Get fired up and chill out at the premier ice cave in New Mexico. Bandera Volcano was active about 10,000 years ago; a collapsed lava tube, or cave, formed as a result of that past eruption. Today, that cave remains cool enough to form and maintain ice all year from rain and snow melt seeping in.
An easy trail leads to the rim of the volcano and steps lead visitors to a viewing platform overlooking the cave. Enjoy several additional trails, check out the museum and gift shop and enjoy the picnic grounds after taking in this rather cool sight. Combine Bandera with La Ventana Arch (below).
---
White Sands National Monument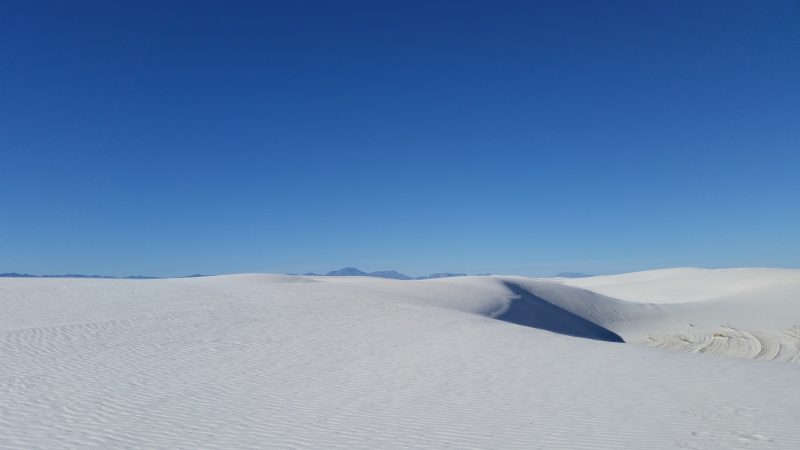 Where:  16 miles south of Alamogordo, NM on U.S. Highway 70.
Website: www.nps.gov/whsa
Visiting White Sands National Monument on a New Mexico road trip is an absolute must! Have fun pretending you're in a winter wonderland, hiking up and down blinding white sand dunes and sledding down powdery hills – purchase one at the gift shop or bring your own.
I strongly recommend the FREE daily Sunset Stroll with a park ranger who takes visitors on a guided walk. The tour focuses on the unique ecosystem here and  just how all this white sand got here to begin with. Tours begin 1 hour prior to sunset; visit the NPS site for more information.
---
La Ventana Natural Arch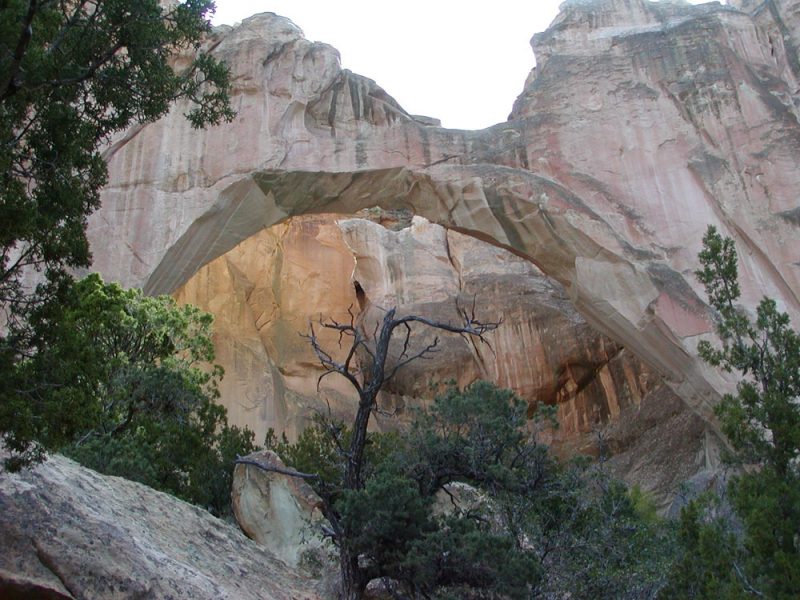 Where: La Ventana Arch is located just off NM 117, within El Malpais National Monument.
Website: www.blm.gov
While El Malpais National Monument is a vast area with rough roads, La Ventana Arch is quite easy to visit. An easy path from the parking lot leads to an observation area immediately below the arch. Take plenty of photos here – this is the closest you'll get to La Ventana Arch.
Just up the road from La Ventana is the scenic Sandstone Bluff Overlook. This spot is also easy to access from NM 117 and you'll likely have this scenic location to yourself. Combine a visit to La Ventana Arch and Sandstone Bluff Overlook with Bandera Volcano (above) on your New Mexico road trip.
---
Hot Springs in Truth or Consequences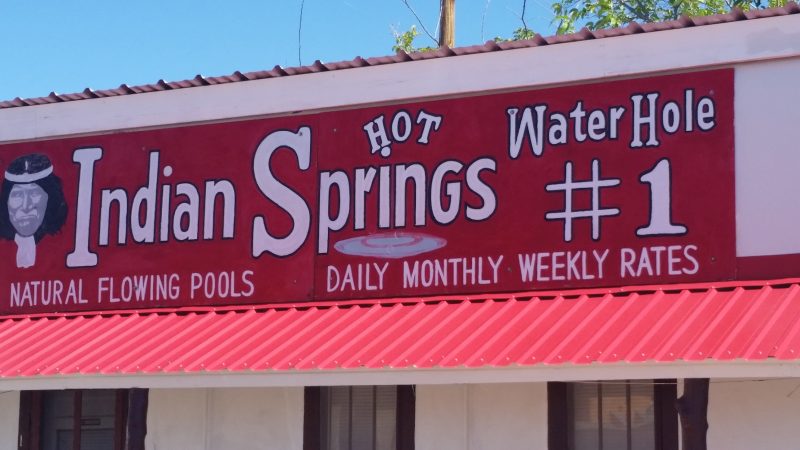 Truth or Consequences (T or C) is a very popular New Mexico weekend getaway and a great stop on any road trip. Need to spend the night? We suggest Blackstone Hotsprings for a thoughtful assortment of themed rooms, each featuring tubs with geothermally heated water.
The town of T or C has a few art galleries, good restaurants and an interesting historical museum making this a worthwhile stop. For an hourly soak without an overnight stay try Indian Springs. Enjoying the hot springs in Truth or Consequences is a great way break up your New Mexico road trip!
---
Iconic Road Trip Destinations in New Mexico
The southwest and New Mexico evoke the idea of the the classic road trip; this is the perfect place hit the highway and discover iconic attractions.
---
Route 66 in Tucumcari, New Mexico
Any Route 66 road trip in New Mexico must include Tucumcari – this town proudly features many vintage motels, restaurants and gift shops celebrating The Mother Road. Tucumcari is also home to the New Mexico Route 66 Museum, where the world's largest Route 66 photo exhibit is.