It's quite easy to find things to do in New Mexico no matter what interests you. Just pick any part of the state, apply your sense of adventure and discover some New Mexico hidden gems, or visit the more popular sites. This state is simply loaded with legendary landscapes, unique food, quirky roadside attractions and historic landmarks. This article is full of favorites and places off the beaten path in New Mexico.
We'll show you where to find the wreckage of a doomed commercial aircraft and drive on a road designed to play a tune, all in one day. Discover a metaphorical winter wonderland in the middle of the blazing-hot desert, or warm yourself up in some hot springs. Use our suggestions to create your own New Mexico road trip and explore one of the best places to visit in the Southwest.
---
1. Feed Your Culture Vulture
No matter where you are in New Mexico, and pretty much no matter what you order, you'll be asked with the official state question: Red or green? To complicate matters, you may be offered "Christmas" which is a combination of red and green! Although Hatch, New Mexico is the world-renowned de-facto capital of New Mexican chile, you simply won't be disappointed with which part of the state your regional capsicum hails from.
If you're lucky you may get a complimentary dessert of warm sopapillas drenched in honey. These certainly seal the deal on tasty New Mexican cuisine. Typically, if you see a bottle of honey on the table during your meal you just may be in luck!
---
2. Witness an Alien Spacecraft Landing
The International UFO Museum and Research Center
Where: 114 North Main St. Roswell, NM.
Phone: (575) 625-9495
Website: www.roswellufomuseum.com
The International UFO Museum and Research Center in Roswell is full of information and artifacts related to an alleged flying saucer crash near Corona, New Mexico in 1947. From pop culture to conspiracy theories, witness for yourself the hold this singular event and the UFO phenomenon has on the minds of us measly earthlings.
Marvel at the simulated saucer-landing as it spins and hisses steam. Imagine how disappointed those aliens would be if we took them to our leader…
Turn Up The Volume And Check Out Our Video Below
Video by acoupleofdrifters.com
Meanwhile, treat the kids to the alien autopsy display conveniently located near the UFO museum gift shop. The International UFO Museum and Research Center is all in good fun and certainly worth an hour of your time.
---
3. Have a Good Time in the Badlands
Bisti/De-Na-Zin Badlands Wilderness Area
Where: NM Route 371, south of Farmington, NM.
Website: www.blm.gov
If those aliens in Roswell weren't enough, come to Bisti/De-Na-Zin Badlands Wilderness Area to see just what their cosmic world may look like. Bisti Badlands is a lunar landscape you are free to explore. Strike off in any direction and see the effects of time, wind and water erosion – evident all around in the bizarre rock formations.
Keep exploring during your visit and you may come across petrified logs which serve as proof of just how prolific this barren land once was. You may even spot fossils if you look hard enough. The Bisti/De-Na-Zin Badlands Wilderness Area is free and all hikes are self-guided.
---
4. Follow an Ancient Trade Route
Salinas Pueblo Missions
Website: www.nps.gov
Get off the beaten path and explore an ancient trade route overlooked by most. This beautiful scenic drive – The Salt Missions Trail  – is 140 miles long and begins in Tijeras, just South of Albuquerque. Residual salt deposits in an ancient lake-bed provided early settlers with a viable trading commodity.
These early pueblos were targeted by seventeenth century Spanish Missionaries whose proselytizing incorporated the construction of 3 separate missions – Gran Quivira, Abo and Quarai.
Follow the trail for a rather pleasant day trip and avoid the crowds of the more prominent sites in New Mexico. Tired of ruins hopping? The nearby quaint town of Mountainair offers photo ops, coffee shops and galleries to explore during you time here. Although operated by the National Park service, these sites are FREE and open daily – Summer hours (Memorial Day – Labor Day) 9:00 am – 6:00 pm. and Winter hours 9:00 am – 5:00 pm. 
---
5. Get Into the Groove
Musical Highway
Where: Coming from Albuquerque on Interstate 40 east take exit 170; the singing highway is on old Route 66, or present-day NM Route 333. Find the musical rumble strip between mile markers 4 and 5. To hear the music you must be travelling east on NM route 333.
Not only is Tijeras a good starting point to jump on (or off) the Salt Missions Scenic Byway Trail, it's also the location for its own quirky oddity: The Singing Highway. Your vehicle's tyres and the specially-designed grooves in the road work together to produce a chorus of America the Beautiful. This unique attraction is certainly worth a visit!
Turn Up The Volume And Check Out Our Video Below
Video by acoupleofdrifters.com
To get the correct tempo simply follow the sign's recommended speed limit of 45 mph. and roll up the windows. You must align your passenger-side tyres exactly on the grooves along the edge of the lane to hear the melody. It may take a few tries, but it is worth it! This certainly is a unique attraction, one of only a handful of musical roads in the world.
---
6. Hike Through Forgotten Worlds
Chaco Canyon
Website: www.nps.gov
Although it takes a little effort to get here, you certainly won't be disappointed with anything Chaco Canyon offers. Picture it: The deep blue New Mexican sky as a backdrop against burnished gold sandstone cliffs and canyon walls. Add to this the glow of a sunset on the time-worn ruins that dot this captivating canvas.
Within the park are 5 hiking trails of varying lengths and difficulty. For those with less time on their hands during their visit, a 9 mi. driving loop provides access to the most popular ruins. Camping at Chaco Canyon is available and we strongly recommend this.
Admission is $25 per vehicle, which allows access for 7 days. Camping is $15 per vehicle per night. For a more comprehensive guide to this rather amazing and mystical landscape visit our complete guide to Chaco Canyon.
---
7. Witness Man's Control and Destruction
Trinity Site
Website: www.nps.gov
The Trinity Site at White Sands has the dismal distinction of being ground-zero to the world's first atomic bomb, detonated on July 16, 1945. As part of the Manhattan Project, Trinity was the code-name given to this game-changing new weapon heralding in a new era of warfare.
Located on the grounds of White Sands Missile Range, visitors are granted access just twice a year to the once-classified desert outpost. These open days occur on the first Saturday of April and October each year.
Hours are strictly 8:00 am – 3:30 pm with last admission at 2:00 pm. Admission is free and reservations are not required. Government issued I.D. is required for admission.
---
8. See an Ever Changing Landscape
White Sands National Monument
Where: About 16 mi. south of Alamogordo on US Route 70.
Website: www.nps.gov
With the passing of time and the shifting winds, White Sands National Monument is in constant flux. Imagine if you can, 224.6 mi² of pure white sand dunes as far as the eye can see; bring sunglasses due to the blinding glare from the sun!
Without getting much into the mineralogy of this dazzling rare phenomenon, White Sands is quite simply the world's largest gypsum dune-field. Many visitors here sled down the sand dunes – bring your own or purchase one at the gift shop. We recommend an evening ranger guided tour – you'll be amazed at what you can learn here during your visit.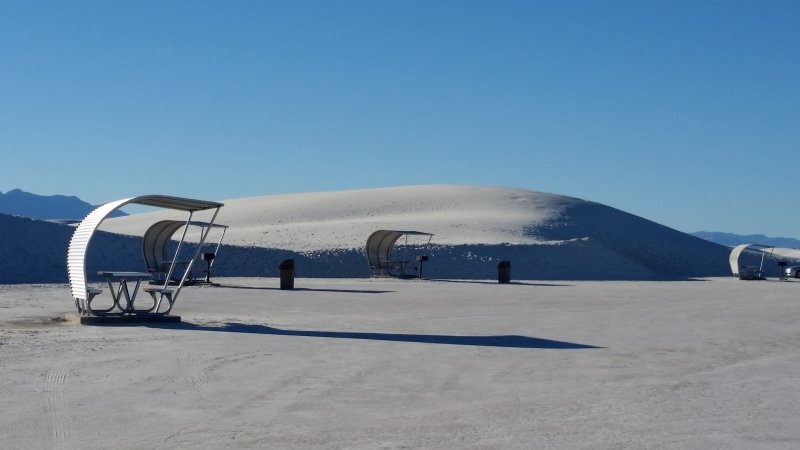 Having experienced (suffered) 14 Maine Winters, we certainly have a grasp on drifting snow! What about drifting sand? Well, these Drifters posed that very question to the park ranger. His response: "We plow the roads daily!" Admission is $5 per person, valid for 3 days. Visit White Sands online for much more information.
---
9. Visit Lawless Lincoln's Past and Billy the Kid's Grave and Museum
Lincoln
Where: On US Route 380, between Roswell and Ruidoso.
Billy The Kid Museum
Address: 1435 Sumner Ave. Fort Sumner, NM.
Website: www.billythekidmuseum.com
Billy The Kid Grave
Location: Take US Route 60/84 east from Fort Sumner to Billy the Kid Road; turn right. Continue straight to Old Fort Sumner Cemetery; Billy the Kid's grave awaits.
Although Lincoln's main street was once referred to as "the most dangerous street in America" by then-President Rutherford B Hayes, this one-street town is now accredited as America's best preserved example of an authentic Wild West town of the 1870's. Lincoln is a rather fascinating diversion, steeped in history. Experience the setting of the Lincoln County War, referred to as the bloodiest chapter of New Mexico's past.
Take a step back in history and allow your imagination run riot as you envision Billy the Kid's final escape from the jailhouse, which still stands. This town is full of original buildings, many of which are part of the Lincoln Historic Site. A final note worth mentioning is Lincoln's quiet, authentic, simplicity; Lincoln is not "disneyfied" in an attempt at sharing its history with the public.
140 miles northeast of Lincoln is Fort Sumner, the final resting place of Billy the Kid. From Lincoln take US 380 East, look for signs for US 285 North and follow this route until you reach NM 20. Take NM 20 North until you reach US 60 which takes you into Fort Sumner. Follow the signs to his shackled headstone – a last ditch effort to prevent people from continuously stealing it!
William H. Bonney, a.k.a. Billy the Kid, is undoubtedly Lincoln County's poster child for tourism, as can be witnessed by the scenic byway named in his honour. Looked upon as an outlaw in his own time, he has posthumously crossed a threshold and has become immortalised as something of an anti-hero in present-day recounts.
Visit his grave and then explore the Billy the Kid Museum which is a wonderful little hodgepodge of preserved Americana beyond all things Billy.
---
10. Cruise Down Route 66 in Tucumcari
Albuquerque and Tucumcari embrace their Route 66 roots, as evidenced by the amount of original establishments still operating from that era in these towns. Central Avenue in Albuquerque (old Route 66) boasts many vintage eateries and lodgings.
While not updated, these places still display an allure that you will find difficult to deny. Grab a bite, or bed, under almost any neon-sign that grabs your eye in Albuquerque.
Finally, check out Tucumcari for another reminder of days gone by, yet in a slightly more spiffed-up fashion. Tucumcari deserves praise (and a visit) for seeing a future in its past, which is certainly something most towns in this country could learn from.
You'll find more vintage visions of Route 66 (The Mother Road) lighting your path as you drive through the proud showcase belonging to this town. Good for you, Tucumcari!
---
11. Go Underground in Carlsbad Caverns National Park
Carlsbad Caverns National Park
Where: Carlsbad Caverns is located 20 miles south of Carlsbad, NM; take US Route 62 to Whites City and follow signs right to the entrance of the park.
Website: www.nps.gov
The size of the underground network of caves at Carlsbad Caverns National Park is as impressive as the spooky formations that await you. Journey deep into this rather complex cave system with confidence, knowing there is a cafeteria underground to fuel your journey back to the above-ground world!
The vividness of the calcified chandeliers above and the seemingly never-ending path through the cave will humble you. Again, you will be amazed by the immense size of this subterranean wonderland! Admission to Carlsbad Caverns is $12 and good for 3 days. 
---
12. Visit Steamy, Dreamy Hot Springs
The west is rather full of geothermal pools waiting to delight the adventurous traveler; New Mexico is no exception. Either in desert or pine-clad mountain highlands, you will find a scenic spot to soak. Choose from either luxury spas or hike-in pools you may have all to yourself. In addition, you may even find some road-side hot springs begging you to pull over.
The town of Taos, blessed with 3 different pools in the area and a destination in its own right, makes a great place to come for a soak. The town of Truth or Consequences was built quite literally on top of hot springs! New Mexico must be seen to be believed and believed to be seen.
---
13. Marvel at Photogenic Lithics
New Mexico is home to some rather unnatural looking wonders that have been molded by nature over time-immemorial.
Shiprock
Where: From the town of Shiprock go south on US Route 491. Go right on service route 13. Take service route 13 (a dirt road) about 6.5 miles until you come across another dirt road veering right just in front of a black wall rock formation. Take this dirt road, which is very rough, all the way to Shiprock and enjoy the isolation.
Shiprock is sacred to the Navajo Nation, which means you are not permitted to climb it. Making it to the base of this formation is certainly adventure enough. A high clearance vehicle is strongly recommend along with dry road conditions. There are no road-signs for this monument.
Camel Rock
Where: From U.S. Highway 285/84, take exit 175 onto the frontage road. Continue to the small parking lot provided.
Camel Rock is a quick diversion located just outside of Santa Fe. Climbing on the camel is strictly prohibited! Enjoy the view from a short distance away instead. The camel is a work in progress, with nature lopping off the camel's nose early in 2017.
In the late 19th century, real camels wandered the arid scrub-lands of America's South West. Find out more about why these dromedaries were imported and the ensuing myths and legends associated with them online.
Soda Dam
Where: NM Route 4, just north of the town of Jemez Springs.
There is no formal parking, so pull in on the side of the road and hop over the guard rail. This calcium carbonate deposit has draped a natural bridge over the Jemez River, beneath which flows a waterfall. This is a particularly photogenic spot any time of year.
Battleship Rock
Where: You can find this nautical knock-off on Route 4 north of the town of Jemez Springs.
Battleship Rock rises like the bow of a ship out of the forests of Jemez. The associated picnic ground with amenities – toilets, potable water – is a day use area only. It is $5 per vehicle per day. Alternatively pull in on the side of the road, snap your picture and continue on your way.
---
14. Take a Hike to Hallowed Ground
Where: The Domingo Baca Trail in Sandia Mountain Wilderness.
In the Sandia Mountains above Albuquerque is a hiking trail noteworthy for a rather somber reason: the final resting place of doomed TWA Flight 260 from 1955. This is a rather strenuous hike – do not attempt unless fit, confident and certain of the weather. The trail begins at an elevation of roughly 6,500 ft. and ends at an elevation of 10,138 ft. WE REPEAT: This is not an easy stroll in the woods! 
Though the crash site is below the peak of the mountain, there's an incredible amount of effort, experience and elevation gain involved in getting here. We suggest using the AllTrails app. With this app just search for Domingo Baca Trail #230, complete with specific directions to the trail head, reviews and a handy GPS map which guides you on the 7.7-mile round trip hike.
A rather scenic (and very tough) uphill scramble brings you to the doomed TWA flight, which crashed into the peaks above on February 19th, 1955. All 16 persons aboard the Martin 404 aircraft died instantly.
Nascent rescue crews managed to recover only the bodies due to the challenging terrain. As a result, the crumpled aircraft remains where it fell. Here, a memorial plaque gives further details and names the 13 passengers and 3 crew members who perished.
Almost all the plane can be seen and explored: a seat, both wings, a cargo door, main landing gear, tires, a contorted propeller and even a portion of the passenger boarding stairs remain on the mountainside.
In addition, sections of the fuselage – complete with TWA logo and a portion of the tail number – poke out from the brush. Above all, treat this somber site with respect.
---
15. See the REAL Albuquerque Isotopes
Isotopes Park
Address: 1601 Avenida Cesar Chavez SE, Albuquerque, NM.
Phone: (505) 924-2255
Website: www.milb.com
In the past, you had to watch The Simpsons to hear mention of the Albuquerque Isotopes. Since 2003, the team has come to life (literally) and has a rather nice stadium, too.
Check out a home game and marvel at the gimmicks happening between innings and participate in the silly Y.M.C.A. dance with resident goof-ball and mascot, Orbit. Fans of The Simpsons will have fun spotting the cartoon family depicted everywhere, emblazoned on the walls and doors throughout the stadium.
We recommend an upper level seat on the 3rd base side for the best view of the field and the Sandia Mountains in the background. Settle in and heckle the opposing team with all your might and enjoy the game.
Meanwhile, treat yourself to the most overpriced food and drinks you will find anywhere! If paying $8 for a 12 ounce beer or $5 for a slice of wilted-looking pizza is your thing, the Isotopes have you covered. We drank in the parking lot prior to the game and therefore saved ourselves a bundle of cash!
Baseball games are a rather fun way to catch some excitement or just zone out for a few hours and people-watch. Day games tend to be quite uncomfortable in the desert sun; come for an evening game instead.
---
16. Shake Your Little Tush on the Catwalk
Catwalk Recreation Area
Where: From the village of Glenwood take route 174 to Catwalk Road; continue directly to the parking area for the Catwalk Recreation Area.
Website: www.fs.usda.gov
For those who remember the seminal song I'm Too Sexy by Right Said Fred, we present your very own outdoor catwalk…in style, of course. Slink your way through a box canyon along the Whitewater Creek here in New Mexico – rather than Paris or Milan – and enjoy the scenery while you channel your inner diva. Why not have a picnic or maybe take a dip in the clear waters below?
Located 5 miles east of the town of Glenwood, Catwalk National Recreation Trail is a rather easy 1.1 mile walk along the creek and atop an elevated support-beam walkway meandering through the canyon.
The catwalk was the name of the original wooden walkway that once stood over a steel pipe used to channel water to an ore processing plant which is still visible from the parking area. Time has banished the old wooden catwalk and the pipe but the original route is still followed by the contemporary walkway.
The rather charming little village of Glenwood is located on U.S. Route 180; follow signs from there to the recreation area. Admission to The Catwalk is $3 per vehicle. 
---
17. Check Out a Ruin with a View
Gila Cliff Dwellings National Monument
Where: 45 miles north of Silver City, at the end of NM Route 15.
Website: www.nps.gov
Not far from Glenwood and the Catwalk you'll find some rather stunning prehistoric real-estate at Gila Cliff Dwellings National Monument. Located at the end of New Mexico Route 15 north of Silver City, the Gila Cliff Dwellings certainly enjoy commanding views of the pine-studded valley below. The natural rock shelter here provided a rather perfect location for the ancients who built these structures between 1276 and 1287.
An easy interpretative loop-trail brings you to the ruins, which you are free to explore. Step inside some of the structures and experience the natural advantage these cliffs offered to the original inhabitants.
Getting to the monument, however, is not for the faint-of-heart as the road from Silver City to the Gila Cliff Dwellings is extremely narrow, rough and winding. After that, soak in some hot springs and camp out for the night if the precariousness of the drive to the ruins leaves you…ruined.
Gila Cliff Dwellings National Monument is open daily from 9 am to 5 pm. Admission is $5 per individual or $10 per family – defined as parents with children. Visit the official Gila Cliff Dwelling website for much more information.
---
18. Rise to the Occasion
Albuquerque International Balloon Fiesta
Address: Balloon Fiesta Park 5000 Balloon Fiesta Parkway NE, Albuquerque, NM.
Website: www.balloonfiesta.com
If you are lucky enough to be in New Mexico during the first week of October you must visit the Albuquerque International Balloon Fiesta. This world-famous 9 day event is simply an amazing spectacle and therefore cannot be missed. Spectators surround the balloons and crew as preparations for ascent begins. Feel the heat from the burners as the colorful glowing globes take off and try to count them in the sky as they rise.
Get to the festival before sunrise and enjoy the midway, full of concessions and activities. Temperatures in Albuquerque can be very chilly before sunrise in October; dress accordingly to fully enjoy the early morning balloon showcase.
Balloons take to the skies above Albuquerque throughout the year, should you miss out on the 9 day celebration in October. Early risers often see balloons rising against the backdrop of the Sandia Mountains on any given day. The Duke City presents optimal weather conditions for balloonists year-round and as a result is the de-facto hot air balloon capital of the world.
---
19. Rock Out to Meta-Historical Graffiti
El Morro National Monument
Where: NM Route 53, 40 miles south of Grants, NM.
Website: www.nps.gov
Way before Led Zeppelin, travelers rocked out here in New Mexico at El Morro National Monument. Back then, a striking sandstone bluff with a pueblo on top became a landmark to all sorts of passers-by who stopped here for water and to carve their names for posterity into what has become known as Inscription Rock.
Spanish conquistador Juan de Oñate carved the first "modern" inscription in during his visit to the area in 1605. 2,000 more carvings followed, from assorted characters who played a role in New Mexico's history to settlers heading west in covered wagons. Get up-close to the famous inscriptions, nearly all of which are perfectly legible through the years. Rock on!
These inscriptions are just half the story at this wonderful site; check out the rather ancient pueblo ruins on top of El Morro Rock! A moderate 1.8 mile loop trail begins from the visitor center and climbs to the rather stunningly situated ruins that still stand guard over this storied location.
Follow the path carved into the sandstone atop this desert perch. This path descends to the famous wall of inscriptions and past the freshwater pool that provided succor to both the original inhabitants and those merely passing through.
---
20. Go Nuts!
McGinn's Pistachioland
Address: 7320 US Route 54/70, Alamogordo, NM.
Phone: (800) 368-3081
Website: www.pistachioland.com
So, you think you know New Mexico by now? Wrong! This state continues to amaze because it has grabbed a superlative that really should've gone to California: World's Biggest Pistachio Nut! In your face, Ca-lee-for-ni-a!
We are certainly digging deep to the very bottom of the barrel for the 20th thing on our list, but we had fun seeking it out! Likewise, you should have just as much fun in New Mexico, for this really is a great place to visit!
In conclusion, should a giant pistachio somehow manage to find itself on your short list of must-see things, get yourself to Highway 54 in Alamogordo, pronto. Most importantly, this odd site is free to all who think they need to see it.
---
In Conclusion…
Although it's over 20 years since we lived here, there is a feeling of coming home every time we cross back into New Mexico. Upon seeing the "Welcome to New Mexico" sign we become giddy with excitement, anticipating that first taste of green chile and deciding upon where it will happen. The best analogy to describe these feelings is quite simply that of being in love.
Finally…
This post is dedicated to our first supporter of this blog, Bill Gayton, who passed away a week before Christmas 2017. He was our next-door neighbour and friend in Portland, Maine for 14 years and was also a good friend. He kept an eye on our apartment during our travels from 2013 – 2014.
Bill was certainly a huge fan of New Mexico and a green chile aficionado. Each Autumn Bill ordered green chile online and always gave us a bag. He was often one of the first and often the only person to comment on our posts. To this day we miss his input and cherish his comments. We visited each site in this article with Bill on our minds and also in our hearts.
---
Pin Me Now!