Last Updated on
It's easy to find a great variety of day trips from Albuquerque; historic, quirky, majestic, iconic and unique attractions are all within quick reach of the Duke City. In fact, day trips from here are so numerous you can combine 3 of them in one day and I'll even suggest other excursions to combine.
This is perfect for getting the most out of your day trips from Albuquerque. Of course, you can always take each trip one day at a time, too.
One of our favorite day trips from Albuquerque includes a hike to see dinosaur bones at White Ridge Mesa, northwest of Bernalillo. The multi-use trails at White Ridge Mesa are among the best places for mountain biking in New Mexico and you have the option of combining it with several other day trips from Albuquerque.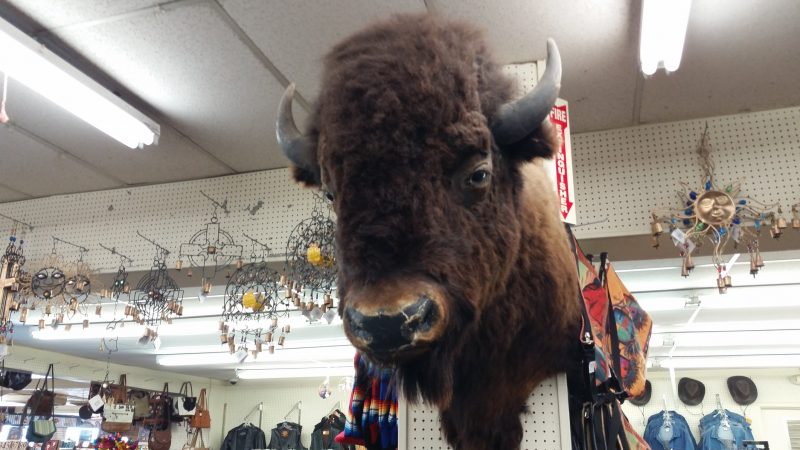 Choose whichever day trip suits you and get away for a bit from the city. For further inspiration and more day trips from Albuquerque check out our article highlighting our favorite New Mexico attractions. I've picked out 4 great hikes near Albuquerque for those wishing to stretch their legs.
---
Combining Day Trips From Albuquerque
Again, combine several of the following day trips from Albuquerque and enjoy a variety of things to see and do. Visit the first 3 suggestions, Tinkertown Museum, Sandia Man Cave and Sandia Peak together, or combine a day trip to Blue Hole in Santa Rosa with a fun visit to Clines Corners.
In addition, Jemez and Gilman Tunnels combine rather well with either a visit to White Ridge Trails or Coronado Historic Site. Whatever you do or wherever you go, make sure you get all you can out of your day trips from Albuquerque!
---
Tinkertown Museum
Where: 121 Sandia Crest Rd. (NM Route 536), Sandia Park, NM
Hours: 9:00 am – 6:00 pm daily, late March – late October.
Phone: (505) 281-5233
Website: www.tinkertown.com
Whimsical, unique and utterly fascinating perfectly describes Tinkertown Museum. Here, a collection of assorted curios from the past effortlessly mingle with figurines, fantastical dioramas and inspirational quips brought to life by Tinkertown's creator, Ross Ward, over a 40 year period. The museum itself is a warren of rooms and hallways and the grounds bring to mind a sort of old western town.
---
Tips: Plenty of still-functioning vintage amusements live on here at Tinkertown Museum – bring plenty of nickels, dimes and quarters to experience them all. Also, it gets quite chilly in the museum at the beginning and end of the business season here; bring a light jacket at these times.
---
The real draw here is Ross Ward's vision, brought to life vividly throughout Tinkertown Museum. Hand carved figures by this self taught artist flesh out many of the displays here; over the years his dream of a folk art world became a reality which carries on to this day.
Browse the 22 rooms filled with Ward's rather eccentric collections and creations and become inspired by his upbeat worldview, on show for all to see. Plan on spending several hours at this unique odditorium.
---
Sandia Man Cave
Where: NM Route 165, off Sandia Crest Highway at Balsam Glade Picnic Area.
Beyond Tinkertown Museum is the rather mysterious Sandia Man Cave, noteworthy for what it isn't and for what it was once thought to be. Controversy surrounds what exactly was found inside this cave in 1934 by Frank Hibben, a renowned local figure still associated with the University of New Mexico's archaeology department.
His alleged discovery of a new culture he called Sandia flew in the face of the already proven Clovis culture, throwing the latter back by some 25,000 years.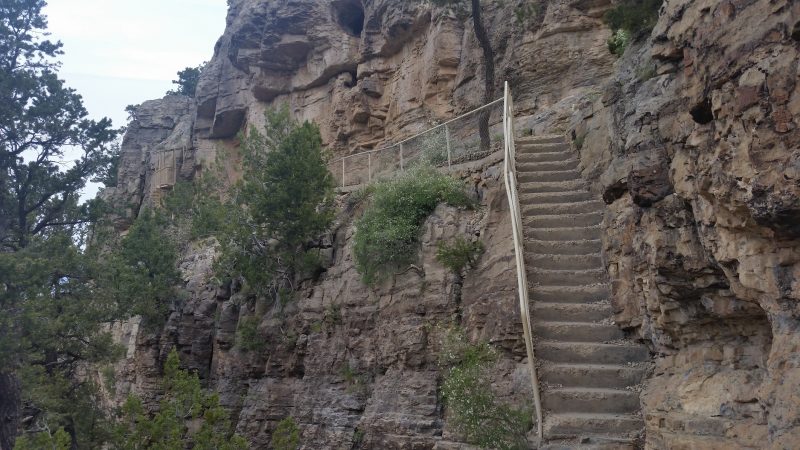 ---
Tip: Combine Sandia Man Cave with a visit to either Tinkertown Museum, Sandia Peak or both. Also, bring a flashlight to explore the cave!
---
This alleged discovery in the cave still led to great renown for him and the state's university at the time. Those findings fell out of favor decades later and remain buried in controversy.
Today, an easily accessible cave remains to be explored, accessed via a winding steel staircase precariously perched on the side of a steep canyon wall. Sandia Man Cave is free.
Reach the parking area for Sandia Man Cave via a 5 mile drive along a dirt road, suitable for any vehicle during dry conditions. Getting to the entrance of Sandia Man Cave involves an easy 15 minute hike and a very brief white-knuckle climb up a spiral staircase.
Again, combine this with Tinkertown Museum and Sandia Peak to get the most out of your day trips from Albuquerque.
---
Sandia Peak
Where: Eastbound on Interstate 40 to exit 175; stay left and merge with NM Route 14 to San Antonito, 9 miles north. Sandia Crest Scenic Highway begins here on the left.
Head up to Sandia Peak for lofty views of Albuquerque and much of the state of New Mexico. The road to the top is accessed from the east side of the Sandia Range, offering a vastly different landscape than the valley west of the range.
The scenic drive to Sandia Peak passes through thick pine and oak forest before topping out at 10,679 feet. A visitor center, shop and restaurant await after you taking in the views.
Enjoy the drive up Sandia Crest Scenic Highway, too. Along the way are numerous picnic grounds and opportunities to hike the forested eastern slope of the Sandia Range.
For a moderate hike on the way to Sandia Peak try the Tree Spring Trail – look out for fossils on the trail during your climb. The views of Albuquerque and the foothills from the top of Tree Spring Trail are quite nice, too.
---
Valles Caldera National Preserve
Where: Valles Caldera National Preserve is located off NM Route 4, between Santa Fe and the village of Jemez Springs.
Hours: Open daily; closed Thanksgiving and Christmas. Hours may vary from season to season.
Website: www.nps.gov/vall/
This unique day trip from Albuquerque gives visitors a chance to drive into the dormant crater of an ancient volcano! Get out of the car for stunning hikes through Valles Caldera, too.
Valles Caldera is the newest addition to the National Parks system and admission is free, likely for some time due to nascent infrastructure here. Still, this wild spot remains an extremely scenic and easily accessed area.
Valles Caldera was once ranch land and several old cabins, barns and stables remain in the interior of the preserve. Hunting in the caldera eliminated the native Elk population by the early 1900's. Today, this area is home to New Mexico's second largest elk population and Valles Caldera has several resident herds.
Recreational opportunities here include mountain biking, scenic drives, fishing and even cross country skiing and snowshoeing in winter. This preserve is full of old growth pine forest and pristine mountain streams and as a result Valles Caldera remains incredibly scenic year round.
Make the drive to Valles Caldera National Preserve and enjoy this stunning day trip from Albuquerque.
---
Meow Wolf
Where: 1352 Rufina Circle, Santa Fe.
Hours:  9:00 am – 8:00 pm Wednesday through Monday. Closed Tuesday
Phone: (505) 395-6369
Website: www.meowwolf.com
How to describe Meow Wolf: A surreal fun house that somehow breathes and grows all around you incorporating esoteric, thematic elements in a clever, yet entirely familiar way. If that sounds too difficult to imagine then you must visit Meow Wolf to figure it all out for yourself.
Even if this warehouse-sized collaborative interactive art installation leaves you confused and disoriented you'll still have a blast here anyway, exploring one crazy display after another.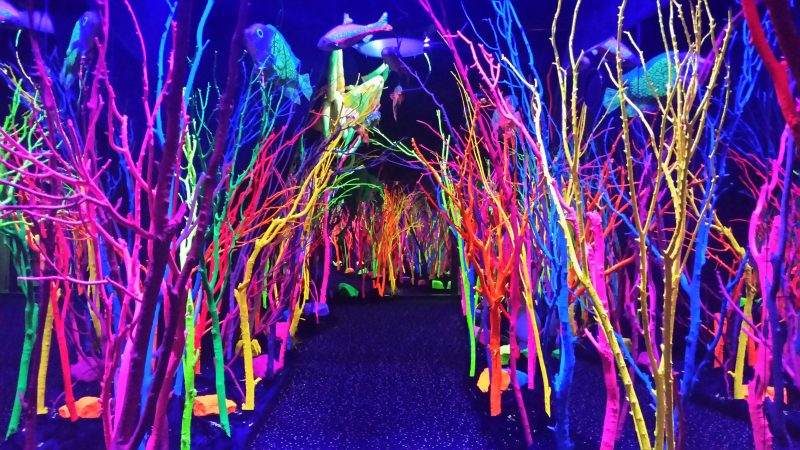 The start of the experience puts visitors inside an actual house full of clues to a crazy and slowly unfolding story. This encourages further exploration of closets, cupboards and even the refrigerator in the kitchen.
Those discoveries lead to a strangely expanded world full of other rooms and deeper universes. Meow Wolf simply must be experienced to be believed and is one of the best day trips from Albuquerque.
Open that refrigerator door in the kitchen, step into the white light and be prepared for whatever awaits. Further exploration throughout Meow Wolf reveals all sorts of hidden passages; crawling through one of these hidden passages sees you exiting the clothes dryer in the laundry room of the house at the beginning of Meow Wolf!
If you've ever wished to play xylophone on the fluorescent rib cage of a Woolly Mammoth while traipsing through a bizarre world of endless possibilities, Meow Wolf will be one of your most pleasantly unique day trips from Albuquerque.
Speaking of music, Meow Wolf is a live venue for concerts with bands performing in the heart of this trippy, whimsical wonderland.
---
White Ridge Trails
Where: The left turn for White Ridge Mesa Bike Trails is off US Route 550 north of Bernalillo just before the village of San Ysidro. Follow Cabeza Rd. (gravel) for 4.4 miles to the parking area for White Ridge Bike Trails. This site is free.
Website: www.blm.gov/whiteridge
Not many day trips from Albuquerque give you the chance to see several dinosaur bones in situ. Forget the museum and visit this series of multiuse trails 45 minutes northwest of Albuquerque. Come during the week and you may have this entire area to yourself!
A roughly 10 mile loop circles the area from above, dipping into the valley below before returning to the top. Or bypass the loop for an easier hike by heading out and turning back at any point. Now about those bones…
The location of the dinosaur bones at White Mesa is a simple 45 minute hike from the parking lot – head uphill from the parking lot and stay right, ascending to the rim in about 10 minutes.
From here keep right and follow the east rim for 30 minutes to a fork in the trail. Here, a faint trail heads left as the main trail slowly climbs to the right; this faint trail is for viewing the dinosaur bones.
This faint trail connects again with the main trail, about 100 yards beyond the fork. Find the dinosaur bones on this lesser trail (left fork) on your right hand side, about 3 feet above your head and roughly 50 yards from the fork.
Two areas of exposed cross sections of dinosaur bones remain here – look for them both!
Return to the main trail and backtrack or continue your hike and enjoy stunning views during your visit to White Ridge Mesa. Pick up a map at the parking lot and take a hike!
---
Salinas Pueblo Missions
Where:  Reach Quarai, Abó and Gran Quivira from the Salt Missions Scenic Byway, near the villages of Mountainair and Manzano.
Hours: 9:00 am – 5:00 pm daily. Closed Thanksgiving, Christmas and New Year's Day.
Phone: (505) 847-2585
Website: www.nps.gov.sapu
These 3 separate sites, known collectively as the Salinas Pueblo Missions National Monument, can all be seen in a single day trip from Albuquerque. Each site is testament to relationships between Puebloans and the Spanish who built missions alongside them in the 17th century.
Prior to Spanish arrival in the region Quarai, Abó and Gran Quivira each thrived as population centers on an important ancient salt trading route.
Explore ruins of the missions, kivas and pueblo rooms at each site during your visit and learn how strategically situated these 3 settlements actually were to commerce.
Access each separate site from the 150-mile Salt Mission Scenic Byway which runs through the eastern slopes of the Manzano Mountains and the plains of Estancia and Moriarty. Take in the entire scenic byway or just the sites of the Salinas Pueblo Missions National Monument.
---
Blue Hole
Where: Interstate 40 east to exit 275 to US Route 84 (old Route 66). Head west on US 84 briefly, turning left onto Lake Drive, then left onto Blue Hole Road.
Hours: 8:00 am – 8:00 pm daily.
Phone:  (575) 472-3763
Website: www.bluehole.com
Natural pools of refreshing clear blue water don't spring to mind when you think of New Mexico. However, just over 100 miles east of Albuquerque in the town of Santa Rosa is the aptly named Blue Hole, with a depth of 80 ft.
This town-maintained spring serves as one of the most refreshing day trips from Albuquerque in summer months. Admission to Blue Hole is free!
---
Tip: Check out the Route 66 Auto Museum in Santa Rosa during your visit. This, along with Tucumcari, is one of the hidden gems of Route 66 attractions in New Mexico.
---
Blue hole gets rather busy on summer weekends with locals flocking to this unique oasis – the water here stays a constant 62 degrees throughout the year which is more than enough to keep you refreshed.
Scuba divers take note: Blue Hole features a dive shop and this is the best training facility in the entire region. Certified divers pay $20 for a week-long permit, or $50 annually.
---
Clines Corners
Where:  Interstate 40 west, exit 218.
Hours: Gas and convenience store, 24/7; Gift shop, 6:00 am – 7:00 pm daily; Cafe on Route 66 Restaurant, 7:00 am – 3:00 pm Thursday through Monday.
Phone: (575) 472-5488
Website: www.clinescorners.com
This travel stop in the middle of nowhere has been pulling in weary travelers (and day trippers) since 1934. Make this one of your day trips from Albuquerque or combine it with a visit to Blue Hole in Santa Rosa.
No matter when you get here expect plenty of New Mexico souvenirs, homemade fudge, saltwater taffy, a good restaurant and a full line of cowboy boots and moccasins to round out the experience.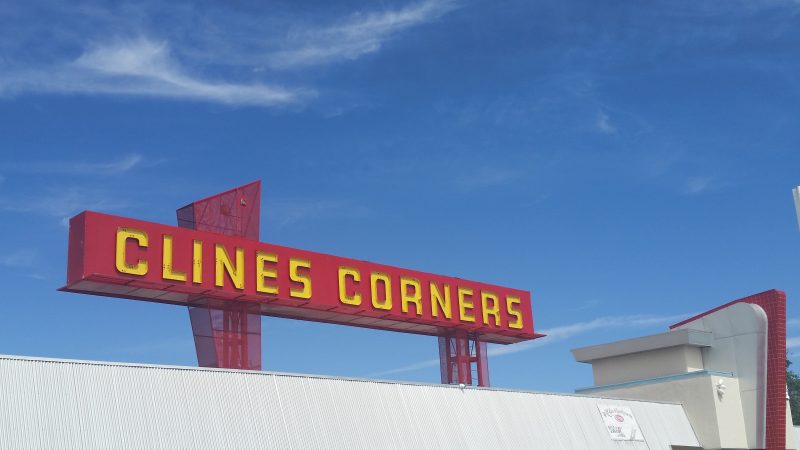 Browse the rather eclectic selection of merchandise and enjoy every kitschy moment of it. Even if you don't buy anything you'll walk away with a big smile on your face; this place is packed with cute and corny tidbits and some interesting assorted oddities.
Clines Corners is a classic roadside attraction still going strong to this day and you simply must stop in.
Aside from fun and tacky products you never knew you needed or wanted, Clines Corners has gas and a convenience store selling snacks, coffee and cold drinks.
The Cafe on Route 66 restaurant serves a good selection of filling roadside fare at a reasonable price, should you need a proper fill up yourself. Get here now for a bit of fun – this is one of the best short trips from Albuquerque.
---
Coronado Historic Site and Kuaua Pueblo
Where:  485 Kuaua Rd. Bernalillo, NM
Hours: 8:30 am – 5:00 pm Wednesday through Monday. Closed Tuesday
Phone: (505) 867-5351
Website: www.nmhistoricsites.org
A riverside setting with views of the Sandia Range makes this beautifully situated archaeological site an easy day trip from Albuquerque. Coronado Historic Site features the only known ceremonial kiva ever found with painted interior murals.
Guided tours of the kiva at Coronado Historic site are the only way to see these murals during your visit.
The site was home to Kuaua pueblo during the arrival of Spanish conquistadors led by Francisco Vásquez de Coronado. That arrival established the earliest European trade route in the United States, El Camino Real de Tierra Adentro.
This trade route and many other events related to it changed the history of this pueblo and the people who called this area home for many generations.
---
Tip: Combine a visit to Coronado Monument with either a visit to White Ridge Trails or Jemez and Gilman Tunnels.
---
A museum highlights artifacts found on site along with a replica sword and crossbow you can wield. You can even dress in reproduction conquistador armor if you wish to bring the historical experience to the next level.
Just outside the museum is the great kiva with it's impressive murals along with foundations of several reconstructed pueblo rooms. Note: Visits to the kiva involve a climb atop and down into the ceremonial structure on a ladder and photography of the murals is strictly prohibited.
---
Jemez and Gilman Tunnels
Where: About 5 miles north on NM Route 485. To access NM Route 485, take NM Route 4 north beyond Jemez Pueblo; follow signs for NM 485 left.
Just north of Jemez Pueblo on NM Route 485 is a very scenic canyon called Guadalupe Box. Here, 2 impressive tunnels (Jemez and Gilman) pass through solid rock and several parking areas allow you to get out of your vehicle and explore.
This paved road is seldom used and walking through Jemez and Gilman tunnels, separated by several hundred feet, is very safe to do.
Below the Jemez and Gilman Tunnels is the Guadalupe River and several falls are visible from the pull-ins here. The river offers some refreshing pools to soak in and further upstream anglers can fish for trout
The scenery at Guadalupe Box is simply amazing and the drive to Jemez and Gilman Tunnels is just as beautiful. Note: NM Route 485 is closed just before Jemez and Gilman Tunnels from December 15th through April 15th.
---
Tip: Combine this with White Mesa Bike Trails or Valles Caldera National Preserve. Don't forget to check out nearby San Antonio and Spence Hot Springs, north of Jemez village.
---
NM Route 485 remains paved just beyond Jemez and Gilman Tunnels. Forest Road 376 (gravel) begins where route 485 ends; 376 then climbs to a dead end some 10 miles beyond.
Several free campsites line the road and pull-ins offer access to the river for trout fishing and summertime soaking. This is an incredibly scenic area and therefore makes for a great place to spend the entire day.
---
Bandelier National Monument
Where: Entrance to Bandelier National Moument Visitor Center is located on NM Route 4. Important! Access to Bandelier from May 16th through October 16th, between 9:00 am and 3:00 pm, is by shuttle bus only!
Look online for full up-to-date information and the shuttle bus schedule regarding this seasonal access to Bandelier National Monument.
Hours: Bandelier National Monument is open throughout the year, except December 25th and January 1st. See their online information regarding seasonal and recreational hours.
Website: www.nps.gov/bandelier
A strategic location brought humans here to Frijole Canyon 11,000 years ago. Today, visitors experience that ancient history and get to see how special this spot still is.
Here, a sheer cliff served the perfect location for Ancestral Puebloans who built homes at its base over 2 separate eras between 1150 and 1600 AD. Walking paths get you up close to the ruins and hiking paths through the interior of the park offer a chance to escape the crowds.
The original builders made use of natural fissures in the cliff-side and even hollowed out holes in the soft rock to accommodate timber beams for supporting roofs.
Still visible are several rectangular sections below where those timber beams would've been; these sections still contain geometric paintings and it's certainly easy to imagine these as almost "framed" works on the wall of a pueblo home generations ago.
Ancestral Puebloans practiced extensive agriculture here, aided by several techniques suited exactly to the location and climate. In the end they were likely driven down into the Rio Grande Valley, possibly due to sustained drought.
One can imagine that drought even today as they explore these ruins situated here in Frijole Canyon at Bandelier National Monument.
---
Tip: Combine this fascinating site with Valles Caldera National Preserve, perfect for making 2 great day trips from Albuquerque! 
---
In Conclusion…
You'll find plenty of day trips from Albuquerque – some obvious and some rather obscure. What matters is getting out and seeing all New Mexico has to offer. With extra time on your hands explore Chaco Canyon or some great day trips from Taos.
Getting to Taos from Santa Fe (and vice versa) remains a classic New Mexico road trip, too! For a rather luxurious treat check out Blackstone Hotsprings Spa in Truth or Consequences.
If you plan on camping we highly recommend Santa Fe National Forest near Pecos for plenty of peace and quiet. Looking to Explore beyond New Mexico? Check out our guide to 4 epic Southwest road trips. Get out there and take your time… and take your time, too.
---
Pin Me Now!