Last Updated on
Santa Fe and Taos are certainly two of New Mexico's biggest tourist attractions, and for good reason. Both locales offer Northern New Mexican architecture, cuisine, galleries, museums and rather stunning surrounds. However, the drive between these two attractions on the National Scenic Byway known as the High Road to Taos deserves special mention.
Driving the High Road to Taos makes for a worthwhile journey, complete with mountain views and charming towns and villages along the way. This is indeed one of the best day trips from Santa Fe and is rather beautiful coming from Taos as well.
Need more of the Land of Enchantment? See our article on 20 things to do in New Mexico. From quirky and historical to iconic and majestical, New Mexico is certainly loaded with attractions.
The High Road to Taos will therefore leave you looking for more scenic drives in New Mexico. If so, check out our other article highlighting 3 scenic drives from Taos. One of these drives is a loop route taking in the Enchanted Circle Scenic Byway, making this a great day trip from Taos that'll have you back there in time for dinner!
Also visit the 3 nearby hot springs in Taos while you're there; click on our article for these and other hot springs in New Mexico. Visiting any of these hot springs are possible day trips from Santa Fe but are best enjoyed if you are spending time in Taos.
---
---
The High Road to Taos
Overview:
NOTE: Many sources claim this route begins just east of Española; the High Road to Taos begins east of Pojoaque on NM Route 503 and continues from there. See High Road to Taos Directions below.
From Santa Fe, the High Road to Taos begins in Pojoaque and climbs the Sangre de Cristo Mountains, passing through Spanish Land Grant villages. Several of these villages are worthy of a stop for galleries, adobe churches and a glimpse of small town Northern New Mexico life. The scenery between these villages is simply amazing with plenty of spots to pull in for great photos.
The village of Chimayo, famous for its heirloom red chile and its Catholic pilgrimage site, is the first obvious stop. Here, the High Road to Taos from Santa Fe begins to climb from desert landscape, slowly transitioning to higher pine forest beyond the village of Truchas. Pass through serene Las Trampas and colorful Peñasco before hitting an elevation of 8,500 ft. The High Road to Taos soon begins to descend to her namesake town.
High Road to Taos Map:
High Road to Taos Directions:
From Santa Fe, drive north on US Highway 285/84 for approximately 16 miles to NM Route 503, or Nambe Road; go right. Route 503 continues 7.5 miles to County Road 98 (Juan Medina Road). Here, go left and continue about 2.5 miles to Santuario de Chimayo. Afterward, rejoin County Road 98 right for about 1 mile to NM Route 76; turn right.
After passing through several villages NM Route 76 intersects with NM Route 75; turn left. Continue 6.5 miles to the junction of NM 518. Turn left again and continue on NM 518 for approximately 16 miles to Ranchos de Taos, then turn right onto NM Route 68 for 3 miles to Taos.
Side Trip:
Before heading into Taos on NM Route 68 turn left onto that route and follow signs for the church of San Francisco de Asis. This is only several hundred yards from the intersections of NM Routes 518 and 68. More information is available on San Francisco de Asis at the end of this article.
High Road to Taos Distance:
The start-to-finish distance of the High Road to Taos from Santa Fe is approximately 75 miles one way. Only interested in visiting Chimayo from Santa Fe? The distance to Santuario de Chimayo is only 29 miles on this route, making this one of the easiest day trips from Santa Fe.
High Road to Taos Time:
Allow at least 2.5 to 3 hours one way for exploring the towns and villages and taking in the scenery.
---
Chimayó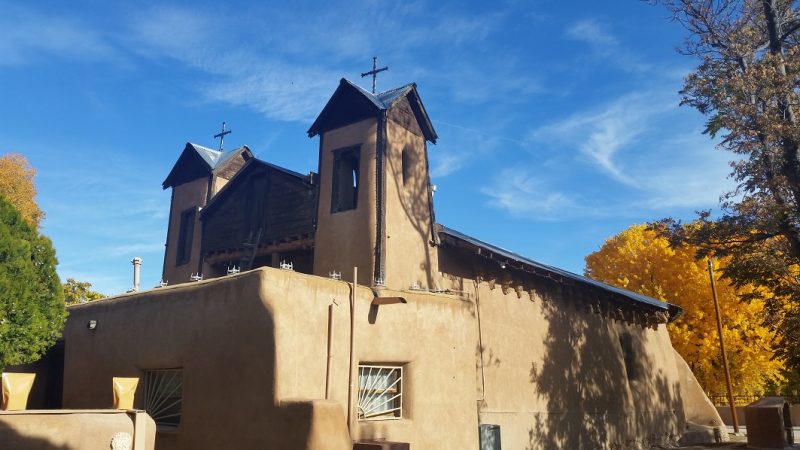 El Santuario de Chimayo, built in 1816, houses ex-votos which are offerings to saints who've fulfilled prayers for healing of ailments or protection from accidents. The Santuario de Chimayo also contains hundreds of crutches from the devoted, left behind forever after being healed.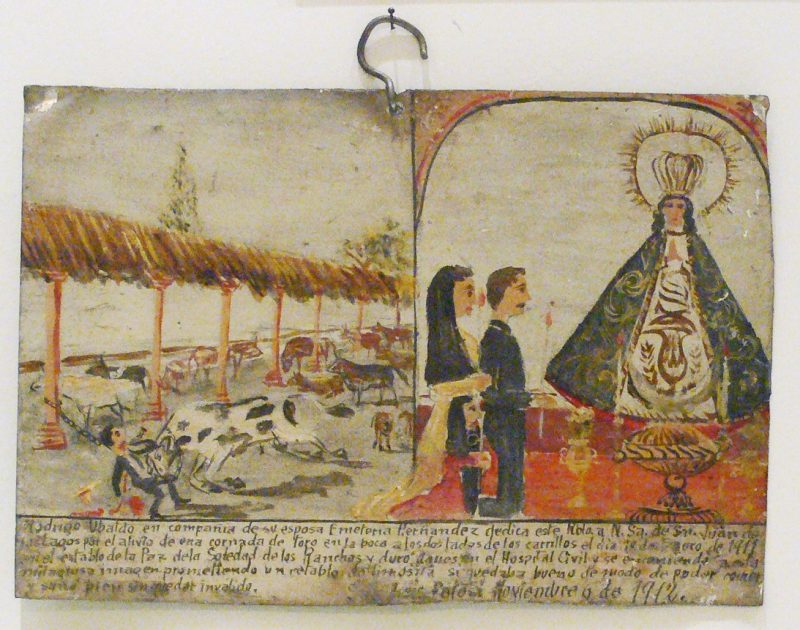 The faithful leave with a relic of the very earth this sanctuary was built atop. Chimayo holy dirt is sold at shops near the church but you can grab your own from the official Holy Dirt Room. Look to the left of the altar for this room; a sign hangs above the doorway to this sacred spot.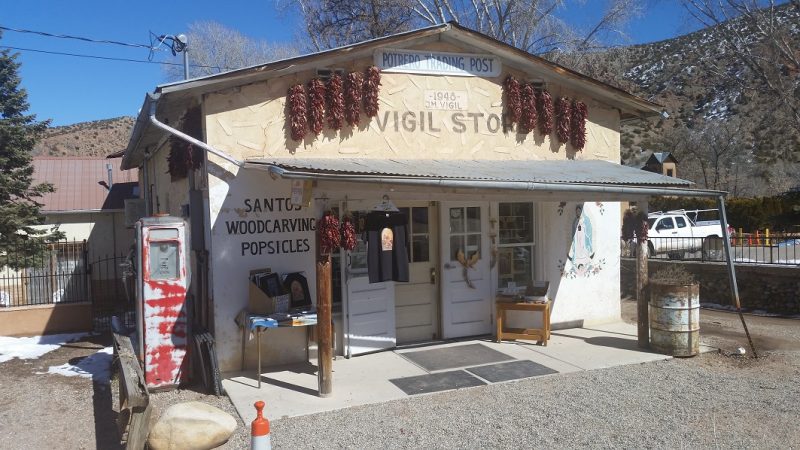 Make sure you check out the Vigil Store next to the Sanctuary of Chimayo for all your spiritual paraphernalia. Above all, don't forget to grab your own bag of heirloom Chimayo red chile powder. Sold here are several types of New Mexican red and green chile, however go for the local red. Grab your own Chimayo red chile sauce recipe, too.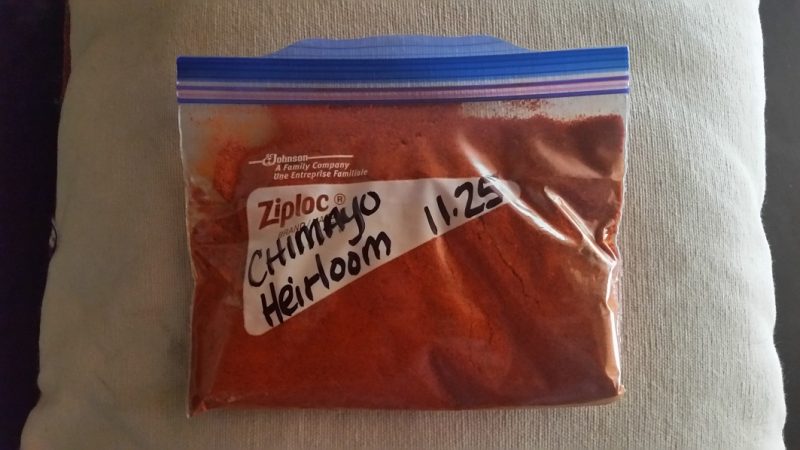 The Chimayo red chile is a local delicacy. The peppers are very thin-walled and peeling these beauties requires delicate handiwork. The finished product is a slightly buttery tasting powder with a mild, smoky kick that is not too hot. Don't leave without a bag!
---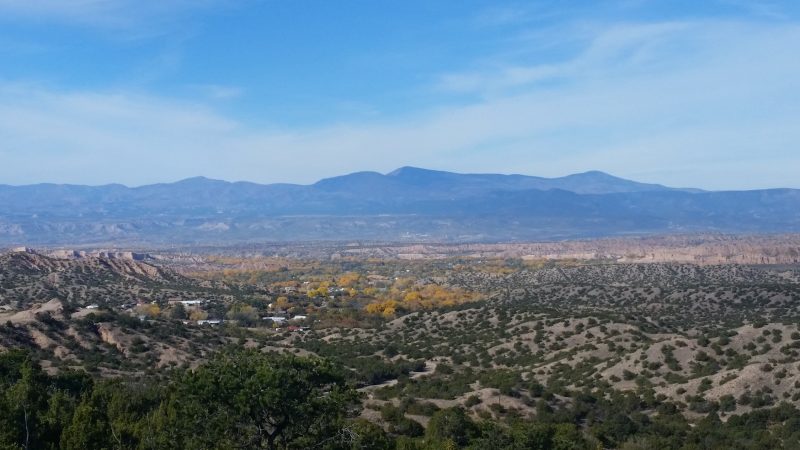 Route 76 continues to steadily climb with ample vantage points along the way. Pull in off the High Road to Taos from Santa Fe and take a photo west toward Rio Grande Valley. You soon approach the junction to NM Route 503.
Just beyond this junction you'll find a rather stunning overlook at the pull-in for the official Cordova Historical Marker. Just past this marker, at the intersection of County Road 80, is another pull-in featuring views of the tiny village of Cordova itself in the valley below. After that, continue right on NM Route 76.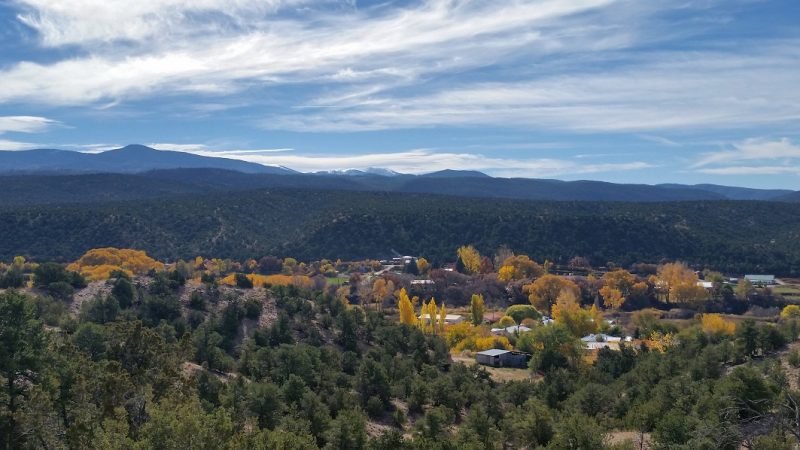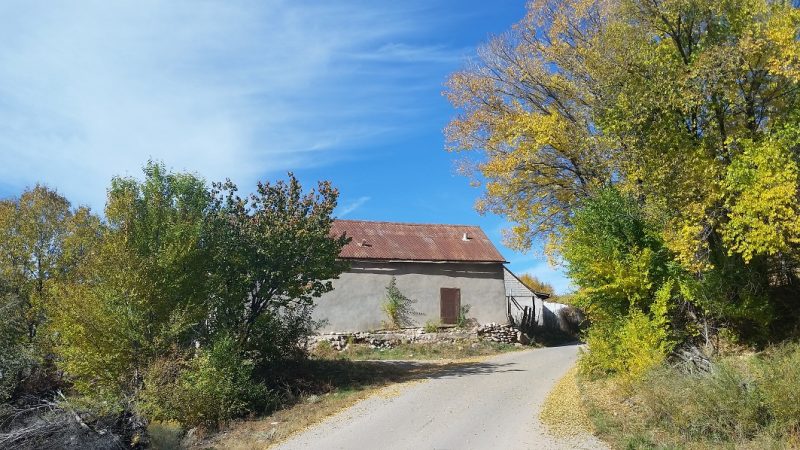 ---
Truchas
The High Road to Taos from Santa Fe slinks toward the village of Truchas. Break your trip here and visit several of the small art galleries. From Truchas you'll certainly enjoy fine views of the Pecos Mountains just to the southeast.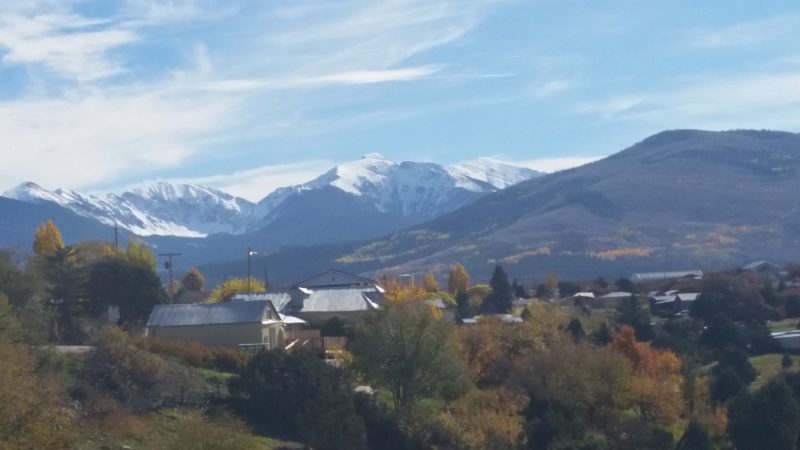 ---
Las Trampas
Not to be outdone by Chimayo, the village of Las Trampas offers her own little adobe church right off the High Road to Taos. San José de Garcia church was built between 1770 and 1776.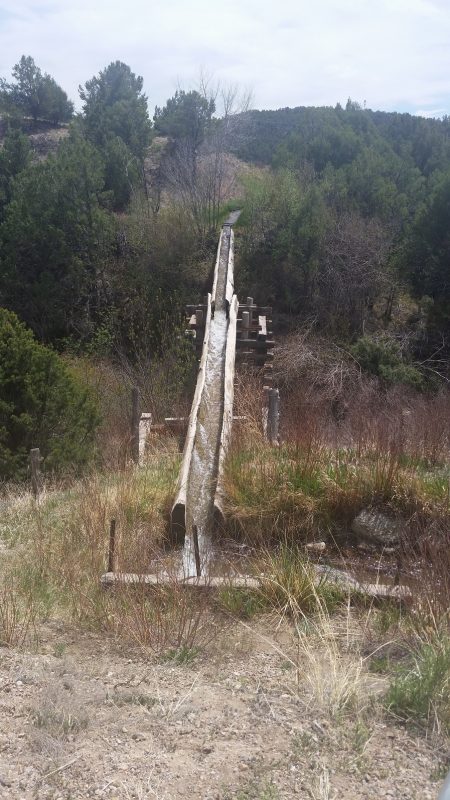 After exploring the church take a photo of Las Trampas from a roadside pull-in just past the village and off the highway. Around this pull-in is a rather unique wooden flume, still channeling water to this day.
---
Through Peñasco to Taos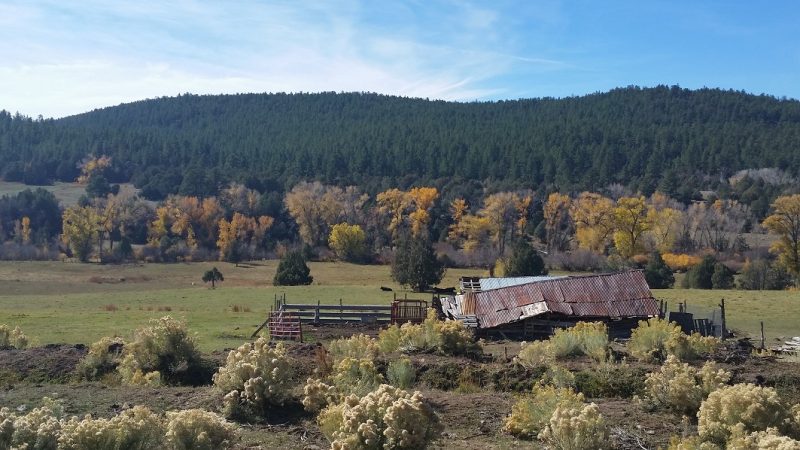 Meanwhile, the scenery continues as the High Road to Taos from Santa Fe passes through Carson National Forest. Beyond the locale of Vadito, Routes 76 and 518 intersect. Continue left on 518. After that the High Road to Taos tops out at just over 8,500 ft.
Descend toward Taos, stopping off in the village of Ranchos de Taos on the way. Here, an ancient square surrounds the mission church of San Francisco de Asis, purported to be one of the most photographed and painted churches in the world.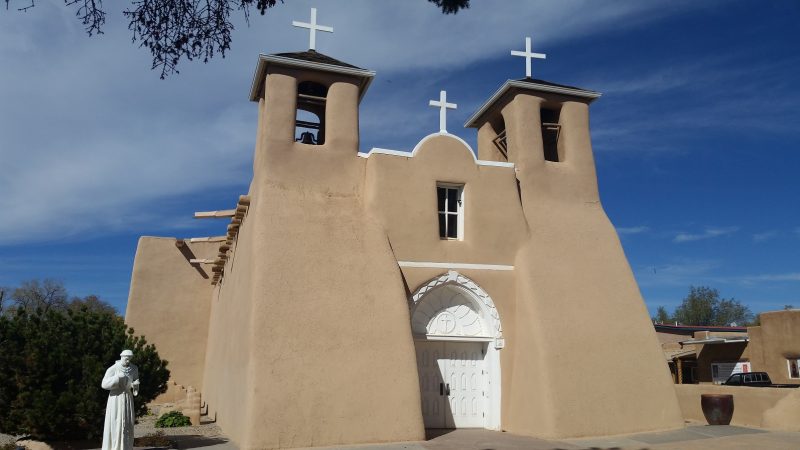 I mentioned hot springs earlier; from Ranchos de Taos you are only several miles from a rather relaxing soak. Ponce de Leon hot springs are about 3 miles up the road from the church – it's free to visit and you may certainly have the place all to yourself. For directions to Ponce de Leon and two more hot springs in Taos click on our article for 9 New Mexico Hot Springs.
---
Pin Me Now!