Last Updated on
Albuquerque may not be New Mexico's capital, but it is the largest metropolitan city in the state. If you find yourself visiting the Duke City you'll find no shortage of things to do. Don't let a tight budget deter you from exploring the Land of Enchantment's most underrated city. Our list of free things to do in Albuquerque includes quirky gems and little-known favourites, all without spending a penny.
---
Our Guide to the Best Free Things to Do in Albuquerque
Having lived here we'll give you the local's insight on finding the cool and unusual free stuff to do in Albuquerque. Our guide goes beyond the standard tourist attractions; although we do mention them and give you clear, concise details on what to expect and where each one is.
Looking for the bizarre? Take a drive by Bug House, followed by a spin out to see a couple of sizeable sculpted snakes hiding in the median of a main road. Visit a historic landfill and discover why artists are drawn to this barren wasteland.
Who doesn't want to save money and still go out sightseeing? We've got enough suggestions to keep you going in Albuquerque for a day or a week, and they won't cost you a thing.
---
Free Attractions in Albuquerque
---
Snakes on a Road
Where: University Boulevard SE, Albuquerque.
Directions: Take I-25 south to exit 220, then east on route 500/Rio Bravo Boulevard SE. Turn right at the traffic light onto University Boulevard SE. Look for the large snake sculpture in the median; continue uphill to see the other snake.
This giant sculpted diamondback rattlesnake takes pride of place in a highway median on University Blvd. Unfortunately the powers that be neglected to realise the curb appeal of this reptilian roadside attraction – there is no parking here. So for those hoping to take a photo there is only a partial shoulder for pulling in on to grab a quick snap.
Strangely enough this 400 foot slithering sculpture is unknown to the majority of Burqueños themselves. In fact, there are actually two rattlesnake sculptures within the same median.
If you want to know more about rattlesnakes while paying $6 admission per adult, visit the American International Rattlesnake Museum, conveniently located in Old Town Albuquerque.
---
Old Town Albuquerque
Albuquerque was founded in 1706 with historic Old Town representative of it's colonial beginnings. The only remaining building dating to the actual Spanish colonial period is San Felipe de Neri Church, built in 1793. The other old historic adobe structures in Old Town date to the 19th and 20th centuries.
Old Town Plaza Albuquerque is the heart of this historical neighbourhood. The plaza dates to the founding of the city although this is smaller than it's original precursor. Such central plazas are inherent to former Spanish colonies throughout the world.
Today, local artisans line the sides of the plaza selling their handmade jewellery. Known as the Old Town Portal Market, this is the place to buy or simply peruse traditional southwestern pieces.
The plaza also plays host to cultural exhibits throughout the year. If you're lucky you may catch a concert on the gazebo or you may even be treated to a mariachi or flamenco performance. Alternatively, grab a bench with some shade and simply sit and people watch.
There's no doubt that Old Town Albuquerque is a major tourist hub with the typical temptations whereby you and your cash part ways rather easily – shops and restaurants beckon at every doorway! Looking for fun, free things to do Albuquerque besides window shopping? Take a stroll through the 10 blocks comprising this historic district and make sure you have your camera with you. Old Town Albuquerque is a photogenic beauty, full of opportunities to capture that quintessential New Mexican shot.
---
San Felipe de Neri Church
Where: 2005 N. Plaza Street NW, Albuquerque
Phone: (505) 243-4628
Website: www.sanfelipedeneri.org
Without a doubt the pride of Old Town Albuquerque is the church of San Felipe de Neri. Standing in it's current location since 1793 this parish church is one of the oldest buildings in Albuquerque and continues to actively serve it's congregation to this very day.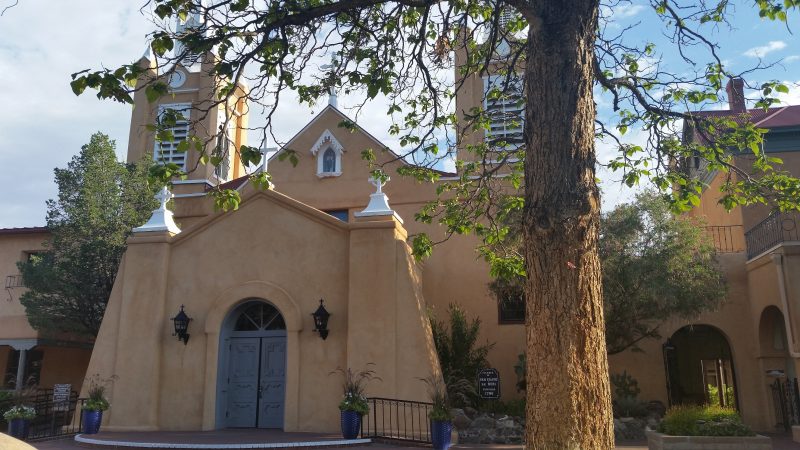 The church was built in Spanish Colonial style with 5 foot thick adobe walls. Over the years there have been certain embellishments made to it. Perhaps the most noteworthy and identifiable being the two towers added in the mid nineteenth century. The inside is quite simple and plain.
The image of San Felipe de Neri Church is synonymous with Old Town Albuquerque. Considering it is one of Albuquerque's most historic sites and it's convenient downtown location, it has become a favourite stopping point with visitors eager to snap a photo.
---
Spaceship/Bug House
Where: 3501 Monte Vista Boulevard NE, Albuquerque.
Let me start by saying these are private residences – please respect the privacy of the homeowners. Indeed, the homeowner is Bart Prince himself, the architect behind this completely unique structure.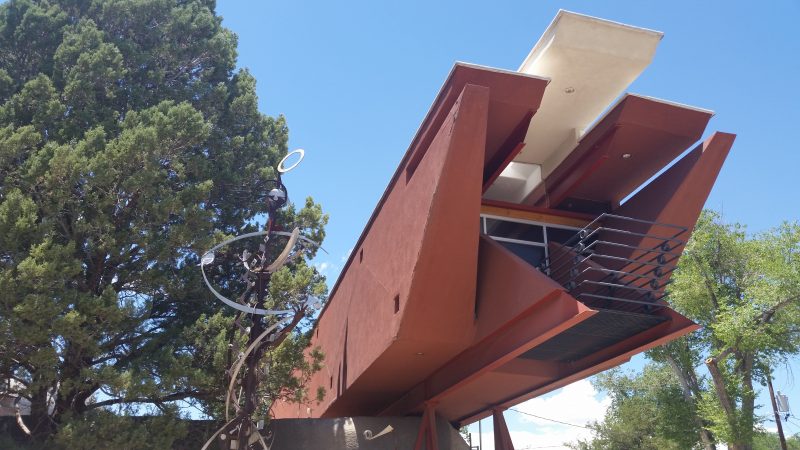 Looking for More Quirky Attractions in Albuquerque? This city has no shortage of quirky, weird and wonderful offerings for all age groups and budgets. If you want to explore even more cool and unusual attractions on offer, we also have a complete guide dedicated to unique things to do in Albuquerque.
Affectionately referred to as the Spaceship House or the Bug House, this quirky construction and it's next-door neighbour easily stand out from the surrounding adobe homes. This is also a stop on both the ABQ Trolley and Breaking Bad Tours, if your budget is so inclined.
---
Glass Graveyard Albuquerque
Where: Rio Grande Valley State Park, Albuquerque.
Directions: From downtown head south on 2nd St. Barelas Railroad Park is on the right side, just beyond this is "2315" spray painted on plywood. Turn right at this sign and park at Riverside Trail; walk over the hill to the site of the Glass Graveyard. The shimmering glints of millions of pieces of broken glass confirm your arrival here.
Tip: Wear suitable shoes as you'll be walking across broken glass – flip-flops or sandals are not suitable footwear here.
Not only is this one of the more unique free things to do in Albuquerque, it is quite possibly one of the more unusual things to do anywhere! The glass graveyard encompasses about 20 acres of the Rio Grande Valley State Park. This was once part of the city's Old River Landfill from 1920 until 1948.
Over the years rubbish has been burned in the landfill, so much so that mixed amongst the shards are congealed and warped blobs of molten glass. Today all that remains of yesterday's rubbish are acres of shimmering shards of broken glass and pottery covering the ground. Every now and then it's possible to find complete old glass containers of all different hues.
If you're partial to a scavenger hunt, Albuquerque's Glass Graveyard is the place for you. Local artists moonlight as glass detectorists here, recycling uncovered treasures into their latest creations. Finding complete bottles is a combination of luck and a little digging; bring a shovel if you're serious.
---
D.I.Y. Breaking Bad Tour
The final episode of the cult television series Breaking Bad aired in 2013. However, this show lives on in memoriam not least because it's possible to visit many of it's filming locations throughout Albuquerque.
Indeed, many credit this series for making Albuquerque a destination. Not only have die-hard fans made the pilgrimage here but major movie studios have taken note, building studios and becoming a presence in the local economy and landscape.
The official Breaking Bad Tour costs $75 per person. However, you get to visit filming locations in a Bounder RV,  just like the one Walt and Jesse started their enterprise in. So, how do you save $75 by pursuing your own D.I.Y. Breaking Bad tour?
As with just about anything these days, Google has the answer. Simply cobble together your own tour from filming locations found online. You will need a vehicle – Albuquerque is one massive, sprawling city.
For the ultimate scavenger hunt combine locations from Breaking Bad and it's spin-off, Better Call Saul. Just remember many of these filming locations are either private residences or businesses – please be respectful of private property.
Bonus Tip: Walter White's Headstone
Where: 6855 4th Street NW, Albuquerque.
Directions: From downtown Albuquerque head north on 4th Street NW past El Camino Hotel. Just beyond this hotel are the Village Shops at Los Ranchos; turn left into this small plaza. Walter White's headstone is mounted on a wall in the rear of this shopping plaza.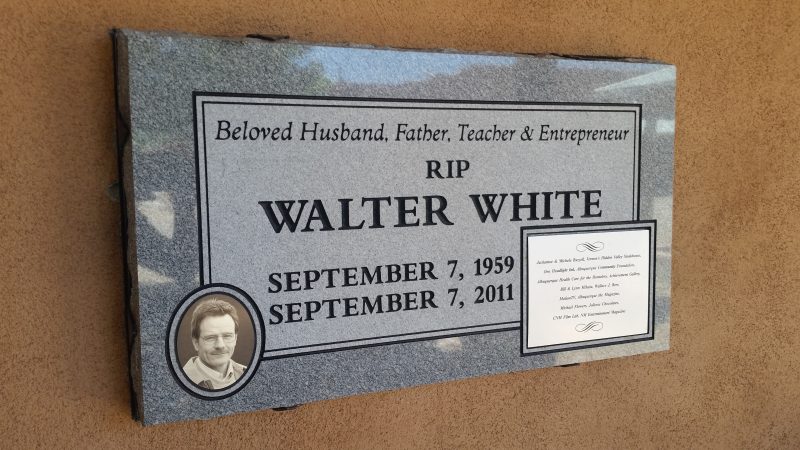 Although the headstone didn't feature in the Breaking Bad series, it is quickly becoming one of the more popular free things to do in Albuquerque. Finding this mysterious memorial is the tricky part.
---
Downtown Albuquerque Street Art
Like most metropolitan areas, street art has come to adorn many downtown Albuquerque buildings. Central Avenue and 2nd Street are the main thoroughfares of interest but keep your eyes peeled for structural adornments everywhere. Albuquerque's legendary role in iconic Route 66 history is proudly depicted on many facades. Take the mural tour and enjoy all of the colorful and creative free things to do in Albuquerque.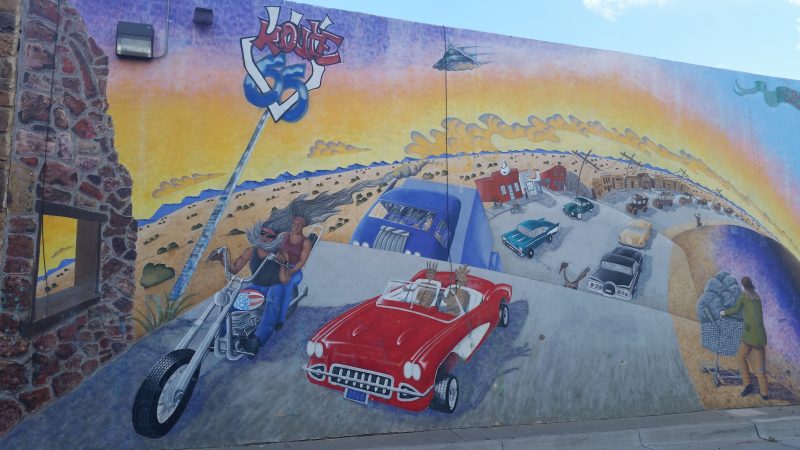 Street artists often use their talents to incorporate historical and controversial subject matter into their work. Entire murals may be dedicated to topical issues. In other instances the subtle inclusion of a figure or two can speak volumes on local matters. For example, look closely at the mural above and take note of the figure with the shopping trolley in the bottom right-hand corner.
---
Outdoor Flea Market at EXPO New Mexico
Where: 300 San Pedro NE, Albuquerque
Hours: Saturday & Sunday 7:00 am – 3:00 pm, Weather permitting
Parking: $5 per vehicle
Website: www.exponm.com
You don't have to buy anything to enjoy a flea market. This weekly gathering is set in the State Fairgrounds, so this is one mega peruser's paradise. Take your time and amble through the aisles. You name it you'll find it here, either new or used and everything in between.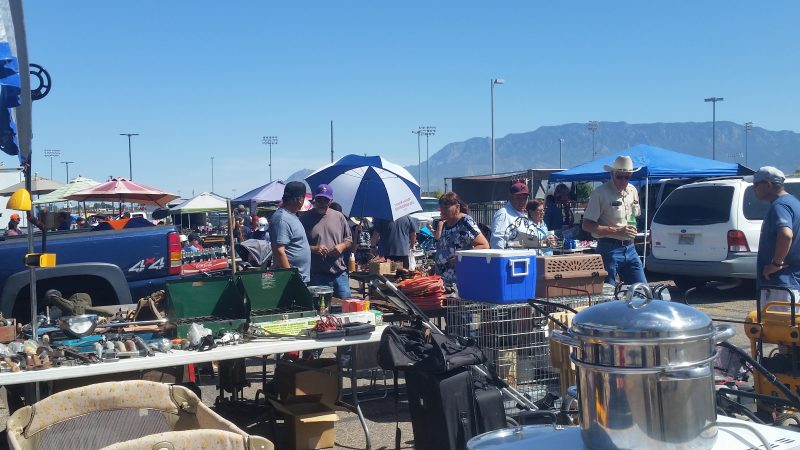 Discover great finds from antiques to artisans to just plain ol' junk. It's a great way to put in a few hours at the weekend, and even though parking is $5 this is arguably one of the best cheap things to do in Albuquerque.
Uneek Findings Indoor Flea Market 
Where: 5901 Lomas Boulevard NE, Albuquerque
Phone: (505) 265-9095
Website: www.uneekfindings.com
Uneek Findings is open 7 days a week should you need a mid-week flea market fix. Browse the vendors plying vintage cool and upscale antiques. The items on sale here are less of the shabby and more of a retro chic. This is a fun way to spend some time and the choice is entirely yours if you spend some money!
---
Free Outdoor Activities in Albuquerque
---
Paseo del Bosque Trail or Riverside Bike Path
Bosque Definition: A woodland/cluster of trees found along river banks.
Website: www.cabq.gov
Tip: Bring plenty of water and sunscreen.
Of all the free things to do in Albuquerque, the most enjoyable is an early morning walk along the Paseo del Bosque Trail. When I say early I mean sunrise early! There are 2 reasons to take this sunrise stroll; firstly to beat the heat and secondly this is a prime location in the city to see hot air balloons in a stunning location pretty much daily.
The paved trail runs parallel to the Rio Grande though you cannot see the actual river from the paved trail. However there are dirt trails through the cottonwoods that run right along the nearby river. The Paseo del Bosque Trail is part of Albuquerque's Open Space Lands.
The trail itself runs along a levee with vistas of the Sandia Mountains, as well as surrounding farmlands and countryside. So take a walk and experience one the most peaceful free things to do in Albuquerque.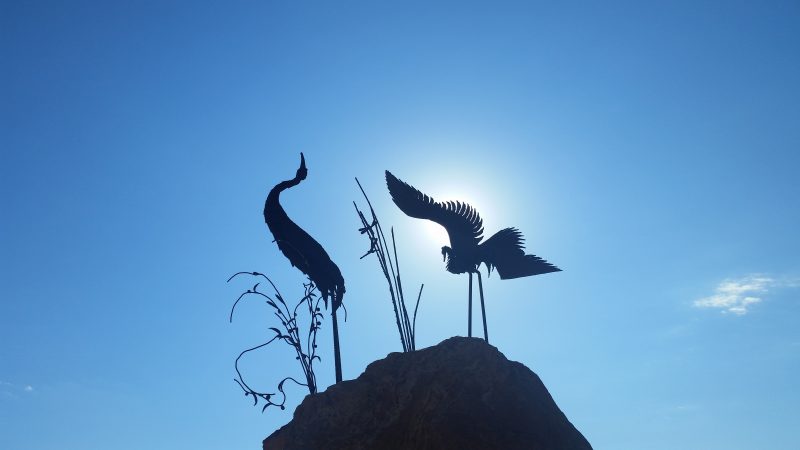 The 16-mile trail is flat except for minor dips located at underpasses. There are no roads to cross. It's quite common to see coyotes, road runners and rabbits on this urban nature trail. You may even see a porcupine resting in the trees above.
This is a world removed from the veritable sideshow of downtown Albuquerque – no wonder it's one of the best bike trails in the Western U.S. according to Sunset Magazine. Paseo del Bosque trail is open to walkers, joggers, cyclists, equestrians and is great for photographers.
---
Tingley Beach
Where: 1800 Tingley Drive SW, Albuquerque
Website: www.cabq.gov/biopark/tingley
Tingley Beach is part of ABQ BioPark, which is comprised of the Zoo, the Aquarium, the Botanic Garden and Tingley Beach. However, unless you are under the age of two, the Zoo, the Aquarium and the Botanic Garden are NOT free. Combo tickets are available if you're interested, see the BioPark Visitor Information & Tickets page on their website.
Unlike it's three cohorts Tingley Beach is free for all. Don't forget New Mexico is a land-locked state so this is technically not a beach. Here you will find three ponds stocked with trout and catfish. Should you plan on fishing you must have a New Mexico fishing license if you are over the age of 12. There is even a children's pond where kids under the age of 12 have the entire pond to themselves for fishing. Swimming is strictly prohibited in all ponds.
Aside from fishing Tingley Beach is a popular spot for joggers, families, bird-watchers and dog-walkers – leashed dogs are welcome here. During the summertime enjoy a paddle about on a pedal boat, which may be rented from Memorial Day through Labour Day. Pedal boats are NOT free, though they are a popular summer pastime with locals and visitors alike.
On a hot summer's day shade from the Cottonwood trees provides welcome respite from the sun and offers a perfect spot to enjoy a picnic. Refreshments can also be purchased from the on-site Tingley Beach Cafe and toilets are provided.
---
Pueblo Montaño Sculpture Garden
Where: 4100 Montaño Road NW, Albuquerque.
Directions: Take I-25 north to Montgomery/Montaño Exit 228, then west on Montaño across the river. The Pueblo Montaño Sculpture Garden and Picnic Area is one block east of Coors Boulevard on the south side Montaño Road.
This pleasant diversion off of Paseo del Bosque Trail was borne out of an unfortunate event – 250 acres of the bosque within this area was destroyed by fire in 2003.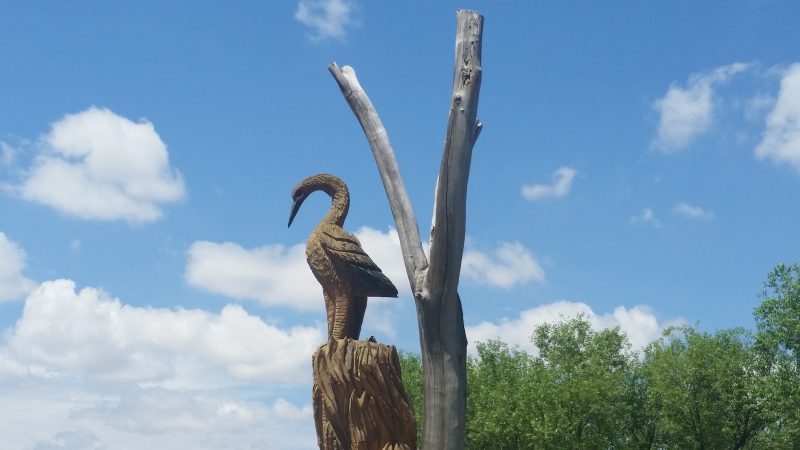 Fortuitously Mark Chavez, one of the firefighters who battled the blaze, also happens to be a chainsaw artist. As part of the rehabilitation effort of the scorched area Mr. Chavez carved remnants of the charred trees into local, familiar subjects.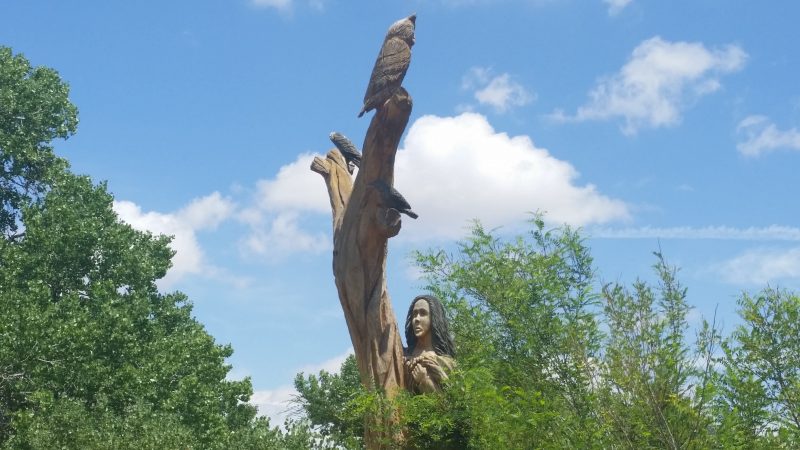 Included in these identifiable representations are coyotes, a road runner and all manner of wildlife which call the bosque home. He even pays homage to the legend of La Llorona (the ditch witch). This phantom of Mexican and New Mexican folklore found wailing along bodies of water has been striking terror into children for over 500 years!
---
Rio Grande Nature Center State Park
Where: 2901 Candelaria Road NW, Albuquerque.
Hours:
8:00 am – 5:00 pm, daily
Closed Thanksgiving, Christmas and New Year's Day.
Phone: (505) 344-7240
Website: www.emnrd.state.nm.us
Access this free state park while walking along the Paseo del Bosque Trail. An entrance from this trail leads to the park's botanical garden, the visitor center is just beyond here. Vehicles entering the park must pay $3.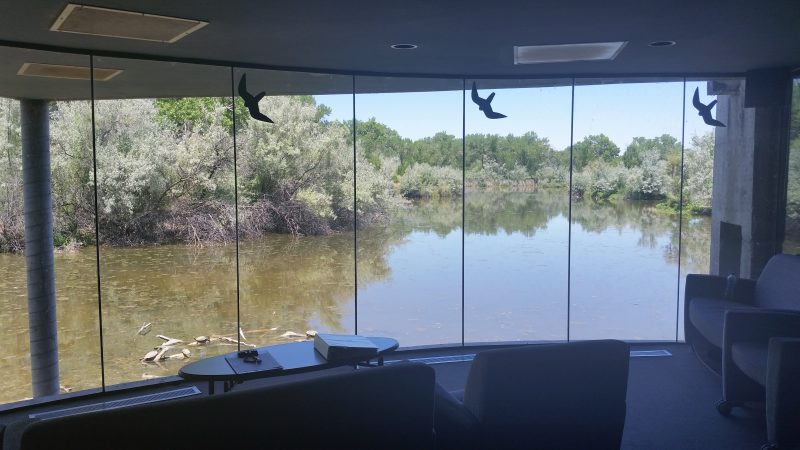 The Rio Grande Nature Center offers indoor and outdoor viewing areas, perfect for wildlife and bird watching. If you're looking for things to do in Albuquerque with kids this natural distraction is educational and fun for the entire family.
Here, not only can you learn about man's impact on the mighty Rio Grande but the hands-on exhibits provide information on the local natural history, and flora and fauna too. Check online for visitor center hours as well as special events and kid's activities, including storytelling time.
---
Open Space Visitor Center
Where: 6500 Coors Boulevard NW, Albuquerque
Hours:
9:00 am – 5:00 pm Tuesday through Sunday
Closed Monday and holidays
Phone: (505) 897-8831
Website: www.cabq.gov/open-space-visitor-center
This area encompasses just a very small percentage of the 30,000 acres of open space land owned by the City of Albuquerque. If you really want to get away from it all, the visitor center is set on 18 acres of land and provides excellent wildlife and bird-watching opportunities right in the city.
Included in the 18 acres are a farm with rotating crops used to feed migratory birds, wildlife and pollinators. Take a stroll throughout the grounds and explore the gardens and works of art scattered throughout. Not only does the visitor center provide information on the rest of the open spaces in Albuquerque but it also hosts special events, Sunday yoga classes, educational programmes and an art gallery.
---
Valle de Oro National Wildlife Refuge
Where: 7851 2nd Street SW, Albuquerque
Phone: (505) 248-6667
Website: www.fws.gov
As you can see, Albuquerque offers boundless opportunities for outdoor activities for locals and visitors alike. Valle de Oro National Wildlife Refuge is the first urban refuge in the Southwest, yet it encompasses lands that were once part of the historical El Camino Real de Tierra Adentro trail.
All 570 acres of land and waterways of this former dairy farm are now under the jurisdiction of the United States Fish and Wildlife Service. Thanks to the concern and active involvement of local community members this significant parcel of land and water rights were saved and protected from developers and became a national wildlife refuge in 2012.
Valle de Oro is quite simply acres of rural land just 7 miles south of downtown Albuquerque. Visitors may bike, hike, picnic and enjoy the wildlife and birds that call these lands home. This is a popular spot to see the migratory Sandhill Cranes who make their seasonal home throughout New Mexico from October through February. See the website for visitor centre hours, rules and regulations pertaining to Valle de Oro National Wildlife Refuge.
---
North Valley Bike Park
Where: 9800 4th Street NW, Albuquerque
Facebook: North Valley Bike Park Bernalillo County
Tip: Helmets are required
You don't have to be a pro-bike rider to enjoy this well maintained bike park. There are courses for all skill levels from absolute beginners right up to experienced riders. There's even a separate small course for younger kids and beginners. Whether your preferred ride is a BMX or a mountain bike there are jumps, ramps and features for everyone. You may even get to see some trick riders show off their skills.
This popular recreation area offers family fun for all ages, complete with ample parking, shaded picnic benches and a nearby playground. This is also a great spot to watch the balloons during the Albuquerque International Balloon Fiesta.
---
Hike Three Volcanoes
Directions: I-40 West to Exit 149. Head North on Atrisco Vista Boulevard (formerly Paseo del Volcan) for 4.8 miles to the volcanoes.
Hours:
9:00 am – 5:00 pm, daily
Closed Thanksgiving, Christmas and New Year's Day.
Website: www.nps.gov
There are actually five dormant volcanoes here but three in particular dominate this otherwise flat landscape. These three dormant volcanoes are known locally as the Three Sisters or the Albuquerque Volcanoes. Although the volcanoes are part of the Petroglyph National Monument, there are no petroglyphs here. Instead, walk amongst these three geographical wonders – JA Volcano, Black Volcano and Vulcan Volcano.
Tips:
There are no petroglyphs in this area of the National Monument.
There is no shelter from the elements – be weather-aware for lightning strikes and wind.
Beware of rattlesnakes – stay on the trails and keep your eyes peeled.
Bring sunglasses, a hat and wear plenty of sunscreen.
Bring plenty water and snacks.
Whether you have any interest in geology or not, the trails make for a unique, peaceful stroll. The volcanoes are an easy 5 minute walk from the parking lot. Although the volcanoes are dormant, smoke was seen rising from them in 1881 – geologically these are in the cooling stage.  On the rare occasion that it snows in Albuquerque, this is the first area in the city where the snow melts due to the residual heat!
Sign up for the AllTrails app to access the 13 mile Volcano and Petroglyph Trail hike. It's a bruiser with no shade, so come prepared with sunscreen, snacks and lots of water. Most importantly, know the weather forecast beforehand. If there is even the slightest possibility of storms do not attempt this 13 mile hike.
---
Free Museums in Albuquerque
---
Albuquerque Museum
Where: 2000 Mountain Road NW, Albuquerque.
Phone: (505) 243-7255
Website: www.cabq.gov/albuquerque-museum
Free Admission Days:
9:00 am – 5:00 pm, first Wednesday of each month
5:00 pm – 8:30 pm, third Thursday of each month (except December)
9:00 am – 1:00 pm, every Sunday
Note: Fees for special exhibits and events still apply for free times.
Prepare to spend a few hours at this fantastic museum. Displays will take you from pre-Colonial conquest right up to the present day. Take your time and explore the wonderfully curated Only in Albuquerque exhibit for an in-depth look at the Duke City and it's history.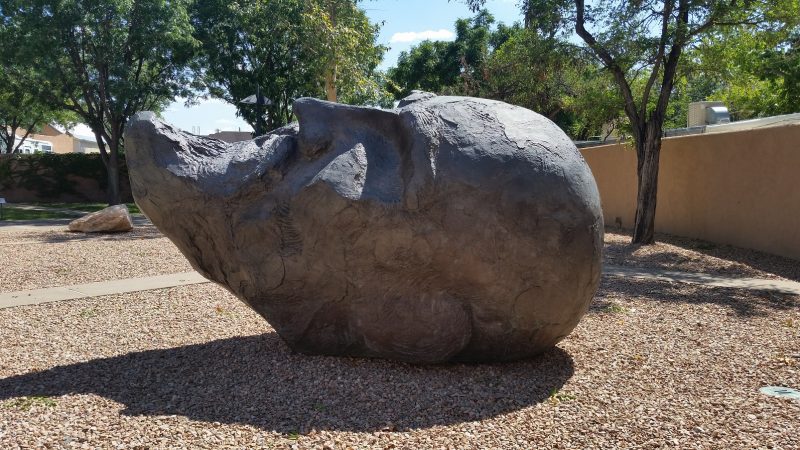 Exhibits are not restricted to Albuquerque solely and are a combination of photography, art, sculpture and interactive exhibits. You will even find hand-written letters from Billy the Kid on display. The museum also hosts temporary top notch exhibits, and don't forget to visit the outdoor sculpture garden. Put this museum on your list as a must-see attraction in Albuquerque.
---
The New Mexico Holocaust & Intolerance Museum
Where: 616 Central Avenue SW, Albuquerque.
Phone: (505) 247-0606
Website: www.nmholocaustmuseum.org
Hours:
11:00 am – 3:30 pm, Tuesday through Sunday
Closed Monday, Holidays
Some would say now more so than ever we need a museum like this. Not only does this museum focus on the atrocities of the Holocaust of World War II, it also highlights the ongoing persecution, intolerance and genocide suffered by people, throughout the world to this very day.
The goal of the museum is "to inform and educate to eradicate intolerance and promote activism in our communities by becoming upstanders…someone who intervenes on behalf of a person being attacked or bullied".
Permanent exhibits include "Jewish Life Before, During and After the Holocaust", "African American Experience", "Genocide of Christian Minorities in the Ottoman Empire", "Rwanda: the Tolerated Genocide", and a new but unopened exhibit called "Southwest Native American: Physical, Cultural and Environmental Genocide". There are also thought provoking interactive exhibits and moving testimonials from Holocaust survivors and their families.
Sadly, of all the free museums in Albuquerque, this one is perhaps the most overlooked. What this wonderful museum lacks in size, it more than makes up for with content. Be prepared for an incredibly educational and emotional visit. Admission is free, but donations are accepted.
---
Get a Free Education at the University of New Mexico
The University of New Mexico (UNM) offers visitors a chance to explore multiple free museums within it's historic grounds. Indeed, if you pack a picnic you can take a breather by the tranquil UNM Duck Pond before exploring more of the campus. Learn a little at a top university, all without spending a single dime.
Parking at UNM is not free. Buses ply the main roads around the campus, so if you are staying downtown it's easy to get to UNM via public transport. For parking information go to UNM's Parking & Transportation Services page on their website.
UNM Art Museum
Phone: (505) 277-4001
Website: www.artmuseum.unm.edu
Hours:
10:00 am – 4:00 pm, Tuesday through Friday
10:00 am – 6:00 pm, Saturday
Closed Sunday, Monday and Holidays
Nourish your inner culture vulture with a visit to a New Mexico museum renowned for housing the largest collection of art in the state. Rotating exhibitions blend with selected items from the permanent collections of photography, lithography, painting, sculpture, and prints.
Works by Ansel Adams, Diane Arbus, Georgia O'Keeffe, Bridget Riley and many other artists throughout the ages form the foundations of the museum's collection. You don't have to be an art critic to enjoy wandering through the galleries here.
The Maxwell Museum of Anthropology
Phone: (505) 277-4405
Website: www.maxwellmuseum.unm.edu
Hours:
10:00 am – 4:00 pm, Tuesday through Saturday
Closed Sunday, Monday and Holidays
This Albuquerque museum is a must if you want to learn more about the history and culture of New Mexico and the southwest. The People of the Southwest is a permanent exhibit focusing on the archaeology and anthropology of the region, with collections including textiles, jewellery, baskets and ceramics. Trace the evolution of man through the Ancestors exhibit, complete with fascinating facts about our early selves.
Articles from all over the world are on display and the Maxwell Museum is considered one of the finest anthropology museums in the country. The museum also houses temporary exhibits. Although the museum is free, donations are welcome.
Limited free reserved parking is available for visitors on the west side of the building. You must get a parking permit from the museum attendant to display in your vehicle.
UNM Meteorite Museum
Phone: (505) 277-2747
Website: www.meteorite.unm.edu
This small free museum is home to hundreds of meteorites. Local schools avail of this unique educational resource offering students a chance to get up close and personal to these space-travelling rocks.
Free doesn't always mean must-see for everyone. If you enjoy science and astronomy, you will benefit most from this museum. If you think you've found a meteorite, this is not the place to take it. As per their website "We do not inspect suspected meteorites".
UNM Geology Museum
Phone: (505) 277-4204
Website: www.eps.unm.edu/museums
Hours: 8:00 am – 12:00 pm and 1:00 pm – 4:30 pm, Monday through Friday
The Geology Museum is located in the Earth & Planetary Sciences building of UNM's campus. If you have an interest in mountains, minerals, volcanoes, fossils, rocks and anything at all relating to the structure of the earth – this is the place for you. Group visits are welcome – call ahead to schedule your tour.
UNM Duck Pond
As simple as it sounds this is a beloved spot amongst those in the know. The duck pond is a series of water features with ducks, turtles and fish surrounded by grassy knolls, picnic benches and soothing shade from the trees. Looking for some peace and quiet? Relax with a book or simply zone out here.
This is a great spot to take the kids. If you're looking for free activities that are fun for the whole family come feed the ducks and enjoy a picnic. If you're traveling as a couple, grab your significant other for a romantic stroll around the pond. Step away from the hubbub of the city for a little slice of serenity tucked away on the UNM campus, all whilst being right in the heart of Midtown Albuquerque.
---
The Anderson Abruzzo International Balloon Museum
Where: 9201 Balloon Museum Drive NE, Albuquerque.
Directions: From downtown Albuquerque take Interstate 25 north to exit 233 (NM 528/Alameda Boulevard). Turn left on Alameda Boulevard. Continue straight for several blocks, then right onto Balloon Museum Drive.
Phone: (505) 768-6020
Website: www.balloonmuseum.com
Free Admission: 9:00 am – 1:00 pm every Sunday and the first Friday of the month only, excluding October.
Albuquerque is synonymous with the Albuquerque International Balloon Fiesta. This annual event is the world's largest hot air balloon festival and also the most photographed event in the world! This is held each October at the city's Balloon Fiesta Park, also home to the Anderson Abruzzo Albuquerque International Balloon Museum.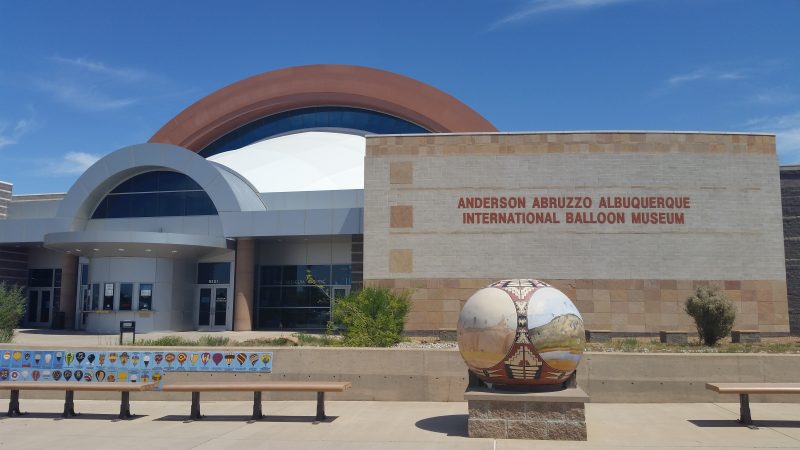 The museum encompasses all aspects of hot air ballooning, from the early days of balloon flight, to it's use in WWII and beyond. Exhibits detail balloons used for espionage, record-breaking experiments, space exploration and doomed North Pole adventures. The interactive exhibits keep the kids occupied and everyone can have a go at the balloon flight simulator.
If you're a serious balloon enthusiast, you will love this specialty museum. For the rest of us who love hot air balloons – i.e. being mesmerised by looking at them in the sky or hoping to one day take a ride in one, well, there's a lot of information to take in.
The typical admission fee of $6 per adult won't break the bank but why not take advantage of this museum when admission is free? In fact, a visit here represents one of the most iconic free things to do in Albuquerque.
---
In Conclusion
You'll always find loads of free stuff to do in Albuquerque, no matter the season. These range from the obvious sights and activities to the practically unheard of. See them all and see parts of Albuquerque few know about, and get ready to save some serious money!
Planning on Visiting Albuquerque and Beyond? 
Whether you're visiting Albuquerque solo, as a couple or with the family we've got lots of suggestions to keep you occupied in the Duke City and beyond.
---
Pin Me Now!