Last Updated on June 1, 2021
You'll never get bored in Albuquerque. As New Mexico's largest city it offers no end of enticing attractions for all budgets, all year long. What if you want to experience more than the obvious tourist draws though? Let us take you on a tour and introduce you to the more unique things to do in Albuquerque. We can't guarantee these are completely off the beaten path but if you're looking for something different you won't be disappointed.
Disclosure: This article contains affiliate links to products and services whereby we receive a nominal commission if you make a purchase through one of these links. This comes at no extra cost to you. Please see our Disclaimer for full information.
---
Our Guide In A Glance
Everyone knows Albuquerque is famous for its tram and the Albuquerque International Balloon Fiesta, but what about the more obscure attractions of the city? We've got insider information on elusive and exclusive Zuni murals, an artist's treasure trove that's quite literally a dump and a hip farmer's market in an old, abandoned rail yard.
We'll even tell you where to ski in the desert and where you can ride a bike two storeys high. Looking for somewhere unique to eat? How about doughnuts from an old British double-decker bus or a fine steak dinner at an off-license (liquor store).
Looking For a Unique Place to Stay in Albuquerque?
We suggest booking with Hotels.com for a wide range of options in Albuquerque. Find a last-minute bargain at that perfect boutique hotel or a familiar national chain. Book with Hotels.com and always get the best deal. 
Watch Our Video and Learn More About New Mexico!
---
Albuquerque Unique Versus Santa Fe and Taos Chic
Unfortunately Albuquerque is often overshadowed by the allure and charm of Santa Fe and Taos. Don't be misled, the Duke City has it's own distinct appeal and offers visitors enough quirky, one-of-a-kind finds. When facing an Albuquerque or Santa Fe dilemma just choose both – these cities are just one hour apart. See the box below for some great Albuquerque day trip ideas to keep you rolling.
What's Changed in Albuquerque Since We Lived Here 20 Years Ago? Quite a Bit…
Albuquerque is neither Taos trendy nor Santa Fe chic. There is a serious lack of folk clad in hip cowboy hats accessorised with native print shawls or wraps here. Albuquerque is less turquoise trinkets and more of a reality check on contemporary urban life and this sprawling city is unapologetic in it's authenticity.
Looking for Even More Useful Information on Albuquerque? 
---
Unique Things to Do in Albuquerque
---
The American International Rattlesnake Museum
Where: 202 San Felipe Street NW, Albuquerque
Phone: (505) 242-6569
Website: www.rattlesnakes.com
The best way to come face to face with a rattlesnake is to visit this local museum located in the heart of Old Town. This fun, educational experience also includes scorpions, lizards, a gila monster and some resident tortoises with free rein of the building. This museum features loads of creepy-crawly things for kids to do in Albuquerque.
Actually one of the most unique things to do in Albuquerque that even most residents aren't aware of is to visit the enormous slithering rattlesnake sculpture hidden in plain sight right in the city. For more information on this elusive sculpture and other attractions check out the box above for a link to plenty of free things to do in Albuquerque.
Explora
Where: 1701 Mountain Road NW, Albuquerque
Hours:
10:00 am – 6:00 pm, Monday through Saturday
12:00 pm – 6:00 pm, Sunday
Phone: (505) 224-8300
Website: www.explora.us
This award-winning, hands-on science museum is a favourite of both kids and adults. Unlike your standard museum, here kids are encouraged to interact with exhibits in a completely hands-on way. We promised you unique things to do in Albuquerque and we aim to deliver. Ever wanted to ride a high wire bike? Check out the vertigo inducing velocipede at Explora!
Of course, this museum isn't all about things for kids to do in Albuquerque – Explora Adult Night is full of fun and learning for their grown-ups, too. Previous Explora Adult Night events have included the science of wine, zombies, date night yoga and food science to name but a few. Here's a link for more information and a schedule of events for Explora Adult Night.
Tinkertown Museum
Where: 121 Sandia Crest Road, Sandia Park, NM
Hours: 9:00 am – 6:00 pm daily, late March through late October
Phone: (505) 281-5233
Website: www.tinkertown.com
Tip: Bring quarters, dimes and nickels to spring to life any of the antique machines on display. We also recommend bringing a jacket as it can be quite chilly walking through the displays.
It doesn't get much quirkier than the Tinkertown Museum on the way up to Sandia Peak. This labour of love was created and curated over a span of 40 years by Ross Ward, whose dream has become an iconic attraction for those seeking the outlandish.
Explore the labyrinth of passageways filled with folk art, authentic vintage carnival machines, iron works, antiques, painstakingly hand carved figurines and even a boat that sailed around the world for 10 years. Become inspired by the thought-provoking, up-beat signs strategically placed throughout the museum.
---
Historic Zuni Murals at De Anza Motor Lodge
Where: 4307 Central Avenue NE, Albuquerque
Phone: (505) 252-0223
Website: www.thedeanza.com
A recent renovation along Central Avenue has breathed new life into a forlorn yet historically significant motel. The latest incarnation of the De Anza consists of luxury apartments and modern short term rentals. Indeed the very salvation of the De Anza Motor Lodge is due in large part to the one-of-a-kind murals decorating the walls of a single room.
In 1951 Tony Edaaki, a renowned Zuni artist, was commissioned by Charles Wallace (the founder of De Anza Motor Lodge) to create these murals. The paintings are representative of the Shalako – a winter solstice ceremony integral to the spiritual and cultural rites of the people of Zuni Pueblo. This is a closed ceremony for tribal members only.
The fact that these murals exist off of tribal land makes them extraordinarily unique. In reverence of their sanctity, future tours will include an educational introduction to Zuni Pueblo and it's culture.
Tours of the murals are limited to a handful of times throughout the year. Should you be lucky enough to secure a viewing of these murals you'll have accessed one of the most exclusive and unique things to do in Albuquerque by a long shot.
Tours will be announced on the De Anza ABQ Facebook page or you may enquire about potential upcoming tours by contacting [email protected], [email protected] or messaging the De Anza ABQ Facebook page. Guided tours are strictly by appointment only. There are absolutely no walk-ins permitted. Tours must be organised well in advance. Keep in mind this is private property and a residential community.
---
KiMo Theatre
Where: 423 Central Avenue NW,  Downtown Albuquerque
Phone: (505) 768-3522
Website: www.kimotickets.com
Take a tour of the historic KiMo theatre and get a backstage pass to this beautiful structure from 1927. Learn about the influential Pueblo Deco art design, and don't forget to bring a gift for Bobby – the resident ghost. Your backstage pass includes a visit to his shrine, where performers leave all kinds of offerings to placate this little poltergeist.
This is hands down one of the BEST things to do in Albuquerque and it's FREE. If you're lucky your tour guide will be Larry, the entertaining, genial general manager whose deliverance of the history of the theatre is as worthy as any stage performance here. Put this tour to the top of your things to do in Albuquerque list. Reservations are recommended but not required. Check their website for free guided tour information.
---
Indian Pueblo Cultural Center
Where: 2401 12th Street NW, Albuquerque
Hours: 9:00 am  – 5:00 pm, daily
Phone: (505) 843-7270
Website: www.indianpueblo.org
The Indian Pueblo Cultural Center sits on what was once part of the 66-acre campus of the Albuquerque Indian School built in 1886. Today the Indian Pueblo Cultural Center is owned and operated by the 19 Pueblos of New Mexico.
The highlight for many here is the Indian Pueblo Cultural Center dances. This is the only place in North America offering a schedule of Native American traditional dances weekly throughout the year. We also recommend getting here for the mural tour every Friday at 1:00 pm which is included in your admission price.
Combine the mural tour with the traditional dances which take place at 2:00 pm, however Friday's dances are only performed May through August. If you're looking for something unique to eat visit Pueblo Harvest. This on-site restaurant offers a menu of pre-Columbian cuisine served with a modern flourish.
---
Glass Graveyard
Where: Rio Grande Valley State Park, Albuquerque.
Directions: From downtown head south on 2nd Street to Barelas Railroad Park, located on the right. Park your vehicle here, head behind the baseball fields and follow Riverside Trail to the left; the Glass Graveyard site is about 100 yards along this trail and to the right – the shimmering glints of millions of pieces of broken glass confirm your arrival here.
Tip: Wear sturdy, enclosed shoes – you'll be walking across broken glass.
Discover an old landfill that even most locals aren't aware of. This treasure trove of ancient trash is a favourite hunting grounds of local artists, especially those who work with glass.
Years of burning at the landfill has resulted in acres of pottery and glass underfoot in various states of distress. A successful treasure hunt may yield complete vintage bottles, jars with shimmering oxidised patinas or molten blobs warped by the intense heat. Bring a shovel if you really want to explore this weird, local, oddity well deserving of the moniker of Albuquerque's Glass Graveyard.
---
Musical Highway
Note: Alas the Musical Highway has fallen into rack and ruin, and only small parts of it remain. However we have decided to keep it in this article, in the hopes that the powers that be may come to their senses and reinstate this unique attraction. In the meantime experience what was the Musical Highway in our video below!
Where: Coming from Albuquerque on Interstate 40 east take exit 170; the singing highway is on old Route 66, or present-day NM Route 333. Find the musical rumble strip between mile markers 4 and 5. To hear the music you must be travelling east on NM route 333.
Turn Up The Volume And Check Out Our Video Below:
Video by acoupleofdrifters.com
Experience one of only a handful of musical roads in the world right here in Albuquerque. To hear your own rubber rendition of America the Beautiful align your passenger-side tyres with the special grooves along the edge of the road, roll up your windows and follow the recommended speed limit of 45 mph. Be prepared to give it a few attempts before getting it right.
Traffic isn't heavy on this road, so get into the groove and make several passes. This Route 66 musical highway is just outside the city limits yet it's quite unknown, even to many locals. Put this fun, offbeat activity on your list of things to do with kids in Albuquerque.
---
Albuquerque Open Space Division
Open Space Visitor Center
Where: 6500 Coors Boulevard NW, Albuquerque
Hours:
9:00 am – 5:00 pm Tuesday through Sunday
Closed Monday and holidays
Phone: (505) 897-8831
Website: www.cabq.gov/open-space-visitor-center
The City of Albuquerque owns 30,000 acres of open space land. As a city it has one of the highest percentages of open space in the country. The ultimate goal of acquiring and maintaining these natural areas is to protect them for the enjoyment of future generations.
The Albuquerque Open Space Visitor Center features an art gallery, farmland and indoor/outdoor viewing areas for wildlife and bird watching. The open spaces themselves offer hiking and biking trails, equestrian facilities, art installations, waterways and even a shooting range. Find out more about the various open spaces at the visitor center.
Stunning Serenity At Los Poblanos Open Space
Directions: Access Los Poblanos Open Space from westbound Montaño Road. Follow signs to the parking area located on Tierra Viva Place NW.
Website: www.cabq.gov/los-poblanos-open-space
Of all the trails in Albuquerque to choose from our favourite is Los Poblanos Open Space. This is a beautiful, easy trail through open historical farmland and one of the best places to watch the colours of the Sandia Mountains change with the setting sun. Of course, be sure to bring your camera. This is also a great spot for bird watching.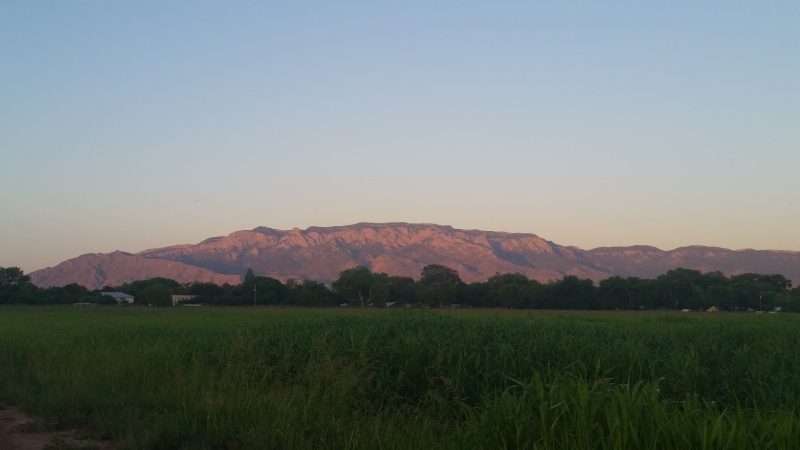 If you're in town during October check out the massive 3.8 mile, 8 acre maize maze at Los Poblanos Open Space. This quirky, fun-filled autumn celebration is spread over a few weeks and offers something for all ages. Previous events have included pumpkin carving, a bike-in movie night and a music festival complete with food trucks and local craft breweries. Information and tickets are available online.
---
Seasonal Unique Things to Do in Albuquerque
---
Tasty Tuesdays Albuquerque
Where: Hyder Park, 700 Pershing Avenue SE, Albuquerque
When: 4:30 pm – 8:30 pm, every Tuesday, March through October
Facebook: TastyTuesdaysABQ
Note: The Tasty Tuesdays event oddly doesn't have public toilets.
Grab a blanket or chair and join the locals on a Tasty Tuesday evening in the summer at Hyder Park for some good old fashioned family fun. Pack a picnic or indulge in any of the tasty offerings by the half dozen or so food trucks lining the outskirts of the park.
Entertainment includes yoga, face-painting and chill, ambient music perfect for a summer's evening for Mums, Dads and kids to dance to. This dog-friendly, family-friendly picnic in the park is a great way to foster community amongst neighbours, but is open for anyone to enjoy. This is certainly one of the best free events in Albuquerque and makes for a pleasant evening out.
---
The Rail Yards Market in Albuquerque
Where: 777 1st Street SW, Albuquerque
When: 10:00 am – 2:00 pm Sunday, May through October
Phone: (505) 600-1109
Website: www.railyardsmarket.org
Tip: Arrive early for a parking spot at Rail Yards Market.
As the name suggests, this once weekly seasonal market is housed in the historic Albuquerque Rail Yards. These days the vast former blacksmith's shop hosts local craftsmen and vendors plying wares which range from locally grown organic fruits and vegetables to artisanal bread to composting worms and plenty more!
Expect to find entertainment for all the family including face painting, magicians and yoga (sometimes even goat yoga). Leashed, well behaved dogs are also welcome at the Rail Yards Market in Albuquerque.
Not only is this a hip and fun farmers market, it's also a great spot for photographers. Surrounded by the sprawling, skeletal steel girders of once great industrial structures, the seasonal market is the only sign of life here now. This incredibly atmospheric lot with it's graffiti-tagged buildings and final vestiges of yellow and green window panes is already being eyed for future development.
---
Pick Your Own Green and Red Chile at Big Jim Farms
Where: 4474 Rio Grande Boulevard NW, Los Ranchos de Albuquerque
When: Seasonal (September and October), see website for details.
Phone: (505) 459-0719
Website: www.bigjimfarms.com
Nothing is more synonymous with New Mexico than green chile. Just seven miles from downtown is the stunningly beautiful rural farmland of Los Ranchos de Albuquerque. This is where you'll find Big Jim Farms and the opportunity to pick your own chile.
Every year throughout September and October, come join the locals and pick your own chile here. Once you've filled your basket, gather around one of the on-site roasters to have them roast your harvest and inhale deeply the incredible, sweet aroma of roasting chiles. You'll soon understand why chile season is a local favourite tradition.
---
Go Skiing in the Desert at Sandia Peak Ski Area
Where: Access the ski area from NM Route 536 on the east side of Sandia Mountain.
When: December through March
Phone: (505) 242-9052
Website: www.sandiapeak.com
Although Albuquerque is high desert you don't have to drive far to find some fresh powder for all you winter sports enthusiasts. Sandia Peak Ski Area is located on the east side of the mountains and offers lessons, rentals and trails suitable for beginners to advanced skiers and snowboarders.
You can drive to the ski area but for a truly unusual way of getting there why not take the Sandia Peak Tramway? The upper terminal of the tram provides space and lockers to store your belongings. From here it is literally just down a few flights of steps to the slopes.
---
Watch a Sandia Sunset at Albuquerque Downs
Where: 145 Louisiana Boulevard NE, Albuquerque
When: Live racing takes place June through September.
Phone: (505) 767-7171
Website: www.abqdowns.com
Enjoy the Sandia sunset and spend a few hours at Albuquerque Downs. Although it may lack the glitz and glamour of the Kentucky Derby you can still enjoy the excitement of a live horse race from the grandstand. All this and relatively cheap beers compared to other professional sporting events. You don't need to gamble to enjoy the fun atmosphere and admire the Sandia sunset while sitting track-side.
---
Unique Street Art in Albuquerque
---
Not only are there plenty of unique things to do in Albuquerque but the city also has it's share of unusual things to see. Scattered throughout the city limits are wonderfully bizarre murals, sculptures and public art displays.
Aluminium Yucca
Where: North side of westbound Interstate 40
Located just within the city limits, the Aluminium Yucca sculpture has been welcoming visitors to Albuquerque on Interstate 40 westbound since 2003. Constructed out of recycled military aircraft fuel tanks, this interstate artwork pays homage to nearby Kirtland Military Air Force Base. It also honours New Mexico's state flower in it's representation of a yucca plant.
Street Murals
Where: South 2nd Street and Gold Avenue SW
Many Albuquerque murals portray both topical and historical issues relative to the city and New Mexico as a whole. The mural above depicts the ramifications of the Santa Fe Railroad on native folk. This also conveys local sentiment towards the controversial demolition of the historic Alvarado Hotel in 1970. Discover more Albuquerque murals complete with a map of where to find them.
Auto Hawk and Chevy on a Stick
Where:
Auto Hawk – 1st Street SW, 2.5 blocks south of Albuquerque Transit Department.
Chevy on a Stick – Gibson Boulevard SE and San Mateo SE
What could be more fitting as a tribute in a town that was once a highlight on Route 66? Although neither of these art displays are on Central Avenue (Route 66), their quirkiness still embodies the link between Albuquerque, the automobile and the Mother Road.
May Cafe Vietnamese Restaurant Lumberjack
Where: 111 Louisiana Boulevard SE, Albuquerque
What do a Paul Bunyan-esque lumberjack and a Vietnamese restaurant have in common? Absolutely nothing, except the owners of May Cafe have kept this guy around from the building's former life as a lumber company in the 1960's. Now he is an iconic landmark beloved by all and is bizarrely yet intrinsically linked to an Albuquerque Vietnamese restaurant.
---
Unique Eateries and Treats in Albuquerque
---
Bristol Doughnut
Where: 10301 Comanche Road NE, Albuquerque
Hours:
8:00 am – 4:00 pm, Monday through Friday
8:00 am – 3:00 pm, Saturday and Sunday
Phone: (505) 596-0312
Website: www.bristoldoughnut.com
Update: The bus is now located at 7201 Paseo del Norte NE, Albuquerque. Hours there are Friday 7:00 am – 12:00 pm or until sold out, Saturday and Sunday 8:00 am – 12:00 pm or until sold out.
Not only is this one of the most unique things to do in Albuquerque, but you can also indulge in some unique locally inspired doughnut flavours too – prickly pear cactus anyone? The shop at Comanche Road accepts cash or cards. Payment at the bus is by card only.
Coffee and doughnuts are available at this converted British double-decker bus where you can grab a seat upstairs to chow down. These are gourmet doughnuts and the prices are reflective of that, so be prepared to pay a higher price than you normally would for a doughnut. One bite and you'll soon realise these aren't just any old doughnuts.
Monte Carlo Steakhouse
Where: 3916 Central Avenue SW, Albuquerque
Website: See the Monte Carlo Steakhouse Facebook page for hours and more information.
Phone: (505) 836-9886
Looking for a hole-in-the-wall steakhouse? This classic neighbourhood bar and restaurant is tucked away at the back of a liquor store. Food, drinks and service are all top notch, in a setting that's authentically cool and vintage, if not a little strange. Why not take home a bottle for a nightcap?
You may even meet Louie, one of the brothers who owns the Monte Carlo. He will regale you with stories of the history of his family's business and give you a better understanding of why the Monte Carlo Steakhouse in Albuquerque is a long-standing neighbourhood favourite.
It is rare to find a business owner genuinely interact with their customers in the way these brothers do. Perhaps this is the essence of what makes it one of the most unique things to do in Albuquerque.
Piñon Coffee House
Website: Visit www.nmpinoncoffee.com for addresses of multiple locations throughout Albuquerque.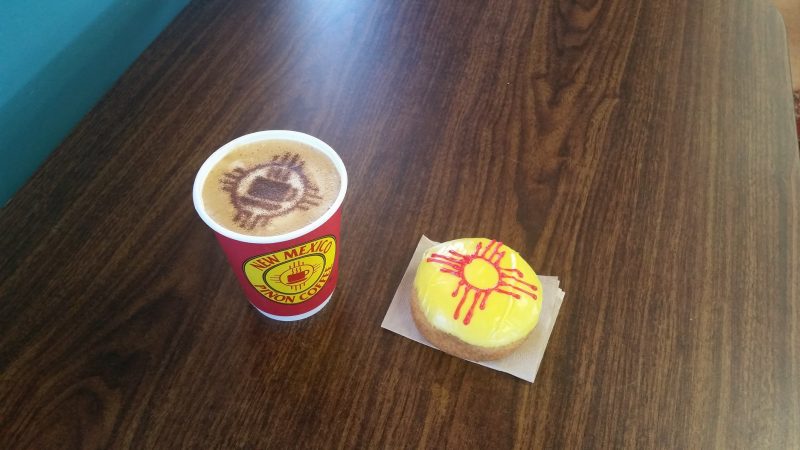 New Mexico Piñon Coffee has become one of New Mexico's biggest coffee roasters whose packaged coffee is available throughout the United States. However you will only find their coffee houses in Albuquerque.
Coffees are available in a variety of roasts, each with the distinct nutty aroma and flavour of the piñon nut for which it's named. If you've never heard of this local yet legendary coffee now is certainly your chance to partake in this truly, unique New Mexican favourite.
---
Ultimately…
As exhaustive as this guide appears, it's merely an introduction to the weird, wacky and wonderful city of Albuquerque. Look beyond the pages of the travel books and discover a city that deserves so much more than a passing through glance. You never know what you'll see here.
Looking for More Resources on Albuquerque? 
Visit Albuquerque is the official city website, offering tourist information to help you plan your trip.
Check out the cool and unique businesses revitalising Albuquerque's historic Nob Hill district.
---
Pin Me Now!