Last Updated on
New Mexico's moniker, Land of Enchantment, is proudly displayed upon all license plates issued within the state, and for good reason. Although this is mostly an arid land of cactus, scrub-bush and tumbleweeds, New Mexico is replete with pockets of geothermal activity bubbling up from the earth. In fact, we visited 3 Taos hot springs in one day.
This article shows you where to find even more hot springs in New Mexico with a section at the end including etiquette, what to expect and important information regarding nudity in the springs. For a more comprehensive compilation of New Mexico's hot springs check out the book Touring Hot Springs New Mexico: The State's Best Resorts and Rustic Soaks
---
Visiting 3 Taos Hot Springs In 1 Day
Taos is situated in a beautiful area of Northern New Mexico. Aside from the historical and cultural draw of this town, we encourage you to seek out some of the scenic drives in the area. Stunning views of the Sangre de Cristo Mountains and the cool mountain air will likely entice you to visit the 3 Taos hot springs located nearby. Again, all three can easily be visited in a day.
The first 3 hot springs listed below lie just beyond the town; one to the south and two more just north. Getting to the first of the Taos hot springs (Manby) requires a drive on a formidable dirt road. Be aware heavy rain and snow makes this road difficult to traverse. The remaining hot springs near Taos are accessible over more favourable roads. Look for detailed directions and road considerations regarding each below.
Note: The first two pools mentioned, Manby Hot Springs and Black Rock Hot Springs, are only 3.5 miles away from each other via road. These are both easily visited in several hours. Ponce de Leon Hot Springs, mentioned third, are approximately 20 miles beyond Manby and Black Rock.
---
Manby/Stagecoach Hot Springs Near Taos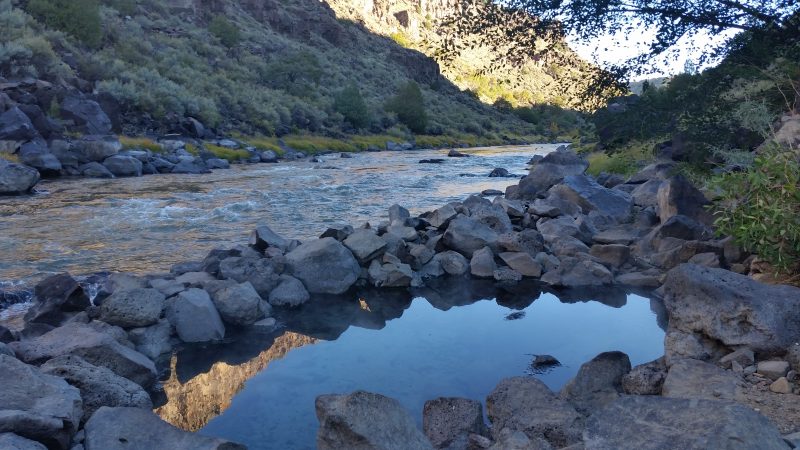 Directions: Reach Manby, also known as Stagecoach Hot Springs, from NM Route 522 north of Taos. Turn left onto County Road B007 approximately 5.3 miles from Taos on NM Route 522. After 2.5 miles B007 makes a hard right, however turn left onto Tune Road at this point. This stretch quickly deteriorates, so proceed with great caution.
Continue beyond a sign indicating the Dobson House to a fork in the road; head left. Continue further until you reach a very large parking area for the hot springs. Follow the hiking trail about .9 miles downhill to the hot springs.
From the parking area a 20 to 30-minute hike leads down into the gorge. This hike is steep and narrow, along an unmaintained path – wear hiking boots or trail shoes with proper ankle support and be prepared for this trail to the hot springs. Manby requires considerable effort to get to and may be less frequented than nearby Black Rock Hot Springs (see below).
Road Conditions: Luckily, we had dry conditions on our drive to Manby Hot Springs. A 4-wheel drive is advantageous on this road, however most vehicles should be able to manage this under dry conditions. Wet or dry roads aside, expect a badly uneven surface with significant ruts and dips; take it slow and know the capabilities of your vehicle.
Price: Free
Hours: No restrictions.
The Pools
The location of Manby Hot Springs is absolutely stunning! Nestled at the bottom of the Río Grande Gorge are three pools, one of which is small and somewhat insignificant. Each pool varies slightly in temperature. A fourth pool exists however it's only viable for use when the river level is low. The natural sand/gravel bottomed pools at Manby Hot Springs are roughly 2 feet deep.
Lay back and enjoy towering views of the Rio Grande Gorge as it looms overhead whilst listening to the babbling and rushing of the river as it tumbles over rocks and pushes through this incredible natural backdrop.
Water Temperature: 91°F to 101°F
Clothing Optional: Yes
Camping: No designated sites exist here, however we observed a tent in the parking area during our visit. Please be mindful this is a residential area; I suspect camping isn't permitted in the parking area for Manby Hot Springs.
Toilets: The parking area for Manby Hot Springs featured a clean porta-potty during our visit.
Note of Interest
It seems strange that the pools bear reference to a name (Manby) that holds a sinister notoriety within Taos. Arthur Manby was a swindling conniver whose renown for illicit dealings has earned him an immoral and immortal reputation. One of his schemes was the bathhouse he constructed on land he never actually owned, now known as Manby Hot Springs.
The main pool still has the ruins of the west wall of Manby's bathhouse as a feature; today this is the warmest pool. Manby operated a brothel and general store for the convenience of visitors to his bathhouse as well. He came to a mysterious demise, decapitated in his home in 1929.
As the alternative name Stagecoach suggests, there is a bit of history to these pools. As you look across the river you will see the remainders of the old retaining walls of a stagecoach road, switchbacking up the embankment. It seems unfathomable a stagecoach ever made it down here!
---
Black Rock Hot Springs Near Taos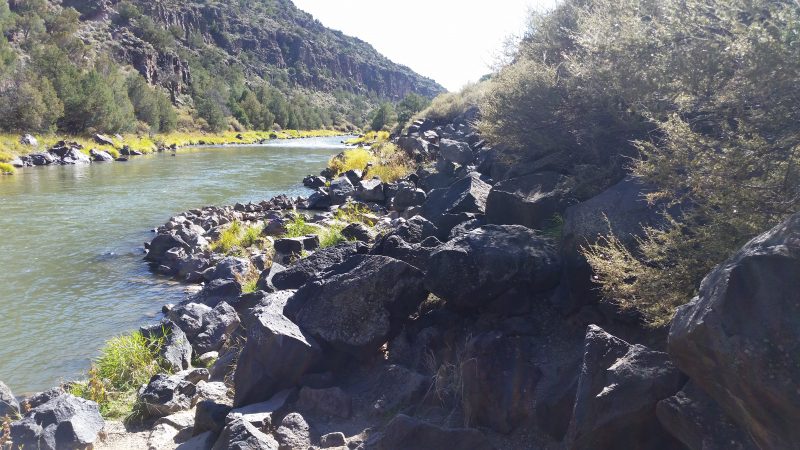 Directions: Reach Black Rock Hot Springs from NM Route 522 north of Taos. Turn left on County Road B007 approximately 5.3 miles from Taos. County Road B007 makes a sharp right after 2.5 miles; take this right and head downhill. Soon, a narrow one-lane bridge crosses the Hondo River followed by the John Dunn Bridge across the Rio Grande River.
This road immediately turns left and heads uphill after John Dunn Bridge. The parking area for Black Rock Hot Springs is just beyond, located at the first switchback of this road. From the parking area it's about a 5 or 10 minute walk along an easy trail to Black Rock Hot Springs.
Note: Directions to Black Rock Hot Springs and Manby Hot Springs both feature County Road B007.
Road Conditions: At the time of our visit County Road B007 (gravel) to Black Rock Hot Springs was very good. Expect a steep downhill gradient with no guardrails – pay attention on this road and take your time getting to the hot springs.
Price: Free
Hours: A sign at the parking area to Black Rock Hot Springs indicates Day Use Only.
The Pools:
Black Rock Hot Springs have 2 pools but river conditions must be right to access them both. During our visit the river was too high and engulfed one of the pools. The only accessible pool during our visit fit 6 adults snugly. This soaking pool contained a combination mud/gravel bottom.
Water Temperature: 101°F
Clothing Optional: Yes
Camping: No
Toilets: Pit toilets are located at John Dunn Bridge Recreational Site, a popular area for fishing, hiking, biking, swimming etc.
Overview
Like Manby, the pools at Black Rock Hot Springs are beautifully situated at the bottom of the Río Grande Gorge in Northern New Mexico. Black Rock is easier to access than Manby Hot Springs and therefore much more popular; you'll likely be sharing this spot with other bathers.
---
Ponce de Leon Hot Springs Near Taos
Directions: From Taos take NM Route 68 south several miles to Ranchos de Taos. From NM Route 68 turn left on Old State Road 382. This road forks after approximately 1 mile with Vista Del Valle Road; take the right fork and stay on Old State Route 382.
Route 382 soon forks again at Miranda Canyon Road; take this fork left. Just after this fork is a parking area on the left. Directly across from the parking area is a gate going across another road; walk around this gate.
The gate marks the beginning of an easy 10-minute walk to Ponce De Leon Hot Springs and puts you on Taos Pueblo land. A posted sign indicates "You are granted temporary access to the land…" if you abide by the listed conditions.
The road soon makes a sharp turn left and continues straight for several hundred feet, where a small clearing appears. At this point is a path just off the right side of the road; continue on this path for several minutes to Ponce de Leon Hot Springs.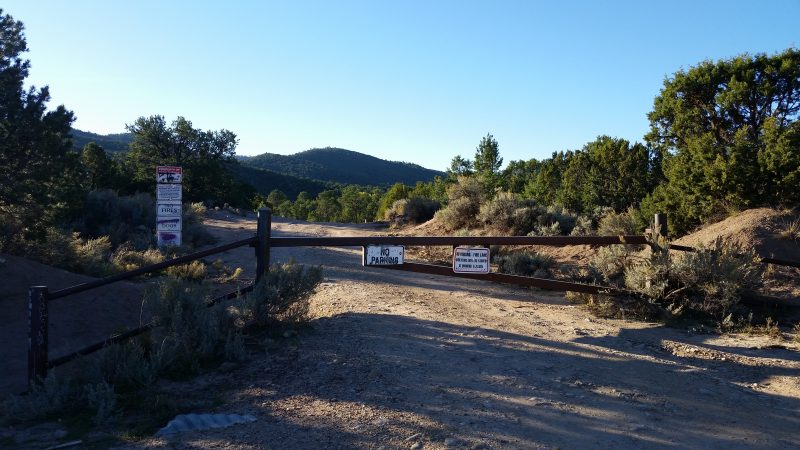 Road Conditions: The short gravel road portion of the drive to Ponce de Leon Hot Springs is in quite good condition. Expect only washboard surfaces along certain stretches of this road.
Price: Free
Hours: Daylight hours only.
The Pools
A short walk from the gated area brings you to what was once a health resort. Your first glimpse of this abandoned spa is an empty Olympic size swimming pool filled with weeds and cattails today. The remaining soaking pools, filled with steamy water, are just beyond this.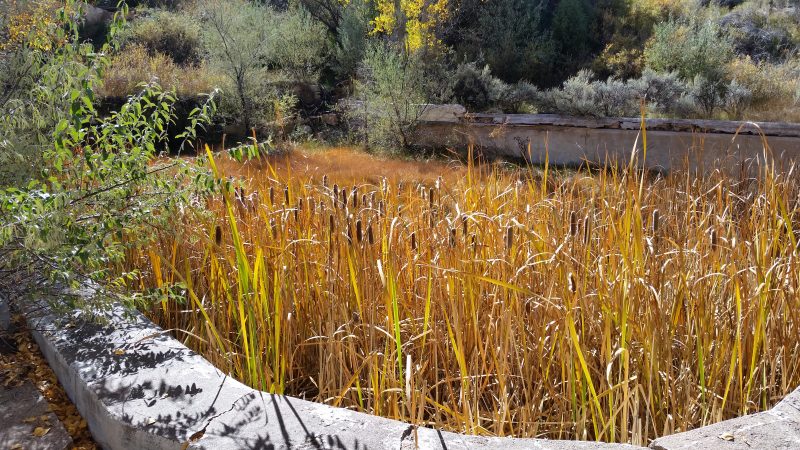 There are 3 accessible pools at Ponce de Leon Hot Springs with an on-site sacred pool which is off limits to the general public. This pool, cordoned off behind a wooden palisade fence, is for tribal use only.
The water is crystal clear and the pools feature gravel bottoms. The two main pools, i.e. the large pool and the smaller one at it's upper end (by the palisades), are about 3.5 feet deep. The shallow pool off to the side is only about a foot deep.
Water Temperature: 91°F
Clothing Optional: Nothing is posted indicated a clothing requirement.
Camping: No. This is strictly a day use area on Taos Pueblo property. Respect the posted rules.
Toilets: No
Note of Interest
Although the water here is tepid rather than hot, these pool are absolutely mesmerizing. Ponce de Leon Hot Springs are like an enigma in the middle of nowhere. The name of this spot is deftly attributed to the conquistador Juan Ponce de Leon, the first governor of Puerto Rico, who allegedly searched for The Fountain of Youth.
From research gleaned online I learned Ponce de Leon Hot Springs was a resort back in 1928, eventually closing and then falling into a state of decay and disrepair. That decay adds to the appeal of this odd oasis in the woods.
After decades of existing in limbo legal ownership of this land parcel was transferred from Taos Land Trust to Taos Pueblo in July, 2012. Public access is granted by Taos Pueblo in accordance with their posted etiquette rules.
---
Montezuma Hot Springs, Las Vegas, New Mexico
Directions: From Las Vegas take NM Route 65 north about 5 miles to the village of Montezuma. Just past Montezuma are parking areas on the shoulder of NM Route 65; look for several signs on the right side of the road behind the guardrails. You will likely see other vehicles parked here.
Also, look for the brick remains of an old ice house which once served Montezuma Castle, perched on the hillside to the right as you approach the village. Montezuma Castle now houses Armand Hammer United World College.
Price: Free
Hours: Daylight hours only. 
The Pools
These concrete tubs aren't big and tend to be cozy when other bathers are present. The pools of Montezuma Hot Springs feature stone/rock bottoms. Soaking here leaves you feeling like a happy boneless chicken! Cool off in Gallinas Creek which flows just below the hot spring pools.
The first 3 pools at Montezuma Hot Springs are clustered together. Most noteworthy is The Lobster Pot, flanked by 2 smaller and much shallower pools. These 3 pools are found at the entrance, several yards from the side of NM Route 65.
A path links to several outlying pools a bit further from the road. Most noteworthy of these is The Toaster, which is about 5 feet deep. Near The Toaster are several more pools and an old bathhouse structure, also containing a pool.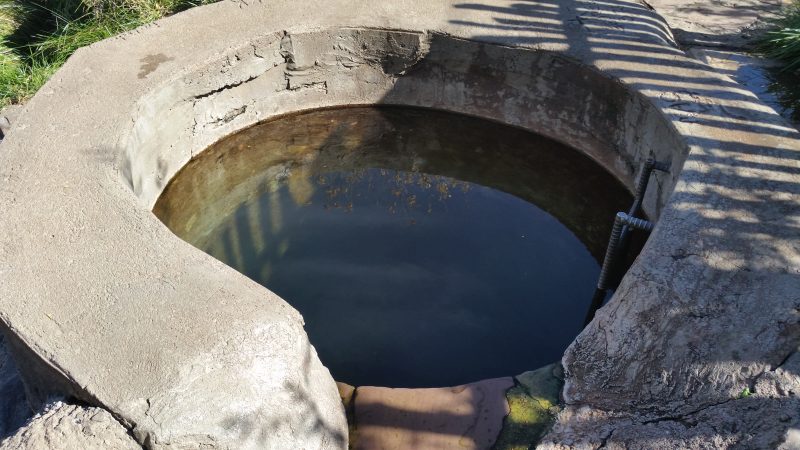 Water Temperature: Of the 3 pools clustered together, The Lobster Pot was a rather hot 116°F, the middle pool was a perfect 110°F and the lower pool was 107°F during our visit.
The Toaster clocked in at an incredibly toasty 118.5°F the first time we soaked and a more temperate 113°F during a return visit. It was on this later visit we finally braved the heat and took the plunge into the aptly named Bagel Slot.
The outlying 3 pools near The Toaster and the original bathhouse structure ranged from 91°F to 104°F during our visits.
Clothing Optional: No. Clothing is mandatory at Montezuma Hot Springs.
Camping: Day use only. Hours are posted at the entrance, per order of the landholders of Montezuma Hot Springs, Armand Hammer United World College.
Toilets: No
Note of Interest
The original name of the site was Las Vegas Hot Springs and featured a hotel in the 1800's. The therapeutic waters were the hotel's selling point as salutary to those with rheumatism, tuberculosis and other ailments. This was also the site of New Mexico's first building to have electric lighting.
---
Spence Hot Springs, Jemez, New Mexico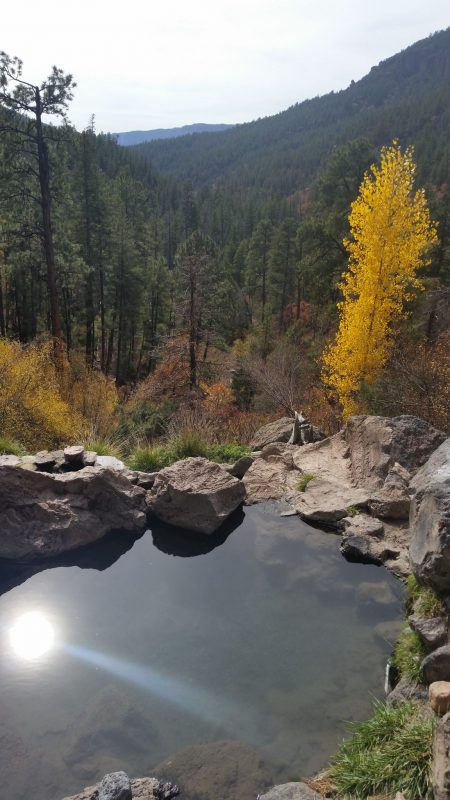 Directions: Reach Spence Hot Springs from NM Route 4, about 7 miles north of Jemez Springs village. Or, coming north from San Antonio Hot Springs (see below), reach Spence Hot Springs 1.5 miles south of the where NM Route 126 intersects NM Route 4.
A small parking area for about 10 vehicles marks the trailhead to Spence Hot Springs. The 10 minute hike to the springs is on a well maintained trail. This easy hike descends and crosses San Antonio Creek, then ascends to the springs.
Price: Free
Hours: No restrictions as long as you have a flashlight!
The Pools
Bathers will find 2 pools here. The upper pool features a cave big enough to wade into. This would make a perfect steam sauna if the water was hot enough. The bottoms of each pool is a combination of mud and gravel.
We frequented these springs when we lived in Albuquerque over 20 years ago. Unfortunately, our most recent visit left us sad because the water here is considerably more tepid than it was in the past.
The water is also quite murky and stagnant and the springs don't flow like they used to. We took several photos but couldn't be bothered soaking for long in the uninviting abyss. Easy access to the springs means this is a highly trafficked site, likely contributing to their overall demise.
Water Temperature: We clocked the waters at 83°F, 91°F and 94°F in the cave.
Clothing Optional: As this is located on U.S. National Forest land you may be cited by a ranger if caught bathing nude. However many folk take their chances and do bathe nude here.
Camping: You'll find several campgrounds nearby on U.S. National Forest Land. We stayed at Redondo Campground on several occasions. Visit the U.S. National Forest website for more information on camping in this area.
Toilets: No
Note of Interest
The water at Spence Hot Springs is heated from the nearby super volcano making up Valles Caldera National Preserve. This stunning spot is about a 30 minute drive north of the hot springs on NM Route 4.
---
Indian Springs, Truth or Consequences
Where: 218 Austin Street, Truth or Consequences, New Mexico.
Phone: (575) 894-2018
Website: www.facebook.com/indianspringstorc
Price: A 30-minute, walk-in soak is $5 per person.
Hours: 8:00 am – 9:00 pm, Daily
The Pools
Indian Springs has 2 first come, first served soaking pools. The larger (6'x8′) holds 4 to 6 people and the smaller (4'x4′) is suitable for 1 or 2 people. We opted for the smaller pool which was perfect for the two of us. This review focuses on the smaller pool only.
The small, gravel bottom pool is artesian but also relies on a pump to assist in maintaining a water supply. This private room features a seating area, hooks for hanging your clothes and a clock to watch your allotted time. This 4'2″ pool provides an incredibly relaxing soak with no sulphuric smell.
Water Temperature: 104°F
Clothing Optional: Clothing is optional in both pools, however be considerate of guests in the large pool who may not be comfortable with your nudity. If you are uncomfortable with nudity, know that fellow bathers in the large pool may be naked at any time.
Lodging
Indian Springs has been in business since the 1930's. Today the property features six units, five of those with kitchenettes. The unit without the kitchenette does have it's own shower. The other units contain a toilet and sink but lack showers. There is an outdoor shower for guests and all lodgers receive two free 30-minute baths per day.
Overview
We enjoyed our relaxing soak at Indian Springs and meeting the wonderful staff. In the future we hope to return for another private soak and a chance to spend a few nights at this historic bathhouse while enjoying the town of Truth or Consequences.
---
Blackstone Hotsprings Lodgings & Baths, Truth or Consequences
Where: 410 Austin Street, Truth or Consequences, New Mexico.
Phone: (575) 894-0894
Website: www.blackstonehotsprings.com
Price: Blackstone Hotsprings offers various luxury bath experiences at different price levels. Check their website for information on walk-in rates for each of the private bathing tubs.
Hours: Daily walk-ins from 9:00 am – 9:00 pm
The Tubs:
Blackstone Hotsprings offers an assortment of private luxury tubs: 3 outdoor soaking pools and 2 historic indoor baths dating from the 1930's. The aptly named Wet Room features a large pool, a geothermal steam room with a waterfall, shower and cooling room. Towels are provided for guests.
If your budget and time allows, Blackstone Hotsprings offers quirky and individually themed accommodations. All lodgings except the Lone Ranger Room and The Bugalow offer hot spring tubs. Guests booking these rooms are granted complimentary soaks in the historic 1930's baths.
Water Temperature: The average temperature we recorded across several tubs during our visit was 106°F.
Clothing Optional: Yes
Note of Interest
The town was originally called Hot Springs. In 1950 the game show Truth or Consequences challenged any town in the U.S. to change it's name to that of the show. The annual Truth or Consequences Fiesta in the Park celebrates this moment.
After a vote on March 31st, 1950 the town changed it's name the following day on April 1st to Truth or Consequences. Rumour has it some folks in town still lament this name change and instead have their post addressed to Hot Springs, New Mexico.
---
San Antonio Hot Springs Near Jemez, New Mexico
Directions: The access road for San Antonio Hot Springs is located off NM Route 126, which junctions with NM Route 4 at the locality of La Cueva, 10 miles north of the village of Jemez Springs. From NM Route 126 look for Forest Service Road 376, approximately located at mile marker 36.
A small parking area with a gate across Forest Service Road 376 is on the right. The gate is usually open from April through November, however the springs are accessible all year. See details on the road to San Antonio Hot Springs below.
Road Conditions: If the gate is open high clearance vehicles can access San Antonio Hot Springs from FS Road 376; all others vehicles are advised to not attempt this! If the gate is closed, and if you aren't driving on FS Road 376, you must hike 5 miles each way to San Antonio Hot Springs.
For high clearance vehicles, expect a very deteriorated dirt road with mud puddles, large rocks and deep ruts. High clearance vehicles traversing this road must then park at a designated area and hike 15 minutes from there to San Antonio Hot Springs.
For all others, FS Road 376 is a very pleasant and relatively easy hike to the hot springs. This road features a slight elevation gain at the beginning but is quite level beyond that. San Antonio Hot Springs are located on a hillside where a steep but short hike to the pools is required.
Price: Free
Hours: No restrictions as long as you have a flashlight!
The Pools
San Antonio Hot Springs are completely and utterly amazing! About 6 to 7 inviting pools cascade down the hillside. The hot spring water is crystal clear and each pool has a gentle gravel/pebble bottom. The views across the pine valley from the pools are simply stunning!
The upper pool has 3 pipes shooting hot water from the hillside. A thoughtfully placed rock seat directly beneath these pipes allows you to enjoy a unique hydro-massage from the hot spring water; this is like being pummeled by thousands of tiny karate chops!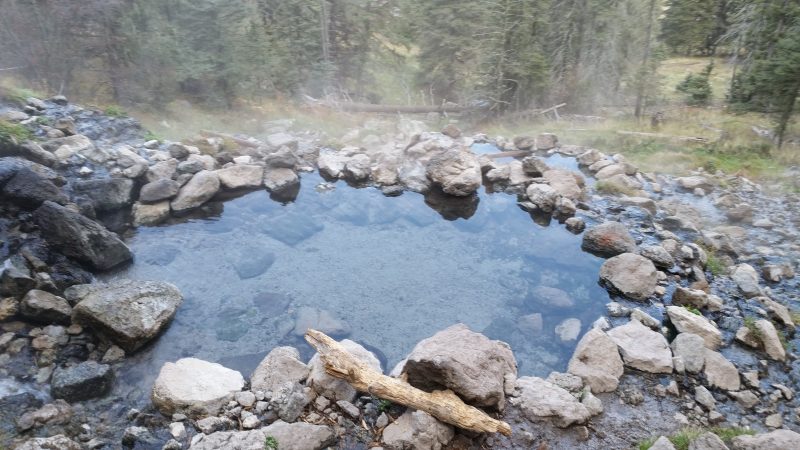 Water Temperature: The upper pool is the hottest with a temperature of 106°F.  The pools below are only slightly cooler.
Clothing Optional: As these springs are located on U.S. National Forest land you may be cited by a ranger if caught bathing nude. However, many folk do bathe nude here. Chances are unlikely you will encounter a ranger, however be warned you could be cited if caught bathing nude.
Camping: There are many U.S. National Forest campgrounds within this vicinity. We stayed at Redondo Campground during one of our visits to San Antonio Hot Springs. See Spence Hot Springs above for more information on camping in this area.
Toilets: No.
Overview
This is one of our favourite natural hot springs in New Mexico; it offers a hike, beautiful scenery and plenty of relaxing pools to soak in. Hopefully the extra effort involved in getting to San Antonio Hot Springs keeps this area in a pristine natural condition.
---
Gila Hot Springs Campground Near Silver City, New Mexico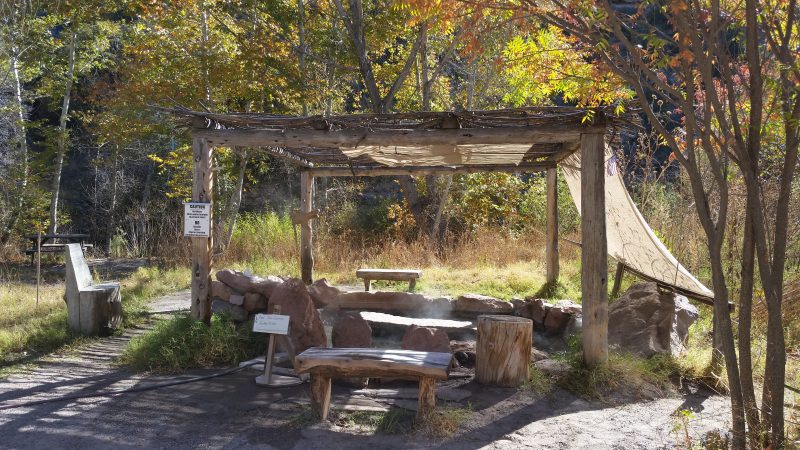 Phone: (575) 536-9944
Website: www.gilahotspringscampground.com
Directions: Gila Hot Springs Campground is approximately 40 miles north of Silver City on NM Route 15.
Price:
Day Soak $5 per person
Camping $6 per person, including unlimited use of the hot springs.
Gila Hot Springs Campground is cash only!
Hours: Day-use of the springs is limited to daylight hours only.
The Pools
Gila Hot Springs Campground features 3 pools with gravel bottoms; the depth of these pools is each 2 feet. Seating areas within and around the pools provide a touch of comfort. In addition, 2 of the pools at Gila Hot Springs feature a shaded canopy.
The water in the pools is crystal clear and the campground is very well maintained; we witnessed the cleaning of one of the pools during our visit. Staff also monitors water temperatures throughout the day, posting the results on the notice board near the campsites.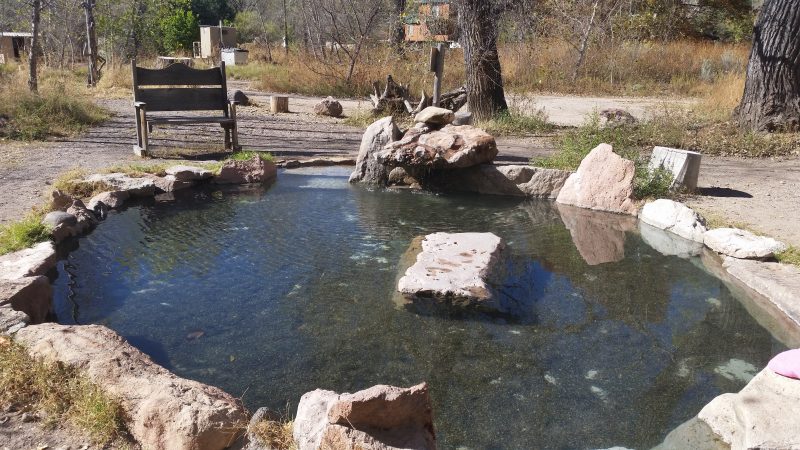 Water Temperature: 105°F
Clothing Optional: The following quote comes directly from the Gila Hot Springs Campground website:
"In order that everyone feel welcome and comfortable, suits are required in the pools. Clothing is optional after dark, provided fellow bathers are comfortable with this. We expect all guests to be respectful of others".
Camping
Gila Hot Springs Campground has 12 primitive sites without hook-ups. Trash must be packed out by campers as bins aren't provided. Potable water is available on site; look for the 140°F dragon spout, an overflow of the hot spring. Guests use this for washing dishes and making tea or coffee.
This peacefully situated campground is quite a treat; best of all these sites lie mere steps away from the pools. We camped in October, perfect for soaking at night and in the morning with an Autumn chill in the air.
Toilets: Yes
Overview
Although we only camped one night here, Gila Hot Springs Campground was a lovely spot to relax. Soaking in the pool at night while looking up at the moon, stars and towering cliffs has been one of the highlights of our visits to New Mexico hot springs.
---
Developed Versus Natural Hot Springs in New Mexico
Essentially, hot springs are broken down into 2 basic formats depending upon the extent of man harnessing their properties and thus sharing or capitalising on their attributes. Natural hot springs in New Mexico feature little or no intervention from man apart from careful placement of some large stones to dam up the waters into soaking pools. Generally, these remain free and open to the public for all to enjoy.
Developed hot springs are typically referred to as spas or resorts. These independently owned places are operated on privately held land. Under the watchful eyes of their guardians the waters are monitored and maintained to keep their microbial balance in check. On-site care-takers enforce the rules and ensure a controlled operation, keeping health and safety at the forefront.
The Naked Truth
Keep in mind a few things before visiting any hot springs, more specifically those considered natural springs. Firstly, there is the "clothing optional clause". For those uncomfortable, embarrassed or offended by nudity expect an eyeful at some hot springs. Unless explicitly posted many people come to natural hot springs in New Mexico (or anywhere) to partake in bathing au naturel.
Apparently the U.S. National Forest Service implements a policy of clothing being mandatory on it's property even though you won't find this posted at the hot springs within their jurisdiction.
I have yet to find a written dictum within the U.S. National Forest Rules and Guidelines a U.S. Forestry Service Ranger informed me they indeed have the authority to cite anyone caught bathing nude in hot springs on National Forest land.
To add to hearsay, a fellow au naturel bather told us that according to the U.S. National Forest Service it's the bottom bits, i.e. reproductive areas, which must be covered for males and females. If anyone else can "lay bare" the real truth, I will gladly welcome clarification on the matter.
More Sensory Overload!
Often, people toking up whilst soaking up the natural surroundings is all par for the course, so consider yourself warned if this idea offends you!
Temperatures
The temperatures of hot springs – natural or spa – fluctuate a few degrees daily and indeed throughout the day. All temperatures cited above reflect the time we visited and acquired readings from the respective pools. A 10 degree variance may not seem like much but is the difference between a comfortable soak or a scalding one. Exercise caution before plunging yourself into any hot springs.
Tips for Taking in the Waters
 Drink plenty of water. I cannot stress enough how important this is, so bring a lot of water with you. As you soak you sweat, which means you are losing fluid. Replenish these fluids before you pass out.
 Don't boil yourself alive to get the full effect of the hot springs. Go for the Nordic sauna effect and temper your soaks with a cooling down period out of the water.
 Know your limits. If you feel woozy after getting out of the water, perhaps you should call it a day.
 Wear flip flops like the Teva Womens W Hurricane 4 Sport Sandal or some sort of water shoes. Occasionally an idiot breaks glass in the natural pools or leaves behind the metal casings of their tea-light candles.
 Hot springs are for relaxing. Do not bring soap, shampoo, shower gel etc. into the pool with the intention of having a good scrub.
---
We barely scratched the surface of the trove of both developed and natural hot springs in New Mexico. The more we looked the more we discovered other pools to explore. Pardon the pun, but we had to pull the plug on our bathing bonanza.
Our brains and bones soon began turning to wonderfully relaxed puddles of mush. This could've easily become a scenario of "let's just check out one more", whereby we would still be following the trail of therapeutic waters.
---
 Pin Me Now!