Last Updated on January 19, 2021
I'm terrible at declaring a singular best when it comes to food, especially when green chile is involved. Still, I enjoyed my attempt to discover the best green chile cheeseburger in Albuquerque, no matter how challenging this was. Instead, I discovered a handful of burgers worthy of mention and consideration. In addition, I've learned what separates the best green chile cheeseburgers from the rest.
A Word About Chile in New Mexico
For the uninitiated: chile is not chili – these are two different beasts entirely. Chile in this case is a cultivar of the chile pepper; young fruit is green and mature peppers are deep red in color. They're prepared and used quite differently, too. It's not uncommon to become addicted to green chile, so expect that during your visit. Don't expect chili on your cheeseburger, although I imagine that's very tasty…and messy.
How serious is the Land of Enchantment about this precious crop? New Mexico is the only state in the U.S. to have an official question and it involves chile: "Red or green?" Answer with the former or latter, or respond with the third option of "Christmas" which is a combination of both. Keep that in mind for later; you won't be offered a choice on your green chile cheeseburger in Albuquerque or anywhere else in New Mexico.
---
Choosing the Best Green Chile Cheeseburger in Albuquerque
I've learned to look for certain elements when it comes to coronating a great green chile cheeseburger. Of course it all comes down to taste, but what exactly makes for the best green chile cheeseburger in Albuquerque, or a selection of damn good ones in this case?
Be on the lookout for:
Burger Bun
A good burger patty and toppings are marred by a substandard burger bun – these taste sweet due to sugar and/or corn syrup used in processing. Also, a toasted burger bun is good, however one brushed with butter on the insides and grilled is ideal. Too often, burger buns aren't toasted or grilled and that's just a shame when it comes to any burger.
Cheese
I can see (and taste) the difference between good and bad cheese. Good cheese melts differently with less grease present, firms-up nicely and has a deeper flavor. Extremely low quality cheese is gooey; it's engineered to stay in a liquid state, like canned nacho cheese topping. However, some of my favorite green chile cheeseburgers in Albuquerque slightly missed the mark on cheese but scored well overall.
Burger Patty
I don't fuss over grass-fed beef and won't fault a burger for not using it. There is a taste difference between this and conventional beef and I actually prefer the latter – I was raised eating this and it's what I'm used to. Having said that, I like the taste of both but I won't mention one being a better choice over the other in my review. To me, an expertly grilled burger deserves much more praise than what the cow ate.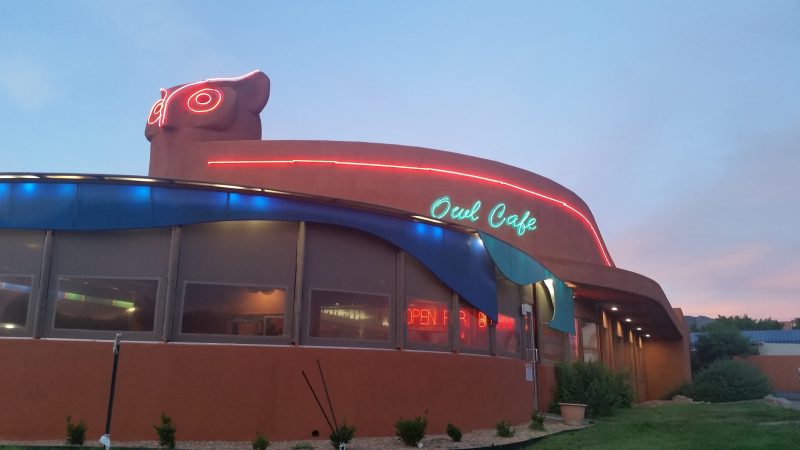 Green Chile
Of course, let's not forget the namesake topping. Green chile is a big deal here and New Mexico State University is home to the Chile Pepper Institute. This is the only international, non-profit center focused on chile pepper research. Academics aside, expect a subtly earthy and smoky flavor; it's never too spicy for my taste. Some roasted chile toppings are thickened with flour while the best are served plain.
Other Toppings
Iceberg lettuce is a bland choice for salad and a green chile cheeseburger. A good offering should feature different leaf lettuce varieties, romaine or even fancy lettuces like arugula and bibb. Many of the green chile cheeseburgers in Albuquerque we tried used iceberg lettuce but made my it-list anyway. The green chile flavor should hold it's own among the lettuce and other toppings.
Construction
This has nothing to with taste, however a properly-built green chile cheeseburger scores big points with me. Often, these burgers are difficult to pick up and bite into without making a huge mess. I've found very few green chile cheeseburgers constructed well and I must accept that. These things are mostly a big hot mess, but a good green chile cheeseburger is worth it, no matter how many napkins are involved!
Want More Information on Red and Green Chile? Need a Supplier for Your Burgeoning Chile Addiction?
Not only is New Mexico chile habit-forming, it's also difficult to get outside of the state. You'll need a local supplier with a great selection of goods to get you through that jones.
Visit the Chile Monster website for gourmet goodies, great gifts and more. Their online shop is for chile aficionados and rookies alike.
Enough with the technical details – let's see where in Albuquerque you can get some of the best green chile cheeseburgers. In no particular order…
---
Tako Ten (Formerly Dia De Los TaKos)
Where: Located within the Bridges on Tramway Shopping Center, 12501 Candelaria Rd NE.
Hours:
11:00 am – 10:00 pm, Sunday through Thursday
11:00 am – 11:00 pm, Friday and Saturday
Telephone: (505) 508-3518
Website: Visit the Tako Ten Facebook page to learn more.
We heard about Chef Dominic from friends in 2019; they recommended his former Dia De Los TaKos for excellent tacos, but we tried the green chile cheeseburger instead. This was operating as a restaurant within Albuquerque Indoor Karting at that time. Dominic has since moved to Candelaria NE and Tramway, opening Tako Ten in August, 2020 – new location, same recipe.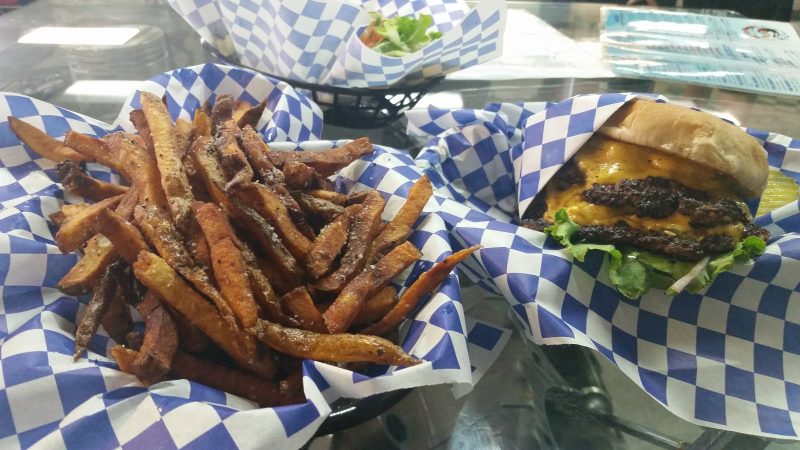 The green chile cheeseburger presented with a wonderful grilled taste and two thick, textured meat patties. That texture held on to the green chile and cheese quite well and both patties were perfectly grilled. A firm leaf of green lettuce was cold and flavorful; never underestimate this on a burger! Also, this was the biggest green chile cheeseburger in Albuquerque we sampled – it can easily be shared.
The bun was brushed, lightly grilled and not sweet – these things alone add points. This big, double-patty green chile cheeseburger didn't fall apart despite being loaded with mass and weight, either. As mentioned, I'm not here to make any best of claims however, based on my own research, this comes pretty darn close to being the best green chile cheeseburger in Albuquerque.
---
Laguna Burger
Where: 2400 12th Street NW.
Hours:
11:00 am – 9:00 pm, Sunday through Thursday.
11:00 am – 10:00 pm, Friday & Saturday.
Telephone: (505) 352-8282
Website: www.thelagunaburger.com
Like most good green chile cheeseburgers in Albuquerque, these made-to-order burgers take time to make and it's certainly worth the wait. Laguna Burger surprised me during our two visits – despite two component flaws, these are still seriously good offerings. We also visited their Rio Puerco Bridge location on one of our day trips from Albuquerque – see their website for other Laguna Burger locations.
Even with a sheet of insipid iceberg lettuce and poor quality cheese, Laguna Burger makes my list. The perfect green chile cheesburger in Albuquerque is elusive, but Laguna still had several flawless aspects: the burger patty and the green chile. I admit to eating a portion of the patty by itself just to get the flavor of the grilled beef alone. This offering was also constructed very well and stayed together from first to last bite.
Although the cheese wasn't what I expected, it still went well with the green chile. I also found a nice bit of spiciness to the chile – more than normal but in no way overpowering. The service was good too; Laguna Burger happily accommodated my request for two bottom buns due to my sesame allergy – the above photo is of Fiona's green chile cheeseburger. Even with two dings Laguna Burger still hit the right buttons.
---
Owl Cafe
Where: 800 Eubank Boulevard NE.
Hours: 
7:00 am – 10:00 pm, Sunday through Friday.
7:00 am – 11:00 pm, Friday & Saturday.
Telephone: (505) 291-4900
Website: www.owlcafealbuquerque.com
Owl Cafe in Albuquerque is a landmark and they do a pretty good green chile cheeseburger, too. Major points were won for the amount of green chile and the taste of the burger bun. Sadly, a point was lost due to shredded iceberg lettuce and a messy construct. Ironically, that messy burger had to do with that wonderful pile of delicious green chile, so all is forgiven!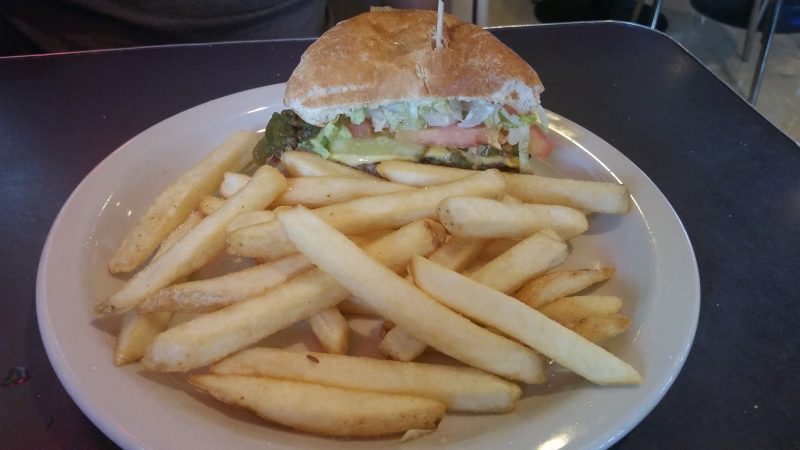 Although my search goes on for the best green chile cheeseburger in Albuquerque, Owl Cafe wins extra praise for the bun. It wasn't perfect, though – more on that below. Again, the burger bun is important and this was the best I tasted, despite the one flaw. Absent was any hint of the sweetness too common with bread in the United States. The cheese was standard but acceptable and the patty was grilled almost perfectly.
Returning to the burger bun, I did find one imperfection with it: this wasn't grilled or toasted. Frankly, I was quite surprised to see this and blamed it on a simple oversight in the kitchen. Trying to discover the best green chile cheeseburger in Albuquerque often means returning to an establishment for another go; I'll keep Owl Cafe in mind for another visit and hope for a grilled bun.
---
Blake's Lotaburger
Where: Numerous locations throughout Albuquerque and all of New Mexico.
Website: Visit www.lotaburger.com for full information on locations.
Iconic Blake's Lotaburger looks like just another chain to visitors not in the know. These types of places rarely come to mind when you want a good quality hamburger. That's certainly the case for me but I know Blake's Lotaburger from when we lived here years ago. For those not familiar, don't overlook Blake's for one of the best green chile cheeseburgers in all of New Mexico.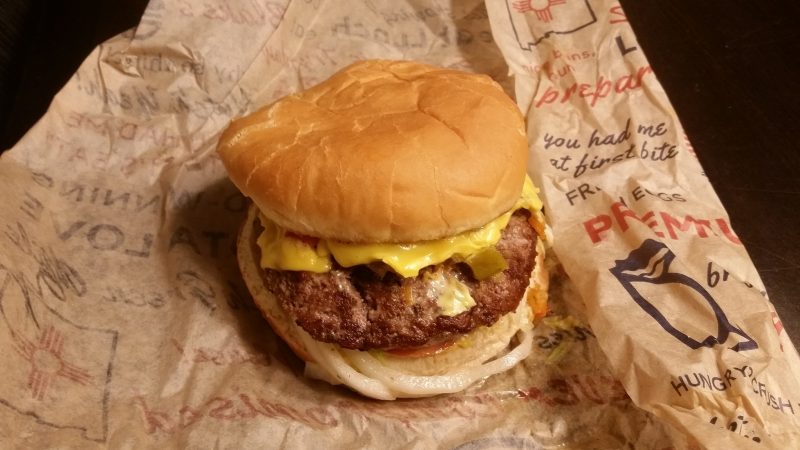 I stop short of calling Blake's Lotaburger a fast food restaurant – their burgers are handmade to order and take time to prepare and cook. We've had Blake's green chile cheeseburgers from Farmington to Las Cruces and everywhere in between. In my opinion this is one of the best if not the best green chile cheeseburger in Albuquerque.
My only fault with Blake's was a typical burger bun and a messy construct. Everything else was spot-on and I especially loved the cold toppings; chilled lettuce and tomato add a nice touch to a burger! I love Blake's grilled patties and often isolate them to eat the beef all alone, free of bun and toppings! I want to fault the cheese as well for it's quality but it somehow tastes too good to hold it against them.
---
Frontier Restaurant
Where: 2400 Central Avenue SE.
Hours: 5:00 am – 1:00 am, daily.
Telephone: (505) 266-0550
Website: www.frontierrestaurant.com
The Frontier Restaurant is a tasty Albuquerque institution. We eat here on multiple occasions each time we visit the city and it keeps getting better every time we come in. We both have our favorites here and seldom deviate from these, however we've recently added Frontier's green chile cheeseburger to the list. It's a very tasty green chile cheesburger and the fries are amazing, but it still comes with several flaws…
I found this to be the worst-constructed green chile cheeseburger in Albuquerque; it fell apart from the first bite to the last. This made a big old mess as shredded cheddar and iceberg lettuce rained down on the table with each bite. We either held these upside-down or used cutlery to eat them and that's really the only fault aside from poor quality lettuce and cheese. Thankfully, the iceberg lettuce had a fresh chill to it, though.
The burger patty flavor was super-salient, leading me to wonder what type of fat they coat the griddle with upon cooking. It doesn't really matter to me because the flavor was amazing! Again, I won't fault a place for not serving grass-fed beef, nor will I complain if I suspect the kitchen is using something to coat the griddle. Whatever they did worked just fine for us and I'm including this offering on my list.
---
How to Find the Best Green Chile Cheeseburger in New Mexico
As you can see, I don't make claims regarding the best. Instead, I have plenty of favorite green chile cheeseburgers in Albuquerque to choose from. I encourage you to take my suggestions, give these a try and then come up with your favorites. You certainly won't run out of choice in Albuquerque, or anywhere in New Mexico – green chile cheeseburgers are a serious affair here.
Ready to See More of New Mexico?
We've covered natural wonders, quirky attractions, steamy hot springs and a ton of road trips. Follow our guides and let the adventures begin!
The state-wide affinity for this concoction even extends to a road trip known as the green chile cheeseburger trail. We have yet to hit this trail, however our other New Mexico road trips have prepared us to tackle this one during our next visit. If you need one more example of New Mexico's obsession with this dish, consider catching an Albuquerque Green Chile Cheeseburgers baseball game.
My apologies If your were expecting me to pick a solid winner from the lot. Perhaps my skill isn't honed enough to know a good green chile cheeseburger from a bad one? You'll certainly find what you like and your choice of favorites and bests will differ from mine. Please, share some thoughts on your favorite green chile cheeseburger in Albuquerque, or throughout New Mexico!
---
Pin Me Now!