Last Updated on June 1, 2021
Getting around the biggest city in New Mexico means you need wheels beneath your feet – Albuquerque is a sprawling land of shopping plazas, highway overpasses and arroyos. You'll want fresh air before long and that means knowing where to find great Albuquerque hiking. This article suggests some unique Sandia Mountain Wilderness trails and a series of easy paths in the foothills, too.
The Duke City is a favorite of ours but visiting here never entails walking…anywhere. Luckily, we have our favorite nearby hiking paths to balance things out – I'll share those in this article, give you helpful directions, trail data and some solid tips as well. Also, you'll learn why I consider these some of the best trails in Albuquerque.
Where to Go Hiking in Albuquerque
From dodging unexploded ordnance (sort of) to exploring the wreckage of a doomed commercial aircraft, trails in Albuquerque offer good variety and  they keep you moving! You'll learn how old the Sandia Mountains really are (you won't believe it) and where to find hidden marine fossils on a particular trail.
Disclosure: This article contains affiliate links to products and services whereby we receive a nominal commission if you make a purchase through one of these links. This comes at no extra cost to you. Please see our Disclaimer for full information.
Watch Our Video and Learn More About New Mexico!
Just Hiking Through Albuquerque and Looking for a Place to Stay?
We suggest booking with Hotels.com for a wide range of options in Albuquerque. Find a last-minute bargain at that perfect boutique hotel or a familiar national chain. Book with Hotels.com and always get the best deal.  
Need a Gift for That Hiker in Your Life?

We've figured out what's needed on the trail and what isn't. See our ideas for hiking gifts and choose something they'll actually use.
These unique paths are found both in the Sandia Foothills Open Space area and east of the mountain. Of course, my suggestions merely scratch the surface of possibilities; you'll likely discover more hikes on your own. After all that hiking don't forget to soak those tired limbs in some of our favorite New Mexico hot springs.
For hiking around Albuquerque I've chosen trails offering a variety of terrain, features, views and difficulty levels. To get the most out of these trails and other hiking trails near Albuquerque I strongly recommend the FREE AllTrails app for your phone.
This app allows you to use the GPS on your phone for over 50,000 trails worldwide, even offline – getting lost on the trail is a thing of the past! Simply save any featured trail and use GPS to guide you on the trail as you hike.
What You Need to Know While Hiking Near Albuquerque
Be weather-aware before attempting any hike, anytime, anywhere; thunderstorms may materialize suddenly and with severity. Hitting these Albuquerque trails during summer means arriving early to beat the heat!
Be confident you'll have favorable weather in all seasons! Of course, bring plenty of hydration and protection from the sun like sunscreen, a hat and something to cover the back of your neck. And of course, ALWAYS carry a first aid kit with you.
Also, be aware of the elevation in Albuquerque (5,312 feet) and the surrounding area. If you're visiting from another part of the planet with lower elevation, acclimatize first! Take it easy for a few days if you aren't accustomed to elevations over 5,000 ft.
Other safety considerations – seasonal variances, mixed usage from horses and mountain bikes – are noted for each trail. I rate each hike as either easy, moderate or difficult.
---
Albuquerque Hiking: Four Unique Trails to Consider
---
Tree Spring Trail
Basics: This is an easy out and back trail. 
Distance: 3.7 miles
Elevation gain: 944 feet
Allow: 2 to 3 hours
Features: The scenic, lofty perch at the end of Tree Spring Trail offers a great place for a picnic and to contemplate the geologic significance of this mountain.
This trail ascends the east side of Sandia Mountain which consists of a rock layer 1,400,000,000 (1 billion, 400 million) years old. This is 300 million years younger than the rock composition on the west side of the mountain which is 1,700,000,000 (1 billion, 700 million) years young.
The rocks beneath your boots on Tree Spring trail are a bit older than 300,000,000 (300 million) years. At the summit of this trail are both the younger and older rocks mentioned above. Observant hikers will also spot marine fossils, easily visible directly under your feet.
Location: Tree Spring trail is within the Cibola National Forest. The trailhead is located on the Sandia Crest Scenic Highway, or NM 536.
Directions: From Albuquerque take Interstate 40 east to exit 175 – Tijeras/Cedar Crest. Follow the left lane of the off ramp for Cedar Crest/Route 14. Take Route 14 north 6 miles to Route 536 – the Sandia Crest Highway. Turn left to follow Sandia Crest Highway 5.5 miles to the trail parking lot.
Considerations: The summit of Tree Spring trail is often windy and offers no shelter from the sun – know the weather before you go.
Tale of the Trail
This is one of the best places for packing a picnic while hiking near Albuquerque. You'll find expansive views looking west as a reward for your effort. More views toward the plains east of the Sandias are visible during the ascent. This is one of our favorite Albuquerque hiking spots.
Put on your fossil eyes and spot the fossilized sea life from millions of years ago. Saying exactly where to spot these would take away from the experience; it's up to you to look for them. These are found directly on the trail itself and that's the only clue you'll find here.
Tree Spring trail gently meanders up and tops out at an elevation of 9,432 feet. This trail is a great choice for an easy hike through the pine forest with a stunning view waiting for you. The geologic significance here is an added bonus!
What's Changed Since We Lived in Albuquerque 20 Years Ago? Quite a Bit…
---
Birdhouse Ridge, West Ridge, Tunnel Canyon and Otero Canyon
Basics: This is a loop trail of moderate difficulty.
Distance: 8.8 miles
Elevation gain: 1266 feet
Allow: 4 hours
Features: This is a series of four individual trails; Birdhouse Ridge, West Ridge, Tunnel Canyon and Otero Canyon which pass through northern foothills (Manzinitas) of the Manzano Mountains. Again, I rate these as moderate due to distance rather than elevation gain.
The trails here are all well-marked. A portion of this hike skirts the outer boundaries of land falling under control of the U.S. Department of Energy and a U.S. Air Force Installation, or military base. NO SNOOPING!
Location: This trailhead, within Cibola National Forest, is off NM Route 337 about 2.5 miles south of Tijeras village.
Directions: From Albuquerque take Interstate 40 east to exit 175 – Tijeras/Cedar Crest. Follow the right lane of the off-ramp to route 333/337. At the junction of routes 333 and 337 continue south on 337 for 2.5 miles to the trailhead. The parking area is on the right.
Considerations: Be aware! Mountain bikes frequent the trails making up this loop – keep your eyes and ears open! Also, portions of Otero and Tunnel Canyon trails are bisected by a wash that flows hard after heavy rain – know the weather before you go.
Tale of the Trail
Begin at the trailhead and immediately start a gentle ascent via Birdhouse Ridge up the eastern side of the Manzanitas. This hike can be shortened and made into a rather nice beginner hike – consult the map at the trailhead or your AllTrails app.
Along the way enjoy great views of the eastern slope of the Sandia Range and Route 337 below. Hiking the loop trail as described in this article can be done in either direction but it's presented here in a counterclockwise loop.
The trail presents switchbacks before arriving at the top of the Manzanitas. Views east are numerous on the ascent. Atop is evidence of old clearing with (sadly) scant views west toward the Manzanitas. From here the trail levels quickly and junctions with West Ridge trail; take this right.
Stay on this trail until you reach the boundary marked by The U.S. Department of Energy, complete with a sign warning outdoor enthusiasts of the potential danger of unmarked, unexploded ordnance. Promptly turn left here and begin a slow descent to Otero Canyon.
Head left at the junction with Otero Canyon, where the trail follows and at times crosses a mostly dry stream bed. Be aware of mountain bikes zooming by on this flat, wide section of trail.
From Otero Canyon connect to Tunnel Canyon trail and begin an ascent back to the junction of West Ridge trail. Stay on Tunnel Canyon trail and begin a final descent to the parking lot.
---
Bear Canyon to Albert G. Simms City Park
Basics: This is one of the best hikes in Albuquerque for beginners. This loop trail is crisscrossed by other paths and is very easily shortened or expanded with use of a map from Elena Gallegos Picnic Area or the AllTrails app.
Distance: 7 miles
Elevation gain: 754 feet
Allow: 2.5 to 3 hours
Features: This pleasant, easy stroll is a series of numbered hiking trails in the  Albuquerque foothills. This loop is U.S. Forest Service non-wilderness land.
These trails provide great views of the western slope of the Sandia Mountains as well as the Rio Grande valley, Petroglyph National Monument and Mt. Taylor in the distance.
Location: This Albuquerque hiking gem is just east of Tramway Blvd. and within Cibola National Forest.
Directions: From Tramway Blvd.(route 556) take Spain Rd. east to High Desert Place, then right to the Michael Emery trailhead. The parking lot and trail is on the left.
Considerations: Due to its proximity to the city these Albuquerque foothills trails get quite busy; consider coming here mid-week. Mountain bikers frequently use these foothills trails, too – keep your eyes and ears open!
Washes bisect these trails and may be active immediately after heavy rain – know the weather before you go. These washes are otherwise dry.
Tale of the Trail
I strongly suggest the AllTrails for this series of paths. Alternatively, paper maps are available at Elena Gallegos Picnic Area.
Using the AllTrails app for the Bear Canyon Trail to Albert G. Simms City Park or an official map, follow trails 365, 305, 305 A, 341, and 230 A. Connect back to trail 365 which brings you to the parking lot. Again, use a map to follow this trail or allow the AllTrails app to guide you!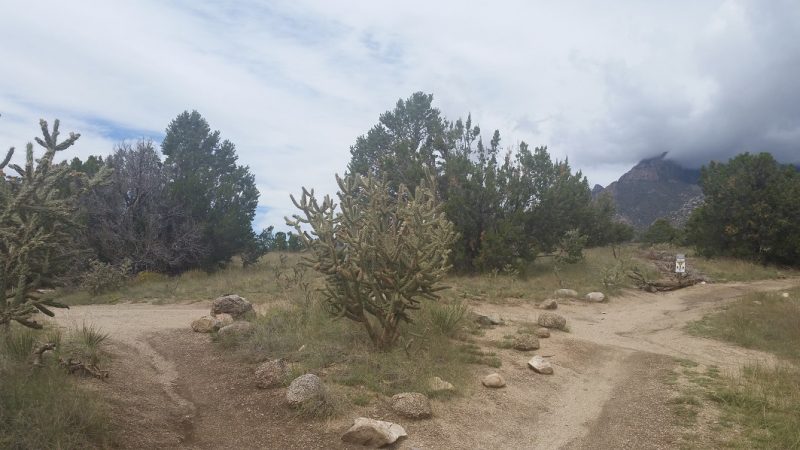 Tailor this hike to make it longer or shorter than the 7 miles quoted. This route is versatile and the soft elevation gain makes this Albuquerque hiking spot a great choice for beginners. Views of the foothills, mountains and city make this a pleasant escape, too.
---
Domingo Baca Trail #230
Basics: This is a difficult out and back trail.
Distance: 7.7 miles
Elevation gain: 3,569 feet
Allow: 7 hours
Features: This hike ends near Sandia Crest at an elevation of 10,138 feet. The Sandia Peak Tramway passes directly above Domingo Baca trail at the precise spot where TWA Flight 260 crashed into the side of Sandia Mountain in 1955.
The trail passes through the Sandia Mountain Wilderness and the debris field of the doomed airplane, permitting you to explore the wreckage. This makes for one of the most unique Albuquerque hiking trails.
Location: The Domingo Baca trail is within Cibola National Forest. The trailhead is located at Elena Gallegos Picnic Area.
Directions: From Tramway Blvd. (route 556) take Simms Park Rd. east to Elena Gallegos Picnic Area.
Considerations: This is a very difficult hike due to the elevation gain and the altitude! A small portion of this trail is open to mountain bikes at the beginning of the hike. This trail quickly enters Sandia Mountain Wilderness, where bikes aren't permitted.
The trail crosses assorted washes which may be flowing after heavy rains. You'll pass through the debris field of a doomed TWA aircraft where all 16 people aboard died. Treat this area with respect!
Tale of the Trail
The start of Domingo Baca trail is a great introduction to other Albuquerque hiking spots. However, this won't prepare you for the climb ahead. The  trail soon slips undercover of pine trees and begins scrambling over giant boulders along the way.
After much climbing the trail reaches an area where the Sandia Peak Tramway passes directly above. It's here you'll spot the first piece of debris from TWA Flight 260 – the landing gear. Read the memorial to the victims and survey the final resting place of this TWA plane.
Many people make it as far as the crash site and turn back, skipping the steepest part of the climb lying just beyond. The end of the trail is about another hour away. Again, this is a very steep trail and should ONLY be attempted if you are certain of your capabilities and the weather.
---
Finding Other Albuquerque Hiking Options
There are plenty of Albuquerque trails waiting to be found, no matter your skill level. A good app and a map will help you choose the best hiking trails near Albuquerque for you. Enjoy the Duke City and appreciate the amazing outdoor opportunities waiting to be discovered here.
We love New Mexico – this state offers everything from great camping to iconic road trips and more. Don't forget to check out the scenic drives from Taos and Santa Fe for your next New Mexico road trip!
---
Pin Me Now!