The Albuquerque International Balloon Fiesta is an annual pageant held the first week of October every year since 1972. From it's seminal beginnings it has grown into the world's largest hot air balloon festival and draws thousands of international spectators who marvel at this colourful aerial spectacle. Adding to it's accolades it also holds the esteemed distinction as the most photographed event in the world!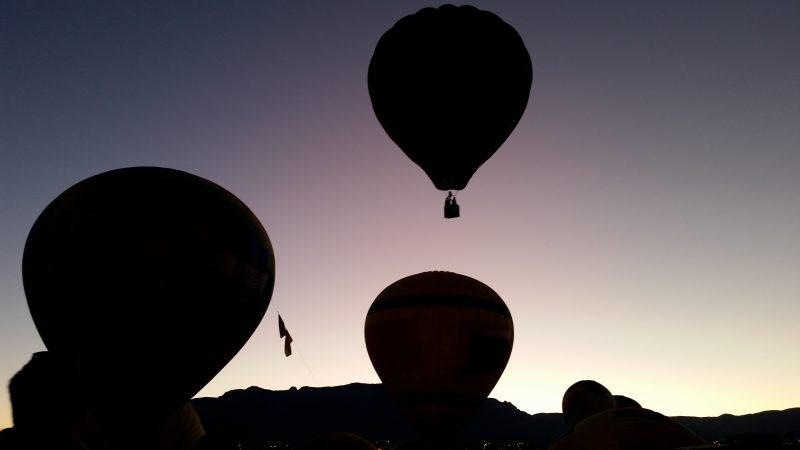 Location
There are 2 entrances to Balloon Fiesta Park, one on the Northern end and one on the Southern end.
The Northern gate is located at 5500 Balloon Fiesta Parkway, Albuquerque, NM 87113. To access this gate: from Interstate 25 take exit 234, Roy-Tramway South to Balloon Fiesta Parkway.
The Southern gate is located at 9401 Balloon Museum Dr. NE, Albuquerque, NM 87113: from Interstate 25 take exit 233, Alameda Road West to Balloon Museum Drive. The Southern gate is conveniently located near the Anderson-Abruzzo International Balloon Museum, RV parking and the Balloon Fiesta Event Centre.
Balloon Fiesta Basics
Admission is $10 per person per session, morning or evening. Yes that's right, even though there may be a morning and an evening session your ticket is only good for one session. Tickets may be purchased in advance or at the gate.
Parking is $15 per vehicle (cash only). Alternatively, you may opt for a park and ride ticket which costs $15 per adult (13-61 years old). Purchasing a park and ride ticket involves parking at a remote location and being bussed to the fiesta. The ticket covers admission to the fiesta for one session and the round trip bus-ride. Click here for a link to the official balloon fiesta website for more detailed information on admission, parking and transportation. Make sure you read the raincheck policies at the bottom of the official page in the link.
RV parking is available at the Balloon Fiesta Park. However these spaces go rather quickly. Click here for RV camping details.
The fiesta lasts for 9 days, with morning sessions daily and evening sessions as scheduled. For those of you who are ready to have all of your gastronomic desires catered to in the wee hours of the morning, the midway of concession stands will assuage your hunger pangs. Here you will find stalls selling everything from smoked turkey legs to alligator and everything in between.
Up Up and Away
If time is on your side we recommend getting to the balloon festival on a morning with a mass ascension – Saturday, Sunday and Wednesday.
Preceding the mass ascension which happens at 7:00 am, there is the Dawn Patrol at 6:00 am. This group of 12 or 13 pre-dawn balloonists not only execute a synchronised glow show, they also report vital weather conditions back to the balloonists preparing for take-off on the ground. Dawn Patrol pilots are specifically trained and certified to fly in the dark and their balloons are illuminated according to FAA specifications. The Dawn Patrol glow show begins around 5:45 am. Do not miss it; there is something inexplicably moving and hypnotic about watching these balloons piercing the inky black pre-dawn sky.
Once dawn breaks over the Sandia Mountains be prepared to have your breath taken away by the sight you will behold. With the gradual light of a new day, the sky becomes filled with hundreds of balloons in varying stages of ascension, drifting into the sunrise.
Morning Session Versus Evening Session
Let me clarify what each session entails, that you may choose which one may suit you best. Each offers a unique but different experience, along with ample incredible photo opportunities.
Gates open at 4:30 am for the morning session and 3:30 pm for the evening session.
Morning Session – Even if you are not a morning person, this is one time you should make an allowance. I promise you will not regret it once you get there! In the morning you are privy to everything, from watching the balloon crews unloading the gondolas (baskets) and burners to the laying out of the envelopes (balloons) on the ground. Witness the crews play tug of war with the crown line as they stabilise the balloon as it is being inflated. Ultimately, you will be treated to the mesmerizing display of hundreds of balloons as they slowly drift into the golden sunrise over the Sandia Mountains.
Evening Session – The biggest difference with the evening session is the balloons are tethered – there is no ascension. The balloons are fully inflated, but are grounded. The evening session focus is heavy on the glow aspect. There are special displays, for e.g. "Special Shape Glowdeo," which is a huge crowd favourite. Here, the emphasis is on the more unique shaped balloons fully illuminated and just hovering there, tantalisingly within grasp. Evening visitors are treated to a laser light show and the evening culminates with the appropriately titled "AfterGlow Fireworks Show".
Getting Up Close and Personal
Perhaps the most astounding part of the Albuquerque International Balloon Fiesta is the absolute proximity with which the general public can get to the balloons. You can walk amongst these aeronautical wonders in all stages of their preparations for flight.  Any questions you may have can be answered by the actual pilots or crew. Naturally, as the balloons are being inflated the crew will ask that you stand aside; please respect their requests.
It is unfathomable in this day and age to see the public granted such access to an event of this magnitude. It's as close as one can get to a hands on experience, and the public response is refreshingly evident in the smiles on people's faces. I would hazard to say that for these 9 days in October, the Balloon Fiesta challenges Disneyland to the title "the happiest place on earth"!
The Albuquerque Box
Although the box effect is not unique to Albuquerque, it is here that it has gained enough recognition to be dubbed the Albuquerque Box Effect. It is during the Albuquerque International Balloon Fiesta that balloonists hope to find themselves in this very box.
Balloonists are at the mercy of the wind for navigating their balloons. Their ability to "steer" their craft lies in simply ascending or descending into winds blowing in a particular direction. Horizontal momentum relies on vertical concurrence of the balloon and a suitable current.
Due to the Albuquerque Box being a weather phenomena, it therefore is not a guarantee. However early October appears to be an optimal time of year for it to be in effect. The box comprises lower altitude Southerly winds and higher altitude Northerly winds. If balloonists manipulate these conditions they can, in effect, take off and land in the same spot. For the thousands of spectators gathered on the ground this is just what they are hoping to witness. For a more comprehensive explanation of the Albuquerque Box click here.
Distracted Driving
Even without actually being at the Balloon Fiesta all you have to do is drive through Duke City (Albuquerque), and you will witness hundreds of balloons dotting the morning sky. Personally I would love to know the statistics of car accidents at this time of year. I can't help but think there has to be a spike in them, as commuters and tourists alike find their gaze on the show in the sky as opposed to their full attention being on the road.
Along with the aerial display, it is quite common to see balloons touch down in neighbourhoods, business parking lots, alongside roadways or anywhere safe and viable. I have to admit I am definitely glad I was not the one driving!
Tips
Get an early start either for the morning session or the evening session – traffic gets incredibly heavy around Balloon Fiesta Park. Personally we found the parking situation very well organised with traffic flowing quite fluidly. However, we arrived at the Park at 4:30 am. Get there early, you could easily miss events due to being late.
Bundle up, even though this is the desert. Day time temperatures can be quite toasty, but radiational cooling at night drops those temperatures rather quickly.
Wear comfortable shoes. Balloon Fiesta park, spread out over 78 acres, is equivalent of 54 football fields side by side. Therefore that means a lot of walking!
Make sure to charge you camera! This is the world's most photographed event for a reason!
Each session operates under cover of darkness at some stage, a torch (flashlight) could be handy to have.
The Afterglow of the Albuquerque International Balloon Fiesta
So, you can't make it to the Balloon Fiesta but you find yourself in Albuquerque? How do you get your balloon fix? As mentioned early on in this post, the Anderson-Abruzzo International Balloon Museum is located at Balloon Fiesta Park. Although the museum is relatively small it contains both informative and engaging exhibits on the history of ballooning. Try your hand at hot air ballooning with the in-house hot air balloon simulator!
Museum hours are Tues. – Sun. 9 am – 5 pm. Entrance costs $6 for adults. For the budget conscious, take note the museum is free every Sunday from 9 am – 1 pm and the first Friday of the month (except in October). For museum information click here.
Typically on any given early morning in Albuquerque you will see at least a few balloons in the sky. Even though the Albuquerque Box may not be in effect this does not prevent balloonists from taking to the skies. Without the Box, pilots cannot take off and land in the same spot, but they do have their balloon chase crews who come to fetch them. These crews pursue their aerostats from trucks on the ground and are in constant communication with the balloonists.
It's All Just Hot Air – A Bit of Literary Trivia
Though not directly related to the Albuquerque Balloon Fiesta per se, I feel compelled to share this bit of balloon trivia with you. For many, there is an indelible link with the Phileas Fogg character of "Around the World in 80 Days" and hot air balloon travel. Not to burst your bubble, or in this case balloon, but Jules Verne never did place Phileas Fogg and his valet Passepartout in a hot air balloon. Although the idea was mentioned briefly by the author, this notion was immediately dismissed as impossible.
We have pop culture to thank for imparting this inaccuracy upon us. Within the 1956 film adaptation of the book we see Phileas Fogg in a balloon during his endeavour to circumnavigate the globe. This image still endures, as seen recreated on book covers, film posters and even packets of "Phileas Fogg" crisps!
Balloon Fiesta Considerations
In addition to the tips above please keep in mind this is a weather dependent event. As a result, cancellations ensure the safety of all. Again, read the rain check policies as listed on the official website. Man cannot control the weather…yet!
Check out the official FAQs sheet for an overview of Balloon Fiesta related material with a few interesting facts thrown in as well.
Attending the Albuquerque International Balloon Fiesta is a bucket list dream for many, and rightly so. Even if you are not a balloon enthusiast you cannot help but be amazed at the sheer scale of this event. Whether you catch the sunrise or sunset whilst surrounded by the glow of hundreds of balloons, you cannot help but be mesmerised by this world-class spectacle.
---
Pin Me Now!