Last Updated on June 1, 2021
Make your next drive from Albuquerque to Santa Fe (or vice versa) more interesting by skipping Interstate 25. Instead, make it a road trip on the Turquoise Trail in New Mexico; this scenic drive features a variety of attractions to consider. This article covers many of these attractions and even includes part of this National Scenic Byway sadly overlooked by many road trippers – more on that below.
What is New Mexico's Turquoise Trail and Where Is It?
Officially the entire Turquoise Trail spans all of NM Route 536 and nearly the entire distance of NM Route 14 from the village of Tijeras north to Santa Fe. The bulk of attractions – shops, galleries, restaurants and ghost towns – are on route NM Route 14. Route 536 is a spur of the Turquoise Trail and backtracks to route 14, which is the main stretch. The village of Tijeras is just east of Albuquerque off Interstate 40.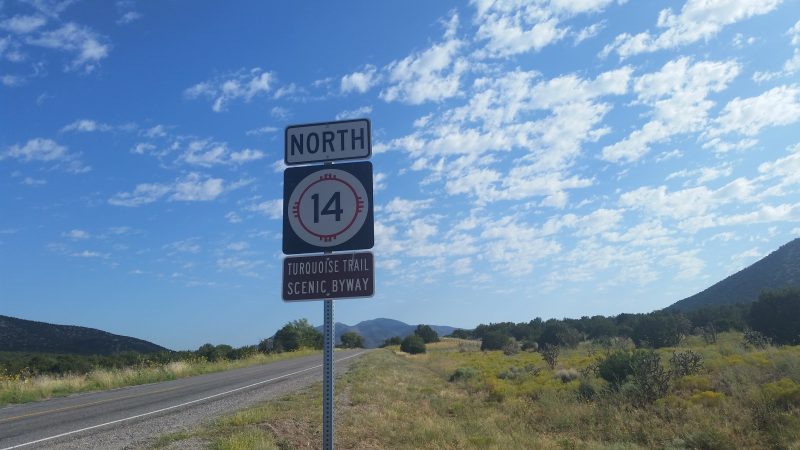 Many drivers bypass route 536, either not knowing it's part of the Turquoise Trail or by choice. Route 536 enters Cibola National Forest; this is instead often done as a day trip from Albuquerque. However, I strongly suggest including this in your road trip – see more below for this particular route. I hope driving the Turquoise Trial inspires you to take even more road trips in New Mexico.
 Need a Hotel Room in Albuquerque or Santa Fe?
These two cities bookend New Mexico's Turquoise Trail and you might begin (or end) your road trip in either. We suggest Hotels.com for finding the best selection of rooms at the very best price. Check out Hotels.com right now for the best deals.
The Turquoise Trail is a great alternative to Interstate 25 between Albuquerque and Santa Fe. The entire official route includes a drive along Sandia Crest Byway (route 536) then through the old mining towns of Golden, Madrid and Los Cerrillos in central New Mexico. Today, these towns make worthwhile stops, each for their own reason.
Disclosure: This article contains affiliate links to products and services whereby we receive a nominal commission if you make a purchase through one of these links. This comes at no extra cost to you. Please see our Disclaimer for full information.
Highlights of the Turquoise Trail in New Mexico
Drives on New Mexico's Turquoise Trail feature stunning scenery, several museums, ghost towns and art galleries. You'll also find restaurants, cafes, gift shops, trading posts and horseback riding tours. Additionally, you can hike out to abandoned mines and buy quality Turquoise Trail jewelry from a real prospector – we'll tell you where. We even include a very brief geology lesson focused on a famously-named roadside attraction.
There are several places to spend the night on the Turquoise Trail if you're looking for a getaway. For entertainment we include a link to information on live music, community events and even a theater featuring a great variety of performances. There are a lot of things to see and do on New Mexico's Turquoise Trail and this article uncovers some true gems.
Watch Our Video and Learn More About New Mexico!
How Long is New Mexico's Turquoise Trail?
In its entirety the Turquoise Trail National Scenic Byway, including Sandia Crest Byway, is about 65 miles in length. I suggest 5 to 6 hours or more; this includes stops along the way for views, museums, galleries and restaurants. The main stretch of the Turquoise Trail in New Mexico, route 14, is about 50 miles. For this I suggest 2 to 4 hours for exploring the towns of Golden, Madrid and Los Cerrillos.
---
Turquoise Trail Attractions Including NM Route 536 Spur
---
Tinkertown Museum
Where: 121 NM Route 536 (Sandia Crest Byway), Sandia Park, NM
Hours: 9:00 am – 6:00 pm, April through the end of October.
Website: www.tinkertown.com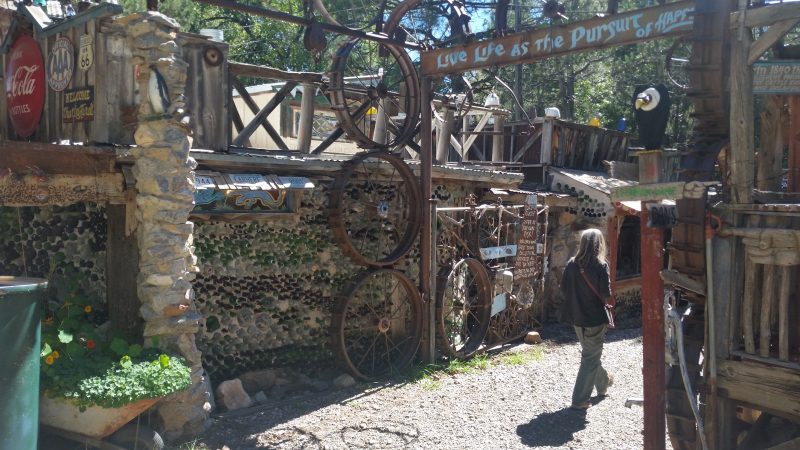 This off-beat museum fascinates everyone who visits. Cross an old west town with a carnival-style funhouse and you get this whimsical wonderland. Include plenty of old curios, a room made from glass bottles, detailed dioramas and a well-traveled sailboat and you've got a winner. Bonus Tip: Bring plenty of nickles, dimes and quarters for the collection of antique, fully-functional amusements.
Sandia Crest
Where: The end of NM Route 536 and the Sandia Crest Byway.
This is the end of the road – that is, before backtracking to route 14. Take a moment atop Sandia Crest to enjoy views of Albuquerque and much of New Mexico in every direction. There's even a gift shop and restaurant up here at 10,679 feet.
---
Route 14 North to Golden
---
Backtrack from Sandia Crest and continue north to Golden. This tiny location is noteworthy for another quirky sight, an evocative old church and graveyard. Golden is just a blip compared to Madrid and Los Cerrillos beyond, however the two sights here are worth a stop.
The first gold rush west of the Mississippi River began here in Golden 25 years prior to those in California and Colorado. Prosperity from that precious ore is now gone but this ghost town is a great introduction to the Turquoise Trail in New Mexico.
The Bottle House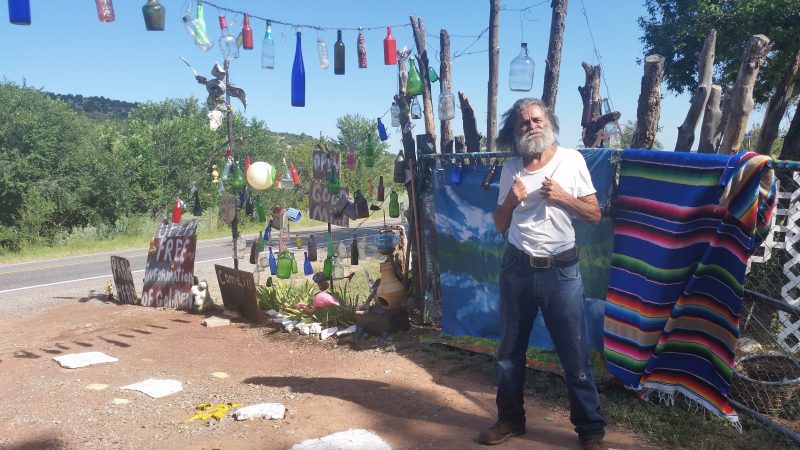 Stop in and say hello to Leroy Gonzales, Mayor of Golden, New Mexico. No appointment is needed to meet the mayor at his unique property, decorated with bottles, knick-knacks and old tools. He's a genial character and a good source of information on Turquoise Trail history. You won't have any problem locating his property and the mayor will be more than happy to meet you – no appointment necessary.
San Francisco de Asis Church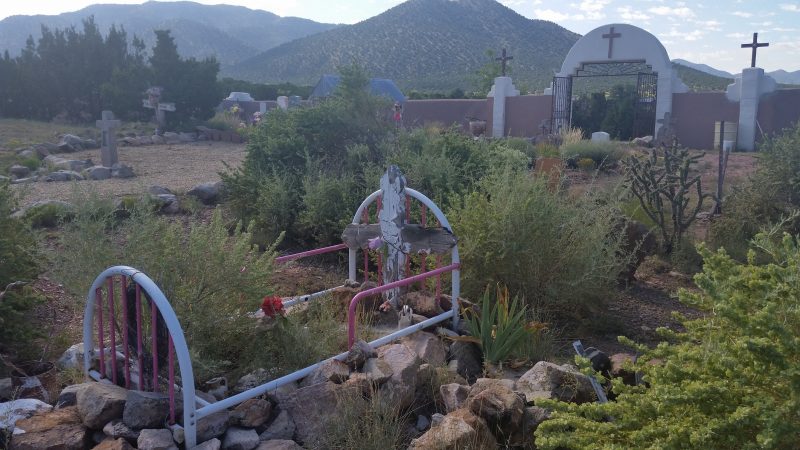 About 200 feet beyond the mayor's office is an adobe church built in 1839. Have a look around the churchyard where several old weathered tombstones pop up from the ground. Look for a sign on the right of the highway indicating the turn for San Francisco de Asis Church.
---
North to Madrid
---
This creative community is filled with galleries, specialty shops, lodgings and several great restaurants. This is the biggest stop along New Mexico's Turquoise Trail and you'll spend an hour or more exploring the attractions here.
Madrid, New Mexico prospered from lead and coal mining over the centuries. There's a curious bit of Turquoise Trail history here, too. Just off route 14 is Oscar Huber Baseball Park – this was the first ballpark west of the Mississippi River to have electric lighting.
Shopping in Madrid
Browsing the gift shops and art galleries in Madrid is quite the tourist draw. There's a good variety of creative works ranging from fine art to upcycled objects like bicycle sprockets, guitar strings, license plates and old tools.
That variety of goods extends to handmade jewelry, clothing, gems, minerals, carvings, fetishes and pottery. Fans of the movie Wild Hogs should stop at Maggie's Diner which is literally full of decorative signs, stickers, silver rings and t-shirts. Maggie's Diner was also a filming location for the movie and this is a popular stop for motorcyclists traveling on the Turquoise Trail.
Food and Lodging on New Mexico's Turquoise Trail
This stop features several great Turquoise Trail restaurants. Expect soups, sandwiches, pub grub and plenty of New Mexican dishes. You'll also find a specialty shop selling homemade chocolates crafted with interesting flavor combinations. For drinks head to a roadhouse-style bar or grab locally made pastries, cookies and New Mexico-roasted coffees. Suggestions for eating and drinking in Madrid include:
The Mine Shaft Tavern
Website: www.themineshafttavern.com
It seems everyone stops here for sandwiches, burgers, pizzas, salads and locally-brewed beers. I highly recommend the brisket, available as either an entrée or a sandwich. The Mine Shaft Tavern also cooks the best green chile cheeseburger on the Turquoise Trail.
This is way more than just a place to eat and drink – The Mine Shaft Tavern includes a museum and theater shows as well as live music and events. You'll also find good, simple lodging at the Mine Shaft Tavern if you wish to see even more of the Turquoise Trail.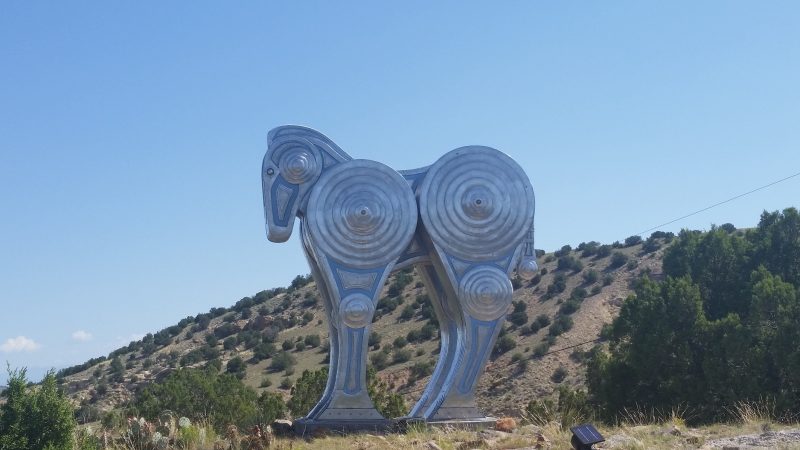 The Hollar
Website: www.thehollar.com
This industrial-chic eatery serves creative plates complete with drizzles and fresh ingredients. Try an inventive dish featuring lavender béchamel sauce for something truly different. There's a southern flair to the menu here, right down to big burgers served on homemade biscuits.
The Hollar also serves brunch with mimosas, a delicious huevos ranchos and biscuits with sausage gravy. There's even a pet menu for your pooch! A drinks menu featuring local draft beers, PBR pints, wines, margaritas and daiquiris seal the deal for a nice lunch or dinner treat.
Shugarman's Little Shop
Phone: (505) 474-9041
Homemade chocolates are what this place is all about. Shugarman's puts together some inventive combinations; try the ginger hibiscus or lavender dark chocolate to see (and taste) what I mean. Also, don't leave Madrid without trying the green chile chocolate – this is New Mexico!
Java Junction
Website: www.java-junction.com
Locally sourced foods and roasted coffees are proudly served at Java Junction. Pair your hot beverage with a cookie, pastry, cake, pie or even a breakfast burrito. This cafe also features New Mexico-made gifts and gourmet food products. Java Junction also offers a bed & breakfast suite above the cafe, perfect for an overnight stay on the Turquoise Trail.
---
On to Los Cerrillos
---
A variety of Turquoise Trail attractions in Los Cerrillos make this quiet town a favorite stop along the way. Stretch your legs at Cerrillos Hills State Park and hike a series of peaceful trails. There's also a mining museum, several gift shops and even horseback riding in the hills. The atmospheric town square has a very good restaurant and a saloon. Some places here close mid-week, so check online before arriving.
Things to Do in Los Cerrillos
Cerrillos Hills State Park
Website: www.emnrd.state.nm.us
A series of easy hiking trials lead to nearly a dozen abandoned mines at Cerrillos Hills State Park; each mine is accompanied by informative signs on the history of the area. About 5 miles of trails are available for hiking or you can choose shorter paths throughout the park. You don't need to hike far at all to see the abandoned mines – several are within one mile of the parking area.
Broken Saddle Riding Company
Website: www.brokensaddle.com
Don't want to stretch your legs? Enjoy horseback riding tours through Cerrillos Hills State Park instead. Choose from a variety of guided tours – even sunset and moonlight horseback rides. Visit Broken Saddle Riding Company online for full details.
The Mining Museum (and petting zoo!) at Casa Grande Trading Post
Website: www.casagrandetradingpost.com
This trading post on the far end of town celebrates the old mining days of the area. Mineral specimens share space with old mining equipment, discarded items and other objects from the boom times. I especially loved the vintage coffee can collection on display here.
After visiting the mining museum don't forget to check out the year-round petting zoo at Casa Grande Trading Post. Out back are plenty of hungry chickens, goats and even a llama. Food for the animals is available for purchase in the gift shop.
Eating and Drinking in Los Cerrillos
Blackbird Saloon
Website: www.blackbirdsaloon.com
This place scores with excellent food, friendly service and a tasteful western feel. The creaky wood floors and chunky farmhouse-style tables feel just right in this 1800's saloon. Again, the Blackbird Saloon seems to do it all pretty darn good – there's even musical entertainment here.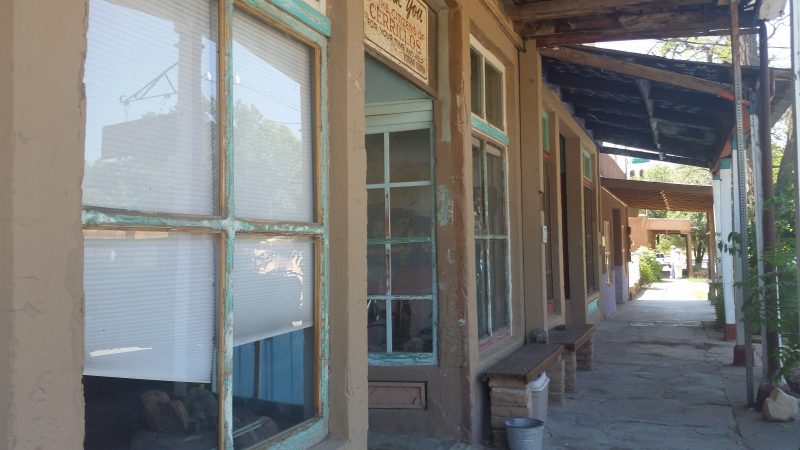 Order the roasted lamb sandwich and pair it with locally-brewed beer. Elk and venison also feature on the menu here along with beef burgers, light appetizers and even some breakfast choices. Visit their website for hours and seasonal menu offerings.
Mary's Bar
Unfortunately Mary's Bar was closed during our visit but we peeked in the window. An old pressed-tin ceiling, original wood floors, a pool table and a few potbelly stoves indicate Mary's Bar is definitely worth another try on our next visit.
Shopping in Los Cerrillos
Casa Grande Trading Post
Aside from operating a museum and petting zoo, the owners of this trading post also source and make their own turquoise jewelry. That's correct –  the owners of Casa Grande Trading Post mine their own turquoise and set it in sterling silver. You'll also find pottery, woven goods, fetishes, old bottles and the best overall selection of Turquoise Trail jewelry in the area. See their website above for more information.
Cerrillos Station
Website: www.cerrillosstation.com
Come here for more silver and turquoise jewelry, prints, paintings, pottery, local gourmet goods and all-natural beauty supplies. Changing local exhibits are featured in the South Gallery – see their website for more details on these and other events at Cerrillos Station.
---
Approaching Santa Fe
---
Just beyond Los Cerrillos is an area south of Santa Fe noteworthy for a great brewpub to finish (or start!) your road trip. Just before this area is an attraction on the Turquoise Trail many people drive right past without stopping for.
Garden of the Gods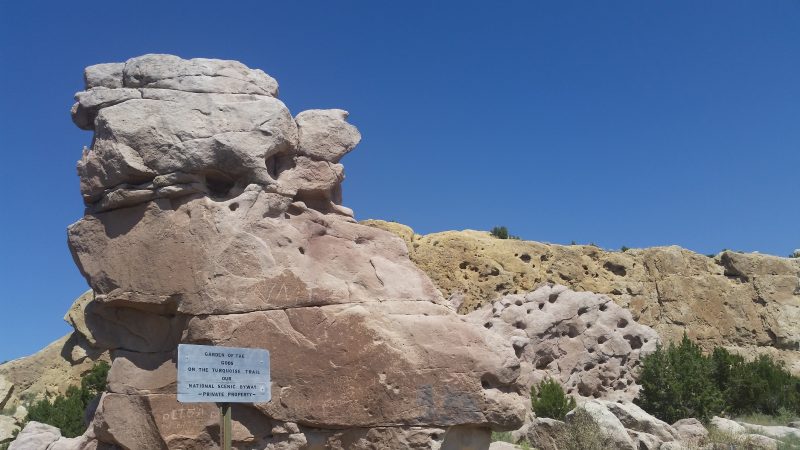 This geologic roadside feature is similar to it's namesake in Colorado in both appearance and composition. This large fin of exposed sandstone is part of a continual band which runs north-to-south across much of the continent. Garden of the Gods is 3.5 miles north of Los Cerrillos; there's a small parking area on the left side of route 14.
Beer Creek Brewing Co.
Website: www.beercreekbrew.com
Pizza and beer go together well, especially when both are homemade. Beer Creek Brewing Co. takes care of that and more with their heavenly brew pub. I'm a pizza purist, therefore I recommend the simple San Margherita pie – combine this with their Bootlegger Blonde Ale or other craft brews from New Mexico and beyond. See their full menu online for more beer choices and pub grub favorites.
---
Wrapping it Up…
The attractions and scenery this route is famous for quickly subside beyond Beer Creek Brewing and the Turquoise Trail officially ends in a nondescript area of Santa Fe alongside Interstate 25. You're still on NM Route 14; continue for approximately 8 miles to reach the heart of Santa Fe.
Heading to Taos from here? I have several day trip suggestions to keep in mind plus information on other New Mexico attractions to keep you hanging around. This state is a favorite of ours and we're always happy to share the best it has to offer.
---
Pin Me Now!