Last Updated on June 1, 2021
To say there are plenty of great places to eat in Albuquerque is an understatement and you don't have to be made of money to enjoy their mouth-watering offerings. From old school classics to one-off diners and everything in between, we've compiled a list of the best places to eat in Albuquerque on a budget.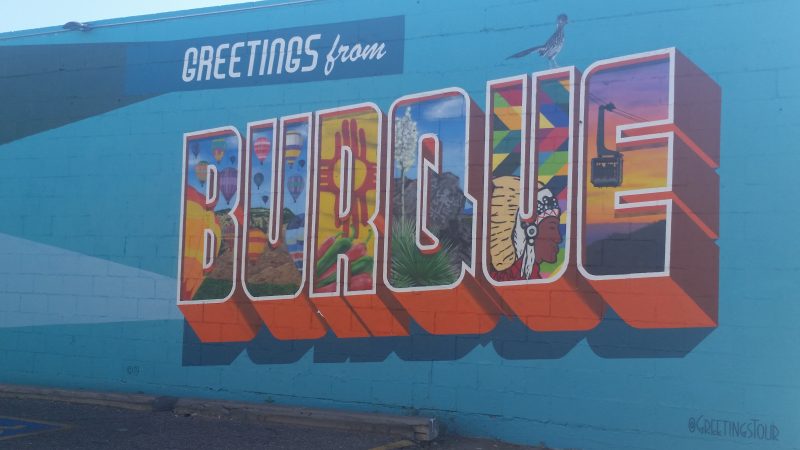 What's even more impressive is that many of these are long-standing establishments that have been serving generations of loyal patrons for years. Don't judge a book by it's cover – what follows are humble mainstays with phenomenal food. We've been to quite a few cities in quite a few countries and Albuquerque will always rank as one of our favourite places for food.
Watch Our Video and Learn More About New Mexico!
---
Our Guide to the Best Places to Eat in Albuquerque on a Budget
You may be on a budget but you certainly don't have to compromise on where to eat in Albuquerque. You won't find drizzles of coulis complementing an exotic lettuce leaf in this article, instead we will visit everyday locals favourites that will soon become your favourites.
Our guide covers where to go for late night bites, classic restaurants that continue to stand the test of time, hip food trucks, prestigious award-winning mom and pop hole in the wall places and unique beloved fast food restaurants in Albuquerque. We've got eateries with celebrity status and complete unknowns who deserve their moment in the spotlight.
Ultimately your only hardship may be finding the time to indulge in all of these cheap places to eat in Albuquerque. Our hardship was having to selectively choose which restaurants make the list.
---
Budget Basics
Not only have we lived in Albuquerque, New Mexico but we have also spent considerable extended periods of time there since we've been travelling full-time. We don't claim to be experts but our daily budget is $15 each and this covers accommodation, food, transportation…everything. Naturally we understand that a budget is very much subjective, therefore the following list of recommendations is based upon what fit into our budget. My suggested cheap places to eat in Albuquerque all have great food for under $10.
Budget Tip:
Looking for an economical way to indulge in dining out? Try sharing a plate. Portions in the U.S. tend to be extremely generous and can be easily shared between two people.
---
Unlikely Budget Places to Eat in Albuquerque You Need to Visit
---
Coda Bakery (Formerly Banh Mi Coda)
Where: 230 Louisiana Boulevard SE, Albuquerque
Hours:
8:30 am – 6:00 pm, Monday through Saturday
10:30 am – 5:00 pm, Sunday
Phone: (505) 232-0085
Online Menu: www.zomato.com/banh-mi-coda/menu
If you're looking for some lighter fare look no further than Coda Bakery (formerly Banh Mi Coda). The menu includes noodle bowls, spring rolls and pastries. However you'll soon see it's no secret the bánh mì sandwiches are the real draw here. Try the house marinated grilled pork or beef lemongrass wrapped in grape leaves.
Locals queue up here daily for these foot-long baguettes that are perfectly crispy on the outside but soft and chewy on the inside. This is no Subway foot-long sub. A bánh mì from Coda bakery is stuffed with fresh crisp vegetables and the meat or tofu of your choice.
Just try one of these sandwiches and you'll be hooked. It's easy to see why this is the go-to Vietnamese restaurant in Albuquerque, not only for locals but for those visitors who keep returning just to grab a sandwich here. It really is that good!
Tako Ten (Formerly Dia De Los TaKos)
Where: Located within the Bridges on Tramway Shopping Center, 12501 Candelaria Road NE, Albuquerque
Hours:
11:00 am – 10:00 pm, Sunday through Thursday
11:00 am – 11:00 pm, Friday and Saturday
Phone: (505) 508-3518
Website: See the Tako Ten Facebook page for hours and more information.
Although Tako Ten is the new kid on the block (compared to almost every New Mexican restaurant we've mentioned), Dominic and his crew have quickly amassed devout fans here in Albuquerque. We checked them out when they were Dia De Los TaKos a few times during our stay in the Duke City and would return in a heartbeat if only we were still there.
In keeping with our theme of eating on the cheap in Albuquerque Tako Ten edges in on the upper end of the budget scale, but quality and quantity balance that budget out very quickly. The menu focuses on burgers, tacos and fries; with each having it's own twist on the standard original, including the spelling of takos!
Try their Garlic Parmesan Truffle Fries or Brisket Takos. Fish tacos rule in Baja Mexico and we spent plenty of time there eating them. The Battered Fish Takos at Tako Ten are on a par with any we've had on the Baja Peninsula.
Vegetarians and gluten free folk are also well catered to on the menu. Even if you don't have a dietary restriction, you should definitely try either the Battered Avocado Tako with cilantro crema and baja slaw or the Toasty Avocado Burger. Both are built around the deliciously crispy on the outside, creamy on the inside beer battered avocado.
Considering the quality of the ingredients and the originality of the menu Tako Ten lets both your palate and wallet explore where to eat in this city on a budget. So far this is looking to be one of the best new restaurants in Albuquerque.
---
Classic Places to Eat in Albuquerque on a Budget
---
Frontier Restaurant
Where: 2400 Central Avenue SE, Albuquerque
Hours: 5:00 am – 1:00 am, daily
Phone: (505) 266-0550
Website: www.frontierrestaurant.com
It's impossible to talk about the best places to eat in Albuquerque on a budget and not mention the Frontier Restaurant. This beloved landmark restaurant directly across from the University of New Mexico has been around since 1971.
Although the menu is standard fare – burgers, burritos, enchiladas, sandwiches, breakfasts, etc.. there's absolutely nothing standard about the food, it is fantastic. If time is on your side try as many things as you possibly can from the menu here.
Here are a few suggestions to get you started – posole, green chile stew, carne adovada burrito or a green chile cheese burger. You'll also find the best chips (french fries) here and what we believe is the best breakfast burrito in Albuquerque, also featured in the Breakfast Burrito Byway. Order at the counter and watch the in-house tortilla machine assembly line as you wait for your food.
As big as this place is (it's the length of a city block), it still gets crowded with folk queueing up for their favourites. Due to its hours this has long been a mainstay for late night diners. Not only does the Frontier offer the best value for money menu, but its old school atmosphere and home-made comfort food has long held a soft spot in the hearts of locals and will always have nostalgic connotations for folk from Albuquerque. The Frontier gets everything right, from service to food to atmosphere. This is a classic Albuquerque institution and long may it continue.
What's Changed Since Living in Albuquerque 20 Years Ago? Quite a Bit…
Why Not Weigh In on the Unofficial Albuquerque Debate? 
Who has the better sweet roll (cinnamon roll) – Frontier Restaurant or Kap's Coffee Shop and Diner?
Are you up for this tough challenge, all in the name of research?
Kap's Coffee Shop and Diner
Where: 5801 Central Avenue NE, Albuquerque
Hours: 7:00 am – 3:00 pm, daily
Phone: (505) 232-9658
Website: www.kapscoffeeshopanddiner.com
Kap's is another locally owned, authentic diner in Albuquerque on Route 66 that's been serving its customers since 1968. This place has long been a favourite of ours from when we lived in Albuquerque in 1999 and it's just as good now as it was back then.
This restaurant is renowned for it's huge portions. Choose from breakfasts, sandwiches, salads, burgers, tacos, enchiladas, stuffed sopaipillas and desserts. Kap's serves some of our favourite huevos rancheros and breakfast burritos in Albuquerque. Both the red and green chile are mild enough here for just about everyone's palate. A kids menu and vegetarian options are also available.
Perhaps Kap's most notable trait is its level of customer service. This New Mexican diner has the best wait staff whose genuine, friendly, old-fashioned service is rare these days. If you're looking for that quintessential American diner experience Kap's is your place.
Golden Pride
Where: Multiple locations – see website
Website: www.goldenprideabq.com
Golden Pride and her sister restaurant the Frontier are legendary restaurants in Albuquerque. A visit to the Duke City is not complete without visiting one or the other. Golden Pride consistently ranks as having the best breakfast burrito in Albuquerque, with the #9 being a firm locals favourite.
None of the Golden Pride locations are open as late as the Frontier, but breakfast is served all day here. This long-standing, locals go-to has been serving up breakfasts, bbq, fried chicken, fish and New Mexican food in Albuquerque since 1972. Kids meals are available, as are vegetarian options.
Golden Pride offers both drive-thru and indoor seating. All four locations are extremely popular, especially at weekends for breakfast.
The Dog House
Where: 1216 Central Avenue NW, Albuquerque
Hours:
10:00 am – 8:45 pm, Monday through Saturday
11:00 am – 8:45 pm, Sunday
Phone: (505) 243-1019
Online Menu: www.singleplatform.com/dog-house-drive-in/menu
Looking for a truly iconic dining experience in Albuquerque whilst still sticking to a budget? You won't find a better option than the Dog House. This is a true slice of vintage Americana, right down to its location on Route 66.
There is a small seating area inside at the Dog House, but to truly get that nostalgic kick have the carhop take your order and eat in your vehicle. The menu consists of typical diner fare – burgers, fries, shakes, floats and of course hot dogs.
Just because it's spelt chili dog on the menu here, make no mistake you will not get Tex-Mex chili con carne on your dog. This is New Mexico and your hot dog will be smothered in delicious New Mexican red chile sauce with a spicy kick. This tends to come as a surprise for out of towners.
The current owner has been operating this little legendary spot for over 50 years, though it's been around for over 70 years! The beloved, iconic neon sign dates back to the 60's and legions of fans regularly pack the parking lot for these award winning hot dogs. Fans of the television series Breaking Bad and Better Call Saul make their own pilgrimage here and it's one of the stops on the official Breaking Bad Tour.
Taco Sal
Where: 9621 Menaul Boulevard NE, Albuquerque
Hours: 
11:00 am – 8:00 pm, Monday through Friday
9:00 am – 8:00 pm, Saturday
Closed Sunday
Phone: (505) 298-2210
Online Menu: www.allmenus/taco-sal/menu
Located in a nondescript strip mall in the Northeast Heights of Albuquerque, Taco Sal has been resident here since 1960. Although ownership has changed hands over the years, locals continue to flock here for huge portions of their favourite New Mexican dishes.
Bring your appetite or at least bring a friend to share a plate with at this local landmark. Choose from seafood, salads, burgers, fajitas, combination plates, tacos, taquitos and so much more. This is a simple, no frills family-run restaurant in Albuquerque with fantastic food and great service.
Taco Sal has also had its moment in the spotlight having appeared in Breaking Bad episodes three different times. This classic Albuquerque diner can also be found in the official New Mexico Tourism Department's Culinary Treasures Trail.
Grandma's K & I Diner
Where: 2500 Broadway Boulevard SE, Albuquerque
Hours: 7:00 am – 3:00 pm, daily
Phone: (505) 243-1881
Online Menu: www.zomato.com/k-i-diner/menu
Make your way to an off the beaten path, traditional Albuquerque greasy spoon and fill up on hearty home-cooked goodness and genuine hospitality. Locals have long known about Grandma Warner's K & I Diner which has been around since 1960. However the Travel Channel's Man v. Food Nation catapulted this New Mexican restaurant and its signature dish – the Travis, onto the international stage in 2011.
The Travis comes in many forms but the behemoth at the centre of the television programme is the Travis on a Silver Platter. This bruiser of a burrito is filled with beef, beans, lettuce, tomatoes, cheese and both red and green chile. This comes buried under a massive, heaping mountain of french fries and weighs just over 8 lbs. If an individual eats all of this within one hour, the $29 price is waived and they get the gut-busting glory of being a rare gourmand indeed.
For those of us with a more modest appetite there is the Travis, the Half Travis, the Quarter Travis and the Wimp Travis. Other items from the menu include breakfast favourites, sandwiches, burgers, chicken fried steak and yet more culinary creations unique to the K & I Diner.
To add to its accolades Grandma's K & I Diner has also appeared on Better Call Saul and is featured on New Mexico's Culinary Treasures Trail.
---
 The Best Vegetarian Restaurant in Albuquerque on a Budget
---
An Hy Quan 
Where: 1405 Juan Tabo Blvd. NE, Albuquerque
Phone: (505) 332-8565
Website: www.anhyquan.com
This vegetarian restaurant also offers vegan and gluten free options of their Vietnamese cuisine. However it is their unflappable willingness in accommodating special requests that results in happy, loyal, repeat customers. As long as your dietary request doesn't involve meat, you won't find a more obliging restaurant.
On top of all that An Hy Quan is the best vegetarian restaurant in Albuquerque and even the top choice of a few carnivores too – or at least those who are willing to admit it!
---
Food Trucks in Albuquerque
---
Fairs and festivals are no longer the only places to get your food truck fix. Recent years have seen a rise in these revamped, hip, mobile food purveyors cater to suburbia and downtown alike. Here in Albuquerque a common pairing is that of food trucks and brew pubs. Social media keeps everyone clued in as to where and when they can find their favourite food truck in Albuquerque.
Cheesy Street
Where: See Cheesy Street Facebook page for weekly locations and menu.
Phone: (505) 352-4151
No matter how old (or young) you are a grilled cheese sandwich is unquestionably the ultimate comfort food. Cheesy Street grilled cheese sandwiches are crisp and golden on the outside and ooey gooey goodness on the inside. There's even a vegan option.
For something different choose one of their creative twists on the standard classic and complete your order with their homemade tomato and basil soup. Make sure you leave room for churro bread pudding for dessert!
Looking for More Food Trucks in Albuquerque? 
Food Trucks in Albuquerque offers a list of food trucks within the Duke City along with links to each business' social media sites.
Birria El Michoacano
Where: 200 San Pedro Drive SE, Albuquerque
Phone: (505) 900-8962
Website: See the El Michoacano Barbacoa Facebook page for hours and more information.
Looking for some authentic Mexican food in Albuquerque? Then you need to visit this simple, unadorned food truck for the best birria de borrego (lamb) or the following tacos – carnitas, bistek, barbacoa and al pastor. If you're already familiar with these terms you should be drooling by now. If you're not familiar with these dishes, Birria El Michoacano is the place to try them in Albuquerque. You won't find any better.
Aside from the great food and great prices, the owners and employees are very friendly, down to earth and offer the real deal when it comes to street food. This is real food in a real Albuquerque neighbourhood, and if you don't check them out it's a real shame!
---
Best New Mexican or Mexican Food in Albuquerque on a Budget
---
The foundation of New Mexican food is the beloved regional chile pepper, an essential ingredient in all dishes and a must-try whilst you are visiting the state. Alternatively, the piquancy of authentic Mexican food is typically derived from the jalapeño pepper. Meanwhile Tex-Mex chili is meat and beans and typically void of any peppers.
Although restaurants may bill themselves as either Mexican or New Mexican, in truth they serve the same familiar dishes as each other here in New Mexico with both using red and green chiles for flavour. Am I an expert? No, but I know fantastic food when I taste it and I'm not too concerned about labels!
Richards Mexican Restaurant
Where: 3301 Menaul Boulevard NE, Albuquerque
Hours: 
8:00 am – 3:00 pm, Monday through Saturday
Closed Sunday
Phone: (505) 881-1039
Online Menu: www.singleplatform.com/richards-mexican-restaurant/menu
Richard's has been serving up the BEST carne adovada in Albuquerque since 1989. The pork is amazingly tender and the red chile sauce is subtle, smokey perfection. Main dishes come with an option of pozole, papitas or fideo (a traditional Mexican noodle) as a side. It is rare to find fideo as an offering on a Mexican restaurant menu outside of Mexico. Personally we recommend the deliciously seasoned papitas (potatoes), yet another menu item Richard's does to perfection.
Although the menu is standard New Mexican fare – enchiladas, burritos, stuffed sopapillas, chile relleno, tamales and more – this humble old school little eatery consistently serves up quality and relatively healthy home-made dishes. Yes, there is a lot of melted cheese but is that really such a bad thing? There are also vegetarian options on the menu.
Make sure to leave room for Richard's sopapillas. These are hands down the BEST sopapillas in Albuquerque, dare I say New Mexico! Unlike most, they have a crisp outer shell and are reminiscent of deep fried fair food, all the flavour but without the greasiness.
A final note worth mentioning is the service, which is excellent. It's refreshing to receive genuine hospitality from restaurant staff who are attentive but not in that bubbly, overly enthusiastic manner that is all too common in so many restaurants. It appears the biggest complaint folk have with Richard's is the original 1980's decor!
El Modelo Mexican Foods
Where: 1715 Second Street SW, Albuquerque
Hours: 7:00 am – 7:00 pm, daily
Phone: (505) 242-1843
Website: www.elmodelomexicanfoods.co
El Modelo is not a sit-down restaurant but this is an Albuquerque institution! This is simply a counter where you order your food or pick up your take-away order. Outside there is a small seating area. Although this restaurant is off the main drag, El Modelo is a firm locals favourite for some of the best Mexican food in Albuquerque since 1929. We wholeheartedly agree with this popular opinion.
Tamales, burritos, menudo, posole, tacos, tostadas, enchiladas and green chile stew are just some of the basics on the menu here. Don't be put off by the queue, it moves quickly and is testament to the popularity of El Modelo. If you're looking for one of the best places to eat in Albuquerque on a budget, El Modelo is your must-visit spot.
Our recommendations include the carne adovada burrito, the carne desebrada burrito and the tamales. Both the red and green chile here have a little bit more of a kick to them than the typical tourist places, but nothing off-putting. Even my bland Irish palate enjoyed this little bit of heat immensely. Don't be afraid of a little heat – its addictive. El Modelo is listed on New Mexico Tourism Department's Breakfast Burrito Byway.
El Sabor De Juarez
Where: 3527 Gibson Boulevard SE, Albuquerque
Hours:
8:00 am – 2:30 pm, Monday & Tuesday
8:00 am – 8:00 pm, Wednesday & Thursday
Friday & Saturday 8:00 am – 8:30 pm, Friday & Saturday
8:00 am – 5:30 pm, Sunday
Phone: (505) 265-3338
Online Menu: www.singleplatform.com/el-sabor-de-juarez/menu
This simple hole-in-the-wall eatery is a family run operation that has been serving devout customers since 1980. El Sabor de Juarez has an extensive menu including seafood and daily lunch specials available before 2:00 pm. Popular favourites include the desebrada (shredded beef) and menudo (tripe soup). The above online menu does not do justice to how large the menu is in reality.
Come see for yourself why this is considered one of the best Mexican restaurants in Albuquerque. The term hidden gem gets bandied around quite a bit when it comes to eateries, but here it is in its truest sense. Located on a main road, El Sabor De Juarez is hidden in plain sight – if you're looking for it, and believe us… you should be looking for it.
Mary and Tito's Cafe
Where: 2711 4th Street NW, Albuquerque
Hours: 
9:00 am – 5:45 pm, Monday through Thursday
9:00 am – 7:45 pm, Friday and Saturday
Closed Sunday
Phone: (505) 344-6266
Online Menu: www.zomato.com/mary-titos-cafe/menu
Discover yet another little family affair that has been doling out delicious authentic New Mexican food since 1963. This unassuming wee hole-in-the-wall well off the main drag of Old Town Albuquerque shot to prominence as the recipient of the 2010 James Beard Award in the "America's Classic" category. Since then it has become a shrine to out of town foodies eager to taste its award-winning goodness in this off the beaten path part of town.
Consider yourself forewarned the green chile here is hot and has not been tempered to suit the tourist palate. However the true star of the menu is the red chile sauce which has its own uniquely delicious smokey, earthy depth to it. Mary and Tito's comes in a close second place to Richard's for the best carne adovada in Albuquerque.
Mary and Tito's offers daily specials Monday through Friday. Unlike many restaurants in Albuquerque, breakfast is not served all day here. This is yet another classic restaurant recognised by the New Mexico Tourism Department in its Culinary Treasures Trail.
Thankfully winning such a prestigious award has changed nothing about this humble eatery. Consider this a perfect opportunity to dine at a James Beard award-winning restaurant whilst paying diner prices. Mary and Tito's is consistently touted as the best New Mexican food in Albuquerque and also considered one of the best New Mexican restaurants by those in the know.
---
Best Local Fast Food in Albuquerque
---
New Mexicans find a way to work green chile into just about any foodstuff and rightly so. Your typical fast food chains also heap on this local ingredient. Even McDonalds, Wendy's, Whataburger or any other fast food establishment uses green chile as an option on their menus. Should you order a pizza during your visit to Albuquerque make sure you get green chile as a topping on there.
Step away from the familiar fast food joints and check out the following for a New Mexican twist on your standard grab-and-go grub.
Twisters
Website: Visit www.mytwisters.com for full information on locations
You may not recognise this fast food franchise unless you are familiar with Albuquerque, however if you're a Breaking Bad fan you may know it as Los Pollos Hermanos. Twisters is an Albuquerque-based fast food chain founded in 1998. Unlike Blake's, Twisters is not found state-wide and you'll only find locations in Albuquerque, Bernalillo, Rio Rancho and a few branches in Colorado.
Twisters has a vast menu with award-winning breakfast burritos, breakfast platters, New Mexican food, sandwiches, burgers and their iconic curly Q fries. There is both a kids lunch and breakfast menu here. Portions are extremely generous considering how inexpensive Twisters is. In all honesty this is good, standard fast food though nothing stellar.
The Twisters located at 4275 Isleta Boulevard SW is the very location used as Gus Fring's Los Pollos Hermanos in Breaking Bad and is a major tourist attraction. Inside are murals, posters and token mementos marking Twisters involvement in this cult classic television series. You won't find the Chicken Man here but this is a popular stop on the Breaking Bad Tour.
Blake's Lotaburger
Website: Visit www.lotaburger.com for full information on locations.
Legend has it Blake's was the first to create the green chile cheseburger. This iconic home-grown chain is in a league of its own when it comes to fast food. So much so that National Geographic declared it the Best Green Chile Cheeseburger in the World in 2006.
Although Blake's is fast food the cooked to order meals here aren't sitting under a heat lamp, ready to go upon ordering. Expect to wait about 10 minutes for the most incredible burger you are most likely to ever taste. Blake's continuously tops the polls not only for their burgers but also for their breakfast burritos and unique shakes. Other menu items include hot dogs, chicken sandwiches and even chili con carne!
Although Blake's started out in Albuquerque back in 1952, you'll find locations throughout the entire state and even Arizona and Texas. Indeed, the Blake's Man on his skinny blue pole legs is somewhat emblematic of New Mexico. Essentially, a trip to New Mexico is not complete without a visit here.
Stufy's
Website: See www.stufys.com for locations, phone numbers and hours throughout Albuquerque
This small home-grown restaurant began in Albuquerque in the 1950's. Today, Stufy's has three locations in the city continuing to prepare made to order food just as they always have. The menu consists of breakfasts, dinners, burritos, burgers, New Mexican favourites, a kids menu, desserts and of course their famous stuffed sopapillas. I recommend the #7 stuffed with carne adovada, home fried potatoes, cheese and lettuce.
Order a sopapilla stuffed with fillings such as shredded chicken, refried beans, ground beef or an assortment of other savoury fillings. There's also a sweet sopapilla stuffed with apple pie filling and powdered sugar.
This is another no-frills, local hole-in-the-wall serving stick to the ribs fare and it certainly qualifies as a great place to eat in Albuquerque on a budget. If you're looking for a snack that's great value for money and convenient to eat on the go, Stufy's is a great option.
Federico's Mexican Food
Where: Numerous locations throughout Albuquerque.
Online Menu: www.menuwithprice.com/federicos-mexican-food
Federico's is an Arizona-based chain with great inexpensive Mexican fast food and their drive-thru is open 24 hours a day, 7 days a week. Their menu is vast offering combination plates, burritos, tortas, tacos, tostadas, enchiladas, quesadillas and so much more. You'll also find machaca, asado, adovada, chorizo and carnitas. Federico's also offers a kids menu.
Federico's burritos are massive and their flour tortillas are some of the best we've ever had. Give them a try if you're looking for your fix of Mexican food in Albuquerque and value for money.
---
In Conclusion
If you're visiting Albuquerque on a budget, feeding yourself doesn't have to be a drain on your wallet. As you can see there are plenty of cheap places to eat in Albuquerque. Unfortunately it's impossible to include every single place. Share your favourites with us in the comments below.
Looking for More Things to Do in Albuquerque on a Budget? 
Exploring on a budget doesn't mean missing out on the sights. Actually you'll find a lot of fun, free things to do in Albuquerque if you know where to look.
---
Pin Me Now!