Last Updated on June 1, 2021
Visiting Chaco Canyon National Historical Park in New Mexico is an adventure unto itself. Because of the effort to get here many people choose to camp within the park and we suggest you do the same. Get the most out of your Chaco Canyon camping experience and follow our complete guide featuring information on camping, hiking, driving directions and possible road conditions.
Having camped here multiple times before, we'll share with you our favourite campsite and we'll tell you which campsite to avoid! Chaco Canyon has been certified as an International Dark Sky Park and we have information on experiencing a presentation highlighting this distinction.
See the Dark in the Park Featured Programme section below and learn how to take advantage of the unique and free nocturnal astronomy presentation given by park rangers during your stay. This family fun event includes native folklore and stargazing through telescopes.
Watch Our Video and Learn More About New Mexico!
---
Beware of the Weather at Chaco Canyon
The number one influencing factor in driving, hiking and camping in Chaco Canyon is the weather. Before you undertake your trip, keep a very close eye on the weather forecast. Know before you go!
Also, keep an eye on the weather for the immediate 3 or 4 days preceding your trip. Dry conditions are required to tackle the road and to complete at least one of the Chaco Canyon hikes on the Peñasco Blanco trail. See Hiking in Chaco Canyon below for more information.
Within each Tips section below, the weather and it's ability to drastically derail your plans tops the list each time. Most importantly, pay close attention to the weather while visiting Chaco Canyon. Thunderstorms, extreme heat or cold, snow and strong winds will ruin your time here.
---
Visiting Chaco Canyon
Directions: See Directions and a Breakdown of Road Conditions below – this includes directions from all points.
Hours:
8:00 am – 5:00 pm, May through October
8:00 am – 4:00 pm, November through April
Closed Thanksgiving, Christmas and New Year's Day
Entrance Fees: The following fees are current as of October 21st 2018:
$25 per vehicle (non-commercial), providing access to the park for 7 days.
$20 per motorbike, providing access to the park for 7 days.
$15 per individual travelling on foot or bicycle, providing access to the park for 7 days.
In order to eliminate cash payments all National Parks are in the process of attempting to implement a no-cash policy; because of this we recommend credit or debit card payment for entrance fees.
Telephone: (505) 786-7014
Website: www.nps.gov
---
Camping at Chaco Canyon
Some national parks have long waiting lists for camping reservations. When you have to wait a year to sleep next to a tree, something is wrong.

– George Carlin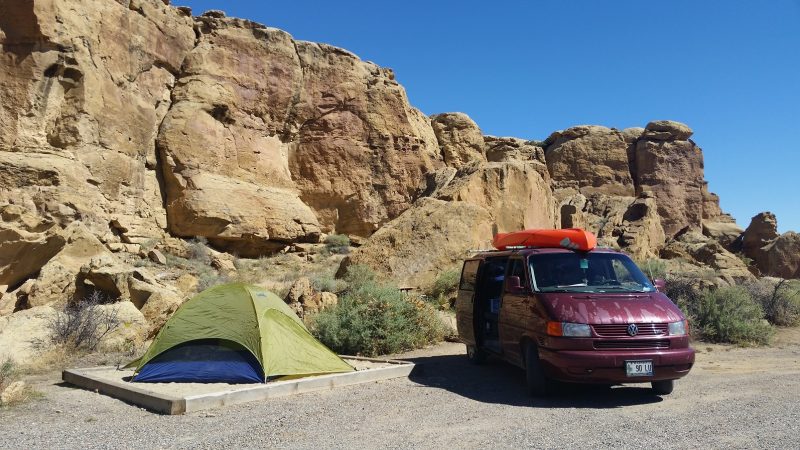 Update:
Gallo Campground (the campground at Chaco Canyon) has become an increasingly popular spot. During the Summer months and early Autumn it can be next to impossible to secure a campsite. There are very few non-reservable sites (only 8 in total). During this busy period we strongly recommended you book a site in advance. Go online to reserve a campsite at www.recreation.gov
Fees:
RV or Tent Camping is $15 per night.
Online camping reservations must be made at least 3 days in advance. Without a reserved a spot online you will need exact cash for camping at Chaco Canyon – see update above. Camping fees must be paid at the visitor centre.
If the visitor centre is closed when you arrive, place any fees in the drop box at the entrance of the campground. The "iron ranger" (camping fee box) does not give change and the campground host will not handle payments.
Water:
Potable water taps are located by the visitor centre.
Toilets:
There are 2 blocks of plumbed toilets at the campground. In addition, pit toilets are located at each point of interest on the 9 mile loop drive through the park. All toilets are clean and well maintained, including the pit toilets. Plumbed toilets are also available by the visitor centre.
Gallo Campground Sites
There are a total of 49 sites and 2 group sites.
Reservable Sites:
For Tents or RVs: 25 Total
Campsite #2, 3, 5 – 11, 18, 19, 20 – 28, 30 – 32, 34, 35
Tents Only: 12 Total
Campsite #36- 43, 45, 46, 48, 49
RVs Only: 4 Total
Group Campsites: 2 Total
Non-Reservable Sites: (i.e. First Come, First Served)
 Tents or RVs: 5 Total
Campsite #1, 4, 17, 29, 33
 Tents Only: 2 Total
RVs Only: 1 Total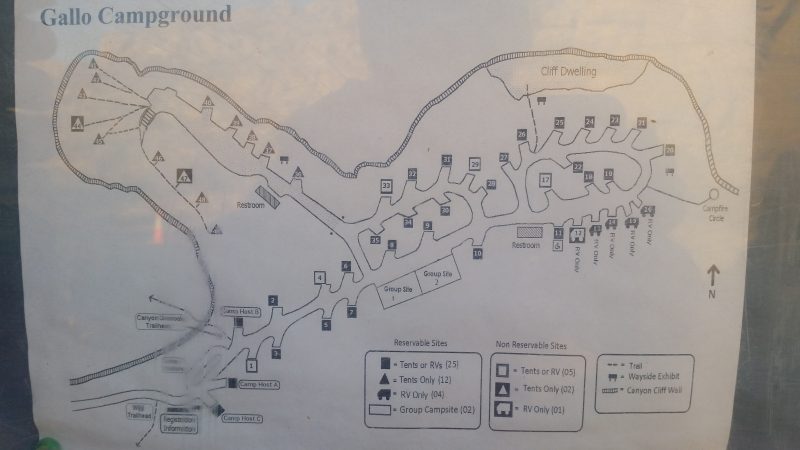 Each site at Gallo Campground comes equipped with a fire pit and a picnic bench, perfect for cooking and enjoying a meal after a long day of hiking. For that quintessential camping experience don't forget to roast marshmallows over the campfire.
Chaco Canyon Camping Tips
Be weather aware. Tent sites have a small, sand filled platform to place your tent upon, but even a small amount of rain will result in a deluge of run-off from the surrounding cliffs.
Avoid campsite #4. All sites have their own wee trail (pardon the pun) to the bathroom, but for some reason campsite #4's trail has become a shortcut/general all-purpose trail to the loo. Take it from our own first-hand experience during our stay at campsite #4. Fellow campers suddenly lost all sense of etiquette and traipsed through this site like a herd of lobotomized elk.
Consult the campground host. Even if the sign saying "Campground Full" is is displayed check with the host anyway. Several first come, first served sites are available and you may be lucky enough to find one of these open (hopefully not site #4), but hey, beggars can't be choosy.
Bring firewood. You cannot gather firewood at Chaco Canyon. Also, be aware of fire restrictions, especially in the Summer months. Consider a camp stove – these may be permitted during burn bans at Chaco Canyon.
Come fully prepared. The nearest major shop for stocking your camp kitchen is almost 80 miles away in Farmington.
Bring extra blankets and warm clothes. It gets very cold here at night, even in the Summertime.
No refunds for leaving early. Things change – weather and/or vehicle issues may cause you to break camp.
Get up early. The gate to the loop road opens at 7:00 am. You may see herds of elk grazing, especially at dawn and dusk, though they may be seen throughout the park during the day.
Campsite #44 is the pick of the campground. This is a tent site only and is non-reservable. Also, this campsite is one of the more private within Gallo Campground and includes a nice cave-like area behind it.
Chaco Canyon Camping Overview:
If you are looking for privacy, it is non-existent at this campground. Sites are close together with neither natural nor man-made barriers between them apart from perhaps a few scrub bushes. As a result of this, sites at Gallo Campground provide no shade.
This is a rather peaceful campground with quiet time being between 10:00 pm and 6:00 am. So if you are looking to rage it up and party while camping at Chaco Canyon, this is not the place for you.
---
Hiking in Chaco Canyon
Chaco Culture National Historical Park sits at an elevation of 6,200 feet. Acclimitise yourself to this coming from lower elevations, especially sea level.
There are 4 backcountry trails as well as the Una Vida trail, which is a short jaunt from the visitor centre. Hiking the backcountry trails takes effort and time however they are definitely worth it. These trails give access to even more ruins and each trail offers it's own unique, stunning views. Give yourself plenty of time to complete any of these hikes.
Each backcountry trail requires you to fill in a backcountry trail permit/slip. These free permits are located at the start of each trail. Simply fill out the slip before setting out on your hike. One copy (green slip) is displayed in the windscreen of your vehicle, one copy (pink slip) comes with you and the original page (white slip) goes in the box at the beginning of the trail.
Una Vida Trail
Trailhead Location: Accessed from beside the visitor centre
Ease/Difficulty: Relatively flat and easy
Distance: 1 mile round trip
Notable Features: Keep your eyes peeled for the petroglyphs on this trail. In order to see them be prepared to do a little climbing, nothing too strenuous but perhaps a little panting involved.
These petroglyphs are some of the clearest in the park. Beneath the petroglyphs is a large flat boulder offering a perfect vantage point to comfortably admire the cliff etchings and surrounding scenery.
Pueblo Alto Trail
Trailhead Location: Access Pueblo Alto trailhead from the Pueblo del Arroyo parking lot. Your ascent to the ridge above starts behind the Kin Kletso ruins.
Ease/Difficulty: This is a relatively easy hike. The most difficult portion of the hike is the climb up onto the ridge (bench) but it is really not that tricky. Climbing up onto the ridge requires squeezing through a slotted canyon.
Elevation Gain: 350 feet
Distance: Pueblo Alto trail consists of 3 optional routes.
Entire Loop – 5.1 miles
Pueblo Alto Complex Route – 3.2 miles
Pueblo Bonito Overlook Route – 2.0 miles
Notable Features: Pueblo Alto trail is possibly the most popular backcountry trail. You don't have to complete the entire loop to seize the optimal Instagrammable snaps of the 2 mega-stars of Chaco Canyon – Pueblo Bonito and Chetro Ketl.
Even if you're visiting Chaco Canyon on a day trip you can grab some snaps and be back to your car in no time. The overlooks of Pueblo Bonito and Chetro Ketl are located on the ridge above, accessed from the slotted canyon behind the ruins of Kin Kletso.
The trail begins in earnest atop the ridge with a fine view of Kin Kletso in the valley below. Pause here for a moment to catch your breath, only to have it taken away again by the views of Pueblo Bonito and Chetro Ketl just ahead on the trail.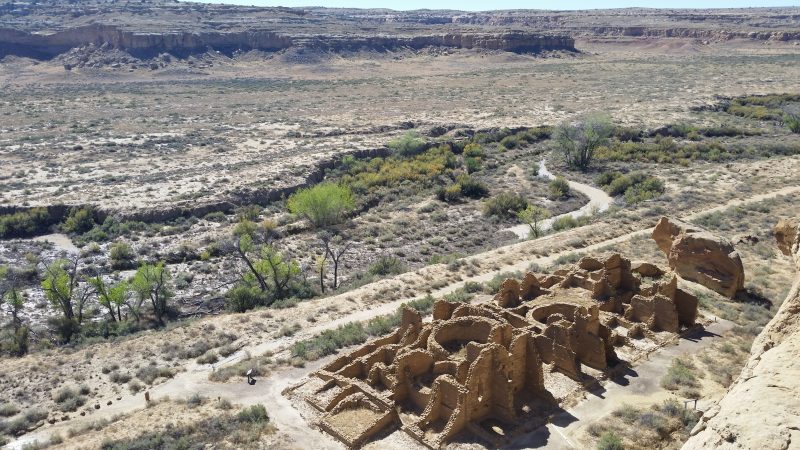 Keep your eyes peeled for shrimp burrows, evidence of ancient sea life forever memorialised in the sandstone of the region. These are everywhere.
From this vantage point are fine views of South Gap. During the heyday of Chacoan Culture this was where multiple roads converged and entered the canyon. Exotic trade goods from as far as Mesoamerica made it to the region over these roads.
At the start of the loop trail you are treated to an overlook of Chetro Ketl, yet another great Chacoan House with multiple kivas, which were used during religious ceremonies. This loop route features another very narrow slotted canyon to conquer.
Another striking feature to look for on the loop trail is Jackson Stairway. Named after a photographer with the U.S. Geological Survey in 1877, these steep stairs are certainly not for the feint of heart. Hopefully back in the day there were at least some kind of handrails to grasp onto. Naturally the park service does not want anyone trying the stairway these days.
Pueblo Alto is situated at 6,440 feet in elevation. Both the loop trail and the Pueblo Alto Complex trails encompass the collection of ruins known as Pueblo Alto. The complex has panoramic views of the surrounding landscape; this commanding presence was intentionally chosen to communicate with other great houses far away, also located on natural elevated features.
Peñasco Blanco Trail
Trailhead Location: The Peñasco Blanco trailhead is also accessed from the Pueblo del Arroyo parking lot.
Ease/Difficulty: The Peñasco Blanco trail is relatively easy and flat with a few minor ups and downs until you cross Chaco Wash. The terrain of the trail is a mixture of dirt and sand.
If you plan on crossing the wash during this hike make sure the weather has been dry for at least 3 days preceding your trip. Chaco Wash fills quickly to a depth of 4 feet or more with slick mud on the bottom so use extreme caution when crossing. Also, never attempt crossing Chaco Wash when flowing water is present.
Once you cross the wash the trail briefly climbs to the Supernova Pictograph and climbs again as you continue to the ruins of Peñasco Blanco.
Elevation Gain: 200 feet
Distance:
At 7.2 miles round trip, this is the longest trail in the park if you cross Chaco Wash and continue to the ruins of Peñasco Blanco
Hiking to the petroglyphs (see below) is 4.0 miles.
Notable Features: The first feature you encounter on the trail are the ruins of Casa Chiquita about 1 mile in.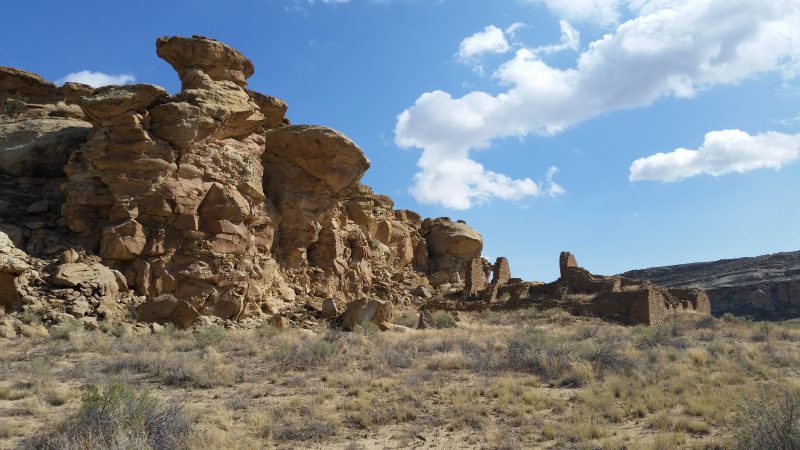 This trail features an extensive section of petroglyphs along the cliffs. These are well signed and if you have invested in the booklet – the Backcountry Trail Guide (available at the visitor centre) – you're privy to detailed information on where exactly to look and what it is you are looking at. The petroglyphs are a combination of Pueblo, Navajo and European-American etchings.
Once across the wash you are rewarded with a view of the Supernova pictograph (rock painting). Depicted are a star, crescent moon and a human hand. You'll also find a concentric circle painted in red and yellow. Allegedly, the pictograph represents a stellar explosion in 1054 A.D.
The ruins at Peñasco Blanco provide more incredible views of the surrounding landscape. Enjoy those views knowing you'll almost certainly have the Peñasco Blanco ruins to yourself – this section is the least utilized Chaco Canyon hiking trail.
South Mesa Trail
Trailhead Location: Access South Mesa trailhead from the Casa Rinconada interpretive trail.
Ease/Difficulty: The slight elevation gain on this trail isn't difficult or technical. This well-marked trail is comprised of dirt, loose stones and sand.
Elevation Gain: 450 feet
Distance:
Entire Loop – 3.6 miles round trip
Tsin Kletzin – 2.6 miles round trip
Notable Features: This was our favourite Chaco Canyon hiking trail, followed closely by the Pueblo Alto hike. The views are fantastic during this hike and the walk back through the South Gap is beautiful.
Wijiji Trail
Trailhead Location: Wijiji trailhead is located 1.25 miles east of the visitor centre.
Ease/Difficulty: Lovely easy hike
Elevation Gain: Level
Distance: 3.0 miles round trip
Notable Features: Not far from the Wijiji ruins is a short trail which leads to a pictograph of two red animal images and some negative handprints. It's very likely you'll have this entire site (and hike) all to yourself.
We hiked in after a brief shower of rain. The photo below provides insight into how mucky these trails may become in a very short period of time. That thick mud made for a rather tough hike due to the extra added weight on our boots.
Wijiji Trail is easily accessed from Gallo Campground via a short 5 minute walk. This easy trail makes for an ideal early morning or evening hike. Take advantage of the ease and proximity of this trail when camping at Chaco Canyon.
---
Tips for Hiking in Chaco Canyon
Know the weather forecast before your hike. The visitor centre provides projected weekly weather conditions, along with daily updates. Hiking in a light shower can be o.k. but this is not the place to get caught in a thunderstorm, especially if you are up on the ridges (benches). Ensure you have at least 3 or 4 days of dry weather before your planned hikes to allow the ground and the wash to dry out.
Use an app. We recommend AllTrails which is free to download and highlights over 50,000 trails worldwide. What's more, the AllTrails app even works offline. Simply add any trail as a favorite and the app guides you along using GPS.
Invest in the Backcountry Trail Guide. These are available at the visitor centre and are indispensable while hiking in Chaco Canyon. The Backcountry Trail Guide thoroughly explains many interesting features within the park, both natural and man-made.
Charge your devices. Imagine your disappointment when you go to take a photo, only to see the drained battery symbol.
Stay hydrated. Carry plenty of water as well as a hat, sunscreen, sunglasses, binoculars and snacks during all hikes.
Have proper footwear. Although these hikes aren't technical, sturdy comfortable hiking boots or trail shoes make all the difference.
Take your time. Hiking at an elevation of over 6,000 feet in the high desert environment is grueling.
Leave the trail as you find it. Do not take anything from the trails – pottery, plants etc. You are being watched from afar by rangers with binoculars! You will almost certainly get caught.
Cairns are strategically placed as markers almost everywhere. Where cairns don't exist, the trail is rather obvious or is marked by water bars/pans. In general, the trails here are very well-marked.
---
The Road to Ruins: Driving to Chaco Canyon
The reputation of this road precedes it. Although the road to Chaco Canyon is formidable, with a little planning and some slow, cautious driving you will conquer it. Having a high clearance vehicle makes sense however compact cars make the trip easily, also.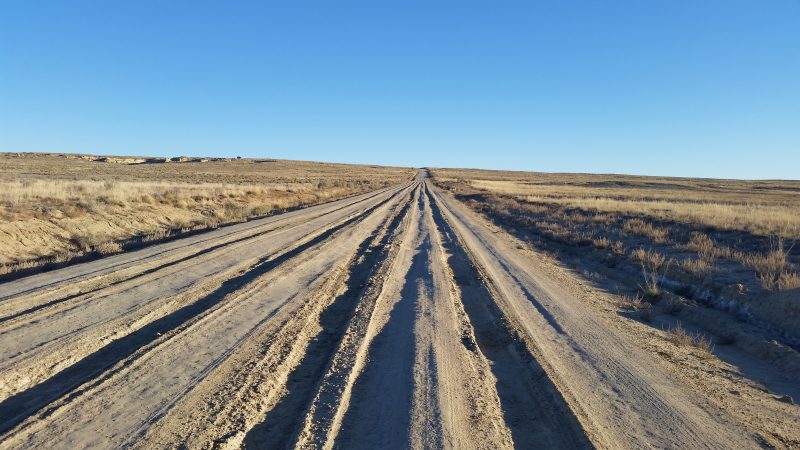 At this point you are likely wondering why the road to Chaco Canyon isn't completely paved. Similar to countless others before me I posed that question to park rangers, likely exasperated by this common query. The reality is the roads to Chaco Canyon pass through private land and it's a contentious dispute yet to be hammered out in the form of a smooth paved road.
---
Directions to Chaco Canyon and a Break-Down of Road Conditions
Chaco Canyon National Historical Park is reached via two very different routes: an east route via US Highway 550 and a south route via Navajo Service Route 9, also listed as NM Route 57 on many maps. However, which route you take depends on where you are coming from.
Each route, along with potential road conditions, is detailed below. The east route is best approached from Albuquerque, Santa Fe, Taos and points east, while the south route is best approached from Gallup, Grants and points south of these cities as well as Farmington.
East Route Directions to Chaco Canyon and Road Conditions:
Coming from north or south on U.S. Highway 550, follow signs indicating the turn for Chaco Canyon National Historical Park; this turn puts you on county road 7900. Continue on this paved road for 5 miles, then turn right on county road 7950.
This paved road continues for about 4 miles before transitioning to gravel. County Road 7950 then deteriorates rather quickly for the next 8 miles. Above all, stay alert and take it very slow.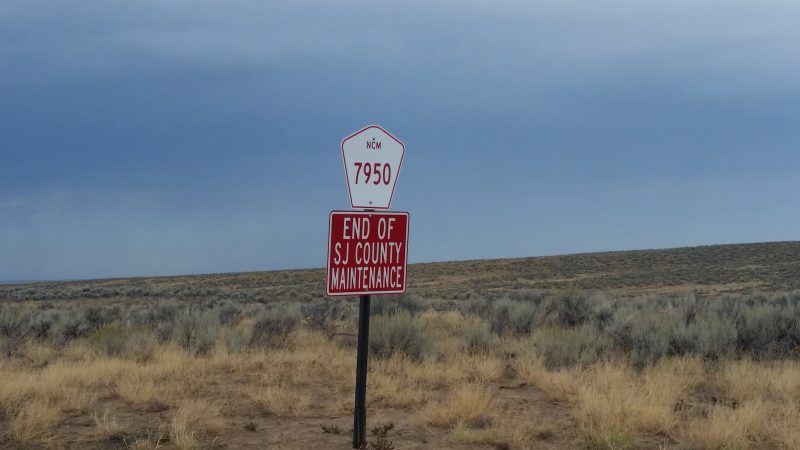 A sign (see above) indicates the end of county maintenance and from here the road condition increasingly worsens. For the next 4 miles expect very deep ruts during the drive and, after heavy rains, washed-out sections. To sum it up, expect the worst during this drive and be prepared for it.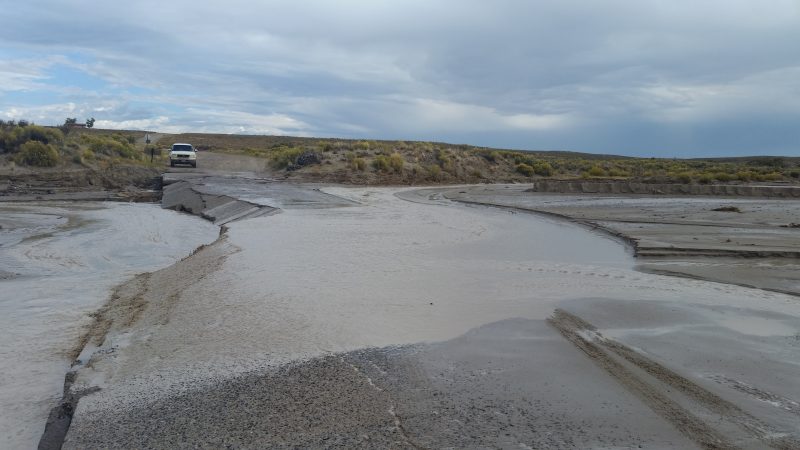 The last 2.5 miles of this road is mercifully paved before reaching the entrance of Chaco Canyon National Historical Park. Overall, it is 21 miles from U.S. Highway 550 to the last 2.5 miles of paved road into the park.
South Route Directions to Chaco Canyon and Road Conditions:
Coming from east or west on Navajo Service Route 9, confusingly shown as NM Route 57 on some maps; follow signs indicating the turn for Chaco Canyon National Historical Park. This turn puts you on Navajo Service Route 14, also shown as NM Route 57 on some maps. Continue 22 miles to the park entrance.
No matter the name, this dirt road is most noteworthy for being both a direct route to the park entrance and lightly traveled compared to the east route mentioned above. Expect washboard surfaces, plenty of dust and a few rough, rocky patches during this drive.
Tips for Driving to Chaco Canyon
Keep an eye on the weather. It doesn't take much rainfall to wash out public access roads to Chaco Canyon. Your vehicle can easily become stuck in the mud/ruts and flash floods are a reality. Use common sense during your drive and realistically know your vehicle's limitations.
No 4×4 needed. A high clearance vehicle is advantageous but not necessary during the drive to Chaco Canyon.
Have a spare tyre. Also, know how to change a flat if you need to.
Give yourself time. Allow 1 to possibly 2 hours to tackle this drive, depending on your vehicle's constitution and the condition of the road.
Watch out for livestock. Up to the point you enter the park, be aware of open range on both sides of the road. Open range is fairly self-explanatory – livestock is not fenced in and therefore may be present on the road. You will be responsible for the value of any animal you hit!
See tip #1 again!
---
The Dark in the Park Featured Programme
Every Friday and Saturday evening from April through October the park features a programme highlighting the night sky at Chaco Canyon; depending on staffing this Dark in the Park talk may also be held on Tuesday evenings.
The visitor centre has a list of other available walks, talks and audio visual programmes on offer for the foreseeable week. Naturally, due to the increase/decrease in daylight hours, the Dark in the Park talk time changes on a weekly basis so check with the visitor centre for current times.
This very informative and entertaining talk comes with a strong Drifter's recommendation. Park Ranger J.B.gives the presentation and he pioneered the astronomy programme in the park – he's a wealth of knowledge on the night sky at Chaco Canyon.
Participants get to look through several telescopes including one in the observatory. Rangers guide you and your eyes on a galactic journey through the lens of each telescope, so allow up to two hours for the presentation and the hands-on telescope time.
If you prefer a dark sky and optimal viewing of the stars and the milky way, avoid camping here when the moon is full; this provides it's own natural form of light pollution. The dark sky in New Mexico is incredible at night!
Chaco Canyon is the fourth darkest park in the U.S. Go online to find out where you'll find the top 10 darkest skies in the US, or internationally. Should your preference be a lovely moonlit stroll, you couldn't pick a better place than Chaco Canyon for a romantic ramble.
---
The Allure of Visiting Chaco Canyon
Hopefully the information and tips we've provided set you up for a successful and memorable Chaco Canyon camping trip. We also hope this has inspired you to hit the trails. Come fully prepared to experience Chaco Canyon and you'll be planning to return before you even leave the park.
Visiting Chaco Canyon is an amazing experience which subtly lures visitors with it's mystical ruins and peaceful solitude. Add to this the shifting colours of the sandstone cliffs as the sunlight strengthens and wanes and you'll soon see why this setting has attracted folk for centuries.
Throw in the rather fantastical and whimsical rock formations whipped, gouged, cajoled and caressed through millions of years of wind/rain erosion, and you have a captivating landscape begging to be explored. New Mexico is full of enchanting locations like this waiting for you.
---
Pin Me Now!