Last Updated on January 4, 2021
Backpacking Mexico has never been easier or more affordable. A great public transportation network awaits the budget traveler meaning ancient ruins, white sand beaches, mountain towns, cities rich in culture and plenty of natural wonders are easy to get to. You'll certainly get around Mexico with ease and finding a comfortable place to stay for little money is easy, too.
In fact, your backpacking Mexico budget goes far in other areas also like food, entertainment and sights. Traveling through this country is exciting and Mexico is a great place to start your next journey or continue with the trip you're already on. We've spent over a year backpacking in Mexico and I'll share some solid budgeting tips and more here.
No matter what your idea of Mexico on a budget entails, this is one country well suited for independent travel. Take note of the tips and considerations in this article – see more, do more and travel longer! Your Mexico backpacking route may include the usual favorites, or you may be interested in Mexico off the beaten path. Wherever you go just keep these budget tips in mind.
How to Budget Mexico Like a Pro and Explore More of This Country Independently!
How We Budget Mexico
Our budget in 2017 and in 2019 was $15 each per day, or about 300 pesos. This sounds austere however our budget easily covered food, accommodation, sights, beer (much more on that later), transportation and entertainment. Follow the tips below and adjust higher (or lower!) to suit you. We know a budget of $15 is viable for travel today through Mexico and will be for some time to come.
What You Need to Know to Budget Mexico Like a Pro
This article highlights getting into Mexico either on foot, by road or by air. It deals with money matters, like currency exchange in Mexico and how to stretch that currency as far as possible when it comes to food and public transportation.
Of course, you'll want to know how to find the best backpacking accommodation; believe it or not, hostels are seldom the cheapest option. This article even covers hitchhiking as an alternative budget option to buses. We've hitchhiked plenty of times while backpacking Mexico.
---
For a very honest and funny book on how things are done in Mexico (and how you should do things!) check out The People's Guide to Mexico
 by Carl Franz and Lorena Havens.
This honest, self-effacing book is full of stories and tips sure to keep you learning and laughing along the way! Although this isn't a guide book the authors have certainly seen and done it all in Mexico and aren't afraid to share their knowledge.
A Word or Two About Booking Accommodation in Mexico…
We seldom recommend pre-booking accommodation unless you arrive in a city or town late at night. In that case we recommend Hotels.com for the best selection and deals throughout all of Mexico.
For more unique accommodations you simply won't beat Airbnb's Mexico listings. Choose from hip and trendy lofts in the city, entire houses in the country or beachfront casitas – Airbnb has something for every budget!
Disclosure: This article contains affiliate links to products and services whereby we receive a nominal commission if you make a purchase through one of these links. This comes at no extra cost to you. Please see our Disclaimer for full information.
For a more traditional budget guide book check out either Lonely Planet or The Rough Guide to Mexico
. Both titles are some of the best sources on the market for offering useful information to independent travelers.
---
Entering Mexico By Land
Crossing into Mexico on foot is possible at many of Mexico's land borders. Crossing this way is very common at certain borders like Tijuana and Nogales to the north and at Tecun Uman in Guatemala to the south. Entering Mexico on foot is rather easy and you'll be across in no time at all. In short, follow what other pedestrians are doing at these border crossings!
Our first time backpacking Mexico saw us crossing the Tijuana border on foot. We also crossed into Mexico from Guatemala and even Belize on foot. At the time of writing (June 20th, 2019) the fee to enter into Mexico was about 500 pesos (MXN). This princely sum includes the issuance of the official Formal Migratoria Múltiple, or FMM card. Fill this form out and DO NOT LOSE IT!
Your FMM card may be stamped for up to 180 days. THIS IS NOT A VISA. Many countries don't need a visitor visa to enter Mexico, however it's up to you to know where you stand before crossing. Check out this list of visa exempt and visa required countries for entering Mexico. Here is much more information on the FMM card.
Flying Into Mexico
Flying into Mexico is easy, too. You'll get your FMM card from the flight crew to fill out prior to landing – the fee for the FMM card is usually included in the price of the airline ticket. Customs and immigration is a straightforward deal and again you'll likely be given 180 days in Mexico as a tourist.
Upon leaving Mexico by air you'll likely pay a departure tax, often referred to as an airport improvement fee. Surrender your FMM card upon check-in and pay any associated fee IN CASH at a separate counter near the ticketing counter. The fee fluctuates of course; expect to pay around $60, though.
Entering Mexico by Bus or Car
Backpacking Mexico means it's unlikely you'll be entering the country with a vehicle. Perhaps you'll enter by bus instead –  in this case, the entry process still involves filling out your FMM and paying your entry fee. Again, it's up to you to know if Mexico requires a visa from citizens of your country.
Should you enter Mexico in your vehicle from north of the border keep in mind where you enter presents it's own rules. The entire Baja Peninsula and certain parts of Sonora state (known as the Sonora free zone) do not require a Temporary Import Permit, or TIP. At all other US/Mexico border crossings this permit is required and can be obtained at the border. Getting a TIP requires a deposit based upon the age of your vehicle:
$400 USD for vehicles 2007 and newer.
$300 USD for model years 2001 through 2006.
$200 USD for 2000 model years and older.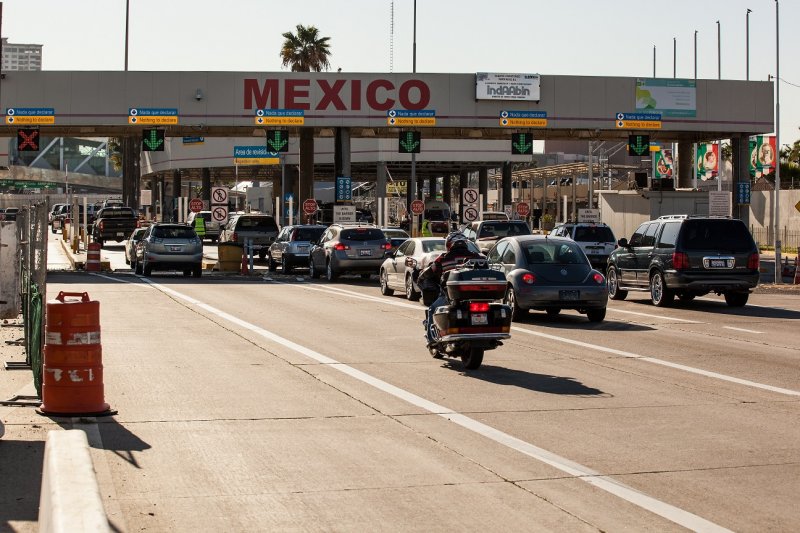 Of course, you must consider more than just the deposit fee alone. For example, you'll need certain documents for securing your TIP. You also need *vehicle insurance by law in Mexico; your policy from north of the border is not legal here.
Also, if you lease your vehicle the lienholder may not allow the vehicle to enter into Mexico. Here is more information on the TIP, minimum coverage for Mexican automobile insurance and information on lienholder requirements.
* Proof of a Mexican insurance policy IS NOT required to actually enter Mexico, however by law you do need a policy from a Mexican insurance company. I hope you never need to use it OR are never asked to produce proof of coverage to a law enforcement officer. Do the right thing and sort out a policy before entering Mexico by vehicle.
---
Mexico Money Matters
Before getting to Mexico consider this regarding your money: Cash is king here and many simple establishments will not accept card payments. Also know how and where to get the best exchange rate and what that rate is by going to xe.com for current rates. Try not to break large bills at the taco stand, either – more on that below. In this post I refer to the local currency as either pesos or MXN.
Casa de Cambios
The place to exchange your money in Mexico is a casa de cambio and they are very common throughout the country. Most banks in Mexico exchange money but you often need an account with that particular bank to exchange cash. One bank in Mexico exchanges money for non account holders: Banco Azteca. Here is more information on rates and locations for Banco Azteca branches throughout Mexico
Should I Take Dollars or Pesos to Mexico?
Many people use US dollars to pay for certain goods and services as this is simply easier for many visitors to Mexico. This comes at a cost to the visitor due to the convenience factor involved. For example, gas stations in Mexico honor 1 USD at a rate typically 3 or 4 MXN less than the official exchange rate. Convenience always carries an extra cost.
The above example begs another question many visitors face: Should I begin my travel with Pesos or Dollars in Mexico?
I suggest you carry a small amount of local currency before entering Mexico to see you through a few hours or a few days, just in case you cannot exchange money as soon as you arrive. Having said that, it's better to exchange the rest of your own currency while in Mexico. Why? Because currency exchange in Mexico is more competitive than back home, which means a much better deal for you.
For example, the Mexico City Airport currency exchange competition is quite fierce; be prepared for 20 different casa de cambio establishments vying for your business after you clear immigration. Compare that to the 1 or 2 currency exchange kiosks at your departure airport.
Further into Mexico City you'll find an entire casa de cambio district on the west side of the Zocalo; look for any shopfront advertising "casa de cambio" along with their rates prominently displayed at the window. Elsewhere, finding a casa de cambio is easy in cities and towns where tourists are, and in many places where they aren't. However, exchange your money for pesos sooner rather than later in Mexico.
In conclusion, you have more choices in Mexico to exchange money. This likely means a much better rate than currency exchange kiosks at your departure airport. Carry enough pesos to get you through a short period of time and either find a Banco Azteca or find a casa de cambio after you arrive.
Paying With Cash in Mexico: Large Bills and Small Bills
Now that you've found a casa de cambio with the best rate here's a brief word of warning about paying with cash: 500 and 200 peso bills are your enemy in Mexico. Often, "breaking" a 500 peso bill for something costing 100 pesos or less will send the clerk/waiter/waitress/shopkeeper scrambling to find you change. Small bills like 50 and 20 peso notes make the world go around here.
Ask the casa de cambio for smaller bills and they may oblige. If the casa de cambio won't give you small bills, a bank will. You don't need to be an account holder with the bank in which you are breaking bills. However, you won't want too many small bills puffing out your wallet, and for good reason. Keep some 500 peso bills for paying accommodation and large bar tabs.
Simply bring your passport (where your FMM card should be!) and queue up for ages at almost any bank you find. The teller WILL ask to see your passport and may even take a photocopy of it; this is normal procedure for some reason. Present your larger bills and ask specifically for a certain amount of 20, 50 and a few 100 peso notes – these 20 and 50 peso notes are vital.
---
Eating Cheap in Mexico
A daily food budget in Mexico of 50 to 150 MXN  ($2.55 to $7.75) is quite possible if you follow these tips below:
Mexico on a budget means food variety is limited. Simply put, street food and budget comedors are your best choice and these establishments rarely work with anything more than the basic components of Mexican food: tortillas (mostly corn), onions and cilantro, a disappointingly scant variety of cheese and several types of meat.
It's easy to be amazed by the exotic-sounding tingas appearing on the menu or the sincronizadas and huaraches you've never heard of. You soon grow tired of eating them as you realize they are pretty much the same thing – this is the norm with Mexican street food, or antojitos as they're known. Street food is cheap and tasty but features a dearth of ingredients or different flavors.
Most visitors to Mexico think of a taco as the culinary go-to for street food and these are cheap and easy to find, no doubt. However, almost all antojitos are essentially tacos, just presented to you differently with the the tortilla rolled or folded a certain way or placed flat on the plate.Thinking of mixing it up with a tostada? This is nothing more than a crisp corn tortilla topped with meat, onions and perhaps cheese. See what I mean?
A Variety of Food in Mexico on a Budget
When the allure of tacos (and corn tortillas) finally fades away (and it will) you must consider other budget foods full of different flavors. Finding these foods is easier than you think, no matter where your backpacking Mexico route takes you. So forget tacos, tostadas and quesadillas and seek out some truly savory or sweet Mexican favorites!
Want More Ideas to Stretch Your Food Budget in Mexico. We Have Clever Money-Saving Tips to Help You Out!
 Rosti-Pollo
Roasted chicken (Rosti-Pollo or Pollo Asado) isn't what one thinks of when it comes to Mexican food, however this is insanely popular and found absolutely everywhere throughout the country. Roasted chicken is a very economical way to feed yourself on a budget. On our road trips to the Baja Peninsula we ate rosti-pollo frequently and each establishment had their own unique grilled chicken flavor
A whole chicken comes with french fries or macaroni salad and an unlimited supply of tortillas (again!) and salsa. Expect to pay 145 pesos ($7.50) for a whole chicken with all the extras or 80 pesos ($4.10) for a half chicken with all the extras. These meals may be enough to keep you sated throughout the day.
This is an astounding value as 4 people can easily split a whole chicken. Or just order a quarter chicken served with all the extras for about 55 pesos ($2.75). Mexicans love rosti-pollo and so will you. Remember, always bring your own beverages into these places to enjoy along with your meal.
Birria
Again, you'll find birria everywhere as you're backpacking through Mexico. Birria is a very hearty stew traditionally consisting of mutton or goat. Many establishments exclusively sell birria and some even prepare their version with beef instead. Birria broth is a combination of meat stock, red chiles and spices. A bowl of this stew comes with diced onions and cilantro to garnish – perfect!
A steaming bowl of birria goes for about 50 pesos ($2.50) and comes with, again, unlimited corn tortillas. Those tortillas fill you up as does the unlimited broth you get with your order. A giant bowl of birria is another great value and represents a dish many visitors to Mexico somehow pass up. Wash down that savory stew with your own beer, too!
Sharing Plates
Backpacking Mexico with a partner? Why not share a plate of food? This works well at seafood restaurants, where plates of seafood are often too much food for one person – perfect for sharing! This isn't considered rude at all in Mexico like it is north of the border. You'll find these restaurants throughout Mexico and the value and variety of seafood will amaze you.
Mexicans really enjoy big seafood meals with family on Sunday. Those big meals of shrimp, squid, clams, oysters and whole fish cannot be beat and sharing a plate just makes sense. Washing it all down with a cold beer is heaven on earth and nothing is more Mexican than a big seafood feast!
We split giant plates of seafood while backpacking in Mexico, often accompanied by endless cups of shrimp broth and tostadas and salsa for 180 pesos total ($9.00), or 90 pesos ($4.45) each. This is an astounding value for the amount of food you get. Again, it's perfectly normal to bring in your own beverages to many restaurants to stretch your Mexico backpacking budget, so don't feel odd about it.
Bakeries
Backpacking Mexico on a budget means knowing where to find the cheapest food possible and that means bakeries, or panaderias. Roast chicken is the best wholesome value all around, but bakeries serve up the cheapest food. For only pennies choose from an outrageous variety of cakes, bread rolls, cookies, biscuits and other assorted pastries.
Cities in Mexico contain plenty of bakeries stocking a sweet supply of baked goods, perfect for a quick and cheap breakfast. Even the most fancy pastries, cakes and rolls cost about 75 cents. If you aren't afflicted with a sweet tooth like me bread rolls make a great choice and sell for about 5 cents each. Many bakeries offer individual packets of jam and butter to spread on your rolls, too.
Protocol in a Mexican bakery is difficult to grasp at first but goes like this: Grab a tray and tongs, fill your tray with your choices, bring the tray to the cashier and pay. Simple and sweet! The cashier knows what to charge based upon what's on your tray. Grabbing calorie-dense foods at these bakeries represents your best bet for filling up on sweet treats when backpacking through Mexico.
Free Food in Mexico?
Many people backpacking Mexico simply fail to take advantage free food, known simply as botanas. A botana is a free meal served with your beer at cantinas, similar to tapas in Spain. Botanas are often served with either your 2nd or 3rd beer, depending on the cantina. Beers are only slightly marked up at 30 pesos ($1.50) however this is still quite a value. Some cantinas even offer you a choice of botanas.
We've had everything from thick, hearty stews and braised ribs on rice to tacos and raw hot dogs served with cucumber slices! Make sure botanas are served at the cantina of your choice and respectfully insist you get yours if the waiter "forgets" to bring some out! Botanas are also served at pulquerias, should a mug of pulque be on your list.
---
Saving Money on Transportation in Mexico
Your transportation budget will vary significantly, of course. Follow my tips below for the least financial impact on your backpacking Mexico budget.
Again, bus travel in Mexico is quite extensive, well organised and can represent a pretty good value. Stepping down in class for your bus has a positive impact on your backpacking Mexico budget so look for second class buses instead – more on that below. Speaking of budget, see my other tip regarding which type of transportation to avoid while backpacking in Mexico.
But first…
Buses
Buses ply almost every road and highway in every state of the country. Even cities that lack a standardized system of buses have somewhat organized intracity buses working their own routes. Intercity buses are another story; these are more organized and certain companies operate in certain regions of the country while some operate nationally.
Intercity Buses
Intercity bus travel in Mexico is not too cheap, all things considered. First-class buses are more comfortable and convenient, boasting refrigerated air, movies and fewer stops while second-class buses charge substantially less in many cases. Routes, frequency and destinations on these second-class buses may differ slightly from first class buses.
Of course, these cheaper buses are shabbier and they stop more frequently along the way, adding time to the route. As a rule of thumb expect to pay 75 to 100 pesos ($3.85 to $5.15) per each hour of travel on first-class buses and considerably less for second-class service. Of course, this is much cheaper than buses at home but these fares may grind on your budget over time.
For bus schedules, destinations and other information check out rome2rio, the worldwide transport information authority.
Intracity Buses
This is a great way to get around town and for a great deal, too. Expect to pay 3 to 8 pesos (15 cents to 40 cents) per ride. These intracity buses pick up at the main long distance bus terminals within towns and run into the center  – perfect for when you've arrived on that intercity bus! These buses running through town have their routes scrawled across the front windshield, or windscreen.
Don't be confused by the hieroglyphs you see scribbled on the front window of the bus as these are easy to decipher. Centro and Central mean the center of town and the main bus terminal, respectively. Your destination will likely be between Centro and Central, so just take that route to get to or near wherever you need to be.
You'll often see ISSSTE written on the windows of the bus, indicating the route passes the large and garish government-subsidized medical facilities, often found on the outskirts of towns and cities. Just as noteworthy as landmarks are large supermarkets and shopping plazas, also on the outskirts of cities and towns; look for names like Soriana, Ley, Liverpool, Chedraui and Walmart. 
Hopping on buses operating along these routes may get you where you need to be – for cheap. Take note of where you are, where you need to get to and where these major landmarks are. Doing this means you'll find the bus you need in no time. Also, these buses often terminate (or begin) in central, obvious places throughout town and getting one to stop anywhere along the way simply means signaling to the driver.
Taxis
Many people warn about the danger of taxis in Mexico City, but app-based ride share schemes and government regulations have made the situation slightly better. However, the threat of robbery to tourists and even residents of Mexico City hasn't dissolved completely. In Mexico City we advise getting taxis from ranks, called sitios, and not hailing one while cabs in provincial cities and towns are safe to hail from the street.
Expect to pay 50 pesos ($2.50) for rides throughout smaller cities and towns and slightly more from one neighborhood to the next in larger places like Mexico City. Rides to bus stations and airports on the outskirts cost quite a bit more depending on distance, of course – take a bus instead. Taxis are very prolific throughout the country and in small towns everywhere. Taxi drivers will find you before you have a chance to hail one!
Taxis are either non-metered, metered, charged by the kilometer or by zones within a city. If you don't see a meter in the taxi agree upon a price with the driver first – this is advisable anywhere in the country. It's amazing to see how common taxis are and how important they are to people in Mexico, even in the smallest of towns. They can represent a great value for your Mexico backpacking budget!
Rapid Transit
Mexico City, Guadalajara and Monterrey all have great inner city rail systems. These systems are very affordable, comprehensive and safe. Backpacking in Mexico will very likely bring you to these major cities and using their rapid transit lines is a budget-friendly way to get around. See the box below and link to my article about the Mexico City Metro and why you should use it.
Pay just 6 pesos (30 cents) to ride the Mexico City Metro to get almost anywhere you want to be! Mexico City is a world-class destination and the Metro system here is top notch. Of course it will get quite busy at peak times – expect to wait for a car that is not packed full of people at certain points throughout the day. I highly recommend the user-friendly Metro as a viable means of public transport in Mexico City.
Find more information online regarding the rapid transit systems of Mexico City, Guadalajara and Monterrey.
Avoiding Planned Excursions and Tourist Transportation
*Try to avoid these completely as they represent a lousy value. Overpriced hostels and hotels offer planned excursions and tourist transportation as a separate service – these are never worth the extra price unless you are very short on time.
Instead, make your own way to the bus station for that day trip and shop around for the cheapest ride when you get there. Travel with the locals and just take your time. Public transportation in Mexico is user-friendly and frequent, so get out there and plan your own route.
Again, use rome2rio for the best information on schedules and destinations.
Discover How to Budget Mexico City and Follow Our Very Own Peso-Saving Tips.
 Hitchhiking
I shouldn't need to say this but I will: HITCHHIKE AT YOUR OWN RISK! 
It's surprising how common hitchhiking in Mexico really is. Is hitchhiking in Mexico safe? Only you will answer that for yourself by deciding to do it or not. Hitchhiking in Mexico was a great experience for us and this certainly helped with our budget – at times this was our only transportation option. If you decide to hitchhike in Mexico always offer some pesos to the driver as a courtesy.
We've hitchhiked extensively prior to backpacking in Mexico and our experiences have shown these considerations to keep in mind:
Avoiding the middle of the day when traffic is lighter and the heat is intense.
Asking the driver how far they are going first.
Starting at the edge of town to capitalize on vehicles leaving.
Standing where motorists can see you (for safety reasons!).
Having a smile on your face.
The warmth and compassion of people who gave us rides was one of the true highlights of backpacking Mexico. We have many more tips and plenty of tales which may very well be future articles. For much more information on hitchhiking in Mexico and countries throughout the world visit the best online source at hitchwiki.
---
Saving Money on Accommodation in Mexico
Expect to pay as little as 150 pesos ($7.75) for a single bed in a hotel at times. More common are single rooms for 200 pesos ($10.25) throughout the country.
Hostels are not always the cheapest option in Mexico. Simple, budget hotels are much cheaper, especially for a couple. Almost always avoid booking online and haggle for a reduced room rate, which is perfectly acceptable.
Avoid Booking Online
Booking accommodation online really only makes sense for your first few nights in the country or after long bus rides getting into town late. Outside of these late night arrivals I advise you to skip booking online; many of the best value budget accommodations in Mexico aren't found on the internet at all.
Instead of booking online get an idea of where hotels are located using Google maps and simply go from one to the other and inquire in person upon arriving (during normal hours). This is easier than it sounds because many hotels in cities and towns are clustered together.
What's more, hotels in Mexico prominently list their rates in the lobby; these prices may be less than online prices (see Haggling below). Knowing the true price of a room as stated in the lobby puts you at an advantage.
One of our tricks is to find cheap accommodation for one night then scope out cheaper hotels the next day. Relying upon booking sites frequently leaves you totally unaware of all the basic hotels with no online presence that operate in any given city or town. Often, these budget hotels are next door to each other!
My advice for accommodation while backpacking Mexico is to use booking sites only as a reference or for late night arrivals. If you see rooms advertised for, say, 400 pesos ($20.50) you can be guaranteed you'll find unadvertised hotels for half that price and again the rates advertised in the hotel lobby are just a starting point for the haggling process…
Haggling in Mexico
Haggling for a cheaper room rate carried our Mexico backpacking travel budget quite far. Often, a rate cheaper than the advertised rate was presented to us at the front desk without us even asking, simply in exchange for us agreeing to stay for 3 nights instead of 2. Of course it's certainly appropriate to ask for a reduced room rate as well. Know that haggling in Mexico is perfectly acceptable if done with respect and candor.
Upon seeing a listed rate of 200 pesos just ask at the desk if they'll take 150 pesos per night for a 3 night stay. Staff and owners want your business and want to put you in a room rather than turn you away. On many occasions staff declined our offers only to say yes as we headed out the door! Haggling works very well and seriously helps your Mexico backpacking experience.
Again, show respect when haggling in Mexico; don't insult anyone by insisting on a 50% discount and don't haggle unless you're completely serious you'll accept their offer. Also, be prepared to take the rate advertised at the desk if any lower offer is denied and accept that rate without sulking about it!
Hostels in Mexico
Backpacking accommodation brings to mind hostels, however these represent a bad value in Mexico. There is a community of other travelers at hostels and perhaps a party scene if that's what you're after. However, seeing Mexico on a budget simply means considering hotels over hostels. Almost all hostels in Mexico are boutique-style and these cost a lot more than the very few basic ones you may find here.
Hostels generally face a lot less competition from other hostels as well – less competition equals more expensive backpacking accommodation in Mexico. Of course, many backpackers are competing to get in to those few hostels, too. Still, hostels may be just what you're after; look around online to see what's on offer and you may find a good deal after all.
As well as a social scene for other travelers hostels often organize day trips to sights and even transportation between their establishment and cities that have a partner hostel. These trips and transportation arrangements are almost always a bad value when trying to see Mexico on a budget. See Avoiding Planned Excursions and Organized Transportation above.
Hotels in Mexico
Backpacking Mexico is easy thanks to the huge variety (and value!) of hotels, so always keep in mind even the simplest hotel as a means of viable backpacking accommodation no matter where you are. Again, anticipate room rates commonly going for as little as 200 pesos ($10.25) offering a private bathroom, Wi-Fi and cable television and at times even less.
Budget hotels in Mexico offer a more genuine experience than hostels – stay where the locals stay and pay what the locals pay! We once paid about $12 per night ($6 each) for a hotel in Guatemala which included an on-call doctor if we needed one!
Accommodation in Mexico within this price range tends to be very clean, safe, quiet and centrally located. However, it's perfectly acceptable and completely advisable to see a few rooms before you settle on one – just ask. Street noise can be a problem anywhere in Mexico so make sure your room is quiet enough if you're a light sleeper like me, or just carry earplugs.
---
In Conclusion…
Your Mexico backpacking budget depends on a few good tips to see you through. Saving money wherever and whenever you can is a lot easier than you think and doing so may keep you on the road longer. Of course, you're here to see the sights too, and Mexico is full of free things to do.
Getting into other sights and sites is pretty much a cut and dried situation, although sometimes you pay more as a non national. At other times it pays to know what museums are free (and when). Read more online about all the free museums in Mexico City  Also keep in mind many museums with an admission charge are often free on Sunday, so inquire locally or check online.
Research your Mexico backpacking itinerary to make the most of it; take into account seasons and peak holiday times, as these can increase prices and decrease availability of bus transportation and accommodation throughout the country. Above all else, enjoy backpacking in Mexico!
---
Pin Me Now!