Last Updated on January 4, 2021
We discovered some interesting things to do in Chihuahua, Mexico during our first long-term backpacking trip in 2014. That first impression was so good we decided to return in 2019 to discover even more things to do in Chihuahua.
Our time in Chihuahua was spent sitting in the pleasant main square, exploring the cathedral, visiting historic sights and sites and admiring colonial architecture. Expect plenty of things to do here during your visit to this vibrant capital city and throughout all of Mexico.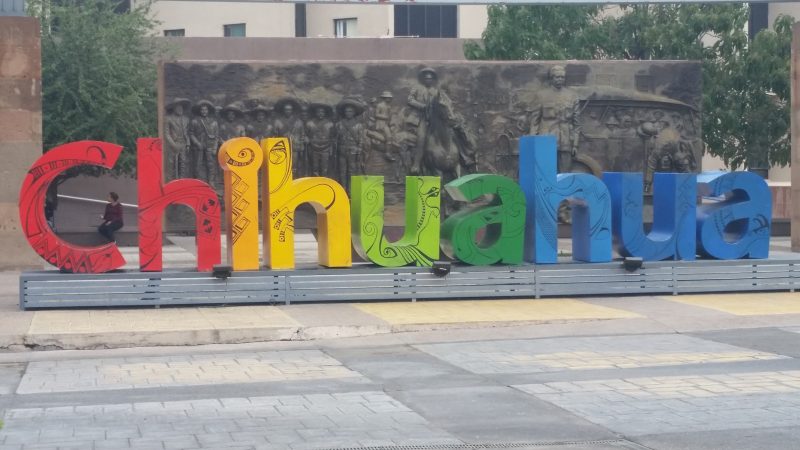 Most of the things to do in Chihuahua center around Plaza de Armas, the very heart of the city. However, plenty of other attractions are either a short walk from the main plaza or an inexpensive bus or taxi ride away. Getting around Chihuahua really is quite easy on foot and I recommend using Plaza de Armas as a starting point for walking to each of the attractions mentioned in this article.
Need a Place to Stay in Chihuahua?
Check out the amazing selection of Airbnb rentals in Chihuahua. You'll always find something through Airbnb, no matter your style or budget.
Discover an impressive selection of rooms in Chihuahua at Hotels.com right now. We recommend Hotels.com for the best deals in Chihuahua and throughout all of Mexico.
Disclosure: This article contains affiliate links to products and services whereby we receive a nominal commission if you make a purchase through one of these links. This comes at no extra cost to you. Please see our Disclaimer for full information.
---
Things to Do in Chihuahua, Mexico
Chihuahua has hosted some rather big names in Mexican history – Father Miguel Hidalgo and Pancho Villa both live on in several interesting museums around town. The city has a great art museum displaying permanent and temporary exhibits along with plenty of colonial architecture lining narrow streets throughout the center. Chihuahua also features some pleasant parks to explore during your visit.
Spend some time in Chihuahua to really get a sense of this pleasant city. To start, take a walk through the pedestrianized city center and relax in some peaceful parks to get your bearings and plan your visit. I suggest at least 3 full days here to enjoy the many things to do in Chihuahua.
---
Bonus Section: Transportation, a Budget Hotel and Restaurants in Chihuahua
I've included a bonus section below containing additional information for getting the most out of your visit to Chihuahua.
You need to know how to get into and around Chihuahua once you arrive. Taxis are the simplest, most convenient option and are quite affordable. However, buses are much cheaper and offer several different systems.
You'll get hungry exploring the city so we've included 2 of our favorite restaurants in Chihuahua and our favorite bar which is a unique place you'll want to see. We can't promise you'll be blown away by our suggestions but the restaurants included here all offer good food at reasonable prices.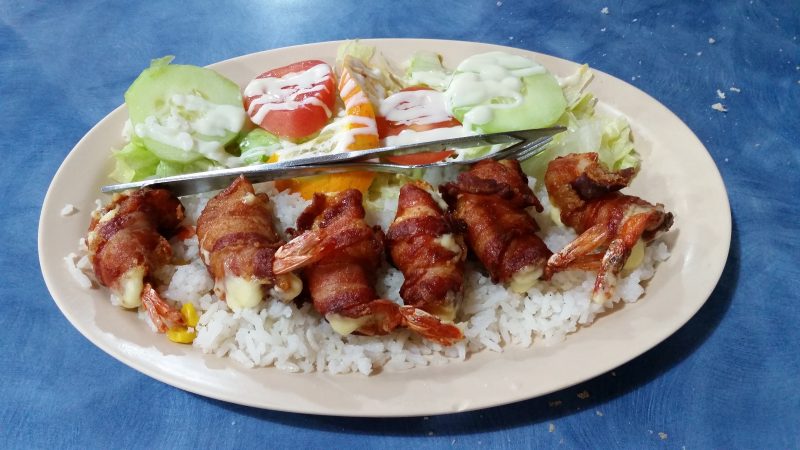 Of course, you'll need a place to stay. Save your pesos by checking out one of the best budget hotels in Chihuahua just 2 blocks from the city center. We've stayed at the Hotel San Juan during both of our visits to Chihuahua and it's always a great deal. Look for the bonus section below!
---
Things to Do in Chihuahua…
---
Learn About Pancho Villa at the Museum of the Mexican Revolution
Where: 3010 Calle 10a, east of Plaza de Armas
Hours:
9:00 am – 7:00 pm, Tuesday through Saturday, Closed Monday.
10:00 am – 4:00 pm, Sundays & Holidays.
Website: www.gob.mx/museo-historico-de-la-revolucion
The former mansion of Pancho Villa is now a fascinating museum dedicated to this revolutionary figure. Displays include plenty of photos, furnishings, personal effects (including some of Villa's weapons) and even the bullet-riddled car in which Pancho was assassinated in. Visiting this museum is one of the most obligatory things to do in Chihuahua, Mexico. Signs throughout the site are in Spanish and English.
Villa's wife lived in the house until her death in 1981. She donated this to the city for the public to enjoy as a museum; it opened in 1982. The museum is a 20 minute walk (5 minute taxi ride) from Plaza de Armas.
Walking here: With the cathedral behind you turn right on Avenida Independencia for about 12 blocks, then right on Terrazas for 5 blocks. Turn left on Calle 10a to the museum.
---
Visit Chihuahua Cathedral
Where: Plaza de Armas
Fronting the the south side of Plaza de Armas, the ornate Chihuahua Cathedral easily holds pride of place in this town. This church, designed in the Spanish Baroque style, took just over 100 years (1725 – 1826) to complete. Interestingly, the facade of the cathedral features an octagonal window at the front from Germany and a clock from London which replaced the royal Spanish coat of arms in 1874.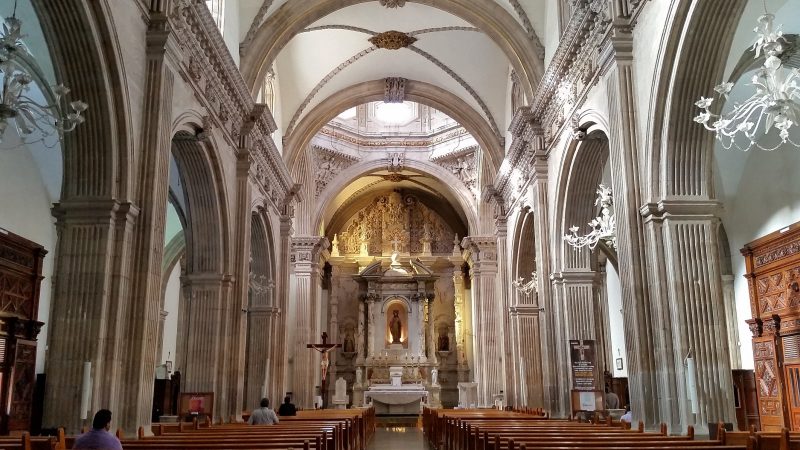 The inside of the cathedral is just as ornate as it's exterior would suggest and a peek inside is mandatory. Fine carved wooden confessionals line both sides of the cathedral along with a beautiful baptismal chapel at the front. You'll also see plenty of Italian marble throughout and the pipe organ is original. Plenty of peace and and light fills the interior providing a good base to sit for a while and plan your next thing to do.
---
Visit a Dungeon at Casa Chihuahua
Where: 901 Calle Libertad, 5 blocks northeast of Plaza de Armas.
Hours: 10:00 am – 6:00 pm, Wednesday through Monday. Closed Tuesday.
Website: www.casachihuahua.org.mx
Casa Chihuahua is an excellent museum on 3 levels hosting temporary and permanent exhibits throughout the year. However, this imposing building is most famous for containing the dungeon where Father Miguel Hidalgo was held prior to his execution in 1811. The dungeon, known as Calabazo de Hidalgo, was originally part of a Jesuit seminary and present-day Casa Chihuahua was built around this.
Permanent exhibits include explanations of Chihuahua's ecosystems, native cultures and colonial history. The basement is devoted to various items from the buildings past role as a mint and post office. Hidalgo's holding cell still contains his bible and crucifix. A plaque outside the dungeon recalls a message Hidalgo scrawled on the wall in charcoal before his execution thanking his captors for their humane treatment while imprisoned.
Tip: Lights illuminate the dark cell after completion of a 5 minute film on Father Hidalgo and his execution.
---
See Murals and a Sacred Site at the Governor's Palace
Where: 901 Calle Juan Aldama, opposite Casa Chihuahua, 5 blocks northeast of Plaza de Armas.
Hours: 8:00 am – 8:00 pm, daily.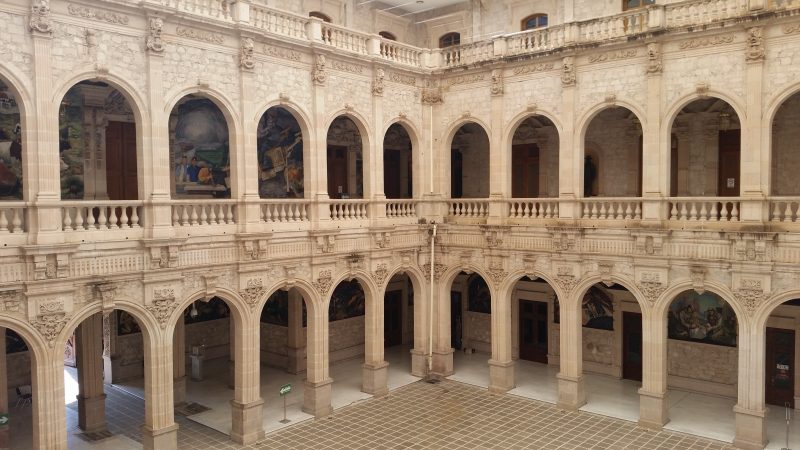 The Governor's Palace (Palacio Gobierno) is a grand old colonial building featuring an open courtyard surrounded by plenty of arches and columns. The palace is 3 floors altogether, however the first 2 floors showcase murals by artist Aarón Piña Mora depicting scenes from Mexico's turbulent and not-too-distant past. Head up to the 3rd floor and enjoy the warm light and the view down on to the courtyard below.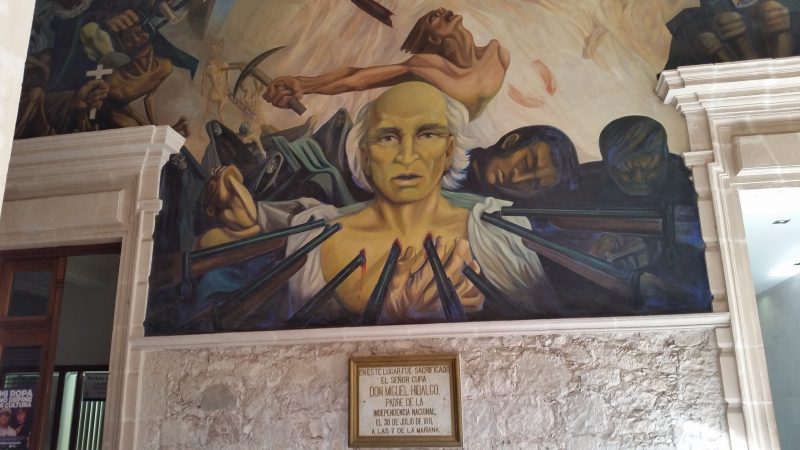 The real draw here is a plaque marking the exact spot where Father Miguel Hidalgo, a leader of the Mexican War of Independence, was executed on the 30th of July in 1811. To the right of this spot is a memorial room featuring several statues of Hidalgo and an eternal flame flickering away. The Hidalgo Museum, just inside the west entrance to the Governor's Palace, is under renovation as of November 2019 and closed indefinitely.
---
Enjoy the Splendor of Quinta Gameros
Where: 401 Paseo Bolivar. From Plaza de Armas take Calle 4a right for 7 blocks.
Hours: 10:00 am – 6:00 pm, Tuesday through Sunday. Closed Monday.
This over-the-top-in-style mansion was built for a very wealthy mine owner named Manuel Gameros in 1907. Soon after completion the Mexican Revolution happened and the Gameros family fled the country. Today, the home still drips sumptuous elegance and presents an exquisite display of stone, wrought iron, stained glass, floral motifs and plenty of period furnishings.
---
Admire the Transepts in the Temple of San Francisco
Where: Corner of Calle Libertad and Calle 15; cross the busy Avenida Carranza just outside the Governor's Palace and Casa Chihuahua and continue 1 block north to the Temple of San Francisco.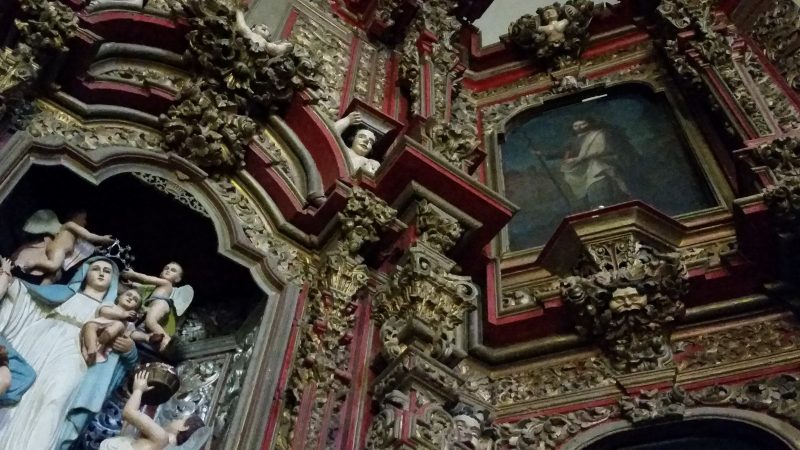 The Temple of San Francisco is quite austere both inside and out compared to Chihuahua Cathedral. However, there are 2 beautiful transepts to observe here – the one on the right side of the altar is especially ornate. Father Hidalgo was briefly entombed in the chapel on the west side of this small church after his execution in 1811 and his remains were transferred to Mexico City after independence from Spain was won.
---
Step Way Back in Time at the Mammoth Museum
Where: 2506 Avenida Juárez, about 7 blocks north of the Governor's Palace.
Hours: 9:00 am – 5:00 pm, Tuesday through Sunday. Closed Monday.
Website: www.sic.cultura.gob.mx/mamut
If you're really looking for things to do in Chihuahua I suggest the 15 minute walk from Plaza de Armas to this odd museum. Quite a bit is on display here at Chihuahua's premier paleontology and geology museum: an antique car, old industrial meat slicers, giant oak beer kegs from Germany and other odds and ends vie for your attention along with a giant mammoth skeleton found in Chihuahua state.
Considering the (relatively) modern things on display here the Mammoth Museum still contains plenty of fossilized marine animals, petrified wood, minerals and even a rather large whale skeleton on display in it's own room on the 2nd floor. This eclectic museum contains quite a bit from 2,000,000 years ago right up to very recent years. It's fun to visit but you won't be blown away by much here. All signs are in Spanish.
---
Get a Lesson in History at the Casa de Juárez Museum
Where: 321 Avenida Juárez; 1 block northwest of Plaza de Armas, then 2 blocks northeast.
Hours: 9:00 am – 7:00 pm, Tuesday through Sunday, Closed Monday.
Former Mexican President Benito Juárez established his government-in-exile in this building in 1864. He also lived here as he ran his constitutional government until 1866. Today the museum houses limited original furnishings from his occupation along with plenty of signed documents, weapons and photographs. For just 10 pesos this museum offers a peaceful break from the bustle of the city. All signs are in Spanish.
---
Relax in Parque Lerdo
Where: East of Plaza de Armas at the corners of Avenida Ocampo and Paseo Bolivar.
Take a seat and relax at this well-kept and peaceful park located just a handful of blocks from Plaza de Armas. Plenty of benches and shade await, perfect for sitting with a snack and a cold drink as you watch the city pass by. Pick a bench and consider all the things to do in Chihuahua left on your list and where you'll grab a bite to eat later.
---
See Pancho Villa's Mausoleum
Where: Parque Revolución, east of the intersections of Paseo Bolivar and Avenida Independencia.
The small Parque Revolución, several blocks east of Plaza de Armas, boasts Pancho Villa's mausoleum. This fancy structure is testament to the style of final resting places for the wealthy in Mexico during the early 20th century.
Oddly, Pancho's mausoleum never held his body. Villa was buried in the town where he was assassinated – Hidalgo del Parral – and controversy surrounds what happened to his remains several years after his interment.
---
Bonus: Food, Lodging and Transportation in Chihuahua
---
We were lucky to discover some rather good restaurants in Chihuahua over the years. Our budget means we often split our plates but we still managed to find affordable seafood restaurants and a great diner across the street from our hotel.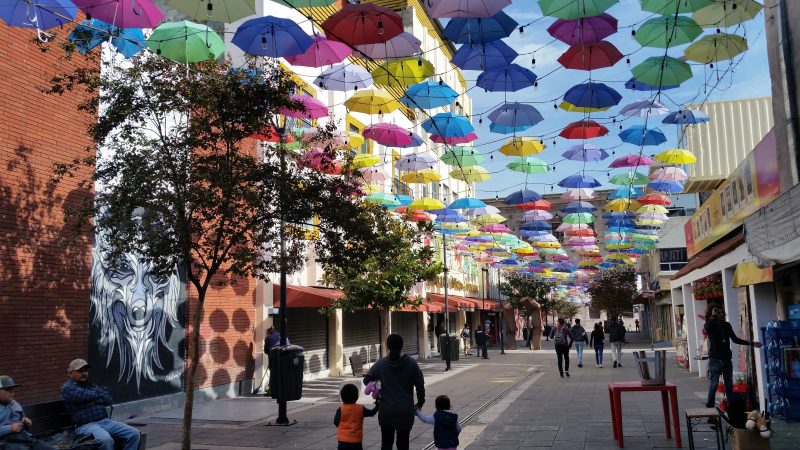 If it's something more you're after take a stroll north of Plaza de Armas on Calle Guadalupe Victoria where hip cafés and eateries – including a cool pulqueria – are found beneath the umbrellas.
---
Our Favorite Restaurant in Chihuahua: Mariscos Lalo
Where: 123 Calle Dr. Leandro Gutierrez, several blocks northwest of Plaza de Armas.
Hours: 9:30 am – 7:00 pm, daily.
Telephone: 52 614 410 6752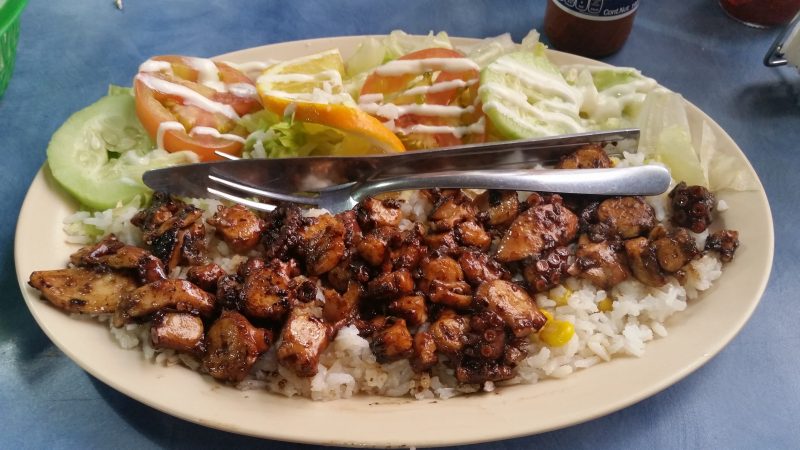 Locals pack into this restaurant throughout the day for good value seafood dishes. Waitresses promptly bring out heaping baskets of tortilla chips with salsa and fresh bread. Choose from fresh ceviches, fish tacos, octopus, fillets of fish, whole fried fish, seafood soups and giant stone bowls of aguachile. Even in a landlocked state such as Chihuahua, NOTHING beats a Mexican seafood restaurant.
---
Our Favorite Budget Restaurant in Chihuahua: Mi Café
Where: Calle Guadalupe Victoria, 2 blocks behind Plaza de Armas.
Hours: 7:30 am – 5:00 pm, Thursday through Tuesday. Closed Wednesday.
Filling breakfasts are the name of the game at this corner diner opposite Hotel San Juan. Of course hamburgers, milkshakes and french fries feature on the menu along with grilled meats and Mexican favorites. Comfortable booth seating is available and the service here is always friendly. The food is good and the price is right at Mi Café.
---
Restaurant Bar La Roca
Where: 202 Calle Progresso, about six blocks west of Plaza De Armas
Hours: Daily 1:00 pm – 2:00 am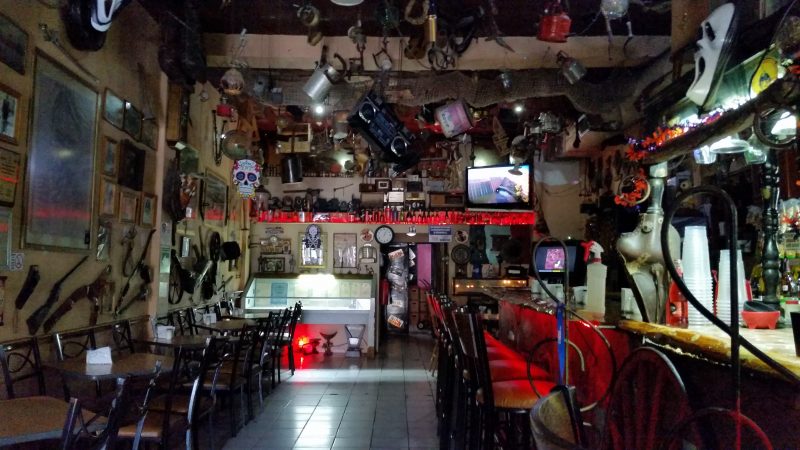 If all bars were as unique as La Roca the world would be an even better place! Grab your beer and have a look around at every nook and cranny of this eclectic establishment. Collections of stamps fill one corner and antique goods, vintage framed photos, old toys, forgotten furniture and other assorted things are either nailed to the walls or hung from the ceiling. For good measure order another beer and peruse the odd assortment again.
---
Hotel San Juan: The Best Budget Hotel in Chihuahua
Where: 823 Calle Guadalupe Victoria, two blocks south of Plaza de Armas
Telephone: 52 614 413 2130
Rates: Rooms start at 145 pesos ($7.50) per night.
The Hotel San Juan is simply one of the best budget hotels in Chihuahua. Rooms are basic but include TV, private bathroom and pretty decent Wi Fi. Believe it or not the price of the rooms at Hotel San Juan haven't changed since our first stay here in 2014! The rooms don't appear to have ever changed either but it's clean, central, quiet and cheap. Check out the San Juan and take advantage of the best hotel deal in Chihuahua.
---
Public Transportation in Chihuahua
Getting to the center of Chihuahua is easy from the train station or the main bus terminal. Plenty of old buses ply main roads throughout the city, often with their destinations written on the windshield. Ask at the tourist office in the Palacio Gobierno (above) for information on routes. Chihuahua also features the more formal ViveBus which picks up and drops off on elevated platforms throughout the city.
Note: Riding ViveBus means either purchasing a journey card for 25 pesos ($1.25) and topping it up or paying someone with a card to add your ride to theirs, which is what we did. Simply offer the the amount of the fair to the person and they'll add the ride to their card. Vending kiosks for journey cards are on every platform and single rides cost 7 pesos (35¢).
Getting From the Train Station to The Center on ViveBus
Coming in on the CHEPE? The train terminates at the Estacion de Trenes de Chihuahua, about 15 blocks east of Plaza de Armas. From the station turn left on Calle 20a for one block, then right onto Terrazas for three blocks to Ocampo. From Ocampo head either right or left for the nearest ViveBus platforms, Urguidi or Sagrado Corazon, respectively. Take any bus heading toward Terminal Norte and alight at Catedral.
Getting From the Chihuahua Bus Terminal to the Center
There are two ways to get into town from the bus station: Take ViveBus or a regular bus from the road in front of the Chihuahua Terminal. For ViveBus exit the terminal and turn right; continue about 300 yards to Terminal Sur and take the next ViveBus to Catedral station. For the easiest option simply exit the Chihuahua Bus Terminal and take any regular bus marked Centro for 9 MXN (45¢) from the road out front.
---
In Conclusion…
Checking out this fascinating city is a must during any visit to Northern Mexico. You'll certainly find plenty of interesting things to do in Chihuahua, Mexico during your visit. So give this friendly city some serious consideration and take advantage of everything to see and do.
Is this your first time in Mexico? If so, I hope you enjoy this country as much as we do, because we never get tired backpacking Mexico. Why not check out some of the other great places off the beaten path in this great country? Finally (and most importantly), take your time here in Chihuahua and make the most of it.
---
Pin Me Now!