Last Updated on April 29, 2020
We Drifters are constantly amazed with the surfeit of really decent accommodation deals to be had on the road, and we love pointing these places out. This ongoing post deals with some of the various hotels we have stayed at along the way; much of them fondly recalled. Some of them are best left forgotten!
The above photo is not representative of any particular room, we will just be using it as the "title" photo for this recurring piece simply because we really like it! Photos of the actual hotel/accommodation in question will be featured within the post below.
If we recommend a hotel we will sum up our review with our Drifter's Recommendation -"Drift On In!"
If we suggest you look elsewhere for a room we will tell you – "Keep On Drifting!"
We receive no compensation for these reviews.
---
Hotel Atlanta, Mexico City
Address: 31, Belisario Dominguez, Mexico City, Mexico.
Telephone: 55 18 12 00
Price: The Hotel Atlanta offers rooms from 250 pesos ($13 U.S.) for a single, to 400 pesos ($21 U.S.) for a quadruple, which is an astounding value in the heart of Mexico City. We always request room #412, with queen bed for 2 people, for 280 pesos ($14.50 U.S.) total. This represents a great choice for budget accommodation in Mexico City. Hostels in the city charge double that amount or more for a dorm.
An Overview
The Hotel Atlanta is a very clean and well-run family style budget hotel choice only several blocks from Mexico City's famous Zocalo. Due to its location on the corners of Belisario Dominguez and Ignacio Allende, Hotel Atlanta makes a great base for exploring Mexico City's historic center. Public transportation, along with all the services you may need, are only steps away..
Location
Mexico City's historic center encompasses over 30 square blocks and is full of opulent colonial charm. This is the most atmospheric part of the city, filled with grand cathedrals, government palaces, shops, restaurants, museums and historical landmarks – Hotel Atlanta is certainly in the heart of this action. Some tourists choose to stay in more leafy residential neighborhoods elsewhere in the city, but the center is where everyone visits.
What's The Deal?
As mentioned, we always request room #412 which is equipped with a queen bed. In addition to a private bathroom with ample hot water the room also features a walk-in closet and a writing desk. Wi-Fi and cable television also are included, making this a great budget hotel in Mexico City. Good natural light and ventilation make the room rather comfortable as well. In this budget range it is often difficult to find a hotel that offers daily housekeeping, however friendly Hotel Atlanta saves the day, every day! In conclusion, you will not find a better deal around.
Amenities
The hotel is equipped with an elevator and a very limited food service, which can found on the in-room menu. Do not expect much in the way of cuisine, however. Basic toiletries are also available at the front desk in addition to the sale of soft drinks and beer. Rooms at the Atlanta feature ceiling fans.
Noise Factor
Street noise is a fact of life in Mexico; buses, cars and even bicycles seem to operate on a shocking decibel level. Hotel Atlanta has many rooms facing the street and as a result the cacophony of vehicles can be hard for some to deal with. The hotel also offers many rooms with windows facing a sort of internal courtyard, offering respite from the street noise. Always travel with earplugs.
Resident Pet
While there is indeed a cat behind the front desk, he is not quite a resident. Perussa can be found when his owner is on duty and usually sprawls out in a chair in the dignified way only cats seem to manage. At times he works on other cat-like projects in the lobby while happily accepting adoring attention from guests.
Are You Locked In?/24 Hour Access
While it is not uncommon for hotels in Mexico and Central America to lock their front door at night, Hotel Atlanta keeps their door open at all hours. Nothing is worse than having to sheepishly ring a bell to be let into the lobby by a sleepy proprietor at 10 PM, or earlier. You may not be a party animal, however it is nice knowing your hotel staffs the front desk at all hours and permits guests the freedom they deserve.
At Your Convenience
For your convenience, there is an OXXO shop directly across the street from the lobby. As mentioned, the hotel also sells basic toiletries and snacks. Everything a traveler may need is in the immediate neighborhood and all of the colonial charm of the city is within blocks of the hotel.
Transportation
The nearest Metro station to Hotel Atlanta is Allende on the blue line, or Linea 2 which is 3 blocks south of and a half block east of the hotel entrance.The lobby door is also 3 blocks south of and 1 long block west to  Bellas Artes Metro station. The Mexico City Metro is a very comprehensive transport network and will bring you anywhere you need.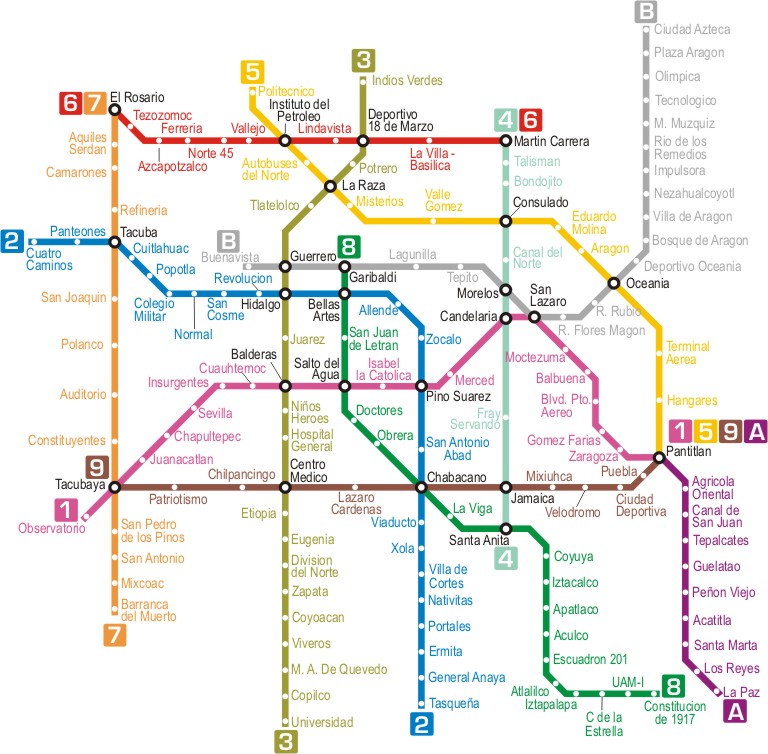 Various forms of local inter-city buses and the more polished Metrobus system run just outside the north entrance of the lobby. Taxis ply every inch of road in the city; hail one from the lobby if you wish.
Restaurants/Food/Supermarkets/Street-Food
Food choices within a 5 minute walk include: tourist restaurants; pastry shops; taco carts; rotisseries; fast food establishments and cantinas serving botanas, or free meals. There is a rather dull grocery store 2 blocks north of the hotel and several chain convenience stores offering only slightly less in variety. There is no need to look very far beyond Hotel Atlanta for food.
Check out "Cantina La Dominica" at the corners of Belisario Dominguez and Republica de Chile. Cantinas like this serve botanas if you purchase 3 drinks. La Dominica is a great place to experience a true Mexican cantina and is just a few blocks from Hotel Atlanta.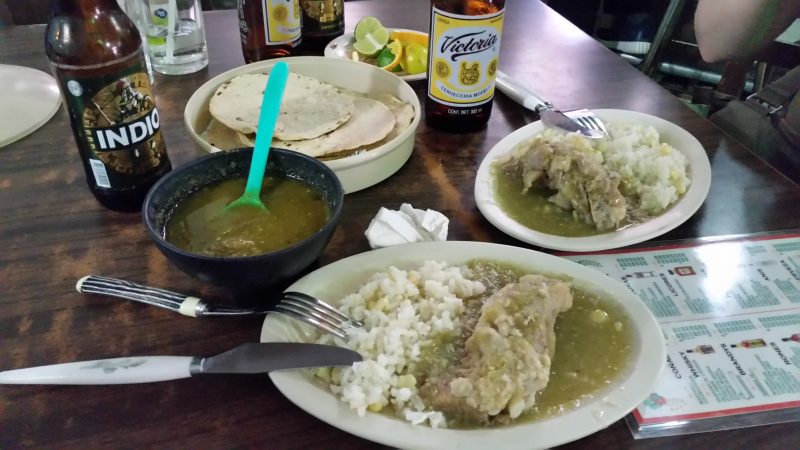 Nearby Sights
All of Mexico City's historical center is nearby as well as Garibaldi Square and Palacio de Bellas Artes. The Alameda – next to the Palacio – offers a shaded stroll to locals and tourists alike. Check out the interior of the Palacio Postal  – Mexico City's original post office, for some truly grand design!
Drifter's Recommendation
Hotels in Mexico have always astounded us for their value. Hotel Atlanta brings this value to the heart of one of the greatest cities in the world! Budget hotels in Mexico City are not difficult to find but Hotel Atlanta really stands out in value, comfort and service.
Drift On In!
---
Pin Me Now!