Last Updated on November 14, 2020
Walking through the urban sprawl of Mexico City, pay close attention to your surroundings. Scattered throughout the concrete maze of streets you will find images of fantastical, phantasmagorical and life-like creatures staring back at you from throughout town. These, and other unique images, constitute a good example of the Mexico City street art you'll find.
You'll see these urban art canvases adorning everything from walls to the shutters of shops, and from the gable ends of buildings to the perimeter fencing of construction sites. We'll show you where to find these, although many have likely been replaced by other works. Join us on an easy, self-guided tour of these Mexico City street art locations with bonus information on displays found belowground in the Metro stations.
---
Mexico City Street Art in Centro Historico
Where: The intersection of Calles Emiliano Zapata and De la Santísima, five blocks east Mexico City's Zocalo. Take Calle Moneda (north side of the National Palace), which becomes Emiliano Zapata. This entire area is pedestrianised.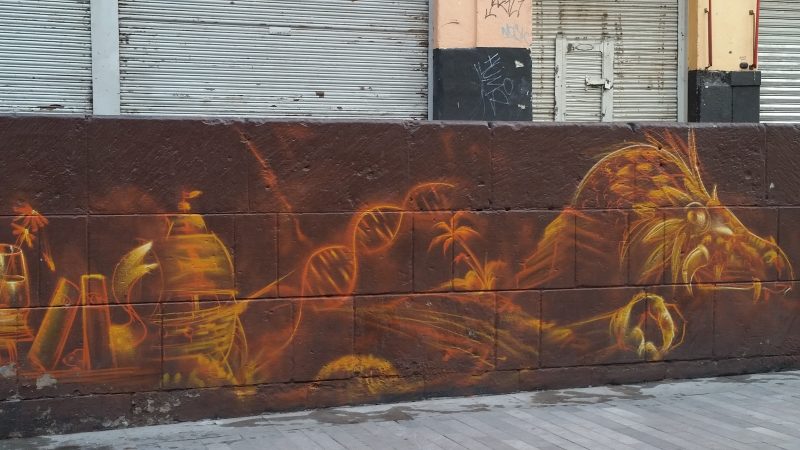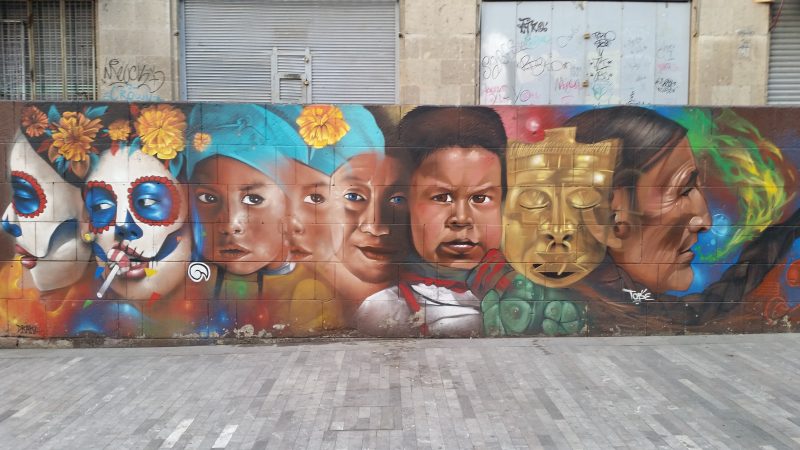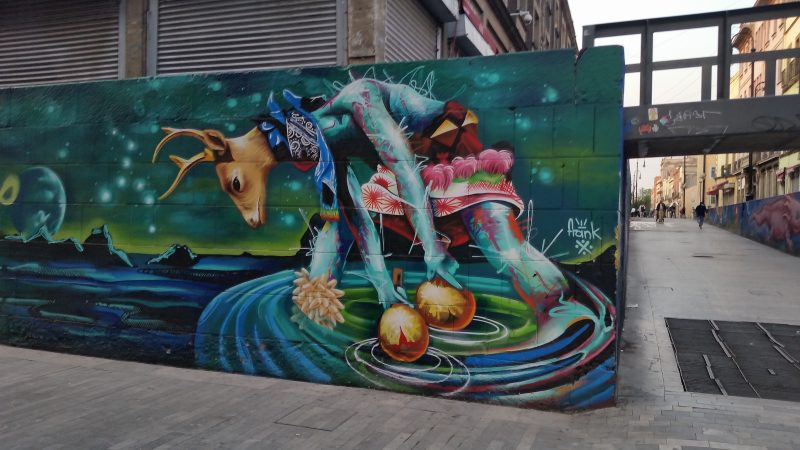 Spend Some Time in Mexico City and See More During Your Visit
This great city is full of free sights and activities; we spent six weeks here and found plenty of non-touristy things to do which didn't cost us a peso. Combine your Mexico City street art tour with some (or all!) of our free attractions.
Take an Easy Day Trip to the Ancient Site of Tula
You've already heard of Teotihuacan – how about the ruins of Tula? Don't overlook this impressive sight as a day trip, easily reached from Mexico City. Our article shows you how to visit Tula independently. Of course, make sure this site is open before you go!
The images above are some of our favourite street art installations, located just several blocks from Mexico City's most famous tourist attractions. This area is free from vehicle traffic, making this a great spot for admiring the prolific amount of urban art on display.
---
Mexico City Street Art South of the Zocalo
Where: Avenida 20 de Noviembre, beginning on the south side of Mexico City's Zocalo. The streets on either side of 20 de Noviembre, José Maria Pino Suárez and 5 de Febrero, feature very similar street art.
Due to the nature of the chosen canvases above, these works are best seen before the shops open (when the shutters are down!), vehicular traffic begins gathering and the sidewalks become congested with pedestrians.
---
Finding Inspiration for the Art
Mexico City's street artists draw inspiration from history, mythology, cultural norms, societal deviants, social upheavals, religious symbols, pop icons, pop art and just about anything that causes them to level that can of spray paint and take aim. Their talent is as unique as their subject matter. Their urban masterpieces sit easily alongside the scrawled graffiti tags of the hasty amateurs and the resident grime of city life.
Looking For Someplace to Stay in Mexico City?
You'll always find somewhere special to stay through Airbnb. From trendy lofts and apartments to unique luxury spots in the city, Airbnb's Mexico City listings offer something for everyone. Find your ideal place to stay and wake up ready for more of Mexico City! 
Looking for conventional accommodation? We recommend Hotels.com for the best deals and selection in Mexico City and throughout all of Mexico. Choose from resorts, familiar national chains or smaller independent hotels.
Disclosure: This article contains affiliate links to products and services whereby we receive a nominal commission if you make a purchase through one of these links. This comes at no extra cost to you. Please see our Disclaimer for full information.
These pieces aren't under the protection of a curator and their transitory state is dictated by, well anyone really. All it takes is someone to paint over them or simply deface a piece with their own tag. However strangely enough it seems there may be an unknown code, or respect at least amongst graffiti artists. If you look closely at many of the photos, often you will see the quick scrawl of other tags nearby the focal pieces.
---
When Mexico City's Street Art Goes Underground
Accolades must be given to the city for having the foresight to recognise how drab it must be for pedestrians to commute about their daily lives through 140.7 miles of rail and subterranean tunnels linking the labyrinth of 195 Metro stations. Their solution to this conundrum: Provide distractions in the form of sculptures, installations, murals, rotating exhibits and archaeological displays, all for the enjoyment of the general public and all for the meagre fare of 20 MXP (.30¢).
Where: Bellas Artes Metro Station
This sprawling Metro station serves one of Mexico City's most famous attractions: Palacio de Bellas Artes. You'll likely find yourself passing through this station at some point; enjoy the wealth of belowground art located here during your commute!
Where: Garibaldi/Lagunilla Metro Station
Where: Auditorio Metro Station
This station features an interesting caricature mural of famous rock musicians. Hop out here and spot your favourite group or musical performer. These murals, by artist Jorge Manjarrez, are worth a good look – is your favourite musician included?
Where: Chabacano Metro Station features more rock stars, this time perched above a library also located underground.
We have only experienced a fraction of what's on offer in this netherworld. Who knows what treasures lay in any of the subway stations we haven't passed through but as you can see, that 0.30¢ fare could keep one occupied all day if seeking out subway art is your thing.
---
Mexico City Street Art Will Grow on You
The city itself is a canvas for many artists who display their works anywhere and everywhere, from the prominent to the discreetly tucked away.
Where: Calle Regina, between Avenidas Simon Bolívar and Isabel de Católica in Mexico City's Centro Historico.
Sometimes it takes a little effort to seek out art and sometimes you just happen upon a find. Perhaps a vertical garden is just what you were looking for! You never know what you'll see just by looking up.
---
Mexico City's Parks Feature Art, Too
Small local parks offer exhibit opportunities too. These spaces attract young hipsters, skateboard kids, dog-walkers, young and old lovers, joggers, local residents making their way home and indeed often these parks serve as the home to many of the city's more unfortunate residents. Art and life cohabitate side by side.
Where: Plaza de la Concepción, located next to Hotel Diligencias on Calle Belisario in Mexico City's Centro Historico.
Artists Jorge Manjarrez (see the Auditorio murals above) and Sebastian Cast were featured in this display at Plaza de la Concepción. It's gone now, likely replaced by some other creative installation. Stop and see what's on display if you're passing by.
---
Discover Street Art Almost Anywhere in Mexico City
Why not get out and see what colourful displays will be revealed on your next visit? To inspire you we've included random images of street art found throughout Mexico City during our travels. What and where will your favourite street art be?
---
Pin Me Now!