Last Updated on May 2, 2020
Walking through the urban sprawl of Mexico City, pay close attention to your surroundings. Scattered throughout the concrete maze of streets you will find all manner of fantastical, phantasmagorical and life-like creatures staring back at you. They can be found adorning everything from walls to the shutters of shops, and from the gable end of buildings to the perimeter fencing of construction sites.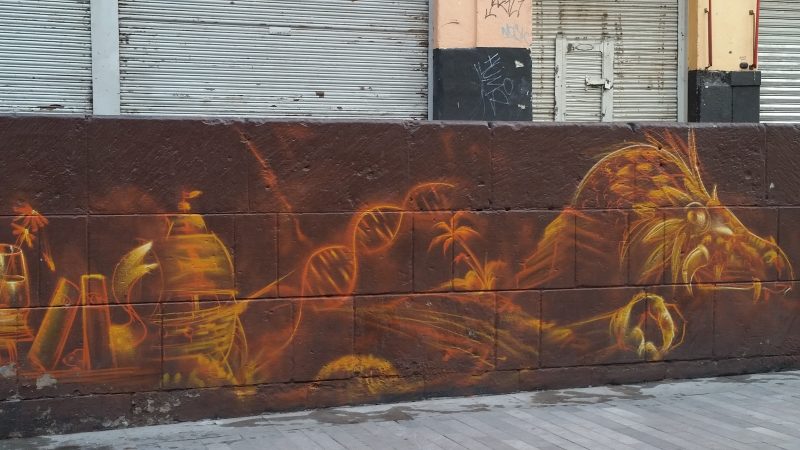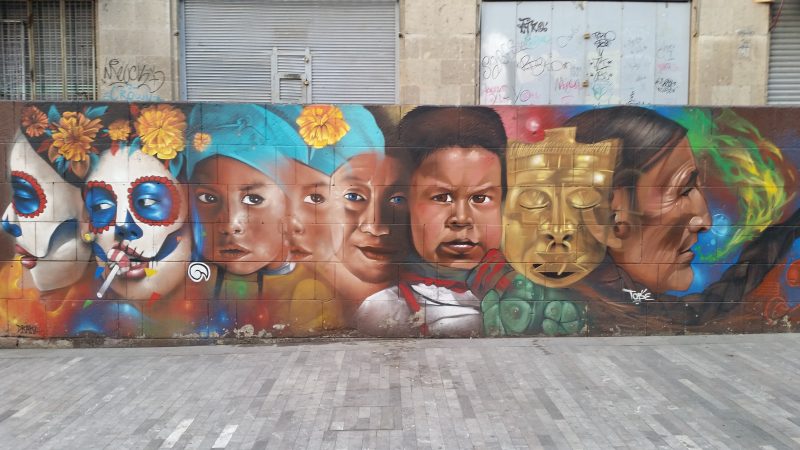 These street artists draw inspiration from history, mythology, cultural norms, societal deviants, social upheavals, religious symbols, pop icons, pop art and just about anything that causes them to level that can of spray paint and take aim. Their talent is as unique as their subject matter. Their urban masterpieces sit easily alongside the scrawled graffiti tags of the hasty amateurs and the resident grime of city life.
These pieces are not under the protection of a curator and their transitory state is dictated by, well anyone really. All it takes is someone to paint over them or simply deface a piece with their own tag. However strangely enough it seems there may be an unknown code, or respect at least amongst graffiti artists. If you look closely at many of the photos, often you will see the quick scrawl of other tags nearby the focal pieces.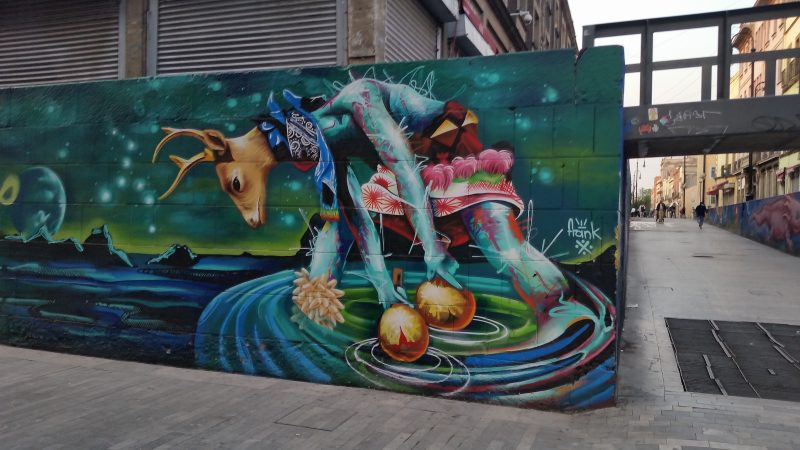 Mexico City Metro Art Scene
The Sistema de Transporte Colectivo Metro must also be given some accolades for having the foresight to recognise how drab it can be for pedestrians as they commute about their daily lives in the 140.7 miles of subterranean tunnels that link the labyrinth of 195 Metro stations. Their solution to this conundrum – provide distractions in the form of sculptures, installations, murals, rotating exhibits and archaeological displays, all for the enjoyment of the general public and all for the meagre fare of 20 MXP (0.30¢).
We have only experienced a fraction of what is on offer in this netherworld. Who knows what treasures lay in any of the subway stations we've not passed through, but as you can see, that 0.30¢ fare could keep one occupied all day if seeking out subway art is your thing.
Art For All
The city itself is a canvas for many artists who display their works anywhere and everywhere, from the prominent to the discreetly tucked away. Sometimes it takes a little effort to seek out a piece and sometimes you just happen upon a find. Perhaps a vertical garden is just what you were looking for! You never know what you may see if you just look up.
Small local parks offer exhibit opportunities too. These spaces attract young hipsters, skateboard kids, dog-walkers, young and old lovers, joggers, local residents making their way home, and indeed often these parks serve as the home to many of the city's more unfortunate residents. Art and life co-habitate side by side.
Mexico City can be many things to many people, a bit of a broad term I know. It can be an assault on the senses with it's pollution, noise, poverty and sheer mass of people. It can also be an assault on the senses in a good way if you explore and embrace the urban aesthetics that simply require you to look up, or around you every now and then.
---
Pin Me Now!