Last Updated on
Tula is a major archaeological site located 45 mi. (75 km.) north of Mexico City in the present-day town of Tula de Allende in Hidalgo State. Getting from Mexico City to the ancient site of Tula can be done easily and independently. You may even have Tula all to yourself as you explore this former Toltec capital, refreshingly free from crowds.
Getting From Mexico City To Tula.
Getting a bus from Mexico City to the ruins of Tula is simple and straightforward: from Mexico City's Terminal Norte bus station Ovnibus runs 1st class buses to Tula de Allende (1.5 hrs.) every 40 minutes or so (119 pesos – 139 pesos). Also, AVM runs 2nd class buses for slightly less money (2 hrs.) every 15 minutes or so. To get to Terminal Norte bus station, take Metro Linea 5 (yellow line) to the Autobuses del Norte stop.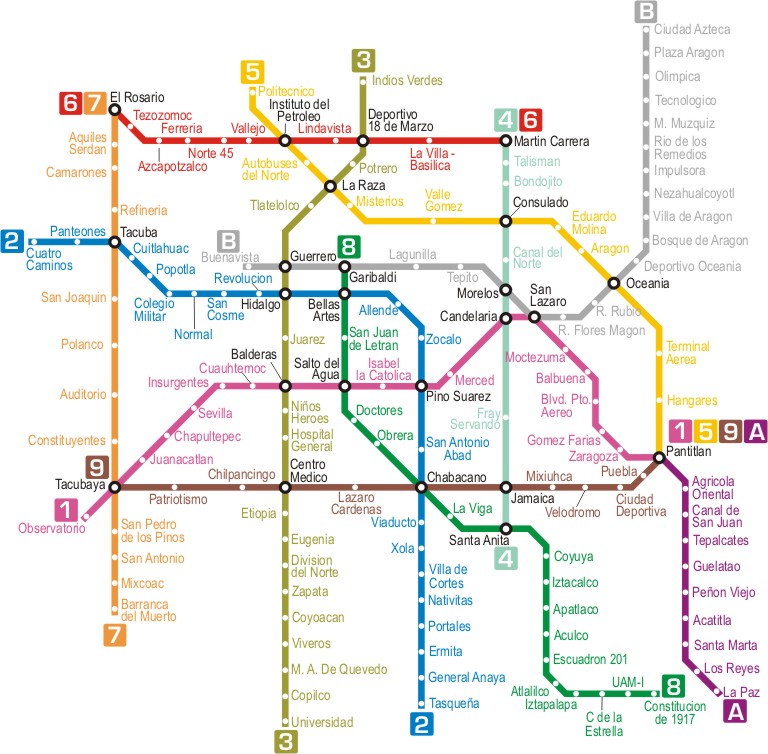 The bus station in Tula de Allende is 3 blocks from the cathedral – the center of town – along Av. Manuel Rojo del Rio. From the zocalo, it is a 20 minute walk north to the ruins. Walk up Avenida Quetzalcoatl to a bridge and up a slight hill to the site entrance. Alternatively you can take a cab from the bus station in Tula. Expect to pay about 40 pesos for a ride to the site entrance.
Tula de Allende is a typical work-a-day town not really trying to impress anyone – and succeeding at it. That said, it is pleasant enough and the ruins are definitely worth the trip. If walking to the ruins, snacks and drinks are available along the way. The bus ride to Tula de Allende and the archaeological site do make a pleasant day trip from Mexico City and are a welcome respite from the crowds you will find at Teotihuacan.
---
Need More Info?
Fancy a more in depth view of what Mexico has to offer? Want to have some basic Spanish phrases for an even better travel experience! Click on the books below to find out how to get your own comprehensive Mexico guide, and Mexican Spanish Phrasebook & Dictionary. Lonely Planet has been one of the top go-to guides for travellers for more than 40 years!
---
About Ancient Tula
The earliest evidence of any organized settlement in the immediate area dates from around 400 B.C. and may have once been under political control from Teotihuacan, whose eventual fall laid the way for many other smaller city states. Tula, derived from the Nahuatl phrase Tollan Xicocotitlan, started out as a bit of a scrappy outlier in a region dotted with competition. A more organized settlement, known as Tula Chico, was occupied between 650 and 900 A.D and peaked during its first 100 years. During that time Tula Chico, with an estimated population between 20,000 and 25,000, may have occupied over 2.3 mi² (6 km²) with the bulk of it likely buried beneath the current archaeological site, known as Tula Grande.
For reasons unknown, Tula Chico was abandoned and Tula Grande consumed it over time. This grew in size to perhaps 5.4 mi² (14km²) with an estimated population of about 60,000. Just as impressive as the bulk of the city proper was the central plaza, which held 100,000 people – testament to the regional importance of this place. The economic base of the Toltec capital centered around mining and crafting of obsidian as well as agriculture.
The once great Toltec capital was in ruin when the Aztec capital of Tenochtitlan was thriving and venerated in their myths for its relation to the all-mighty serpent-god Quetzalcoatl. The city fell about 1150 as a result environmental and social factors. Evidence strongly suggests Tula was abandoned, and the ceremonial center finally razed, during a fitfully drawn-out 30-year period.
Tula Today
Hours: 9 AM – 5 PM, 7 days a week
Admission: 70 pesos.
Website: inah.gob.mx
There is a small museum on site displaying ceramics, jewelry, metalwork and stone figures from ancient civilizations throughout Mexico. The admission price to the site includes entry to the museum and all signs are in Spanish and English. Allow a half hour for the museum. See the ruins of Tula in about 2 hours.
Thankfully, this site is free of vendors and touts and you are free to simply enjoy the ruins. The lack of visitors also adds to the pleasantness of visiting Tula. Informative signs, in Spanish and English, are throughout the site and will help you understand aspects of the architecture found here.
The site of Tula is most noteworthy for the 15 ft. high basalt figures carved in the likeness of Toltec warriors. Found atop Pyramid B, also known as the Pyramid of the Quetzalcoatl, these Atlantean figures still hold sentry above the site. Atlantean figures – support pillars sculpted in the form of a man, in this case 4 soldiers decked out with armor and weaponry – are quite rare in Mexico. The four rather plain pillars behind these once supported a roof atop the pyramid along with the 4 Atlantean figures.
Plenty of rather macabre looking carvings decorated this ancient city, most noteworthy along the north wall of Pyramid B. Scenes such as snakes devouring skeletons, eagles eating hearts and ritual torture are along this wall. As with many ancient civilizations in Mexico, Tulans were fond of the ballgame and 2 ball courts are found on-site.
In Conclusion…
Mexico is noteworthy because of her past civilizations and the vast cities they built. We are fortunate to be able to understand their world-view due to the variety of legacies they left behind. Their accomplishments amaze us today and continue to mystify experts. The Aztecs, who left quite a prolific ancient legacy of their own in Mexico City and beyond, were only one such civilization.
Tula, like Teotihuacan, makes a great day trip from Mexico City. Follow our simple steps for an enjoyable day trip from Mexico City; make this an independent visit and learn more about the ancient cities that rose in the Valley of Mexico. Explore more places around Mexico City on your own and think outside the tourist box.
The city of Tula de Allende and all the services it provides, plus it's proximity to the ruins, make this a much more easy site to visit from Mexico City than Teotihuacan independently and provides for a much more pleasant experience all around. While the site of Tula cannot compare to the size and significance of Teotihuacan it does deserve a look from tourists. Check it out!
---
We are affiliates with Lonely Planet. Therefore if you purchase a Lonely Planet travel guide after clicking on one of the text links or books within this post we receive a nominal commission from them, at no extra cost to you.
---
Pin Me Now!