Last Updated on April 29, 2020
Getting from point A to point B is becoming more and more a means to an end, even a hassle. Riding the Metro in Mexico City is no different for the denizens who rely on this subway system on a daily basis. Your Drifters are here to tell you riding these underground rails is a tailor-made cultural experience that should not be missed. In fact we beg you set aside a day to zip around below the ground and truly get to know this intriguing world.
 A Whole New World
There are 195 stations and 140.7 miles of track that make up the Sistema de Transporte Colectivo, as it is officially named. All the basic needs are provided for in this hidden world, making for an experience that, sadly, most tourist fail to see the beauty of. For about 30¢ one is granted entry into a strange subterranean universe where you get shelter, transportation, food and plenty of entertainment.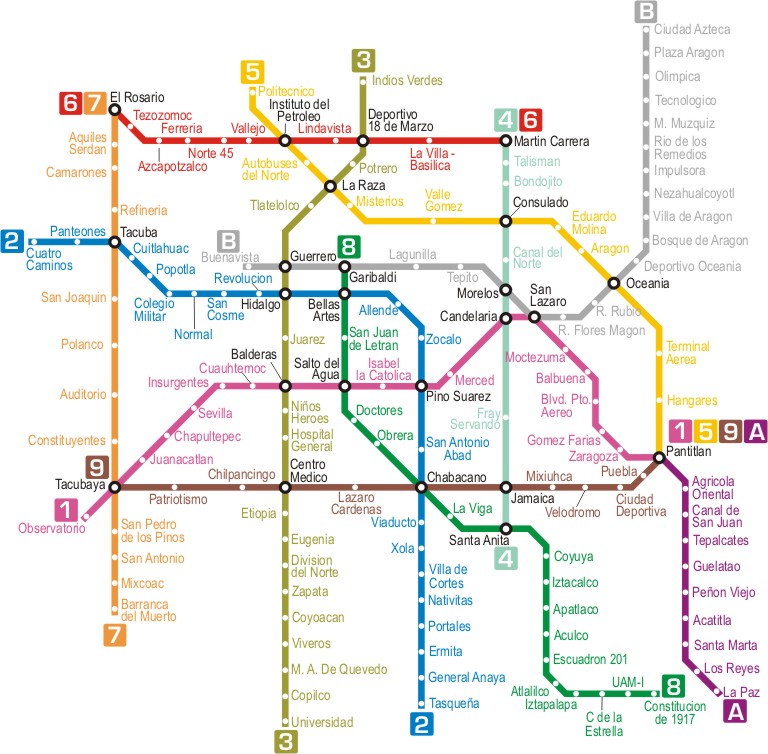 You will never get so much for so little money. That fare will allow you to ride all day long, never leaving any of the stations; just grab a map and hit any route, or every route. Soon you will see what it is that makes this transit system seem like a unique universe unto itself. This place even has its own means of non-verbal communication to learn.
Pictographs are used to denote stations in this land as an alternative to simply reading the name of the station, should reading fail you. If one learns to recognize a slew of symbols, one can figure out which station they are in at any moment and which station they need to hop out at, as each station is given a graphic representation that often jives with its name. This is like an ersatz communication system if you really think about it. Yes, it really is a separate world down here!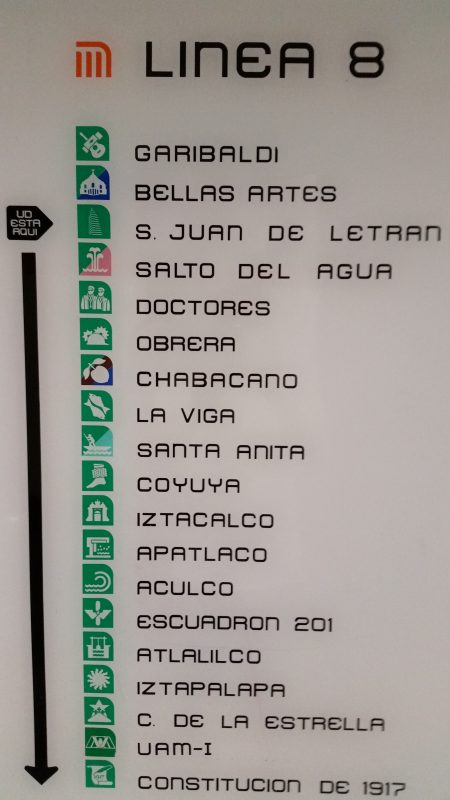 Cities and Towns
As I mentioned above, you can get just about anything you will need in the underground stations, for they serve as towns and villages to the riders. All sorts of services such as clothing stores and beauty shops are to be found, waiting to do business with people who are rushing about and who must get these little errands done down here in between stops.
The largest stations (the cities) serve several different lines and this is where the bulk of the services will be located; even the smaller stops (the towns) will feature enough services to keep you occupied all day. This unique little world has unfortunately been infiltrated by the above ground behemoths of McDonald's and Domino's Pizza, which sadly have opened up shop in these underground communities.
Food and Drink
The variety of food on offer for purchase is good; popcorn, fried chicken, pastries, pizza and sandwiches can be found just about everywhere. Even healthier fare is on offer should the greasy grub attempt to sabotage your heart-healthy diet!  Again, there is no need to venture above ground for anything. Plenty of chances to hydrate are to be found as well.
Entertainment
You may be wondering why on earth you would want to ride around on the subway all day eating and drinking when you could be above ground doing the same. There must be more to this wacky underground universe, right? This is where the entertainers come in to bedazzle the crowds crammed into the train cars. We have seen concerts, heard doomsday preachers and have watched as dancers, jugglers, ventriloquists, contortionists and magicians work the room, or train car in this case.
There are even cultural exhibits on display in most of the stations for you to peruse. Some of the things on display are museum quality pieces, for certain. In keeping with the museum theme, some of the displays are permanent and some rotate in and out. This is just another example of why it is you must get aboard the Mexico City Metro at once and ride it all day long! If all that culture leaves you wanting more, just head for the library at the Chabacano station and immerse yourself in poetry or prose. How about some fiction, or a bit of faction?
One of our last Metro rides left us so spellbound we never even thought to snap photos. A young man emptied a bag full of broken whisky bottles onto a towel, which he then began to spread himself across while shirtless. His assistant (likely his kid brother) then stood on his back and even walked around on the performers back and stomped upon it for added emphasis. The dare-devil showed us the lack of blood and lacerations on his chest and then got down on his back to repeat the stunt. The awed crowd handed him coins and he then moved out of our car at the next stop and made his way into the adjacent car for another performance.
The 10 Peso Posse
Should you be a sucker for impulse buys, then the Metro was made just for you amigo! Providing for your every whim on-board the train are an army of vendors selling everything from copper compression socks (and gloves) to coloring books and crayons, all for 10 pesos, or about 50¢.
If that sounds too bush-league, all you have to do is wait for the ones selling pirated music and movies. Ever wondered how to use apple cider vinegar 101 different ways? Who of us hasn't ? Again, the solution to that vexing problem is only 10 pesos away from you, in the form of a handy little booklet.
These salespeople must work for an organized group, or perhaps they are a rag-tag bunch of kindred spirits looking to make a living under the relaxed rules of the informal economy, for they seem to converse with each other at that moment when one hops off the train car and another hops on selling his/her wares. Perhaps they are remarking whether or not the crowd aboard the car is hot that day or not.
Back to the Basics
As I mentioned, the Mexico City Metro covers the basics of food, drink and entertainment, and it rounds it all out quite nicely by providing a further set of basics: transportation and shelter. I am not suggesting these tunnels become your home away from home, even though they may be for some unfortunate souls. Rather, the Mexico City Metro is a nice little respite from the heat, grime, smog and rain you may encounter lingering around above the ground. Being in the train ensconces one in a capsule filled with ambient air both balmy and fresh.
Just as your senses become complacent to your new magical mundo the train suddenly pokes out of the bowels of the city and continues on its course above ground. Now you are again in a different part of the city, and back into the familiar land you left behind many stations ago. The train trundles along, perhaps near the end of the line by now. Hop off and head for the next inbound train and enjoy the ride all over again! Not bad for 30¢!
---
Pin Me Now!