Last Updated on
Everyone knows the must see sights of Santa Fe and they are certainly worthy of that accolade. As if there weren't already enough cool things to do in Santa Fe, here are just a few more suggestions to round out your trip.
With the exception of the dinosaurs which are located just off of I-25, you will find everything mentioned within steps of historic old Santa Fe and the plaza. These oft overlooked highlights are hidden in plain sight. Most of all they are a pleasant diversion from the major players on the Santa Fe tourist trail.
---
Art-o-mat, The Canyon Road Alternative
Not everyone can afford an original work of art from one of the galleries on Canyon Road. Don't despair, you can still take home an original  masterpiece as a memento of your trip. How does $5 sound for your own authentic piece of affordable art?
What is Art-o-mat?
Art-o-mat is the ingenious creation of Clark Whittington, who back in 1997 began repurposing cigarette machines into art vending machines. The idea is simple; for $5 you pull the lever on the machine and instead of a packet of cigarettes you get a real piece of art the size of a packet of cigarettes. What's not to love? Beyond the amazing bargain price you also get a non-cumbersome artwork that you can slip in your pocket and take anywhere – including onto your flight home if you're a tourist.
That's not the end of this innovative concept. This truly is art for the masses by the masses. Art-o-mat continually accepts submissions from artists all over the world, as long as they stick to the specs. provided by Art-o-mat. Obviously the piece needs to operate cohesively with the machine – no jams. Who knew cigarette machines would prosper such a sense of community?
Recycling, Restoring, Rejuvenation
As for the cigarette machines themselves, they have been lovingly restored and even given individual facelifts providing eye-catching motifs often relative to their location. These vintage cigarette machines are a piece of artwork unto themselves.
Art vending machine locations are certainly not limited, this is no fleeting fad or gimmick. They have found homes in national museums like the Smithsonian American Art Museum and the Museum of Fine Arts in Boston. They are also located at certain Whole Foods supermarkets, libraries, universities, bars, hotels, diners, cinemas, farms and just about anywhere you will find the general public. Find a location near you here.
Santa Fe Locations:
The lobby of The Inn of the Governors (hotel). 101 West Alameda St.
Caffe Greco. 233 Canyon Road
Meow Wolf Art Complex. 1352 Rufina Circle
El Centro de Santa Fe (galleries). 102 East Water Street
---
Wood Carvings on the Santa Fe River Trail
Where to find the carvings: On East Alameda Street between Old Santa Fe Trail and Paseo De Peralta.
If you're in need of a leisurely after dinner stroll, join the locals as they get their exercise in on the Santa Fe River Trail. The downtown section of the trail is about 3.5 miles long and stretches from Santa Fe historic district to Frenchy's Field, on Agua Fria St. The trail is paved and is utilised by joggers, walkers, cyclists and dog walkers. If you are staying in any of the Santa Fe hotels near the plaza this is an ideal spot to stretch your legs, without feeling compelled to buy anything!
Although the Santa Fe River is a tributary of the mighty Río Grande, what you will see flowing through downtown Santa Fe is more akin to a creek. Don't be surprised if all you find is a dry river bed when you visit, especially in the Summer months. Remember you are in New Mexico!
There are picnic benches along the trail and the overhanging trees provide welcome shade in the dry heat of Summer. The only downside is the Santa Fe River Trail runs alongside the busy East Alameda Street.
Along the trail you will find these 7 archangels carved by José Lucero in 2005. They are carved from the remaining trunks of cottonwood trees which once stood along the river. Lucero who is a local artist, is also affectionately referred to as the "Picasso Santero". The archangels can be found between Old Santa Fe Trail and Paseo De Peralta on East Alameda Street as it follows the river.
---
109 East Palace
This unassuming shopfront played a vital role in the Manhattan Project. For 20 years it was the real life equivalent of platform 9¾ (Harry Potter). 109 East Palace was the front for all involved in the top-secret activities of Los Alamos Laboratory – a place that did not officially exist.
From here Dorothy McKibbin, affectionately known as the Gatekeeper to Los Alamos, processed all new arrivals and their families. She was responsible for coordinating top-secret transportation to and from the laboratory as well as all security passes, housing and even child minding. All duties, no matter how mundane were executed within a realm of classified information. It is believed that even she did not know the reality that belied her workday.
In a way 109 East Palace is still somewhat covert, attracting little attention except from the few that seek it out. It is worth sparing a few minutes of your time to check out this hidden portal to the past. There is an alley between 107 East Palace and 109 East Palace, it is at the back of this alley that you will find a plaque commemorating the events that took place at 109 East Palace. Currently a shop "Rainbow Man" occupies 107 East Palace and it is from this shop that you enter the alley.
The plaque honours those who worked on "one of the greatest scientific achievements of all time" – the research and development of the first atomic bomb.
---
New Mexico History Museum
Where: 113 Lincoln Ave., Santa Fe, New Mexico
Hours: 
May – Oct:  Daily 10:00 am – 5:00 pm
Nov. – Apr. Tue. – Sun. 10:00 am – 5:00 pm 
Telephone: (505) 476 5200 or (505) 476 5100
Website: www.nmhistorymuseum.org
Admission: $12.00 Adult. Check the Museum website for discounts!
Photography: Permitted without flash
Although this is one of the major museums in Santa Fe, unfortunately it's significance is overshadowed by others. Given the choice visitors on a time crunch are more likely to opt for Meow Wolf and of course the Georgia O'Keeffe Museum.
For those of you who do decide to visit the New Mexico History Museum, you will not be disappointed. Spread over 3 floors, the displays will walk you through the cultures and events that shaped what is now the state of New Mexico.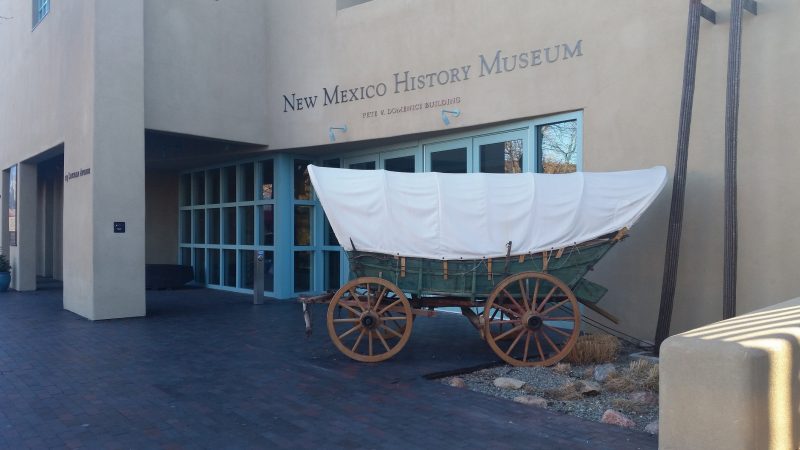 A Brief History of New Mexico
The museum covers five centuries of change beginning with the indigenous people who were colonised by the Spanish in the 16th century. Objects on display depict early facets of every day life – weaving, flint knapping, and pottery. With the invasion of the Spanish we see evidence of their legacy in their weapons, religious artefacts and architectural traits, introduced by them to the area. We are also left with a strong record of their trade routes connecting their colonies.
Let's not forget New Mexico was part of old Mexico! Therefore there is an area dedicated to Mexico's independence from Spain in 1821. This in turn is followed by an exhibit on the Mexican-American War, whereby in 1848 the Treaty of Guadalupe Hidalgo ultimately resulted in the annexation of the lands that are New Mexico today.
The museum even has an exhibit on the brief but no less important Battle of Glorieta Pass in the American Civil War. Lawless times of the American Soutwest are represented with an exhibit on the Lincoln County War.  Meanwhile a display on the Santa Fe trail gives way to the effects of the revolutionising railroad. Art imitating reality!
As the Southwest became more accessible there came with it an influx of writers and artists. Drawn to the beauty and uniqueness of the land, artists from all over the world came to call New Mexico home. To this day Santa Fe itself plays host to a major enclave of artists.
The Atomic Age
The museum hosts rotating exhibits as well as it's permanent ones. Currently the third floor is home to "Atomic Histories". New Mexico will forever be synonymous with ushering in the Nuclear Age. Not only was Los Alamos the nerve centre in the development of nuclear warfare, but the Trinity Site at White Sands was the proving ground for the detonation of the first ever atomic bomb developed as part of the Manhattan Project.
---
Dinosaurs
Where: 246 Dinosaur Trail, Santa Fe, New Mexico
Directions: From I-25 take exit 278. Continue South on NM Route 14/El Camino Real/Cerillos Rd. about quarter mile. Turn left at the traffic light onto Rancho Viejo Blvd. Take the first left at the Bureau of Land Management (BLM) offices. Continue past BLM for about a mile – this is Dinosaur Trail. The dinosaurs are on the right, on the property of "M & M Garage Doors".
Hours: Mon. – Fri. 8:00 am – 5:00 pm
You will find this little family of brontosauruses on the property of "M & M Garage Doors". Therefore if you want to get a decent photo it is best to visit within the business hours listed. Otherwise you are taking photos from the far side of the fence and you are not doing the dinosaurs justice.

This is simply a roadside attraction. Yes, it may be cheesy and kitsch, but it is also fun and cool. Back in the heyday of Americana and roadtrippin' this would have been quite the draw. In today's world of sensory overload, most folk will be apathetic or nonplussed! Taking a photograph is about as interactive as this exhibit gets.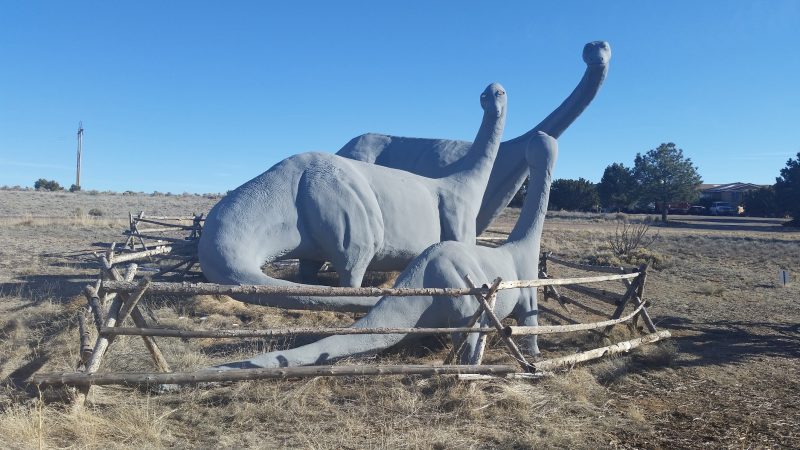 For those of you still interested enough to stop by, there are a few things to keep in mind.
Do not climb on the dinosaurs.
This is private property, be respectful.
What you see is what you get. Don't expect any more than what you see in these photos.
How often do you find random dinosaurs just off of a major roadway, or anywhere for that matter?
---
Pin Me Now!