Last Updated on June 1, 2021
It's no secret that many attractions in Santa Fe are renowned for their uniqueness. However, did you know you'll find plenty of hidden unusual things to do in Santa Fe? These oft overlooked highlights blend into the daily comings and goings of the locals but are a pleasant surprise when stumbled upon by visitors.
So let us take you on a tour of these off the beaten path attractions, as well as  introducing you to unique Santa Fe festivals unknown to most beyond New Mexico. Discover why Santa Fe is also known as The City Different.
Disclosure: This article contains affiliate links to products and services whereby we receive a nominal commission if you make a purchase through one of these links. This comes at no extra cost to you. Please see our Disclaimer for full information.
---
Put Some Unusual Things to Do in Santa Fe on Your Bucket List
Santa Fe is one of the best places to visit in New Mexico and is also a bucket list destination for many. This historic capital offers visitors boutique hotels, cute cafes, creative cuisine and Instagram-worthy photo opportunities at every turn.
Due to it's charms this is a top-ranking destination amongst travel publications and in the know travel shows. Santa Fe made the Best Small City in the United States list in Condé Nast's 2019 Traveler Reader's Choice Awards and placed 14th in the Top 15 Cities in the World in Travel + Leisure's 2019 World's Best Awards.
Discover how the remarkable history of Santa Fe and it's blend of cultures continues to influence and mould attractions on and off the tourist trail. For instance, our guide includes unexpected angels along a river bank, a traditional yet unique Christmas event, a secret portal which changed the world forever and a surprising chocolate indulgence true to its ancestry.
Watch Our Video and Learn More About New Mexico!
---
Visit 109 East Palace Street – A Top Secret Attraction in Santa Fe
Where: One block behind the northeast corner of Santa Fe Plaza
For 20 years this unassuming shopfront played a vital role in the Manhattan Project. Essentially, 109 East Palace was the front for all involved in the top-secret activities of Los Alamos Laboratory – a place that didn't officially exist. During this time Dorothy McKibbin, affectionately known as the Gatekeeper to Los Alamos, processed all new arrivals and their families.
Need a Place to Stay During Your Visit To Santa Fe?
We recommend booking at Hotels.com for your next visit to Santa Fe. Choose from trendy boutique hotels, romantic inns or familiar national chains in the city. Use Hotels.com for the best deals and selection throughout the city.
Dorothy was responsible for coordinating top-secret transportation to and from the laboratory as well as all security passes, housing and even child minding. Now matter how mundane, all duties were executed within a realm of classified information. Many believe even she didn't know the reality which belied her workday.
In a way 109 East Palace is still somewhat covert, attracting little attention except from the few who seek it out. It's worth sparing a few minutes to check out this hidden portal to the past. A back alley between 107 and 109 East Palace features a plaque commemorating the events which took place here. Currently the Rainbow Man shop occupies 107 East Palace. Enter here to view the plaque honouring those who worked on one of the greatest scientific achievements of all time – the research and development of the first atomic bomb.
---
Looking for Things to Do Near Santa Fe?
Don't miss the drive along the scenic High Road to Taos for classic Northern New Mexico villages and vistas.
Are you interested in iconic road trips from Santa Fe? The Turquoise Trail is a must-see drive on the way to Albuquerque.
History and art in Santa Fe actually has a home atop Museum Hill. Get to the hill and discover four impressive museums in one spot.
---
Art-o-mat – A Quirky and Affordable Canyon Road Alternative
Not everyone can afford an authentic work of art from the galleries on Canyon Road. Don't despair – take home an original and quirky masterpiece as a memento of your trip anyway. How does $5 sound for your own affordable and unique Santa Fe art piece?
What is Art-o-mat?
Art-o-mat is the ingenious and curious creation of Clark Whittington, who in 1997 began repurposing cigarette machines into art vending machines. The idea is simple; for $5 you pull the lever on the machine. Instead of a cigarette pack you get a real piece of art the same size. What's not to love? Beyond the amazing bargain price you also get a non-cumbersome creation to take anywhere – including your flight home.
That's not the end of this innovative and unusual concept – this certainly is art for the masses by the masses. Art-o-mat continually accepts submissions from artists all over the world as long as they stick to the specs. provided. Obviously, the piece must operate cohesively with the machine to produce no jams. Who knew cigarette machines would prosper such a sense of community?
Cool Santa Fe Art-o-mat Locations:
The Inn of the Governors Hotel lobby at 101 West Alameda Street
Caffe Greco at 233 Canyon Road
Meow Wolf Art Complex, 1352 Rufina Circle
El Centro de Santa Fe Galleries, located at 102 East Water Street
Recycling, Restoring, Rejuvenation
The cigarette machines are lovingly restored and given individual face-lifts providing eye-catching motifs relative to their location. As a result, these vintage contraptions are a piece of cool artwork unto themselves.
Art-o-mat locations certainly aren't limited to Santa Fe and this is no fleeting fad or gimmick. Find them in national institutions such as the Smithsonian American Art Museum and the Museum of Fine Arts in Boston. Other locations include certain Whole Foods supermarkets, libraries, universities, bars, farms, hotels, diners and cinemas. Find a full list of Art-o-mat locations here.
---
Creative Carvings on the Santa Fe River Trail
Where: East Alameda Street between Old Santa Fe Trail and Paseo De Peralta.
In need of a leisurely after-dinner stroll? If so, join the locals getting exercise on the Santa Fe River Trail. The downtown section of this pathway is 3.5 miles long and stretches from the Santa Fe Historic District to Frenchy's Field on Agua Fria St. Joggers, walkers, cyclists and dog walkers also use this paved trail. This path offers visitors to Old Town Santa Fe an ideal place to stroll without feeling compelled to buy anything.
Along the trail are seven archangels carved in 2005 by José Lucero, a local artist affectionately referred to as Picasso Santero. He created these from the remaining trunks of cottonwood trees which stood along the river. Find the archangels along the river on East Alameda Street between Old Santa Fe Trail and Paseo De Peralta.
Picnic benches line the trail and trees provide welcome shade in the dry heat of summer. The only downside to this section of the Santa Fe River Trail is the traffic on East Alameda Street.
Although the Santa Fe River is a tributary of the mighty Río Grande, what flows through downtown is akin to a creek. Don't be surprised when you find a dry river bed during your visit, especially during summer months. Remember, you are in New Mexico after all!
---
Las Posadas – A Memorable New Mexico Christmas Celebration
Where: This Christmas event takes place on the plaza in Santa Fe's Historic District.
Website: www.santafeselection.com
New Mexico's history is woven into the fabric of it's culture, the result is a state unlike others. As the oldest capital city in the United States, Santa Fe offers a rare insight into unique cultural traditions passed down through generations and centuries. For example, one particular event is Las Posadas (The Inns), an age-old Hispanic tradition for all to enjoy. This Christmas pageant recreates the story of Mary and Joseph in their search for room at the inns before the birth of Jesus.
A candle-lit procession around historic Santa Fe Plaza is enlivened with some pantomime elements. Innkeepers have been represented as devils on rooftops around the plaza, taunting Mary and Joseph as they seek shelter. In return, the crowd boos and jeers the innkeepers for denying the couple a room. Controversy surrounds the representation of the innkeepers as devils…
The procession is followed by carolers, hot cider and biscochitos (the official New Mexico State Cookie) under the palace portals. This is a  very popular event drawing close to 2,000 attendees. Las Posadas is a tradition celebrated in Northern New Mexico communities in the days leading up to Christmas. Typically it's a nine day celebration but this Santa Fe Plaza event is held on one day only.
---
Canyon Road Farolito Walk – A Santa Fe Christmas Tradition
When: This annual event happens at dusk on Christmas Eve.
Website: www.visitcanyonroad.com or visit the official Facebook page for more information, photos and videos.
Insider Tips: Dress warm and don't forget your camera.
Nowhere celebrates Christmas like New Mexico and Santa Fe takes it to another level. The term magical tends to get bandied around quite a bit, but it really is the most apt description for this memorable Santa Fe Christmas event, (once you find parking)! Don't forget you're at an elevation of 7,199 feet; a light dusting of snow may very well round out this extraordinarily beautiful experience!
Canyon Road, part of the Santa Fe Historic District, takes on a warm glow during the festive season. Get in the Christmas spirit and join the locals for a traditional seasonal stroll along this beloved thoroughfare. Along the way, musicians encourage Christmas carol sing-alongs and vendors fuel the festivities with biscochitos and hot chocolate. This is certainly the place to be on Christmas Eve in Santa Fe.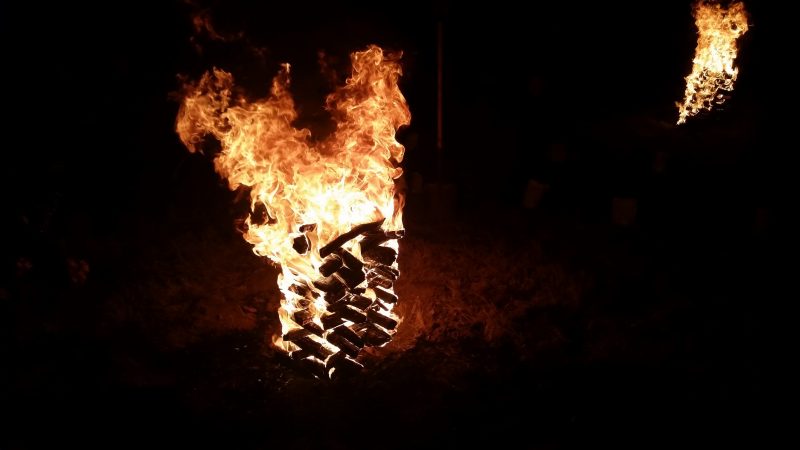 This atmospheric street is lined with ancient adobe structures and meandering narrow alleyways filled with locals and visitors enjoying the famous farolitos and luminarias.
What Are Farolitos and Luminarias?
The distinction between luminarias and farolitos is one way of sparking a healthy debate amongst New Mexicans. From Santa Fe north, luminarias refer to small bonfires of crisscrossed piñon. The Spanish introduced the tradition of little bonfires as guiding lights in the 16th century. Farolitos are tealight candles in paper bags anchored by sand.
Here in Santa Fe, farolitos festoon rooftops and pathways, bathing the tanned adobe walls of Canyon Road in a soft glow. Meanwhile luminarias crackle and fill the air with the intoxicating aroma of burning piñon, guiding the cheerful crowds in this annual tradition. The Canyon Road Farolito Walk is a must-see Santa Fe attraction for locals and visitors.
---
New Mexico History Museum
Where: 113 Lincoln Avenue, just off the Santa Fe Plaza.
Telephone: (505) 476-5200 or (505) 476-5100
Website: www.nmhistorymuseum.org
Photography: Permitted without flash
Although this noteworthy museum in Old Town Santa Fe is impressive, it's often overlooked. Instead, visitors opt to explore Meow Wolf and the Georgia O'Keeffe Museum. Those who do visit the New Mexico History Museum won't be disappointed. Three levels of well-curated displays walk you through cultures and events that shaped what is now the state of New Mexico.
A Brief History of New Mexico
The museum covers five centuries of change. Pre-colonial objects on display depict early facets of every day life such as weaving, flint knapping and pottery. The Spanish invasion consequently changed the land – evident in architectural details, religious artefacts and weapons which are all on display here.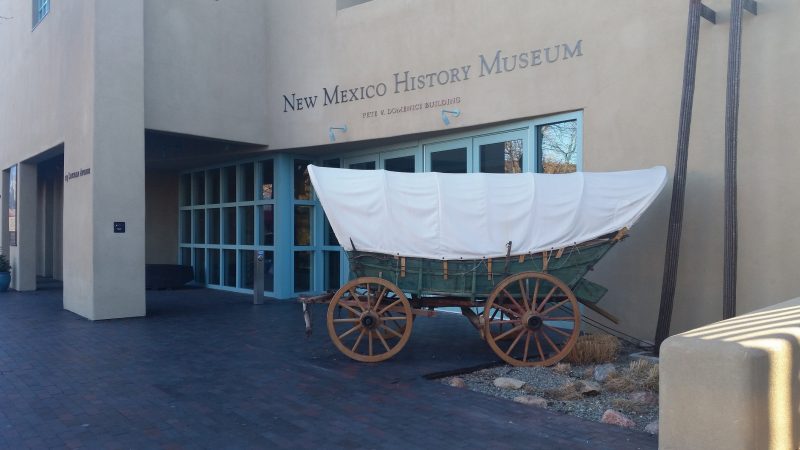 Let's not forget New Mexico was part of old Mexico! Therefore you'll find an area dedicated to Mexico's independence from Spain in 1821. Subsequently an exhibit on the Mexican-American War follows, whereby in 1848 the Treaty of Guadalupe Hidalgo resulted in the annexation of lands which make up New Mexico today.
The museum even has an exhibit on the brief but no less important Battle of Glorieta Pass in the American Civil War. Lawless times of the American Southwest are represented with an exhibit on the Lincoln County War.  Meanwhile, the Santa Fe Trail display gives way to the effects of the revolutionising railroad.
---
The M & M Dinosaurs – A Cool, Kitsch Roadside Attraction
Where: 246 Dinosaur Trail, Santa Fe, New Mexico
Directions: From I-25 take exit 278. Continue south on NM Route 14/El Camino Real/Cerillos Road for 1/4 mile. Turn left at the signal on Rancho Viejo Blvd. After that, take the first left at the Bureau of Land Management (BLM) offices. Then continue past BLM for about one mile – this is Dinosaur Trail. The dinosaurs are located on the right, next to M & M Garage Doors.
Hours: 8:00 am – 5:00 pm, Monday through Friday
This is simply a roadside attraction. Yes, it may be cheesy and kitsch but it's also fun and cool. Back in the heyday of Americana and roadtrippin' this would've been quite the draw. In today's world of sensory overload most folk will be apathetic or nonplussed! Taking a photograph is as interactive as this offbeat Santa Fe attraction gets.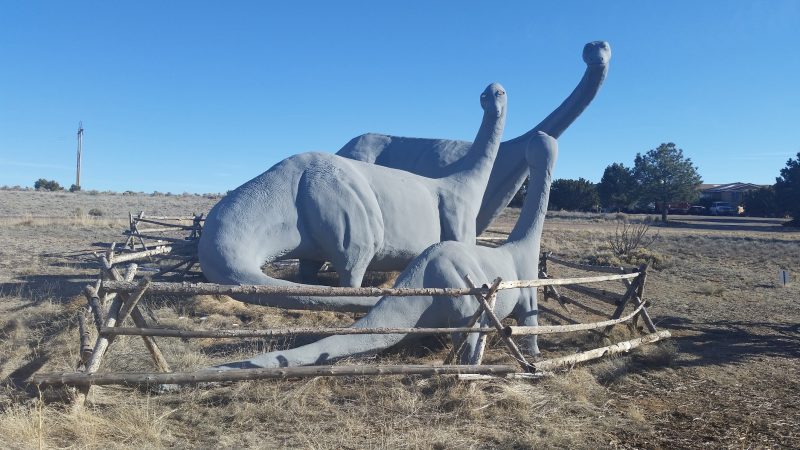 This property remains closed outside of the business hours listed above. Still, the M&M dinosaurs represent one of the fun things to do near Santa Fe – and it's free! How often do you find random dinosaurs just off a major roadway, or anywhere for that matter?
---
The Bizarre Burning of Zozobra        
Where: Fort Marcy Park, 490 Bishops Lodge Road, Santa Fe
When: The Burning of Zozorba takes place on the Friday of Labor Day weekend.
Website: www.burnzozobra.com
Zozobra, a.k.a. Old Man Gloom, is a 50-foot-tall marionette burned at the beginning of the Fiesta de Santa Fe, which itself is over 300 years old. This festival is one of the most popular things to do in Santa Fe in September and includes parades, traditional arts and crafts booths, music and delicious unique New Mexican food. The burning of Zozobra takes place annually on the Friday of Labor Day weekend at Fort Marcy Park, just north of historic Santa Fe Plaza.
Zozobra was the creation of Will Shuster in 1924 and the effigy was first publicly burned in 1926. Old Man Gloom is symbolic of the woes and miseries of Santa Fe's citizens – he is gloom personified. In the weeks leading up to the marionette immolation Santa Feans write down their worries and leave them in gloom deposit boxes placed throughout town. As Zozobra burns residents rejoice in the communal catharsis of watching their woes go up in flames with Old Man Gloom.
For all you last-minute folk there's also a gloom deposit box set up until 8:00 pm at the actual festival. The event faqs page of the official website provides a complete listing of gloom box locations throughout the city. This rather fascinating puppet pyre has become a huge event attracting over 60,000 people of all ages. Tickets are available online or at the gate. Please read full festival rules for entry requirements.
---
Museum of International Folk Art
Where: 706 Camino Lejo, Santa Fe
Telephone: (505) 476-1200
Website: www.internationalfolkart.org
Photography: Permitted without flash
Insider Tips: Allow at least two hours. Admission is free for kids 16 and under.
Set aside several hours to explore the Museum of International Folk Art. See why this this unconventional Santa Fe museum ranks as a top attraction for all age groups. Looking for some things to do in Santa Fe with kids? The Tree of Life children's area offers fun, educational hands-on activities and books. However, the museum itself is full of enough cool things to keep kids interested.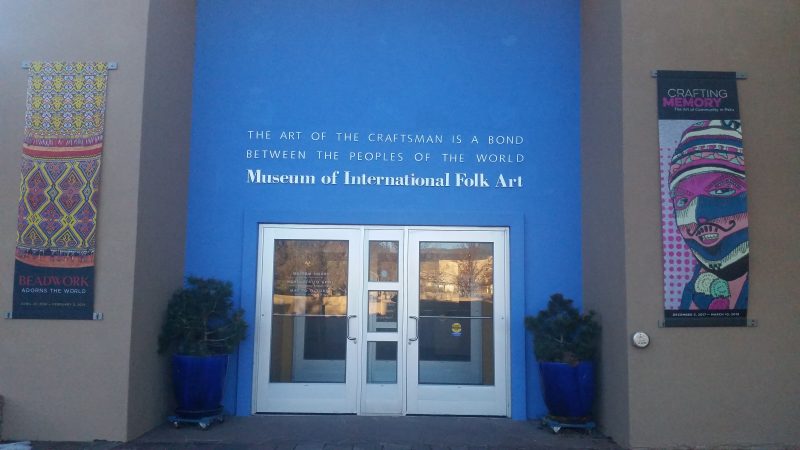 Displays at the International Museum of Folk Art include intricate dioramas, masks, puppets, toys, beadwork, textiles and national costumes from nations throughout the world. The enormous Girard Wing contains over 10,000 pieces from the Alexander and Susan Girard collection. Even more astounding, this represents only 10% of the couple's entire collection from a lifetime of international travel.
---
Palace of the Governors on Historic Santa Fe Plaza
Where: 105 West Palace Avenue on Santa Fe's Historic Plaza
Phone: (505) 476-5100
Website: www.palaceofthegovernors.org
Having stood for over 400 years, the Palace of the Governors has deservedly earned it's reputation as one of the top sites in Santa Fe. Built in 1610, the palace stretches the entire length of the north side of the historic plaza and holds the esteemed distinction of being the oldest continually occupied public building in the United States. Palace of the Governors is also part of the New Mexico History Museum, located just behind.
Outside under the palace portals are authentic Native American Indian crafts for sale including jewellery, pottery and paintings. Artists representative of New Mexico's 19 pueblos sell their wares here and each is registered with the Native American Vendors Program. Some artists process credit/debit cards however most prefer cash for transactions. Not only are you buying direct from artist and cutting out the middle-man, but rest assured you're buying an original piece here. Fraudulent imports have flooded the southwestern art market – buyer beware elsewhere!
A long-term exhibit at the New Mexico History Museum titled Palace Seen and Unseen is scheduled to open in 2020. The Palace was closed for renovations at the time of writing – please call ahead or check online for up to date information. However the museum is still open and vendors continue selling under the Palace of the Governors portals during renovations.
---
The Miraculous Stairs of Loretto Chapel
Where: 207 Old Santa Fe Trail, Santa Fe
Phone: (505) 982-0092
Admission: Loretto Chapel is a private entity – admission is $5 per person.
Website: www.lorettochapel.com
This small chapel, built in 1878, has been a must-see Santa Fe site for generations. The allure lies in the construction of the helix-shaped staircase which remains shrouded in mystery. This is known as the Miraculous Stair. Legend has it the chapel's architect died before designing a staircase to the choir loft. The Sisters of Loretto, lacking any dexterity in design themselves, implemented their own skills – prayer. Having prayed to St. Joseph (Patron Saint of Carpenters) for nine days, a mysterious carpenter finally showed up.
After construction, this worker disappeared without the nuns ever learning his identity. His helical staircase was made without the use of nails, it's held together solely with wooden pegs and glue. No central structural support exists, meaning the entire weight of the staircase rests on the bottom step. What's more, the wood used isn't native to the southwest. The devout refer to this as The Miraculous Staircase.
---
Visit Meow Wolf's House of Eternal Return – Home of the Outlandish
Where: 1352 Rufina Circle, Santa Fe
Phone: (505) 395-6369
Website: www.meowwolf.com
Insider Tips: Avoid weekends and get here early!
It's impossible to write about weird things to do in Santa Fe without mentioning Meow Wolf's House of Eternal Return. This highly acclaimed immersive art installation is one of the must-do attractions in Santa Fe. Seeing Meow Wolf isn't cheap for those on a budget; in March 2019  admission was $32 per person. We're self-admitted cheapskates, however this is one Santa Fe attraction you should not miss out on.
What is the House of Eternal Return? Alas, we cannot answer that – can anyone? It's like tumbling through a kaleidoscope which transports you into a trippy world that is a cross between Alice in Wonderland and Willy Wonka and the Chocolate Factory. Step into the fridge and follow the light. Enter the fireplace and follow the secret passages and panels that continue to lead you deeper into the mystery and beyond all comprehension.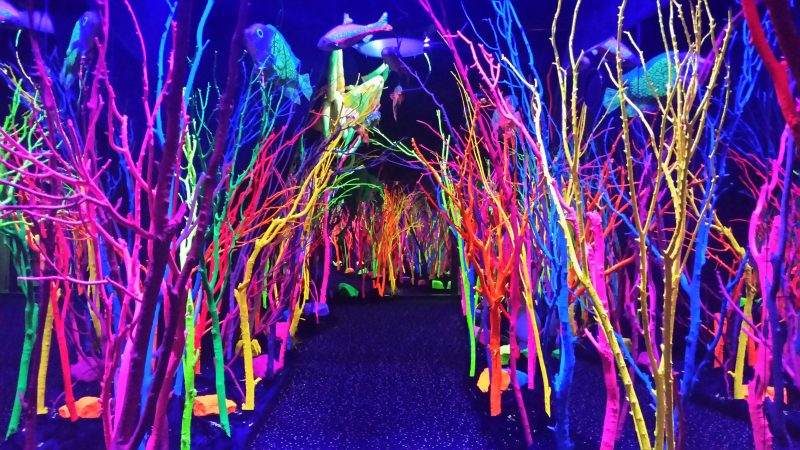 Follow the clues and try to solve the underlying story, or simply explore and have fun. Either way it doesn't get any stranger than Meow Wolf during your visit to Santa Fe. This is a great family-fun adventure suitable for all ages. Meow Wolf also operates as a live concert venue; check their website for upcoming gigs and other events.
---
Kakawa Chocolate House
Website: Visit www.kakawachocolates.com for multiple locations.
If all this sight-seeing has left you a tad fatigued, there's no better pick-me-up than chocolate. Kakawa Chocolate House is a local artisanal company with two locations in Santa Fe, one of which is conveniently located near Meow Wolf. Although known for their elixirs (hot chocolates), the chocolatiers also create handmade truffles, sorbets, ice-creams and milkshakes for year-round delectable treats. Dairy-free and vegan options are also available.
This is not your typical hot chocolate. The Mesoamerican and historic European elixirs created here derive from archaeological research and historical records. Their flavours are rather rich, complex and decadent – quality rules over quantity.
Fans of craft brew pubs will be familiar with a flight of beer. Here at Kakawa try a flight of elixirs and sample a variety of these truly unique blends. Choose from Mayan Chili, lavender, rose or coconut hibiscus to name but a few. Prices are reflective of the unique nature of this local specialty shop – a visit here is certainly an indulgence.
---
In Conclusion…
Santa Fe may be chic but it certainly has a quirky side. Blend this bohemian, artsy enclave with deep rooted history and you'll see why its known as The City Different. What do you do when you've exhausted these off the beaten path attractions in Santa Fe? Head south to Albuquerque!
We've spent plenty of time in Albuquerque uncovering her unique side and some free attractions, too. Visit the one-of-a-kind glass graveyard and seek out some roadside attractions in the city. Don't overlook the no-cost museums or a free tour of a haunted theatre!
---
Pin Me Now!