Last Updated on
Choosing the best fish tacos in Baja California on a road trip down the peninsula is no easy task. Although enjoying any fish taco and drinking a cold Pacifico beer on the Baja is certainly a slice of heaven on earth, some simply stand above and beyond others – by leaps and bounds. For that reason I've compiled a list of some of the best fish tacos we've tasted over the years during our Baja road trips.
As you drive south (or head north) on Transpeninsular Highway 1 simply keep this article handy and grab some fish tacos from these places along the way. I haven't included Cabo San Lucas, Todos Santos or Ensenada but please share your favorite fish tacos from these towns and any others in Baja California I missed!.
Finding a Good Fish Taco in Baja California
While the city of La Paz (featured below) offers a few variables, fish tacos in Baja California seem to incorporate similar elements, all served on either wheat or corn tortillas with coleslaw, tomato/onion/cilantro garnish and lime wedges to squeeze on top. Eating Baja California fish tacos is an experience to truly savor and this article lets you know where to get the finest.
I always recommend choosing wheat tortillas instead of corn tortillas; the latter are dry and tend to fall apart easily. Also, corn tortillas have a mealy texture I prefer to do without. Look for any taquerias featuring plenty of fresh salsas and garnishes, too. Many fish taco establishments in Baja California sell out or close by early afternoon; don't wait too long to get a plate.
At (roughly) 760 miles long, as little as 25 miles wide and with 1,900 miles of coastline, it's no wonder fish is the name of the game in these parts. In fact, fish tacos were born here. This is pure Baja comfort food so dig in right now and get familiar.
Order Here!
Served to you in this article are my selections of the best fish tacos in Baja California. I decline to name a favorite simply because it's too difficult! Understand that most of these featured establishments don't have phone numbers, none have a website and opening/closing hours aren't always adhered to – this is totally normal in Mexico!
Some taquerias mentioned here are located alongside Transpeninsular Highway 1 and proper addresses have been omitted in this case; instead look for the name of the establishment as you drive along. Addresses and/or directions for fish taco restaurants away from the Transpeninsular Highway are provided, where applicable.
---
The Best Baja California Fish Tacos in Guerrero Negro
Tacos El Muelle
Where: Carratera Guerrero Negro, next to Farmacias Similares.
Hours: 10:00 am – 2:00 pm
Taco Talk
This fish taco truck on the main road in Guerrero Negro is impossible to miss. Tony and his crew serve up what may be the tastiest fish tacos on the Baja. Just 23 pesos gets you a perfectly seasoned, battered and fried piece of fish to wrap a tortilla around.
This truck is popular with locals and Baja road trippers, many of whom stop in-transit just to eat these legendary fish tacos. Are they that good? They are. Order several, find a place to sit nearby and savor a truly authentic Baja California fish taco.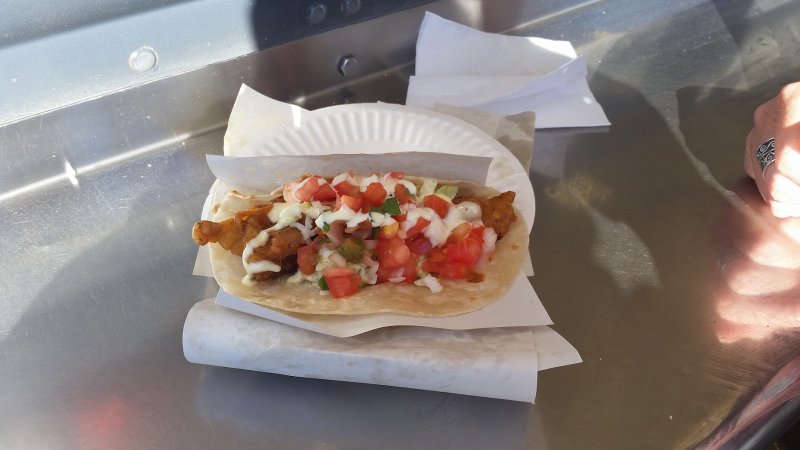 The seasoning, or sazon, is a trade secret at Tacos El Muelle. That seasoned batter is fried to a dark copper color which works quite well with the spices to create a fish taco with a deep flavor. Also, the fish here is one piece rather than several smaller pieces like you'll find at most taquerias. This makes the eating these less messy as the fish tends to stay in place with each bite.
Tacos El Muelle scores good for consistency; the tacos were as good on our first visits as they were seven months later. The batter is fried just a bit longer at Tacos El Muelle; this creates a superior taste over others. There is no seating at this informal location – the front counter of the food truck is for ordering and dressing up your fish tacos.
---
My Favorite Baja California Fish Taco in Mulegé
Mariscos Peralta's 
Where: Northbound Side of Transpeninsular Highway 1, Mulegé
Hours:
8:00 am – 4:00 pm
Closed Tuesday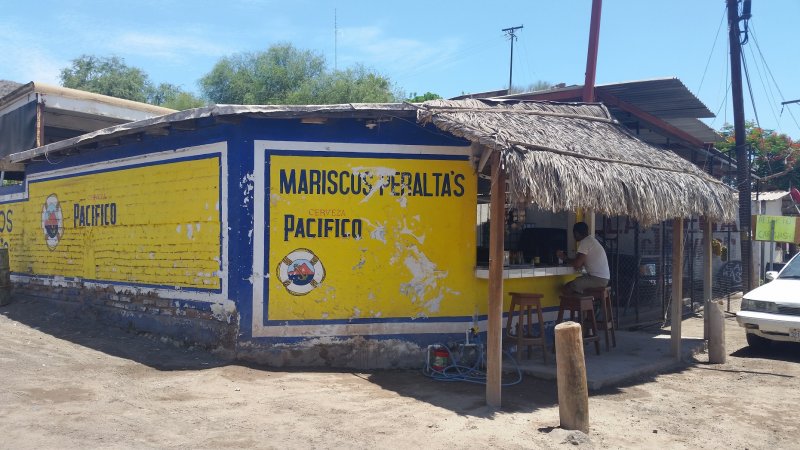 Taco Talk
We first visited here in 2013 and haven't forgotten this popular fish taco stand. The fish at Mariscos Peralta's is flaky white and the batter is tastier than most in town. The fish is also consistently firm but it's the taste of the batter which made us return. We've eaten here many times and the fish is always fried to a perfect golden crispness. The ladies here offer you the choice of corn or wheat tortillas, too.
A selection of garnishes accompany your order, so slather on all you can without making a mess. Recently, Mariscos Peralta's started offering homemade corn tortilla chips and salsa while you wait for your order. At the time of research fish tacos were 22 pesos and a cold Pacifico was just 20 pesos – you won't find beer from a restaurant or taco stand cheaper than that!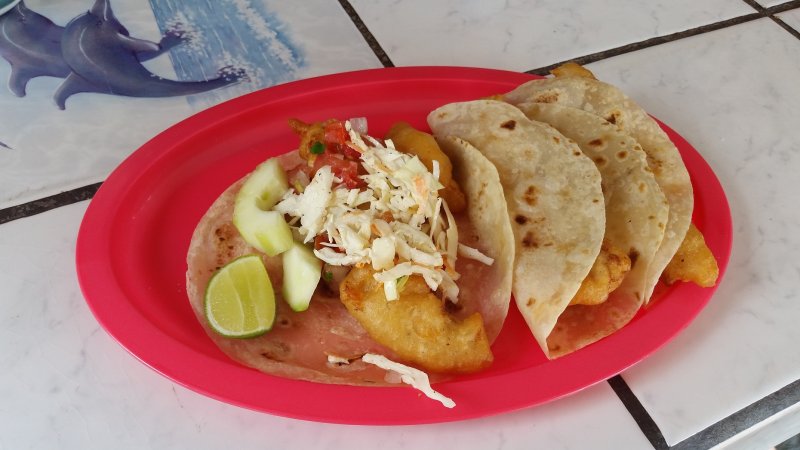 A car-wash/tire shop is oddly attached to this restaurant earning Mariscos Peralta's the added accolade of the most authentic place to grab a fish taco in Baja California! Passing through Mulegé on the Transpeninsular Highway puts you within reach of this roadside taco stand, so pull over right now and don't leave town without a fish taco.
---
The Battle of the Baja California Fish Tacos in Loreto
Taqueria El Molontzin
Where: Calle Ugarte, at the corner of Fernando Corsan, Loreto
Hours:  8:30 am – 3:00 pm. Taqueria El Molontzin, according to the owner, is likely open every day. You gotta love Mexico!
Taco Talk
Taqueria El Molontzin was full of locals one day and pleasantly empty at lunchtime several days later. Order fish tacos on wheat or corn tortillas for 25 pesos, or $1.25 each. El Molontzin also has the added touch of a refrigerated condiment bar AND a bowl of complimentary homemade batter-fried jalapeno peppers at the front counter. The owner even wears a chef hat!
Our first impression of the fish tacos here prepared us for a garden-variety offering. Biting into the fish itself revealed a perfect bit of flaky white flesh along with a batter which held more flavor than expected. Also, the batter held little oil from the frying process, earning the tacos here an extra point. El Molontzin was a pleasant surprise for us and it actually beat the more popular competition in town (see El Rey below).
The good selection of fresh condiments also scored extra points over the local competition. These included three different salsas, assorted creme dressings, cucumbers, a coleslaw mix and possibly the best escabeche onions we've ever tasted. El Molontzin was consistent each time we visited, a quality not all taco joints share in Loreto. Simply put, Taqueria El Molontzin serves up some of the best fish tacos in Loreto.
El Rey Del Taco
Where: Calle Benito Juarez 61, Loreto
Hours: 9:30 am – 2:00 pm
Taco Talk
El Rey Del Taco (The King of the Taco) certainly pulls in tourists and locals alike. In fact, many say the king serves the best fish tacos in Baja California. Although that's not true in my opinion, El Rey definitely serves some of the largest fish tacos in the Baja. At 35 pesos each these tacos do pack a punch and ordering two is plenty. Order a homemade fresh squeezed orange or lime drink to wash it all down.
The batter was seasoned quite well but we found the quality of fish lacking on several visits; our visit in November 2017 was far superior to our last visit in July 2018. Our last fish taco here was stronger in flavor and quite mushy. The fish contained the lateral line which is the fatty, grey bit of flesh on a filet which I find too strong. The overpowering flavor of this fish was remedied by adding coleslaw and salsa to the taco.
Belly up to the counter for the best seat in the house and watch the king do his thing. El Rey Del Taco does have the market cornered on large tacos and the hectic pace of locals and tourists coming and going certainly makes this place stand above others in Loreto. In short, you haven't been to Loreto without a visit to El Rey Del Taco.
Although the king's court is filled with a rapt crowd – seemingly everyone in town – we found ourselves yearning for Taqueria El Molontzin for our Baja California fish tacos. The crown is being threatened here in Loreto by consistent quality fish and an overall better flavor. Can the king be usurped? You decide and let us know what you think!
---
Taquitos Del Valle 
Where: Avenida Benito Juarez, between Calle Ayuntamiento and Marques de Leon, Loreto
Hours: 
9:00 am – 3:00 pm
Closed Friday
Taco Talk
Taquitos del Valle, on the same street as El Rey del Taco, offers an acceptable alternative to our first two choices in Loreto. When we bit into our fish tacos we realized how truly varied this Baja comfort food is in Loreto, however we endeavored to sort it all out in the name of dogged research. Each was 25 pesos, or $1.25.
This offering, although fresh and cooked to order, looked and tasted a bit like a batter-dipped fish finger. Is that a bad thing? Not really. The unseasoned batter was cooked perfectly and very light instead of greasy. Even unseasoned batter alone is, in my opinion, good enough if cooked right. Such was the case at Taquitos Del Valle. The fish was white, barely flaky and bordering on mushy – not the best but acceptable.
This place made the cut based on the wonderful, unseasoned batter. I tout seasoned batter within this article but I found the simple flavor here a nice surprise. I even ate the fish alone, without a tortilla or the usual accompaniments. Locals seem to enjoy the food here and Taquitos del Valle is a viable choice in a town with a great selection of food for denizens and tourists alike.
---
A Different Spin on Baja California Fish Tacos in La Paz
Taco Fish La Paz
Where: Gral. Marques de Leon, Zona Central, La Paz
Hours: 
8:30 am – 4:00 pm, Tuesday through Sunday
Closed Monday
Phone: 52 612 125 7075
Taco Talk
Taco Fish La Paz adds two variables not seen elsewhere in the Baja. First, fish tacos here are served on corn tortillas only. Finally, one large filet of fish is fried whole, then cut into slivers rather than smaller pieces battered and fried individually. Order your meal directly from the cooks who present you a ticket along with your food. Take you ticket to the cashier to pay after eating – a strange custom, indeed.
Taco Fish La Paz, while slightly more upscale than many taquerias, still offers fish tacos for 25 pesos. This local favorite is far from the touristy malecon in La Paz, but is certainly worth the diversion. This place also offers an amazing toppings bar with everything you'll need to spike your fish taco. Again, not having a choice of wheat tortilla was a rather sad reality for me here.
My fish taco fell apart quickly due to that dry corn tortilla. The quality of the fish was a surprise here; my taco contained a piece of fish with the lateral line, yet it was very mild in flavor. The fried batter reminded us both of fish from a chipper back in Ireland, which we both really enjoyed even though the first few bites were dominated by the taste of the corn tortilla.
Tacos De Pescado El Estadio
Where: 1320 Guillermo Prieto, Zona Central, La Paz
Hours: 8:00 am – 2:00 pm, daily
Taco Talk
This simple looking taco restaurant will fool you.Tacos De Pescado El Esatadio is possibly serving some of the very best fish tacos in Baja California. The secret? Sazon, or seasoning in English. These may be the cheapest fish tacos in Baja California too, but more on that later. Although I had to deal with another corn tortilla here, the fish taco was damn fine. The fish made me forget the pithy corn tortilla and THAT meant a winner!
Order from the cashier who then gives you a ticket to bring to the cook. Our fish taco was served with a batter consisting of a perfect blend of seasonings. I tore strips of the battering off the fish to isolate the two and eat them separately – both were perfect! Try to arrive before 11:00 am, when the lunch crowd starts lining up around the corner and the fish sells out.
These fish tacos don't need much dressing but there's an impressive assortment of sauces here to slather on top. If the flavor and quality here aren't enough to convince you, perhaps the price will. At only 20 pesos each, or about $1, these are the cheapest fish tacos in Baja California we sampled. Visiting La Paz soon? Put this place firmly at the very top of your list.
---
Pin Me Now!