Last Updated on January 7, 2021
Unlike mainland Mexico the Baja Peninsula does not have the reputation of being a budget travellers playground. Accommodation and transportation can leave a serious dent in a backpacker's budget. However finding budget-friendly restaurants in Baja California doesn't have to be an arduous task on your palate or wallet.
When it comes to eating in Baja California there are options when you simply want something other than a taco, even for those of us with tight purse strings!  Although seafood rules on the Baja, there are plenty of ways to stay sated and penny pinch at the same time.
At the time of indulging the exchange rate was $1 = 20 MXN.
Want Even More Information About Baja California? We Have It!
A Word About Baja California Restaurants
Listed hours tend to be on the ambiguous side here in Mexico. It is really at the proprietor's discretion when they open, close and decide to take a day off. Often when food runs out, that is their cue to close up shop, regardless of how much earlier this may be to the posted opening times. Hours of operation are merely a suggestion at many Baja California restaurants.
Service in most Baja California restaurants is quite different to the U.S. or Europe. You will find your backside has yet to make contact with the seat of the chair and your server will already be standing by your side waiting to take your order. Throughout your dining experience you are left in peace to enjoy your meal without any interruptions. Typically you must ask for the bill – it will not be dropped off at your table.
Before introducing you to the best budget-friendly restaurants on the Baja Peninsula, there are some regional conventionalities and specialities to clarify in order to make this post more digestible to you, as the reader.
Bring Your Own Beer to Many Baja California Restaurants
Throughout Mexico it's common practice to bring your own beer/beverages of your choice when dining out and restaurants in Baja California are no exception. We're quite sure this is not true of upscale restaurants but let's remember folks, this is a budget blog so we can't really comment on upscale eateries!
Need a Place to Stay While Visiting the Baja Peninsula?
You'll always find somewhere special to stay through Airbnb. From rural getaways to luxury spots in the city, Airbnb's Baja Mexico listings offer something for everyone. Find your ideal place to stay and wake up ready for more Baja adventures!
For a good selection of conventional accommodations at the best prices we recommend Hotels.com for your next stay. Choose from resorts, familiar national chains or smaller independent hotels on the peninsula or throughout all of Mexico.
Disclosure: This article contains affiliate links to products and services whereby we receive a nominal commission if you make a purchase through one of these links. This comes at no extra cost to you. Please see our Disclaimer for full information.
We're somewhat flummoxed as to why travellers aren't more aware of this practice. Perhaps it is deemed uncouth, especially when the establishment often sells the beverages you are bringing in. However if you pay attention to local practice you will soon observe this is common custom and is widely acceptable, unless otherwise posted by the restaurant.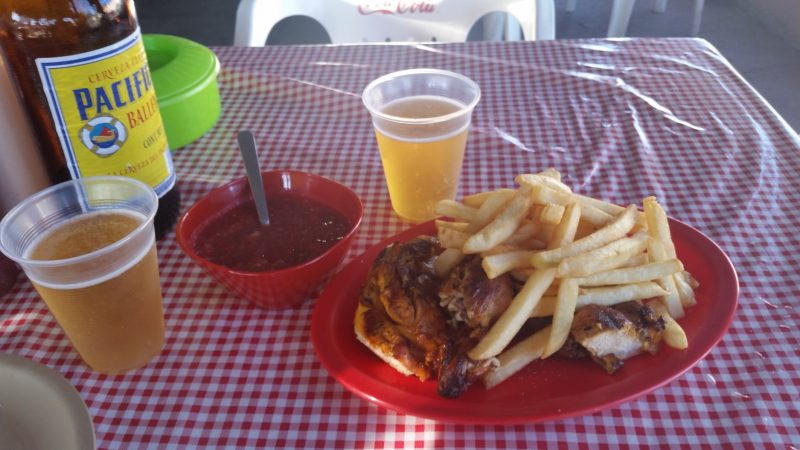 Birria 
Of all the humble yet delectable street foods that have traversed the border, birria has yet to assert its place on the standard Mexican restaurant menu in the States. In all likelihood one is more likely to find pozole and even menudo (tripe) than birria on a menu in the U.S. On the contrary in Mexico, the ubiquitous birria vendor has a firm foothold on the gastronomic market. Don't be fooled by the fancy sounding term "gastronomic" – birria is as close to home-cooked comfort food as you'll get and many Baja California restaurants serve it.
What is Birria?
Upon searching or researching what birria is, the typical responsive description categorises it as a spicy stew. We may not be gastronomes but we do have a predilection for birria and we have yet to find it as spicy. Take it from one who has a bland Irish palate: spicy foods and my taste buds rarely meet.
Birria is typically and traditionally comprised of goat meat (birria de chivo). However it is also common to encounter lamb birria (birria de borrego), beef birria (birria de res) and kid – baby goat birria (birria de cabrito) here in Mexico. Apparently you can also find chicken birria (birria de pollo) and pork birria (birria de puerco), although we haven't seen this in any Baja California restaurants yet.
The standard accompaniment to your birria will be a bowl of chopped onion, chopped cilantro, lime wedges, hot sauce and the ever ubiquitous stack of warm tortillas. Garnish, season and enjoy however you see fit.
Similar to a "fry-up" back home, birria is touted as the go-to hangover cure here in Mexico. So if you have a head on you that feels like an over-used kick drum or if you just fancy some authentic, rich no-frills comfort food, let this culinary concoction be your antidote to hunger, home-sickness or over-indulgence!
Birria – Have It your Way!
Should you find yourself ordering birria you may well be faced with a choice of how it is served to you. Choose between birria seca (con jugo), translated to dry birria (with juice). Typically this is a plate of meat with a cup of juice/broth on the side.
Alternatively you may opt for caldo de birria. Here you will be presented with a bowl of soup/stew – the juice/broth are combined with the meat.
---
Ensenada
---
La Guerrerense
Where: López Mateos and Alvarado, Ensenada, B.C.
Hours:
10:30 am – 5:00 pm, Wednesday through Monday
Closed Tuesday
Website: www.laguerrerense.com
Any pre-trip research on where to eat on the Baja will undoubtedly list La Guerrerense as a must-stop in Ensenada. Whether you're road-tripping or stepping off a cruise ship for a few hours, this iconic eatery beckons to all.
The matriarch of this humble little street cart, Sabina Bandera, has been serving up seafood tostadas for over 40 years. She herself has become a celebrity, having been lauded by worldwide celebrity chefs like Rick Bayless. In 2012 Anthony Bourdain claimed this was the best street food cart in the world on his show No Reservations.
What's On Offer
Seafood is king at this stand. You will find caracol, octopus, fish, mussels, crab, sea urchin, pismo clams, shrimp and abalone sliced, diced and marinated into a slew of ceviches. Try any of the award-winning ceviche tostadas or a coctele (cocktail). There are also clams and oysters available on the half shell.
We tried a coctele and a couple of tostadas. Everything was delicious. Could I say that the sea urchin ceviche tostada with the clam on top would prompt me to tout this as "the best street food cart in the world"? Well no, but having never even had sea urchin before, I really can't say. As the queue grew, it became apparent the food is testament unto itself in quality, freshness and a devout following of regulars.
Value For Money
Cocteles came in three sizes; small 70 MXP ($3.50), medium 120 MXP ($6) and large 150 MXP ($7.50). The specialty tostadas, i.e. the sea urchin, was 90 MXP ($4.50) whilst the more basic ceviche tostadas for e.g. octopus, fish, crab salad, abalone etc. are 22MXP ($1.10).
As far as our budget is concerned, "La Guerrerense" was more than we would have typically spent on a tostada. However that does not detract from the actual food and the opportunity to try something completely new. As is typical with human nature we were compelled to experience the hype ourselves.
---
San Quintín
---
Tacos Los Poblanos
Where: Southbound side of Transpeninsular 1, just beyond Hotel Uruapan, San Quintin, B.C.
Hours:
9:30 am – 12:00 am Sunday through Thursday
9:30 am – 3:00 am Friday & Saturday
Closed Tuesday
Alright, I am the first to admit I do not care for tacos, unless they are fish tacos. I've just had my fill of tacos from travelling through Mexico and there are just other street foods I would much rather eat.
I do however make a huge exception to this "Tacos Los Poblanos". These I actually could eat every day! Although you will typically see at least one stand in every town called "Tacos Los Poblanos" none compare to the one in San QuintÍn
What's On Offer
Here you get a choice of home-made corn or flour tortillas, cooked up right in front of you. The menu is simple, tacos or tortas (sandwiches), with a choice of carne asada, carne adovada (adobada) or al pastor, dressed with onion, cilantro, salsa and guacamole. Sounds like your typical taco? Let me be the first to declare absolutely NOT!
I don't know what they do here to make their tacos stand above all others. Perhaps it is the meat, it's lean and seasoned perfectly. Perhaps it is how it is cooked – not very different from other places I have observed cooking thin strips of beef for tacos. I really have no idea what the secret to this deliciousness is, I just hope they never change it.
One more quick note is how fascinating it is to watch this stand when it gets really busy here, and believe me that is how it is most of the time, especially in the evening. You may find yourself with a front row seat to the most perfectly choreographed, well oiled machine of frantic chopping, slathering, plating and wrapping of food you've ever seen in your life.
Stop at this popular Baja California taqueria, even if you aren't particularly hungry. You will always find yourself coming back, I promise.
Value For Money
Tacos are 22 MXP ($1.10) each. Although I am typically "anti" this form of antojitos (tacos), this is one budget bite location I cannot resist.
---
Guerrero Negro
---
Birrieria Ayotlán
Where: Main drag (westbound) entering town. Guerrero Negro, B.C.S.
Hours: 7:00 am – 2:00 pm, daily
What's On Offer
We never pass up an opportunity to try some birria while eating in Baja California. We both agree that this is some of the best birria we have ever had. Actually in my opinion this is the best birria I have ever had, whilst Jerry has remained faithful to our favourite birria stand in Mexico City.
Each time we ate here at Birrieria Ayotlán we shared a bowl and all either of us could say with every spoonful was "Wow"! This tomato based broth is chock full of tender, shredded lamb and beef, with a really subtle flavour of cloves.
The bowl comes topped with diced white cabbage, which we have never seen before. Share a bowl if you can, you may well be topped up with complimentary broth and even more tortillas. Do yourself a massive favour in Guerrero Negro and treat yourself to a bowl of this birria! Words simply cannot do it justice.
Value For Money
Without a doubt this bowl of birria is worth every last penny of the 120 MXP ($6.00) that it costs.
---
Birrieria Brianda
Where: Main drag (westbound) entering town. Guerrero Negro, B.C.S.
Hours: 8:00 am – 3:00 pm, daily
With two birria stands to choose from in town, I would say if time is on your side try them both. As is common with birria stands you can also get tacos and dorados (fried tacos) here.

What's On Offer
Similar to its competition as mentioned above, Birrieria Brianda also serves a very large bowl that can be easily shared by two people. The meat of choice is beef and the bowl is teeming with it at this Baja California lunch spot. The beef is shredded and tender to the point of having an almost mushy consistency, this is not a bad thing. The broth is noticeably more beef based than tomato. Just like Birrieria Ayotlán, this is a local's favourite
Value For Money
A bowl of birria here sets you back 115 MXP ($5.75). This home-cooked, "stick to the ribs" meal will get you through the day.
---
Tacos Los Poblanos
Where: Main drag (westbound) entering town. Guerrero Negro, B.C.S.
Hours: 7:00 am – 4:00 pm, however this Baja California taqueria seems to open just before lunch-time.
What's On Offer
Try as you may to satisfy your budget eats by switching up your diet, you will always come back to the humble tortilla in some form of its myriad of manifestations. Here Jerry had the carne asada tacos, which he claimed were some of the best he's ever had.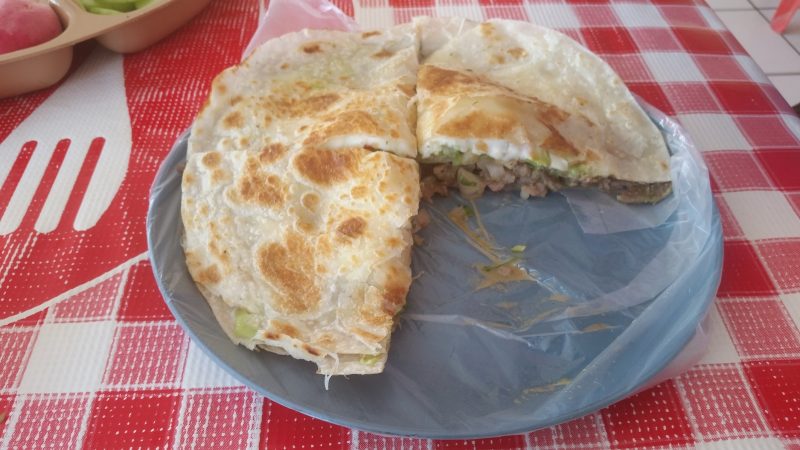 I opted for the mystery menu item. I'd never heard of a mulita before so I reckoned I would try it. What is it? It is a hybrid of a quesadilla and a sandwich, with a filling of beef, onions, cilantro and Oaxacan cheese grilled to a gooey perfection. It was delicious, though just a little salty.
Aside from tacos and mulitas you can order any of the multitude of incarnations of antojitos giving pride of place to the tortilla – vampiros,  dorados, burritos, huaraches and quesadillas. This Baja California restaurant also serves tortas.
Value For Money
A  mulita cost 65 MXP ($3.25). Tacos were 20 MXP ($1). The mulita was definitely a meal in itself and worth the price charged.
---
Loreto
---
Almejas Conchó
Where: Corner of Calle Aripez and Calle Ugarte, Loreto, B.C.S.
Hours:
1:00 pm – 9:00 pm, Tuesday through Sunday
Closed Monday
Phone: +52 613 135 1452
Website: Find more detailed information on Almejas Concho Loreto Facebook page.
What's On Offer
Aside from ceviche, cocteles, burritos, tacos and aguachiles, this Baja California Sur restaurant is famous for it's almejas chocolatas (chocolate clams) and its preparation of them.
We opted to try the almejas tatemada (toasted/charred clams), a traditional, pre-hispanic way of cooking chocolate clams. Traditionally the clams would have been cooked in a fire on a gravel bed and covered with chamizo branches. This Baja California seafood restaurant emulates this ancient form of cooking by burying the clams in gravel in their unique oven and then covering them with chamizo branches. Once cooked the clams are served on the shell with a delicious mustard dressing on the side and flour tortillas.
Value For Money
Eight clams costs 127 MXP ($6.50), 15 clams costs 249 MXP ($12.50). Now for a couple of budget conscious Drifters like us that's a lot of "clams", however we are also quite adept at justifying "shelling out some clams" for the occasional unique experience.
---
Pollos Asados California 
Where: Corner of Boulevard Salvatierra and Calle Manuel Márquez De León, Centro, Loreto, B.C.S.
Hours: 12:30 pm – 6:00 pm, daily
Chicken and chips is definitely not the first thing that springs to mind when somebody says Mexican food. Don't get caught up in the semantics. Here in Mexico, both the Baja Peninsula and mainland, rosti pollo/pollo asado (roast chicken) is almost as common as the beloved taco. If you're looking for a little more than the typical antojitos, don't feel guilty about ordering this Mexican meal!
What's On Offer
Whether you order a pollo entero (full chicken) or a partial, you will get a heaping serving of chicken, chips, corn tortillas and salsa. Our advice: Come here hungry! This is most definitely a local's favourite. Typically "Pollos Asados California" is closed by 4:00 pm, fresh out of chicken.
Simply put, the chicken here is delicious. The skin is crisp and has a deep yellow/orange colour to it, reminiscent of being basted with an achiote paste. I do not know if it has been basted with anything, but the flavour would indicate a seasoning that takes this way beyond standard roast chicken. The meat is juicy, well cooked, tender and has a hint of smoky flavour having been cooked on coals.
Value For Money
A pollo entero (whole chicken) costs 150 MXP ($7.50). A half chicken costs 80 MXP ($4.00).
---
Birrieria el Valle
Where: Corner of Benito Juarez and Ayuntamiento, Centro, Loreto, B.C.S.
Hours:
9:30 am – 2:30 pm, Thursday through Tuesday
Closed Wednesday
Phone: +52 613 117 1177
This is without a doubt a local's favourite. We have witnessed folk claim their seats well before the shutters are even opened on this stand. Observing the locals and where they tend to flock to is a good indicator of an establishment that demands a taste test.
This is one of those places that is usually closed early because they have run out of vittles. Get here early.
What's On Offer
The day we ate there we had beef birria (birria de res), apparently they also sell goat birria (birria de chivo). It all depends on what they have the day in question. They also sell tacos and dorados (fried tacos). Not the most extensive menu but it suffices. Actually there is no menu per se, everyone knows what is available and if you are the newbie the waitress can tell you quite quickly what is on offer.
We opted for the soup (caldo). All dishes come with the standard accompaniments, onion, cilantro, limes and also shredded cabbage in this case. The broth was particularly rich and delicious here and they are not shy with loading your bowl up with tender, tasty beef/goat. Oh but that broth…
Value For Money and Price
Wow, this has to be one of the best value for money meals we've ever had. A bowl of birria was 50 MXP ($2.50). Along with the omnipresent tortillas we were set up for the rest of the day.
---
Asadero El Super Burro
Where: Blvd. Salvatierra, Obrera, Loreto, B.C.S.
Hours:
6:00 pm – 12:00 am, Thursday through Tuesday
Closed Wednesday
Phone: +52 613 135 1243
Both locals and tourists alike pack this restaurant which is a little off the main drag in Loreto. Follow your nose and let the char-grilled aroma lead you to this neighbourhood haunt. Catering to the evening/night-time diners among us, there is something at this Baja California spot to appease everyone's hunger pangs.
First impressions certainly may not assuage a vegetarian's reluctance to chow down here. Aside from the BBQ bouquet, the sight of an expansive grill, laden with juicy steaks, doesn't scream inviting to a non-meat eater! Fear not! Peruse the menu before turning your back on this protein pyre.
Everything is cooked to order at "Asadero Super Burro", and they are certainly not embellishing anything by their use of the term "super"! No matter what you order there is enough food to very easily feed two or get at least two meals out of. These are incredibly generous portions so bring your appetite and someone else's to this Baja California dining spot and split a plate.
What's On Offer
Burros (burritos), tacos and papas rellenas (stuffed baked potatoes) make up the menu here. Vegetarian options are also available and the staff will obligingly switch up ingredients upon request.
Each order is accompanied by a generous tray of assorted toppings/garnishes/dressings.
Foodgasm doesn't even come close to describing the "papa rellena de arrachera". Essentially this is a loaded baked potato stuffed with flank steak, mushrooms, cheese, corn and cream. The potato is skinless and the flank steak is tender and divine. It also comes with piping hot homemade flour tortillas. Positively drool inducing!
Value For Money and Price
Although not quite a budget bite in the true sense for us, this is still excellent value for money. The portions are huge and can easily be split between two adults with normal appetites. Therefore it has earned its place in this article among the other dining choices in Baja California.
A "superburro de arrachera" will set you back 135 MXP ($6.50) and the delectable "papa rellena de arrachera" costs 160 MXP ($8.00). Save your appetite, you won't need to eat another bite all night.
---
Ciudad Constitución
---
Pollos Lucas
Where: Southbound side of Transpeninsular 1, Centro, Ciudad Constitución, B.C.S.
Hours: 8:00 am – 7:00 pm, daily
Phone: +52 613 132 6327
This is another humble chicken and chips joint with outdoor seating. It is also another incredibly popular establishment with the locals, for both take-out and eat-in. Located on the right side of the Transpeninsular Highway, this is a convenient stop-off for lunch if you are en-route elsewhere.
What's On Offer
"Pollos Lucas" became another of our favourite places to eat in Baja California, to the point that they knew our order as soon as we sat down! Whether you order a whole chicken (pollo entero) or a partial, it will be accompanied with chips, macaroni salad, salsa and corn tortillas.
The chicken here is simply seasoned, roasted over an open flame and delicious. I also feel compelled to point out the macaroni salad is refrigerated. I am all too aware of tourists apprehensions of certain foods whose handling and storage is unknown to them. If you happen to stop here do not ignore the macaroni salad. Again, once they are out of chickens they close no matter what time it is.
Value For Money
A pollo entero (whole chicken) costs 150 MXP ($7.50). A half chicken costs 84 MXP ($4.20). Don't forget everything that comes with the bird. Even a half order was plenty when split between us.
---
Birrieria "El Palenque"
Where: Northbound side of Transpeninsular 1, Centro, Ciudad Constitución, B.C.S.
Hours: 8:00 am – 4:00 pm, daily
With two birrierias to choose from in town, browse our belly-busting reviews of both before committing to either one. Prices between the two are comparable so read on for a first-hand account of where the differences truly lie.

What's On Offer
As you can see from the photos they are not shy on loading up your bowl with chunks of tender goat meat. A delicious and noticeable difference here is that some of the chunks have an outer crispness to them. This is the first time we've encountered these crispy bits in birria and we approve whole-heartedly. They lend just one more level of flavour and texture to a dish that is already perfect.
Portion size is a little smaller here than "Birrieria Jalisco", the other birrieria in town. Having said that we were still able to split a bowl here and load up on the accompanying tortillas to fill a void.
Value For Money and Price
Here an order of birria will set you back 95 MXP ($5.00), half orders are also available as are tacos. Birria is available in both forms – soup or dry. Bearing in mind the amount of meat that is packed into each bowl, we were content leaving here each time, having shared a bowl.
---
Birrieria Jalisco
Where: Southbound side of Transpeninsular 1 and Mexican Highway 22, Centro, Ciudad Constitución, B.C.S.
Hours: 7:00 am – 2:00 pm, daily
What's On Offer
Tacos and birria are the components of this straight-forward menu. Choose your birria preference – caldo (soup) or seca con jugo (dry with broth). Either way you can't go wrong. Just bring a beer (or two) for the wait!
Here the goat meat is the undeniable star. Tender…so tender, melt in your mouth, juicy shredded goat. The supplemental broth is certainly very good but, Birrieria "El Palenque" has the upper hand on broth in this town. However, birria portions here are larger than at "Birrieria "El Palenque".
Service
At "Birrieria Jalisco"  you will find yourself gathering dust as you wait for your food. So here's the thing I am stumped on – this is a birrieria, i.e. it essentially serves one dish, just in a few incarnations. Somewhere in the kitchen there are large pots of broth and slowly simmering goat which are the sole, core ingredients to the tacos and birria on offer. This is the menu! How can it take an hour for a bowl of soup to reach the table? We have eaten here three times and each time service has been abysmal – we return for the food.
Value For Money and Price
An order of birria no matter your preference – soup or dry, costs 95 MXP ($5.00). It is possible to get a half order. We split an order and were sated. Again keep in mind that stack of corn tortillas that you will find yourself mindlessly munching on.
---
La Paz
---
Mariscos El Toro Güero
Where: Mariano Abasolo, Pueblo Nuevo, La Paz, B.C.S.
Hours: 10:00 am – 8:00 pm, daily
Phone: +52 612 122 7892
Our only regret was that we did not eat here sooner, but we made up for lost time by eating here three out of the four days during our visit. This is an institution in La Paz, especially at weekends. If you can, try to eat here during the week unless you don't mind waiting for a table. It is absolutely worth the wait though.
Each time we ate here we split a dish, which was ample for both of us. All meals come with a complimentary cup of shrimp broth, which is phenomenal. Also provided are the quintessential extras served at Baja California restaurants serving seafood – saltines and unadorned tostadas.
What's On Offer
If you have a penchant for seafood, you have come to the right place. If you have a hankering for cocteles, ceviche, crab, octopus, shrimp, fish, clams, oysters or anything else the local waters have to offer you will not be disappointed. You can also find chicken and arrachera (flank steak) on the menu if seafood is not your preference. All main dishes come with mashed potatoes, rice and a small salad on the plate.
If there are 4 or more in your group you may want to consider "the carnaval de mariscos". This insanely huge trough consists of a variety of seafood in a large clay pot over a couple of sternos. Each individual will also be presented with their own portion of mashed potatoes, rice and salad. The carnaval truly is a sight to behold.
What Did We Eat?
Our first visit here saw us split "pulpo al ajillo" – garlic octopus. Not only do we both love octopus, but this was probably the best we've ever had. Octopus can be tough and chewy, but here the meat was marinated and cooked to a delicate tender perfection. The garlic sauce complemented it without overshadowing it.
Our subsequent visit saw us give the shrimp a try. These crustaceans tend to dominate the menu here, sliced, diced and slathered every which way possible. Sometimes it's good to just pick a mystery dish, which is exactly what we did in this case. Actually it is still a mystery to us. We have no idea what the creamy sauce was that smothered the Mazatlan shrimp but it was rather tasty and was subtly garlicky.
Our final foray with this Baja California seafood restaurant presented the pièce de résistance in our non-foodie, simple appreciation of food opinion. Dangling over the edge of the plate at both ends, this red snapper was beyond delicious. Perfectly seasoned and exquisitely fried, the crisp exterior of the Pescado Frito cocooned the delicate, mild, flaky flesh – which we devoured in revered, hungry silence.
Value For Money
Fair enough, it's definitely pricier than fish tacos at most Baja California restaurants, however we found the portions to be big enough to split between us. So within our reasoning and our sharing, we deduced that we spent about 100 MXP ($5) more split between us for a sit-down meal than we would've spent on our usual three fish/shrimp tacos each.
Pulpo al Ajillo – 200MXP ($10)
Camarones Mazatlan – 240 MXP ($12)
Pescado Frito de Orden – 180 MXP ($9)
If you opt for "the carnaval de mariscos" the price is 700 MXP ($35). This is an absolute bargain and is recommended for four or more adults, in reality it would probably be best to have five or six adults in your party to polish off this mountain of food.
---
Pin Me Now!