Last Updated on April 28, 2022
Indeed, driving to Baja California is intimidating the first time around. What are the roads like? Is driving in Baja California safe? Do I need insurance? Does my vehicle need a permit for driving in Mexico? Perhaps you have done research and are still wondering what to expect.
Throw in a possible language barrier, unfamiliar rules of the road, odd traffic patterns and you have a white-knuckle drive waiting for you! Use our tips to prepare yourself for an exhilarating Baja drive while enjoying stunning countryside. Of course, read this before getting behind the wheel!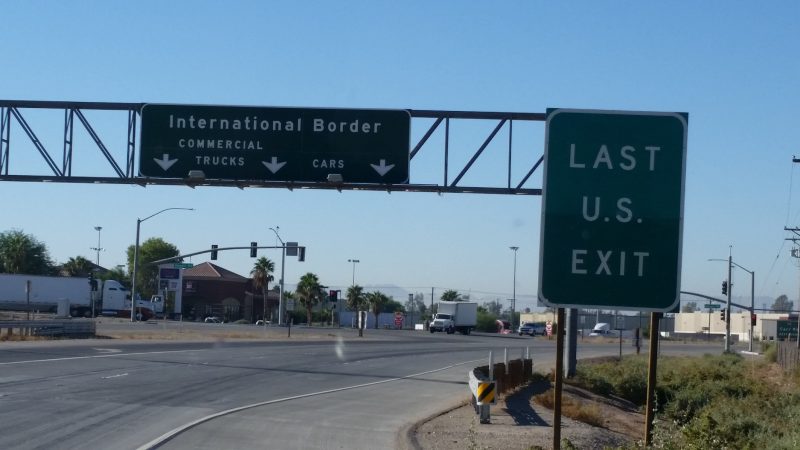 Baja Mexico or Baja California?
Note: The entire peninsula is often referred to as Baja California, the Baja Peninsula, Baja Mexico or simply Baja – we call it each of these in this article. There are two states on this peninsula: Baja California and Baja California Sur. Again, mention of Baja driving in this article indicates driving in both states, or the entire peninsula. Distinctions in this article between the two states, where applicable, are obvious.
Driving to Baja California (Or Baja Mexico!)
This article covers driving in AND driving to Baja California. We'll discuss vehicle insurance in Mexico which is required by law, although proof of insurance is not required to enter Baja California. This article will cover, in brief, the T.I.P. or Temporary Importation Permit and where this requirement is and isn't needed. Look for much more on these topics below.
Check Out Our Videos on YouTube and Discover MORE of Mexico!
Disclosure: This article contains affiliate links to products and services whereby we receive a nominal commission if you make a purchase through one of these links. This comes at no extra cost to you. Please see our Disclaimer for full information.
Where Will Your Baja Mexico Drive Bring You? Need More Ideas?
You'll also learn about certain driving habits, military checkpoints and practical safety tips for driving in Baja Mexico – this isn't a difficult journey but be aware of some very important things. Don't let these scare you; driving here is an experience you won't ever forget! So, consider each of our Baja driving tips, then hit the road and have a great time!
Listen Up! This Is Your Responsibility!
This article does not cover the process of getting yourself into Mexico. This article does not cover bringing in watercraft, trailers, off-road vehicles, etc. Furthermore, this article does not cover customs regulations regarding money, tobacco or alcohol.
Finally, this post will not cover your FMM Tourist Card and any fee(s) this may include. These are all considerations the visitor (You!) must research prior to visiting Mexico – these things can, will and do change with little notice.
---
Do I Need a Vehicle Permit for Driving in the Baja?
No. You do not need a vehicle permit (Temporary Importation Permit, or T.I.P.) for driving in Baja Mexico as a tourist. There is no fee for driving here as a tourist, either. This includes the entire states of Baja California (B.C.) and Baja California Sur (B.C.S.).
Not needing a T.I.P. extends to certain parts of Sonora state, which borders the state of Baja California. Note: I AM ONLY SPEAKING OF DRIVING YOUR AUTOMOBILE IN THE BAJA WITH NOTHING IN TOW. Also, look into requirements for international travel with your lien holder.
Need a Place to Stay While in Baja California?
You'll always find somewhere special to stay through Airbnb. From rural getaways to luxury spots in the city, Airbnb's Baja Mexico listings offer something for everyone. Find your ideal place to stay and wake up ready for more Baja adventures!  
For a good selection of conventional accommodations at the best prices we recommend Hotels.com on the peninsula and throughout Mexico. Choose from familiar national chains in the bigger cites or smaller independent hotels.
The areas of Mexico not requiring a T.I.P. (certain parts of Sonora state included) have chosen to extend what is known as the Free Zone. This is a perimeter extending south of the U.S./Mexican border meant to facilitate tourism and commerce through reduced customs requirements.
Mexico has extended the free zone to include the entire states of Baja California and Baja California Sur. YOU DO NOT NEED A T.I.P. TO ENTER OR DRIVE IN BAJA MEXICO (AND THE FREE ZONE OF SONORA STATE) AS A TOURIST.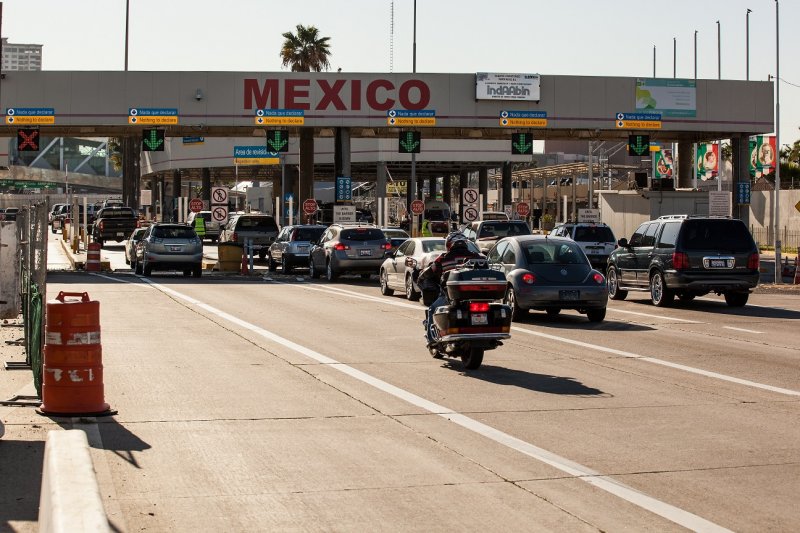 Are you leaving the state of Baja California and entering the state of Sonora? If so, know exactly what the free zone is and where it ends. Consult a map of the Sonora Free Zone and abide by this if you don't have a T.I.P.
Keep in mind you certainly do need a T.I.P. for driving beyond the extended free zone in Sonora state. The consequences of not having the proper permit beyond this zone is quite severe. This may even include vehicle confiscation by Mexican authorities.
Do I Need Insurance for Driving the Baja Peninsula?
MEXICAN LAW REQUIRES AN INSURANCE POLICY VALID IN MEXICO FOR AUTOMOBILES BROUGHT IN BY FOREIGN TOURISTS. Likely, this will not include your insurance policy from back home. Again, you will not be asked to prove insurance coverage upon entering Baja California.
Proof of insurance may be required if you are pulled over for a traffic violation. We were pulled over once but proof of insurance was not asked for; our experience in this case must not be seen as typical in all cases. However, insurance is needed if you're involved in an accident. DO THE SMART (AND LEGAL!) THING AND GET AN INSURANCE POLICY COVERING YOU IN MEXICO! 
Again, your own vehicle insurance policy at home likely won't cover you on your Baja drive or anywhere else in Mexico. Your auto insurance provider at home may recommend a company they have an agreement with.
A policy purchased for driving in Mexico is totally separate from your existing policy at home. Also, you'll be doing business with a Mexican insurance company who may or may not have agents based in the U.S. or Canada.
Choosing a policy through a group recommended by your insurance provider may offer very handsome rates. A policy from a provider recommended by our insurance company in the U.S. covered us for one year at $175. That policy provided bare-bones coverage on a 1999 vehicle; this was enough to meet minimum insurance requirements for driving in Mexico.
Make sure you know the minimum insurance requirements for driving down the Baja Peninsula and ALL of Mexico.
Is It Safe to Drive in Baja Mexico?
The real danger of Baja driving, even on the highway, is the total isolation. If needed, help from paramedics may be quite far away. This isolation, compounded by the many miles of both paved and dirt roads is the most immediate danger of driving through Baja California.
Indeed, many people visit Baja to experience this isolation and enjoy boundless adventures. Even if your plans only include driving the Transpeninsular Highway you must consider the loneliness of driving here. Based on our experience there's one other safety consideration aside from isolation while driving here: the few other drivers you will see! So, is it safe to drive in Baja California?
Mexicans are the most laid back, friendly and kind people you'll ever meet. However, put a gas pedal beneath their feet and they suddenly become aggressive contestants who believe cars are designed with a maximum speed for a reason. They look frightened as they launch past you in their vehicles, seemingly paralyzed by the amount of g-force overcoming them! Simply put, be aware of yourself and others on the road.
What are Baja Road Conditions Like?
Driving the Transpeninsular Highway takes getting used to. Almost the entire stretch of this two-lane highway lacks a shoulder, or breakdown lane. Potholes are numerous and rather formidable. The Transpeninsular Highway, filled with blind curves and ghastly drop-offs, offers few guard rails.
Road conditions represent a different level of standards from back home. Below we address specific things to keep in mind before your Baja drive – the occasional pothole and sharp curve are just the beginning of a white-knuckle ride you'll never forget!
Without further ado…
Baja Driving Safety 101: Signal Left Turns With Caution!
Indicating a left turn has two meanings in Mexico: turning left (genius!) or telling the driver behind you it's fine to pass on the left! This is curiously the norm in much of the world. When signaling to turn left, make sure the driver behind you doesn't attempt to pass you instead!
We were nearly run off the Baja highway by a U.S. driver likely explaining to his buddy what a left turn signal really means down here. My left turn signal was, to him, an indication to pass me on the left. I turned left just as he attempted to pass us – a very close call, indeed!
This happened in a no passing zone while approaching a blind curve along the coast. I couldn't think of a place this lousy on the entire 1000-mile Transpeninsular Highway to pass another vehicle! His gross miscalculation provided me the most frightening moment I've encountered while driving. So, keep this rather strange custom of multi-purpose turn signals in the front of your mind at all times!
Be Careful When Driving Baja California Roads at Night!
TRY TO AVOID LONG DISTANCE DRIVING AT NIGHT WHENEVER POSSIBLE! Many vehicles trundle down the road without working headlights in Mexico. Also, the Transpeninsular Highway has no lighting. One other possibility awaits drivers at night…
Cattle often lay on the pavement at night to keep warm, making the prospect of a nocturnal drive a suicidal idea! Plenty of desiccated, crumpled cows line the highway here, best viewed during daylight hours! Stay off the roads in Baja Mexico at night!
I've driven on the open range many times in the American west, yet there is something about the livestock here on the peninsula…a look in their eyes as you pass by. They express a sort of contempt as you speed by them on their roads.
The goats you see shuffling across the highway during the day are sending warnings with each tinkle of their bells: livestock own these roads and they're waiting to claim them as the sun sets. You are just merely passing through. Again, driving in Baja is best done during daylight hours!
Be Prepared for Military Checkpoints on the Baja Peninsula
Face it, military checkpoints can cause a fright for anyone not accustomed to them. Driving Baja California means dozens of military checkpoints, set up either before major settlements or often in the middle of nowhere! Don't fear these routine checkpoints – the kind soldiers will wave you through before you know it.
We received further scrutiny once as a soldier gave our vehicle a baffled visual inspection. He asked us to open the vehicle and a minute later we were idly conversing in broken Spanish and English. After a few hearty laughs we were on our way.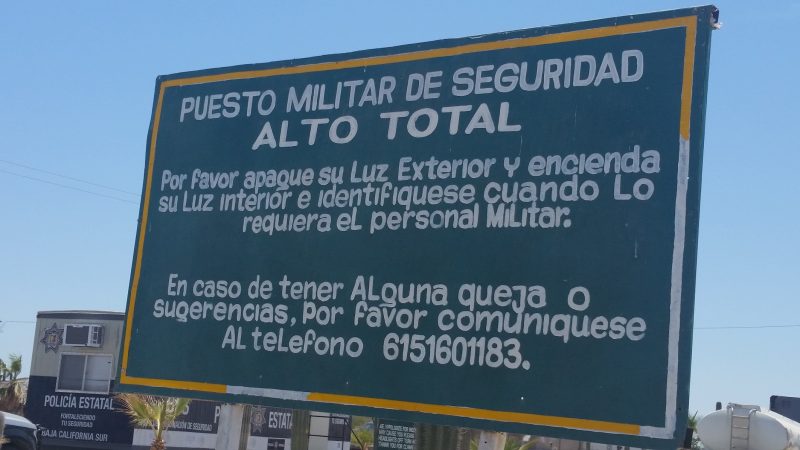 Be courteous and respectful to these gentlemen and they'll likely wave you on after a few questions. If you don't understand Spanish it helps to know what they're asking and what you should be saying, Almost always in this order:
Them: ¿Donde vienes?   – Where are you from?
You: Estados Unidos  – The United States. Or Irlanda if from Ireland, and so on.
Them: ¿Donde va?  –  Where are you going?
You: San Quintin, La Paz, Todos Santos or wherever.
Pat yourself on the back for speaking some Spanish and motor on, amigo! There's no need to worry about the next military checkpoint, likely another 100 miles away. These friendly guys are just doing their job and want you to have a great time in Mexico.
Don't Ignore That Gas Station! 
Keeping fuel in your vehicle while driving in Baja California is very important – get it whenever you can! Ignoring this means you might run out and the next station may be over 100 miles away! Running out means buying marked-up fuel from roadside vendors or calling the Green Angels (see below).
Filling up with fuel requires a bit of protocol. Gas stations in Mexico are full-serve and not knowing Spanish in this case is daunting. Simply pull up and wait for an attendant. Say Lleno, por favor (YAY-no, por-FA-vor) to have the attendant fill the tank. Then indicate the grade of fuel you want: Magna for regular unleaded; Premium for premium and Diesel for… diesel!
The attendant will indicate the pump meter is set to zero prior to filling. They often clean your windows and even wipe down your side-view mirrors – how swanky! Include a small tip of 10 or 20 pesos (50¢ – $1) while paying for your gas, and off you go!
Note: Unit prices for fuel are per liter, not per gallon. Also, the Mexican state-owned petroleum company (PEMEX) was, for years, responsible for all extraction, refining and retailing of oil and gas. PEMEX stations were once the only place in Mexico to get gas. This is very slowly changing and you'll see other gas stations as you drive in Baja Mexico. However, all filling stations are full-serve.
The Green Angels in Mexico
Foreigners driving Baja California roads are surprised to learn Mexico has a free service for stranded motorists. Los Ángeles Verdes, or the Green Angels, patrol all federal and toll highways in Mexico offering free service during mechanical breakdowns, accidents or medical emergencies.
The bilingual Green Angels, provided by Mexico's Ministry of Tourism, patrol at all hours in over 275 vehicles country-wide. Although basic service and repairs are free you must pay for any needed parts. If you break down while driving simply pull over and raise the hood to signal the Green Angels. Likely, you'll be waiting several hours for them to arrive; they have a long and lonely highway to patrol in Baja Mexico!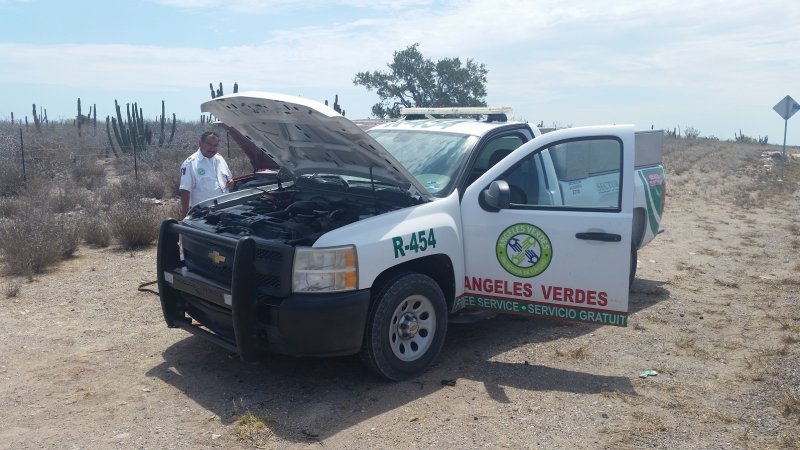 The 24 hour toll-free number for the Green Angels in Mexico is 01.800.987.8224. For an emergency dial 078. The Ministry of Tourism in Mexico provides this service for ALL motorists and tips are greatly appreciated. The Green Angels even provide tourists with maps and information on all sorts of destinations! What a great service!
What Is a Llantera?
Baja driving is tough on tires so you'll notice plenty of Llanteras along the way. A Llantera (yahn-TERA) is a road-side tire shop specializing in used tires along with quick service. These makeshift shops fill a need along the Transpeninsular Highway; this road simply eats tires. Don't expect anything more than a scruffy looking shack with a dusty hydraulic floor jack and an equally dusty assortment of tires.
Expect to pay at about 300 pesos ($15) for an experienced tire or slightly more for a newer one. Don't be afraid to haggle for a lower price. Llanteras pop-up in the most remote areas alongside the Transpeninsular Highway, often right after a section of heavily damaged road! In fact, llanteras may be the only sign of life for miles around!
Crossing Into Baja California Sur
Baja Mexico, as mentioned, has two states: Baja California and Baja California Sur. When crossing from B.C. to B.C.S. you must prepare for three things:
You enter Mountain Time from Pacific Time, going forward one hour
Mercifully, you'll see a drastic improvement in the surface of the Transpeninsular Highway – the pot holes (mostly) disappear!
You must pay 20 pesos ($1) for the silliest of silly gimmicks ever. More on that below…
At the border from B.C. to B.C.S. you must drive through a strange checkpoint where a fee is collected. Here, you pass over a mist which magically appears from the surface of the road and bathes the underside of your vehicle.
The collected fee is official, complete with a receipt from the ministry of agriculture or some such agency. This special mist (likely steam) is meant to protect against wayward insects from the northern state of Baja California. We, of course, have our suspicions….
As much as we love Mexico we cannot believe any agency is putting up an ecological stance by blasting your undercarriage to eradicate invasive bugs. Mexico and environmental stewardship just don't go together!
---
In Conclusion…
Although driving in Baja Mexico requires the same skill and concentration as driving anywhere, you must consider a few extra things. Knowing these things beforehand puts you at an advantage, therefore allowing you to focus on the joy of this amazing road trip. Your biggest concern should simply be where you'll get your next fish taco!
The ease of driving to Baja California (no permit required) along with the beauty, tranquility and climate make this a great place for your next epic road trip, so get out there and enjoy it!
---
Pin Me Now!