Last Updated on February 20, 2023
We're ready to share our everyday tips gleaned from many years of traveling in Mexico. You'll find no mention here of booking flights, rooms or tours – we'll assume this is already sorted out and your trip is just around the corner. Instead, we reveal expert travel tips for Mexico nobody else will mention. Simply put, our pointers come from years of experience and offer some brutally honest information for you to consider.
Why You Need Our Travel Tips for Mexico
We've visited almost every state in Mexico and discovered these travel tips on our own. Our travels involved driving the entire Baja Peninsula twice, multiple border crossings on foot, many bus rides, a lot of hitchhiking and even passage on a cargo ship. Practice makes perfect and we're happy to share these tips to get you going – knowledge is power!
Check Out Our Videos on YouTube and Discover MORE of Mexico!
Our travel advice for Mexico covers eating, drinking, transportation and etiquette. Also, we've discovered some surprising facts about accommodation and useful information on currency exchange. Additionally, we mention safety tips for Mexico and take a look at what you might want to know about bathrooms. Our travel advice saves you money, frustration and valuable time, no matter how long you stay.
Clarifying Our Mexico Travel Tips
Again, our travel tips do not cover where to book accommodation online. The focus here isn't on what must-see sights to consider or how to book tours – that information is easy to come by. Instead, our travel tips help you anticipate what to expect once you get to Mexico.
What Makes Our Travel Tips for Mexico Different? 
Simple Tips: We skip the typical "Don't drink the tap water" advice and instead share economical and ecological tips on exactly how to stay safely hydrated! This article also mentions everything you need to know about toilets in Mexico: You must pay attention to these!
Money Tips: Find advice on how to use ATMs in Mexico correctly, which bank will exchange currency for anyone and why you must always carry 10-peso coins. Our essential money tips make sense and save cents, too.
Restaurant Tips: You already plan on sampling authentic Mexican food, but do you know what to really expect when dining out at restaurants? We share some truly entertaining tips along with some local etiquette to keep in mind.
Safety Tips: Our advice skips the the stuff normally brought to you by sensational headlines. Instead we reveal common dangers much more likely to affect you while visiting Mexico. Safety here has everything to do with you – we'll

 

tell you how and why.
Transportation Tips: Let our experiences of driving on the Baja Peninsula show you which precautions to take on the roads in Mexico. Not driving? See our practical information on buses and even flights in Mexico.
Accommodation Tips: From beach camping in Mexico to sleeping in hundreds of hotels, we've figured out how to ask for the best deals and which booking option to avoid so you won't pay too much.
Plenty of the same-old-same-old tips for Mexico travel are found online but our information really goes above and beyond and we know you'll agree. From beachfront resorts to the backpacker trail, our tips are for anyone, anytime on any budget.
---
Safety Tips for Travel in Mexico
Concerns for personal *safety top the list for many visitors here, or anywhere. You'll be shocked to find out where the danger really is while visiting Mexico. We've enjoyed years of independent travel here, even hitchhiking extensively in almost every state in the country.
*Our past experiences and adventures will never be the same as yours and we aren't saying anywhere is totally safe all the time.
 Pay Very Close Attention to Your Surroundings
The real danger in Mexico is simply the condition of sidewalks or anywhere you walk. Sidewalks especially contain obstacles such as missing or damaged utility covers meant to protect pedestrians from trips and falls. It's up to you to watch where you're going at all times. Further, you'll find many uneven surfaces due to sections of sidewalk either missing or damaged.
You'll also find many congested and narrow sidewalks in Mexico. These old walkways have ghastly drop-offs, often with nothing to prevent you from falling over the edge. Finally, many newer tiled sidewalk surfaces are very slippery when wet. Again, safety begins with always paying attention to your surroundings; it's one of the best things to know before traveling to Mexico, or anywhere!
 Pay Attention Crossing Streets
Again, this is all about paying attention! Vehicles zoom down city streets here with alarming urgency. Many people in Mexico use motorbikes, scooters and all sorts of pedal-powered contraptions including delivery and vendor bicycles, too. It's easy to become distracted by exciting new sights and unfamiliar surroundings while traveling – stay alert and know what's going on around you!
---
Understanding Bathrooms in Mexico
Honestly, going to the bathroom in Mexico isn't a terrible ordeal. Differences do abound and always being prepared for them is what this article is about. We promise to skip the toilet humor, opting instead to pass information on to you. In particular, public restrooms in Mexico present several unique challenges you need to know about right now.
 Beware of Missing Toilet Seats
Are the seats missing, or were they never there to begin with? Toilets in Mexico often feature only a cold porcelain rim to sit on. Seats and lids are easy to remove and we suspect many are borrowed at an alarming rate. Equally, we suspect many toilets have never seen a seat, just to prevent them from being taken in the first place! Visitors to Mexico need coping skills and acceptance when faced with this curious reality.
 Carry Toilet Paper With You While Traveling in Mexico
Although the toilet paper shortage of early 2020 never arrived in Mexico, keep some on you at all times. We lived in Mazatlan during that time and luckily we were flush with all the rolls we wanted. Still, one of the most useful things to know before traveling to Mexico is that toilet paper simply isn't available in many restrooms and when it is you'll often need to pay to use some. This brings us to the next toilet tip…
 Always Have Five and Ten Peso Coins for Public Restrooms
Some public restrooms in Mexico are free and others aren't. Patrons at most modern shopping malls, cinemas, department stores, restaurants and grocery stores will find free restrooms. Expect to pay elsewhere such as some bus stations, airports, markets, visitor centers, archaeology sites and museums. Note the use of most and some above…
The above examples of pay versus free restrooms make it difficult to predict what you'll find when nature calls. Usually, restrooms charging entrance fees also levy a separate charge for toilet paper (see above). Pay toilets are often presided over by an attendant who takes money or feature a mechanical turnstile that accepts an exact fee in the form of coins only.
 Don't Flush Toilet Paper in Mexico!
Used toilet paper goes in bins placed next to the toilets. Why is this? The plumbing simply cannot handle toilet paper! This goes for the vast majority of toilets with the exception of some resorts. Disposing of used toilet paper this way isn't as bad as it sounds; properly balled-up paper thrown in a bin leaves no funky smell if you don't get too close!
As odd as this sounds, putting toilet paper in the trash makes more sense than having someone else deal with a clog. So let's recap: carry toilet paper and spare change for many public restrooms in Mexico and know what gets flushed and what doesn't!
---
Travel Tips for Eating and Drinking in Mexico
Of course, eat all the authentic food you can during your visit – you already know that! Instead, learn about common dining etiquette while traveling in Mexico and several other food and beverage considerations.
Knowing what to drink is just as important as what not to drink – you know to avoid the tap water. We'll tell you the cheapest and most sensible way to consume safe water during your visit. Our travel tips for Mexico cover getting the best value on cheap beer as well.
 Be Prepared for Very Attentive Service at Restaurants in Mexico
Expect eager restaurant staff unlike you would find at home. Some restaurants use touts who mention what's on offer or hand out menus to people. Their job is simply to entice passersby to enter the restaurant, even pointing out an empty table for the potential patron! The restaurant you do choose may offer more eager service, or attencion, as soon as you sit down…
Servers often stand by while patrons look at the menu, either to take an order promptly or answer questions. Attentive service is important and restaurants in Mexico certainly know this. Conversely, getting the bill from a server takes forever unless the patron specifically asks for it. We love not being rushed to finish dinner so use this tip and enjoy yours.
 Be Prepared for Roving Vendors and Entertainers at Restaurants
Our restaurant tips for Mexico aren't complete without mentioning roving musicians and salespeople. This is completely normal and even desired in many places, especially regarding music at seafood restaurants. These roving musicians and vendors are part of the informal economy and it's one of the many different things to experience while traveling in Mexico.
Expect guitar players, clowns, singers and assorted salespeople to enter a restaurant. We've seen complete Sinaloense bands with bass drums, cymbals and a full brass section enter restaurants in Mexico! Also, many establishments allow vendors to enter and sell to their customers. Sunglasses, hats, brooms and even desserts are offered by these outside salespeople! Expect some pretty good deals, too!
 Try the Bakeries!
We quickly found out just how delicious bakeries in Mexico are. They're also an inexpensive way to keep yourself fed and the assortment of baked goods is quite impressive. Mexican bakeries are self-serve; simply grab a tray and tongs, scoop the goods and pay at the counter. This means you get to choose the pastry that's slightly bigger than the one next to it!
Prices are listed for each item so you won't be shocked while paying. Speaking of prices, expect to pay 10 pesos or less for the most perfect-looking sweet treats you'll ever find. Fill your tray and be amazed by how cashiers know the price of each pastry, biscuit, cookie and croissant. Nobody thinks of bakeries in Mexico but following our advice will change that for you!
 Understand Provecho While Traveling in Mexico
The word provecho is commonly used at restaurants in Mexico. Even if your Spanish isn't good, listen for this word and use it yourself. The meaning of this polite phrase is similar to bon appetit. Listen for "Provecho" from your server or other diners and simply reply with a polite "Gracias" when you do. Note: The less common variation buen provecho means the same thing.
While entering restaurants, Mexicans often wish provecho to the patrons they make eye contact with. It's also polite to say this to nearby dining customers as you leave the restaurant. Practice good manners and use provecho yourself; it's one of the respectful things to know before traveling to Mexico. You don't need to know much Spanish for this, so there's no excuse to skip this phrase.
 Mind Your Manners and Wash Your Hands Before Eating
Some restaurants have a sink in the dining room for washing hands before and after eating. These may be in addition to sinks in the restrooms. We've noticed less and less of these, especially in newer restaurants. Be prepared to see sinks and practice good manners by using them when you do. After washing your hands say "Provecho" (see above) to fellow diners on the way back to your table!
 Know Where to Buy Drinking Water in Mexico
Everybody knows to avoid drinking tap water in Mexico. So, what do you do? Find a purificadora, or water filtration shop instead! Purificadoras fill any container with purified drinking water. They charge pennies per gallon (or liter), much less than typical shops selling branded drinking water. Purificadoras offer water at a good value and they offer another big advantage…
Paying less for drinking water is good and so is filling a reusable container. Going to a purificadora with your container means saving the consumption of yet another throw-away plastic bottle. These filtration shops are very common in Mexico; search online for a purificadora or purificada near you and reuse a container during your visit.
 Know How and Where to Get FREE FOOD With Your Beer
Yes, you read that right! Online tips for Mexico travel never mention getting free food with your beer and that's just a shame. We're not talking about just a bowl of peanuts here; know the word botanas  and when, where and how to ask for them. Botanas feature anything from tacos, braised ribs, soups and stews and even fried fish. You want travel tips for Mexico and we're happy to share them!
Going out for a beer? Simply say "Hay botanas?" (eye-bo-tahn-ahs) and see what they serve you. Not every bar/cantina serves botanas but those that do only offer them after your second beer. Some places offering botanas have rotating menus and your next dish may be different than the first! Check out a few places during your visit to Mexico and get to know all about botanas.
 Get To Know the BIG Bottles of Beer
Finding cheap beer in Mexico involves buying 1.2 liter returnable bottles. Getting an even better value means you need our tip. This pointer involves exchanging certain empty bottles for full ones. This exchange isn't mandatory for purchase, it just saves you paying an extra fee of at least 10 pesos. No empty bottle to exchange means paying at least 10 pesos above the listed cost per bottle. As always, there's a trick to this…
Mexico has two brewery powerhouses: Grupo Modelo and Cerveceria Cuauhtemoc-Moctezuma. Empty 1.2 liter bottles affiliated with one brewery aren't accepted for purchase from the other. Also, not all brands come in this economical size! A smaller returnable bottle (940 ml)  with similar rules also applies, however we don't mention those bottles here. So, how do you sort this all out?
Nationwide OXXO shops and SIX agencies only sell brands from Cuauhtémoc Moctezuma Brewery. Brands sold in 1.2 liter bottles include Indio, Tecate, Sol, Carta Blanca Dos Equis and the impossible-to-find Superior. Your bottle exchange must be for an affiliated brand such as a Tecate bottle for an Indio and so on. Again, you don't have to return your bottle to the exact shop, just a similarly affiliated one.
Nationwide Kiosko shops and Modelorama agencies only sell beer brands from Grupo Modelo brewery. These 1.2 liter bottles include Corona, Pacifico and Victoria. Only exchange Grupo Modelo brands for beers from the same brewery. Any empty 1.2 liter bottle from this brewery can be exchanged for any brand from the same brewery. Again, the exact shop doesn't matter, just a similarly affiliated one.
---
Tips for Traveling Around in Mexico
This article doesn't cover car rental or legal requirements for vehicles, however we do mention an important tip for drivers. Are you renting a car in Mexico or bringing your own? If so, see our article on driving in Mexico located in the box at the top of this page.
Not Driving? Traveling by bus in Mexico is excellent! Thousands of routes, cities and towns are served by hundreds of different bus companies. Buses aren't always the best deal and sometimes domestic flights in Mexico make better sense.
 Be Prepared for Military Checkpoints
Covering long distances, either on a bus or driving, means stopping for routine inspections. Checkpoints throughout Mexico are common so don't fear the sight of these. Instead, do what you're asked to do and you'll be on your way in no time. Bus inspections take considerably longer due to the vehicle size and the number of passengers to process.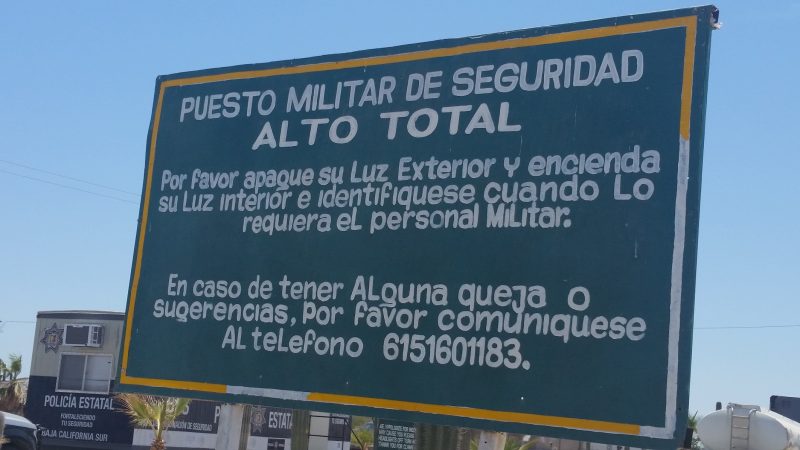 For drivers, expect to answer where you're going or where you've come from. Have your passport ready; random secondary screenings involve exiting your vehicle. Bus passengers may be asked to exit en masse while soldiers examine the vehicle. Inspectors may search anyone's belongings. Anticipating military checkpoints during your visit is simply real travel advice for Mexico you must know about.
 You Don't Need to Reserve Bus Travel in Mexico
Again, bus travel in Mexico is very frequent and routes are often operated by multiple carriers. We do recommend reservations during the peak travel seasons of Christmas, Easter and July/August summer vacation; otherwise arrive at the bus station and purchase your ticket on the day of travel. For fare information, timetables and links to carrier websites check out rome2rio.com and search any route.
We've covered many miles by bus in Mexico, always taking the next available departure without reserved tickets. Besides, many carriers either don't have websites or don't properly maintain the ones they do have! Insisting on a reserved seat but cannot purchase it online? Simply arrive at the bus station several days prior to travel and purchase tickets in advance.
 Consider Where You Sit on the Bus
Ticket agents let you choose your seat, and that decision is crucial for comfort. Consider solar glare and choose a side of the bus away from the sun. Missing or damaged curtains and window tints make any solar glare unbearable. This consideration may sound minor but your ride will be more enjoyable without that blast of sunlight. Picked a bad seat? Buses aren't always full so just move to another spot during the ride.
On the subject of comfort, always keep a long sleeve top or light jacket with you on any bus. We've been on many buses with refrigerated air mercilessly blasting us for hours. When it happens we always have insulation and we suggest you do the same. If you don't need to wear it , use it for a pillow instead. For sleeping, make sure you've kept your earplugs handy (see below).
 Haggle When Taking Taxis
Taxis are common everywhere in Mexico, not just big cities. These are also quite affordable, especially with a bit of haggling as a foreign visitor. Meters rarely exist in Mexican taxis, so always establish, then politely ask for a lesser price. Agree on a fare before getting into the taxi. Again, taxis are quite common in Mexico and drivers are always ready to pick up passengers.
 Consider Flights While Traveling in Mexico
Above we mentioned how inexpensive flights in Mexico can be. We once purchased a one-way, nonstop flight from Mazatlan to Tijuana; this was slightly cheaper than a three day, multi-stop journey by bus! Moving on to Mexico City from the Mayan Riviera or vice versa? Compare flights to buses and see what the results are. We were happy to discover a flight would save us plenty of time and money!
Our flight to Tijuana was on VivaAerobus, one of Mexico's budget air carriers. The price was still cheaper than a bus even though our fare class (Vivasmart) included unlimited date changes, which actually came in very handy in early 2020! Also, check out the carrier Volaris for deals to many Mexican destinations, or any airfare search site like Skyscanner or Kayak.
---
Accommodation Tips While Traveling in Mexico
As promised, we don't mention what accommodation to book before your trip or where to get deals – you can sort that out yourself. Instead, many of the following Mexico travel tips center on things you need to know when you get to your accommodation.
Considering long-term travel in Mexico? We have a special section below just for you. No matter how long you stay, bring our practical tips along on your next journey and always get the best deal on accommodation in Mexico!
 Listen Up! Don't Forget Your Earplugs!
Many hotels are noisy for a variety of reasons like late night mirth makers across the hall, a nightclub downstairs or whatever. Mexico adds a few extra noises to that mix like barking dogs, roosters at sunrise, street noise and random fireworks at any hour. Never underestimate the sleep-robbing sounds which exist in Mexico and don't overlook the importance of earplugs.
We don't travel without earplugs; I personally wear them on buses (see above), planes and occasionally while walking down the street. Again, Mexico is noisier than you're used to at home so keep earplugs handy and get solid sleep. Heading out to a seafood restaurant? See our tip about roving musicians in the Travel Tips for Eating and Drinking section above and bring those earplugs to dinner.
 Check Your Room Before Settling In
Always check the condition of your room before getting comfortable. Things like leaking drain pipes beneath the bathroom sink, malfunctioning toilets, windows stuck open (or closed), broken televisions and missing fixtures are common in many types of accommodation in Mexico. Most guests seldom report these flaws and things that do get fixed aren't always executed properly.
Needing to change rooms is easier without moving in first. Also, be certain doors open, close and securely lock; twice in Chihuahua we had rooms with perfectly normal looking locks and doorknobs that didn't work when needed. So, have a good look around, point out anything which needs fixed and ask for another room if you must. Some deficiencies will be minor to you and some won't.
Budget Accommodation Tips for Long-Term Travelers in Mexico
Backpackers and independent travelers planning extensive stays in Mexico should consider the following tips. Accommodation prices may be crucial to your budget, so do what we do; our experience helps us cover all travel costs on a budget of $15 USD each per day. This may sound sparse (and it is!) however the following pointers aren't reserved for people interested in such a meager budget!
 Don't Book Budget Accommodation Online
Our experience as long-term travelers in Mexico tells us avoid booking online. Why? Well, you'll never know the real price of a room by booking online. What's the real price, anyway? Hotels list their rates at the front desk; these are almost always cheaper than online rates. You can't compare an online rate to the one listed at the front desk. Shop for budget lodging on the ground, know the real rate and pay it.
Not having booked before arriving seems crazy but doing this almost always guarantees a cheaper rate. Of course, it makes sense to book online in some cases like arriving someplace late at night. Otherwise, budget and independent-minded travelers should consider our offline accommodation tip for traveling in Mexico to save money. Don't overlook our next tip to really save money…
 Haggle For a Cheaper Room Rate
We mention the offline room rate above and how this almost always beats the online price for the same room. This offline price is a starting point to haggle for a cheaper rate, especially for stays of a few nights or more. If the price at the desk is 350 pesos, ask for a rate of 300 pesos in exchange for staying a few nights. We do this and almost always get a discounted rate. This is also acceptable and quite common.
Also, ask to see a few rooms first as this is quite common at hotels in Mexico. Only haggle if serious about staying there and don't be rude in the process. Haggle only if prepared to take the room for the listed price at the front desk, as bargaining doesn't always work. If you pay for, say, two nights at the discounted rate simply ask the hotel if they'll honor that rate should you decide to extend your stay.
 Shop Around for Accommodation
You'll find many hotels in Mexico clustered near each other. Bus stations often feature a selection of good value sleeping options. Even small towns feature a group of hotel options near the center. Visit each establishment, see a few rooms and compare prices. Often these hotels are of the same class, often charging similar prices. It's a buyers market so shop around and don't forget to haggle (see above).
The amount of hotels here competing for business is astounding! Just search-up your destination on Google Maps and discover the amount of hotels which exist seemingly anywhere in Mexico. Simply follow each of our tips and never pay more than you should for accommodation.
---
Your Money in Mexico
This advice extends beyond where and when to exchange your home currency to pesos. Learn how simply paying with cash may turn awkward without our tips before traveling to Mexico for the first time. Also, check xe.com for up-to-the-minute currency exchange rates.
 Cash is King in Mexico
Be prepared to pay for almost everything with cash in Mexico. The vast majority of purchases by travelers are cash-only transactions. Knowing this is very important, so pay close attention to our tips below. Credit/debit card payments for just about everything is common north of the border and it's easy to assume this for Mexico. Well, this simply isn't the case here.
 Try to Avoid Paying With Large Bills
Paying with 200 peso and especially 500 peso bills is difficult in Mexico because many vendors/merchants simply don't have enough change. That taco cart on the street or that cold drink from the corner shop should be paid with smaller bills or 10 peso coins. Paying at large restaurants, chain shops, grocery stores and for bus tickets are the exception to this tip.
We once gave a merchant two 20 peso bills for a 30 peso product. This sent the merchant scrambling to neighboring businesses in order to get small change. Try to get smaller bills during currency exchange (see below). Of course, you don't always want a huge stack of multiple bills either in your wallet either and that brings us to our next travel tip…
 Break Large Bills at Banks
It makes sense to have some large bills but you should change these from time to time. Banks break large bills for you, even if you don't have an account with them. Bank tellers may ask for your passport so make sure you have this. Getting several 500 peso bills broken into smaller denominations is acceptable. Speaking of banks, this brings us to another of our travel tips in Mexico…
 Get the Best Exchange Rate in Mexico
Banks in Mexico offer better currency exchange rates than what you'll find almost anywhere. We strongly recommend having some pesos with you upon entering the country, then exchange the rest during your visit. In the past several different banks offered these great exchange rates to anyone. Currently, only one Mexican bank exchanges USD, CAD and EUR without needing an account: Banco Azteca.
You'll find over 1,700 Banco Azteca branches, many found inside the equally-prolific Elektra appliance stores. Again, have your passport with you in order to exchange the currencies which Banco Azteca accepts. Exchange rates will likely be better anywhere in Mexico than in your home country. Still, we recommend arriving in Mexico with at least some local currency.
 Beware of Ripped/Torn Bills in Mexico
We've established cash is king here (see above) but know that ripped/torn bills are occasionally unaccepted in Mexico. Vendors or merchants may accept damaged bills without noticing the flaw. Again, banks come to the rescue by happily exchanging a damaged bill with one in better condition. If the bank accepts these, we don't know why torn bills are shunned by people in Mexico…
 How To Avoid Getting Robbed at ATMs in Mexico
The only robbers here are the banks! Know which method of getting cash in Mexico is best for you, including which ATM(s) offer the least fees. Know which global partnerships your bank at home has. Our financial institution partners with Scotiabank in Mexico; strictly using their ATMs is our best bet. Your bank will answer further questions about foreign transaction fees.
Here's a sneaky charge ATMs in Mexico try collecting from you: their conversion fee. Simply decline this conversion fee while making your ATM withdrawal; the screen prompts you to either accept the conversion or not. Accepting this means the bank operating the ATM scrapes off 1 – 3% or more of the transaction value for themselves. Always decline this unnecessary option when you see it.
---
In Conclusion…
That wraps up our tips for traveling in Mexico. We have more to experience in this country ourselves, and more tips to pick up along the way. A bit of chance and choice saw us living here from 2019 through 2020; this helped us gain an even better understanding of how things tick in Mexico. To be brutally honest, we still don't always understand it! Please, share with us any tips from your travels in Mexico!
---
Pin Me Now!