Last Updated on January 14, 2021
Is it possible to do a Baja California road trip on a budget? Our response to that is an unequivocal yes. Not only have we hitchhiked the Baja Peninsula, we've also driven the length of it (down and back) on two separate occasions. Our experiences have armed us with all of the information you need for a budget-minded Mexico road trip.
All rates are reflective as of July 2018 with an exchange rate of $1 USD to $20 MXN.
Baja California Road Trip Budget Breakdown
Naturally, your finances will dictate the framework of your trip. Our budget is $15 each per day, so keep this in mind as a benchmark for what follows. Even if your Baja California trip involves hitchhiking and backpacking our trip tips are just what you need. These useful tips will take you from the international border up north to the iconic Land's End down south, all whilst watching your pennies.
This article focuses on every aspect of your Baja California road trip on both the Transpeninsular Highway 1 and Highway 5. You'll find advice on vehicle maintenance, tolls, driving conditions, accommodation options, cheap eats and frugal ways to while away your time. We'll also include the odd treat to splash out on and some useful insider tips you may be unaware of.
Disclosure: This article contains affiliate links to products and services whereby we receive a nominal commission if you make a purchase through one of these links. This comes at no extra cost to you. Please see our Disclaimer for full information.
---
Tips For Your Baja California Road Trip
Accommodation: 
This is the Baja  – hotel rates are higher here than on mainland Mexico.
Border town hotels are even more expensive. Get an early start and stop overnight as far from the border as you can.
Hotels in Mexico often list their prices on site. It is okay to haggle for a better rate. By offering to stay longer you may get a discount.
Don't pre-book – you can haggle for a reduced rate by walking in. Hotels may be fully booked-out during holidays so always have a plan b.
Hotels in larger, more popular cities frequently raise rates on weekends. Avoid weekends!
Auto motels (hourly motels) can offer more favourable nightly rates.
Eating and Drinking on Your Road Trip Through Baja Mexico:
Two people can easily split a plate rather than ordering a meal each.
It's perfectly acceptable to bring your own beer or any drink into many restaurants in Baja Mexico.
Brown-bag it instead of going to a bar – buy a tin of beer, wrap it in a street bag and find a nice spot to discreetly enjoy it.
See our posts highlighting the cheapest eats along the Baja Peninsula and the best spots for fish tacos –  a Mexico road trip staple.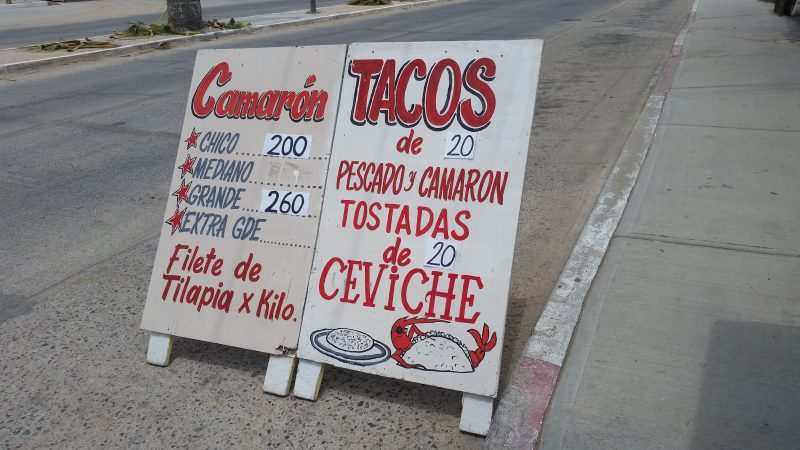 Tolls:
Have small bills for tolls during all road trips in Mexico (and for everything else). Trying to get change for anything bigger than a 20 peso note anywhere in Mexico is equivalent to capturing a unicorn and equally as confounding!
Currency Exchange:
To exchange dollars for pesos, look for Banco Azteca, located inside Elektra department stores. This is the only bank which exchanges money for non account holders. You must have your passport with you for currency exchange
 Larger cities have cambio kiosks for currency exchange, aka casa de cambios, in addition to Banco Azteca branches.
Camping:
Bring plenty of flypaper – you'll need it. You won't find this anywhere on your road trip down the Baja Peninsula.
Bring basic camping equipment – chairs, pots and pans, pillows, stove etc.
Bring a proper hammock. Most beaches have palapas with sturdy support posts ideal for stringing up a hammock for relaxing.
Bring empty containers and stock up on water for pennies from a local purificadora. 
Gather your own firewood wherever you find it. Campfire restrictions are not enforced or posted.
For a quick firelighter use a ball of cotton wool slathered in Vaseline.
Bring a hip flask and a small funnel to fill it. This is also good to help while away the hours!
Beach camping on the Baja Peninsula is beautiful but it's definitely wise to have an outlet to kill time. We tend to refer to this land as the Blah-ha and cannot recommend enough having a kayak and a hip flask!
Want Even More Information for Your Baja California Road Trip?
Driving Advice for Your Baja California Trip
All of Baja Mexico is in the Free Zone. You do not need a T.I.P. (Temporary Importation Permit) for your vehicle.
Arm yourself with a Baja California Map before hitting the highway.
Don't drive at night as herd animals often soak up the heat of the road after the sun goes down.
Military checkpoints are common and not to be feared as long as you aren't carrying anything illegal.
Beware of potholes like you've never seen before.
You'll encounter topes (speed bumps), often full of potholes themselves!
Llanteras are like Mexico's answer to a local pit crew. They specialise in replacing your punctured tyres with used tyres.
Road trips in Baja California will challenge your fortitude as a driver.
Time Zone Change:
Don't forget to change the time when crossing from the state of Baja California to the state of Baja California Sur. Guerrero Negro and all points south are one hour ahead (forward) of Baja California state (Baja North).
---
What's in a Name? Is It Baja Mexico or Baja California?
The Baja Peninsula is somewhat polyonymous! This is referred to as Baja Mexico, Baja California, the Baja Peninsula or just the Baja. If that's not enough, this peninsula is divided into the states of Baja California (Baja North) and Baja California Sur (Baja South).
Need a Place to Stay on Your Baja California Road Trip?
You'll always find somewhere special to stay through Airbnb. From rural getaways to luxury spots in the city, Airbnb's Baja Mexico listings offer something for everyone. Find your ideal place to stay and wake up ready for more Baja adventures!
For a good selection of conventional accommodations at the best prices we recommend Hotels.com for your next stay. Choose from resorts, familiar national chains or smaller independent hotels on the peninsula or throughout all of Mexico.
Let's not forget the Baja California Sur abbreviation of B.C.S. which you'll see when entering Guerrero Negro. Throughout this article I interchange my reference to the Baja by using many of the aforementioned names.
Where to Begin Your Road Trip Through Baja Mexico?
Transpeninsular Highway 1 runs the entire length of the Baja Peninsula from Tijuana to Cabo San Lucas. The border crossing at either San Ysidro or Otay Mesa puts you directly onto Transpeninsular Highway 1.
The border crossing at Tecate leaves you with the option of either Highway 2 west or Highway 3 south, both of which connect with Transpeninsular 1. If you plan on exploring the east coast you can take Highway 2D (toll road) to Mexicali and connect with Highway 5 south. For more about Highway 5 see Cabo San Lucas, Baja California Sur below.
Baja California Border Crossings
Border hours are subject to change, verify all up to date hours online beforehand. There are six United States/Mexico border crossings to choose from before starting your Mexico road trip:
San Ysidro to Tijuana crossing (24 hours)
Otay Mesa to Tijuana (24 hours)
Tecate to Tecate (5:00 am – 2:00 pm)
Calexico east to Mexicali (6:00 am – 2:00 pm, Monday through Friday. 10:00 am – 2:00 pm, Saturday. Closed Sunday)
Calexico west to Mexicali (24 Hours)
Andrade to Los Algodones (6:00 am – 2:00 pm daily)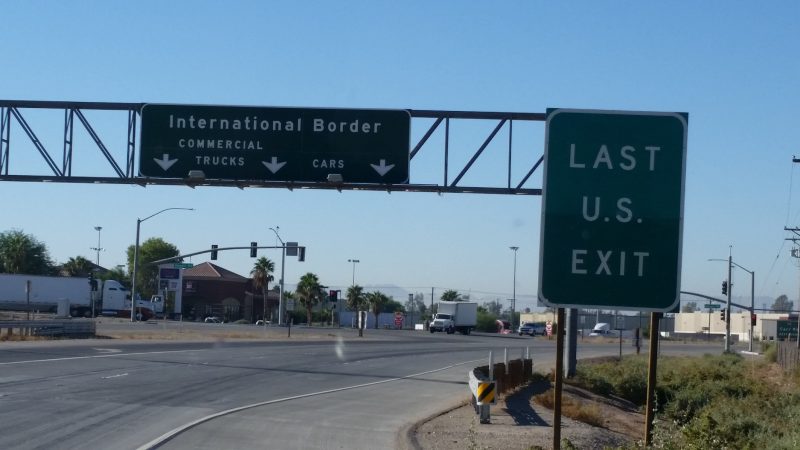 Border Crossing Basics
No matter how and where you cross the border, foreign citizens regardless of age you MUST fill out the official entry form to enter Mexico. The FMM form (Forma Migratoria Múltiple) is also known as the Mexican tourist card and sometimes referred to as a Mexican tourist visa.
Upon completing the form and paying the fee your passport is stamped and you are given the bottom section of the form. This is your Mexican tourist card, make sure it has a valid stamp before leaving the counter and also check the stamp in your passport. Do not lose this card!
We have encountered two different ways of paying for the FMM tourist card, both at the same border crossing. Our first experience had us take our paperwork to the on-site cashier where we received an official receipt for our payment.
Unfortunately, our second experience involved paying the guy behind the counter who stamped our forms. This price was listed in both pesos and dollars. We paid in dollars in order to hang onto our pesos for spending during our Mexico road trip.
Long story short, we were had second time round. We ended up paying an extra $10 USD than if we if we had paid this fee in pesos. We recommend paying for your FMM tourist card in pesos only. Also know your exchange rate, have a calculator with you and get a receipt!
---
Destinations and Attractions on This Road Trip Through Baja Mexico
This article lists many towns from north to south which serve as stopping points on the Baja Peninsula. Also included are budget accommodation options, cheap and tasty food choices, attractions, camping spots and distances to these towns from each border crossing.
---
Distance to Ensenada, Baja California From:
Tijuana border: 104 km (65 miles)
Tecate border: 108 km (67 miles)
Mexicali border via Toll Highway 2D: 235 km (146 miles)
Los Algodones border via Highway 2 and Toll Highway 2D: 322 km (200 miles)
Overview:
Ensenada is a busy port town and therefore one of the main cities in Baja Mexico. This is also the closest major city to the border after Tijuana. As a result of such Ensenada is one of the more expensive places to find accommodation. Having said that it's also one of the better cities to stock up on any supplies you'll need for your road trip in Baja California. There's even a Walmart in Ensenada.
Accommodation Options in Ensenada
Hotel Hacienda
Where: Calle 2 and Alvarado, Zona Centro.
Rates: 600 MXN (30.00 USD) per night mid-week and 1,000 MXN (50.00 USD) per night on weekends
Although the website claims it is kid friendly, I'd leave the kids at home. Here you can get some extra decor – mirrored ceilings and stiletto shaped chairs! There are also the extra t.v. channels and you can rent the room in a block of 4 hours. In short, this is also an hourly motel.
Weekends are very popular and they charge a higher rate during this time, roughly $50 per night. Hotel Hacienda is centrally located and there is parking. As budget hotels go in Ensenada, this is one of your better options for a hotel here so aim for mid-week rates.
Budget Alternative to Hotels in Ensenada
Too cheap to stay in a hotel? So are we! It is possible, not necessarily permitted, but possible to very discreetly sleep in your vehicle in the parking lot of the casinos in Ensenada. We have personally availed of the parking lot of Skampa Casino and Casino Caliente. These lots are very small, so discretion is key. Be prepared to possibly get moved on or to have to pay a mordida (literal translation is bite), also known as a bribe in Mexico.
Local Pemex stations have been recommended on iOverlander. Having been hit up for a mordida in the middle of the night, we don't recommend it.
Food & Drink in Ensenada
La Guerrerense
Address: Corners of López Mateos and Alvarado
Hours: 10:30 am – 5:00 pm daily. Closed Tuesday.
Of all the things to do in Baja California, eating fresh seafood should be top of your list. La Guerrerense has been serving up seafood tostadas for over 40 years but shot to prominence when it was featured on Anthony Bourdain's "No Reservations" in 2012. Is it the cheapest seafood around? Probably not, but it may be the best chance you have of trying a sea urchin ceviche tostada at this price – 90 MXN ($4.50 USD).
Hussong's Cantina
Address: 113 Avenida Ruiz
Hours: 11:00 am – 2:00 am daily. Closed Monday.
Hussong's Cantina is touted to be the oldest cantina in Baja California. As a result of which this is slap-bang on the tourist trail but you'll find plenty of locals here too. Frequented by Hollywood's glitterati during it's heyday, Hussong's Cantina continues to attract quite the crowd. Prices are listed on a board above the bar.
Day Trips from Ensenada
Mexico may not be known for it's wine, but 20 km (12 miles) north of Ensenada are the vineyards of the Valle de Guadalupe. Known as the Ruta del Vino Ensenada, this is also referred to as the Napa Valley of Mexico.
Wineries in this region have become a favourite weekend getaway of Southern Californians. Not only have the wineries and their tastings built up a reputation, so too have the chic restaurants with Michelin star chefs accompanying them. Not exactly free, but maybe you fancy a tipple and a splurge.
A quick spin along the coast will take you to La Bufadora Ensenada. Located 34 km (21 miles) south of Ensenada, this marine geyser (blowhole) is a quick diversion off of Transpeninsular 1. Get there at high tide for the full effect and try to get there early if possible to avoid the vendors who line the thoroughfare to this free natural wonder. Otherwise, you may be left wondering why you even bothered!
---
Distance to San Quintín, Baja California From:
Tijuana border: 286 km (178 miles)
Tecate border: 290 km (180 miles)
Mexicali border: 417 km (259 miles)
Los Algodones border via Highway 2 and Toll Highway 2D: 493 km (306 miles)
Overview:
What is there to do in the town of San Quintín? Not a whole lot, but this is where one of our favourite budget hotels on the Baja is. Conveniently enough right next door to the hotel you will find the best tacos you may ever eat. San Quintín is just a good stopping point to break up the journey.
Budget Accommodation in San Quintín
Hotel Uruapan
Where: Carretera Transpeninsular 1 southbound at Km. 190, San Quintín, B.C.
Rates: 400 MXN (20.00 USD) per night
This clean, basic hotel has been our go-to since our first Baja road trip in 2013 and we keep returning. The shower is almost big enough to turn a car around in and the hot water is ample. The Wi-Fi works better in some rooms rather than others. The beds are comfortable and clean. Don't plan on watching too much t.v. though, there are only a couple of fuzzy channels available. There is parking on-site.
Food & Drink in San Quintín
Tacos Los Poblanos
Address:  Southbound Transpeninsular 1, just beyond Hotel Uruapan.
Hours: 9:30 am – 12:00 am Sunday, Monday, Wednesday and Thursday (Closed Tuesday). 9:30 am – 3:00 am Friday & Saturday.
Drool-worthy beef tacos to remember for the rest of your life are the basis of the menu here. You'll see many places called "Tacos Los Poblanos" during your travels throughout Mexico but none will ever compare to this one. Let the queues of locals attest to their reputation. These tacos come with a very strong Drifter's Recommendation.
Day Trips from San Quintín
Less of a side trip and more of a continuation of your journey south you will find Cataviña. You will encounter this blip on the radar 110 miles south of San Quintín. This small town is known for it's gypsy gas and some minor cave paintings.
However it is the dramatic change in the landscape around Cataviña that is so striking. A dry barren landscape suddenly becomes filled with thousands of massive boulders. These boulder fields interspersed with Boojum trees and Mexican Giant Cardon cactus continue for miles.
---
Distance to Bahía de los Ángeles (Bay of L.A.) From:
Tijuana border: 641 km (398 miles)
Tecate border: 644 km (400 miles)
Mexicali border via Highway 5 through San Felipe: 527 km (327 miles)
Los Algodones border via Highway 2 and Highway 5 through San Felipe: 604 km (375 miles)
Overview:
Bahía de los Ángeles is located on Highway 1 which is an off-shoot of Transpeninsular Highway 1. Just follow the signs for Bahía de los Ángeles at Parador Punta Prieta which serves as the junction of these two roads.
Set in an amazing backdrop of mountains, boojum trees, cacti and desert, the town sits on the Sea of Cortez. Not only is fishing a way of life for most of the locals, but sport fishing for yellowtail is the main tourist draw here.
Within the town you will find any basic supplies you may need, however come prepared. The pace of life is slow here and things that you take for granted elsewhere operate at a different speed in Bay of L.A. For e.g. there are two petrol stations in town, when they are out of petrol you may find yourself waiting up to a week for a delivery!
Accommodation Options in Bahia de los Ángeles
There are a few hotels in town but we chose to beach camp so we cannot attest to any of the accommodation options available.
Free Accommodation in Bahia de los Ángeles
You guessed it – beach camping! Playa La Gringa is only 8 km (5 miles) from town and there is ample dry firewood for the taking along the way. Rather than the powdery white sands of Bahía Concepción this little gem of a pebble beach is overlooked by most. Summers on the beach here are brutal as there is no shelter to be had unless you have your own awning or canopy.
Come equipped with your own kayak and snorkel – you'll love exploring the crystal clear waters here. Unlike other Baja California beaches there are no vendors here renting out equipment or selling anything during our visits here. Come prepared with whatever supplies you'll need. For those of you who really want to get away from it all Bay of L.A. is perfect, not to mention beautiful. On top of all that camping is free here.
What to Eat in Bahia de los Ángeles
Grab a bite to eat in town or cook for yourself. Should you plan on eating in town get there early; Bahia de los Ángeles closes up by early evening. Expect plenty of fresh seafood to predominate most menus here.
Day Trips from Bahia de los Ángeles
Take yourself and your vehicle on an adventure out to the isolated Misión San Francisco de Borja Adac. Although only located 57 km (35 miles) from Bahía de los Ángeles town, 24 of these miles are on a bumpy, rutted, gnarly dirt road. The final 16 km (10 miles) to the mission are the worst; take it slow and you'll make it to Misión San Francisco de Boria Adac.
---
Distance to Guerrero Negro, Baja California Sur From:
Tijuana border: 710 km (441 miles)
Tecate border: 714 km (444 miles)
Mexicali border via Highway 5 through San Felipe: 597 km (371 miles)
Los Algodones border via Highway 2 and Highway 5 through San Felipe: 662 km (411 miles)
Overview:
Although the actual town of Guerrero Negro is relatively drab, it has become a favourite stopping point of ours. Give us a great budget hotel and some tasty, cheap street eats and we are happy.
Guerrero Negro officially marks the separation of Baja California (Norte) and Baja California Sur. It is here that you will change the hour time difference. You will also pay 20 MXN (1 USD) at the agricultural inspection station to have the underside of your car sprayed to keep Northern Baja insects out of Southern Baja! 'Cause you know, they won't just walk or fly into southern Baja, they rely on a lift.
Guerrero Negro is home to the largest evaporative salt production facility in the world. Tours of the evaporative salt beds are available.
Cheap Accommodation in Guerrero Negro
Hotel La Posada De Don Vicente
Where: Carretera a Guerrero Negro
Rates: 350 MXN (17.50 USD) per night
Hotel La Posada de Don Vicente is hands down the best value budget hotel on the Baja Peninsula. Not only is it the cheapest hotel we've found on the Peninsula but it is the best in our budget range anyways.
The rooms are huge, the beds are comfortable, the shower has loads of hot water and best of all (for me anyways) the television has not just VH1, it also has VH1 Classic – score! Oh yeah, and it's clean. Again, these rooms are basic but let's remember our budget. Hotel La Posada de Don Vicente has great Wi-Fi and also has secure on-site parking.
Eating on a Budget in Guerrero Negro
Tacos El Muelle
Address: 12 Carratera Guerrero Negro, next to Farmacia Similares.
Hours: 10:00 am – 3:00 pm daily.
Choosing the best fish taco in Baja Mexico is near impossible. However Tacos El Muelle may just edge out the competition. The secret is in the seasoning of the batter and that is just how it shall remain – a secret. For 23 Pesos ($1.15 USD) why not indulge in a few of Baja's best fish tacos at this local food truck. In case you didn't know Tacos El Muelle comes with a very strong Drifter's Recommendation.
Whale Watching Near Guerrero Negro
Guerrero Negro's greatest claim to fame is that of being one of the best spots to go whale watching in Baja California from late December through April. Just south of the town lies Ojo de Liebre Lagoon, also known as Scammon's Lagoon – a favourite Winter getaway for these great grey giants. Naturally this means pre-booking accommodation if you plan on visiting during whale watching season.
Grey Whales make a 6,000 mile journey from the Bering Sea to breed and give birth in the warm lagoon waters of the Baja Peninsula. Humans journey from all over the world to witness this spectacle. There are many Baja whale watching tours and cruises to choose from during the season. Regulations are in place to ensure these operators practice responsible whale watching, in compliance with these guidelines.
Other areas on the Pacific coast offering whale watching tours are San Ignacio Lagoon and Bahía Magdalena (Magdalena Bay). Whale watching seasons vary according to location so check beforehand. If your budget and timing allows, this may be the chance to treat yourself to this once in a lifetime opportunity. Expect to pay around $50 USD per person, per tour.
An Additional Day Trip From Guerrero Negro
Looking for something different, little visited and free during your visit to Guerrero Negro? Check out the Dunas de Soledad, located 6 miles north of town, close to the military checkpoint. Thanks to the winds, this ever changing landscape is in a constant state of shape shifting. Make sure you bring your camera, with sunrise or sunset being the optimal time to take snaps.
---
Distance to Mulegé, Baja California Sur From:
Tijuana border: 983 km (611 miles)
Tecate border: 986 km (613 miles)
Mexicali border via Highway 5 through San Felipe: 869 km (540 miles)
Mexicali border: 1,113 km (692 miles) via Tecate and Ensenada
Los Algodones border via Highway 2 and Highway 5 through San Felipe: 946 km (588 miles)
Overview:
Mulegé is a sleepy little town in the Summer, but Winter is a whole different story. Every October snowbirders from the U.S. and Canada flock to the beaches just south of town. Here they set up camp in everything from pop-up trailers to massive RVs hauling every toy they could need to while away the Winter.
The town offers all you could need for beach camping  – a mini supermarket, a laundromat, post office, restaurants, street food, a purificadora and petrol station. Most businesses are closed by 8:00 pm, so this is not a party town.
As you round the bend and catch your first glimpse of Playa Santispac, which is the first beach you'll encounter heading south, it becomes obvious why people return here year after year. Miles of undeveloped beaches dot the coastline of Bahía Concepción; claim your spot and spend your days kayaking, swimming, birdwatching, fishing and relaxing in stunningly natural surroundings.
Accommodation Options in Mulegé
Hotel La Noria
Where: Northbound side of Transpeninsular 1, near the entrance of Mulegé.
Rates: 350 MXN (17.50 USD) per night
As this is the only budget hotel we have stayed at in Mulegé, it therefore gets the review. Unfortunately it's not a terribly good review. La Noria is way overpriced for what you get. The Wi-Fi is abysmal, there is no hot water, the television doesn't work and the beds are none too comfortable. Don't expect to get too much sleep during your stay, the noise of traffic just outside your door will guarantee that. In short, either be prepared to spring for a more expensive hotel or otherwise beach camp.
Additional Sleeping Options Near Mulegé
Two words – beach camping! Take your pick of the beaches, sling a hammock and set up camp. You won't be disappointed, just come prepared. The price of camping is negotiable so make sure you haggle and get a receipt. Expect to pay at least 100 MXN (5.00 USD) per night. Caretakers typically come around during late evening to collect fees.
Bahía Concepción continuously makes top 10 lists of the best sea kayaking in the world! Paddle out to deserted islands all within reach of even a novice paddler. For those of you who like stand up paddle boarding (SUP), the glass-like waters of the bay are perfect for a peaceful paddle, not to mention ideal for snorkeling too.
If you have embarked upon a Baja California road trip this is your holy grail. Beach camping doesn't get any better than paddling about in these waters and sleeping under a star filled Baja sky.
Where to Eat in Mulegé
Mariscos Peralta's
Address: Northbound side of Transpeninsular 1, near the entrance of Mulegé.
Hours: 8:00 am to 4:00 pm, Wednesday through Monday. Closed Tuesday.
You will find quite a few establishments in Mulegé offering the ubiquitous fish taco, but none can beat Mariscos Peralta's. We discovered this simple little stand in 2013 and have been dreaming of these tacos since.
Located on the north side of Transpeninsular 1, Mariscos Peralta's couldn't be handier to stop for the ultimate Baja snack – a deliciously crisp fish taco and an ice cold beer. Tired of fish tacos? Switch it up and try some cold, fresh ceviche.
Things to Do in Mulegé
Aside from drifting from beach to beach, you can check out the old prison museum in Mulegé. The prisoners in the past were released during the day to work in the town and returned to their cells at night! You can also visit Misión Santa Rosalía de Mulegé, perched on a hilltop in town.
---
Distance to Loreto, Baja California Sur From:
Tijuana borer: 1,117 km (694 miles)
Tecate border: 1,121 km (697 miles)
Mexicali border via Highway 5 through San Felipe: 1,004 km (624 miles)
Mexicali border via Tecate and Ensenada: 1,247 km (775 miles)
Los Algodones border via Highway 2 and Highway 5 through San Felipe: 1,080 km (671 miles)
Overview:
Loreto is firmly established on the tourist trail. If your budget allows you will find plenty of things to do in Loreto; scuba diving, kayaking, snorkeling, charter boat deep sea fishing tours and plenty of deluxe accommodations. Take a boat tour to Isla Coronado, just off the coast and enjoy the local marine life.
As for the rest of us on a budget, our sight seeing activities may be a wee bit more limited but we can still amble about town, have a discreet brown bag beer on the malecón and enjoy some cheap eats.
A Budget Motel in Loreto
Motel Salvatierra
Where: Boulevard Salvatierra.
Rates: 420 MXN (21.00 USD) per night
Finding budget hotels in Loreto is not the easiest feat to undertake. Look no further than Motel Salvatierra, a basic budget hotel, centrally located. This favourite amongst locals is well run, clean, has plenty of hot water and on-site parking. Tip: If you need strong Wi-Fi, request room 118. It is very close to the office but the Wi-Fi signal is top notch.
Food & Drink in Loreto
Pollos Asados California
Address: Corners of Boulevard Salvatierra and Calle Manuel Márquez De León.
Hours: 12:30 pm – 6:00 pm daily.
This is a firm local's favourite and is typically closed by 4:00 pm because they are sold out of chicken. Stuff yourself silly on a whole chicken, chips (french fries), corn tortillas and salsa, all for just 150 MXN ($7.50 USD). Half orders are also available. Follow the locals and the advice of your Drifters. The staff are incredibly friendly here.
Day Trips From Loreto
If you're looking for a diversion from donning a swimsuit or a snorkel, take yourself for a drive through some stunning scenery to Misión San Francisco Javier de Viggé-Biaundó. Known as the jewel of the Baja California mission churches, it is one of the best preserved on the peninsula. Want to explore more Baja California missions? Here are 5 more accessible missions, complete with driving directions, photos and a little background on each.
For those of you who'd rather stretch your legs and get out for a hike, you can either arrange a guided hike or strike out on your own. Be mindful of private property and exercise all precautions for hiking in the desert. This can be unforgiving territory, with even more unforgiving weather conditions. The book Hiking Loreto is a wealth of information specialising in this vicinity.
As you drive South from Loreto keep an eye out for Mirador Frida. Here you'll find spectacular views of the Sea of Cortez and some cocos frios! A large paved pull-in is provided, bathrooms are not. However it is a great photo opp. stop.
---
Distance to Ciudad Constitución, Baja California Sur From:
Tijuana border: 1,264 km (785 miles)
Tecate border: 1,268 km (788 miles)
Mexicali border via Highway 5 through San Felipe: 1,151 km (715 miles)
Los Algodones border via Highway 2 and Highway 5 through San Felipe: 1,228 km (763 miles)
Overview:
Aaaaah, Ciudad Constitución, you have nothing to offer but a great budget hotel with flamethrower Wi-Fi and some wonderful cheap eats. For those of us in the know this little town is a great place to hole up for a few days and get some work done, or just relax in a place where no-one expects anything from you.
Where to Stay in Ciudad Constitución
Hotel Conchita
Where: Northbound side of Transpeninsular 1.
Rates: 370 MXN (18.50 USD) per night
Another of our favourite hotels in Baja Mexico and for many good reasons. Often you get what you pay for, but here the price is deceptive considering what you get. You are located right in town and have covered on-site garage parking.
Rooms at Hotel Conchita are spotlessly clean, have excellent Wi-Fi, lots of hot water, comfortable beds and cable (with VH-1). The staff are absolutely lovely too. Hotel Conchita is an incredibly well run establishment. All of this for just $18.50 USD per night!
Where to Eat in Ciudad Constitución
Pollos Lucas
Address: Southbound side of Transpeninsular 1.
Hours 8:00 am – 7:00 pm daily
Many people don't seem to realise that rosti pollo is just as big a go-to as tacos for many Mexicans. Located just across the Transpeninsular Highway 1 from Hotel Conchita, Pollos Lucas serves up heaping mounds of chicken, chips (french fries), macaroni salad, corn tortillas and salsa.
A pollo entero (whole chicken) costs 150 MXN ($7.50) complete with all the trimmings. You can also get a half order. Regardless of the posted hours, once they are out of chickens they close up shop.
Day Trips From Ciudad Constitución
Just a block behind Hotel Conchita is Parque Libertad de Expreción, complete with a little gazebo and some benches. This is simply a good spot to relax, people watch and discreetly enjoy your brown bag beer. Travel doesn't always have to be an adventure filled, adrenaline pumping rush.
---
Distance to La Paz, Baja California Sur From:
Tijuana border: 1,529 km (950 miles)
Tecate border: 1,564 km (972 miles)
Mexicali border via Highway 5 through San Felipe: 1,358 km (844 miles)
Mexicali border via Tecate and Ensenada: 1,602 km (995 miles)
Los Algodones via Highway 2 and Highway 5 through San Felipe: 1,434 km (891 miles)
Overview:
La Paz is a hugely popular destination for gringos and local families alike, and with good reason. There are plenty of things to do in La Paz for all age groups and budgets. Explore the whale museum, take advantage of great photo opportunities along the malecón, find street art, enjoy fresh seafood and indulge in all that a big city has to offer.
La Paz is also where you catch the ferry to the mainland: La Paz to Mazatlán or La Paz to Topolobampo. TMC is an alternative ferry company to Baja Ferries and also takes walk-on passengers.
Along with Cabo San Lucas, La Paz also offers quite a few casa de cambio (cambio kiosks) if you need to replenish your pesos.
Budget Accommodation Options in La Paz
Hotel Bahía de La Paz
Where: Corners of Venustiano Carranza and Benito Juárez.
Rates: 400 MXN (20.00 USD) per night
Although not located downtown, this is without doubt your best budget hotel choice in La Paz on a Baja California road trip. For 400 MXN (20 USD) our room had two double beds. Unfortunately they were out of smaller rooms with one bed for 300 MXN (15 USD) during on our visit.
The Wi-Fi was alright, there was plenty of hot water, the shower was huge, the television didn't work but there was a parking lot out front. Hotel BahÍa de La Paz is a very clean and well run establishment.
If you don't have your own wheels and parking is not a priority, we recommend the following, having stayed there ourselves in 2013.
Pension California
Where: Santos Degollado 209, between Francisco I. Madero and Revolución de 1910
Rates: 350 MXN (17.00 USD) per night
Basic, clean and located right downtown, Pension California is the budget backpacker's choice in La Paz. All of the room's fixtures are made out of concrete, even the base of the bed and wardrobe! There is a communal kitchen and seating area. The staff are very helpful and obliging.
Wi-Fi worked best in the communal seating area and not so good in the rooms. There is on-street parking which is why we only recommend here if travelling without a vehicle. Directly in front of Pension California is a fantastic fish taco stand – Super Tacos de Baja California Sur Hermanos Gonzalez (Hnos. Gonzalez)
There is a sister pension just around the corner previously called Hostel Convento California and now known as Hotel Hacienda San José. This offers similar rooms for a similar price as Pension California.
Free Places to Sleep in La Paz
Supermarket Soriana Híper
Where: This plaza is located on the southbound side of Transpeninsular 1 as you enter La Paz.
Hours: Soriana Supermarket is open from 8:00 am – 10:00 pm daily
Sleeping in your vehicle on a Baja California road trip is possible for a night or two in the parking lot of this Soriana supermarket. It is located a little ways outside of town off Transpeninsular 1. Access free Wi-Fi from the nearby Home Depot. Just don't spend the night in the Home Depot parking lot because they don't want you making yourself at home!
Eating on a Budget in La Paz
Mariscos El Toro Güero
Address: Corners of Mariano Abasolo and Calle Sinaloa
Hours: 10:00 am – 8:00 pm daily.
Fancy some fresh seafood at a reasonable price? Go where the local's go and get there early, especially on the weekend. This large palapa restaurant is legendary and you'll become a regular yourself after just one visit. Split a plate if there are two of you because the portions warrant it. Name your seafood, they have it. Mariscos El Toro Güero comes with a strong Drifter's Recommendation.
Day Trips From La Paz
If your budget can stretch it take a guided tour out to Isla Espíritu Santo, visible from the coast. Tours typically include swimming with sea lions, snorkeling, lunch and experiencing the unique marine life around this Unesco World Heritage Site. It's no wonder famed marine biologist Jacques Cousteau called the Sea of Cortes "the world's aquarium".
One of the most popular tours in La Paz involves the opportunity to swim with whale sharks. Whale shark season in La Paz runs from October to April. For those whose budget is flush, you can glamp on Isla Espríritu Santo at Camp Cecil. Simple and free options for beach camping north of La Paz are available. Playa Balandra is a favourite and although you can rent kayaks here you'll wish you had your own.
Once you see the turquoise waters and the private powdery white sand beaches you can paddle out to, you'll want unlimited time to explore this stunning area. You will also find "El Hongo" here, a natural rock formation that has become the symbol of La Paz. Don't be disappointed by the rebar reinforcing El Hongo!
Located south of La Paz at km 82 is the Tropic of Cancer Monument Tourist Plaza. There's not a lot to see but this is a good spot to take a break from your Baja California road trip and stretch your legs.
Continuing south on Transpeninsular 1 you will pass through El Triunfo – don't blink or you'll miss it. Up until very recently it seemed this tiny town was relegated to fade into obscurity. Now these old colonial buildings have become a destination, housing art galleries, local crafts and chic restaurants serving craft beer along with artisanal delicacies.
---
Distances to Cabo San Lucas, Baja California Sur From:
Tijuana border: 1,623 km (1,008 miles)
Tecate border: 1,627 km (1,011 miles)
Mexicali border via Highway 5 through San Felipe : 1,510 km (938 miles)
Mexicali border via Teacte and Enseanda: 1,753 km (1,089 miles)
Los Algodones via Highway 2 and Highway 5 through San Felipe: 1,586 km (985 miles)
Overview:
Cabo San Lucas is everything you thought it would be – garish, gringified and unnaturally green for a desert environment. Replete with condos, hotels, resorts, golf courses, tours, gimmicky restaurants and everything any tourist could possibly want (except solitude) is here. It's neighbour, San José del Cabo is the more moderate, toned down version of it's sister party town.
Accommodation Options?
Here's the thing: Cabo San Lucas was way out of our budget range hotel-wise. So, if like us you are really only here to see El Arco at Land's End in Cabo you're probably only spending the night here.
Budget Alternative to a Hotel in Cabo San Lucas
Los Cabos Walmart
Where: Southbound side of Transpeninsular 1 in Cabo San Lucas.
Hours: 7:00 am – 11:00 pm daily.
What can we say other than this is a parking lot offering a free place to park and does the trick for a night?
A Good Budget Restaurant in Cabo San Lucas
Birrieria Apatzingan
Where: Corners of Leona Vicario and Álvaro Obregón in downtown Cabo San Lucas.
Hours: 7:00 am – 5:00 pm daily.
This restaurant is a local's favourite and for good reason, so step off the main drag away from the standard, gringified feed bags and eat like a local. Here you will find rich, delicious birria filled with tender chunks of beef and free refills of the tasty broth. In a town where it is difficult to stretch your pesos, Birrieria Apatzingan offers the perfect budget bites and comes with a strong Drifter's Recommendation.
Day Trips From Cabo San Lucas
Taking a glass bottomed boat tour out to El Arco (the Arch) at Land's end is a definite budget buster but let's face it, this is probably the only reason you're here. We were offered a tour for 600 MXN (30.00 USD) so we haggled and got the price down to 500 MXN (25.00 USD). It's perfectly normal to haggle for a better price. Haggling works best if there aren't many other prospective passengers and you arrive early at the marina.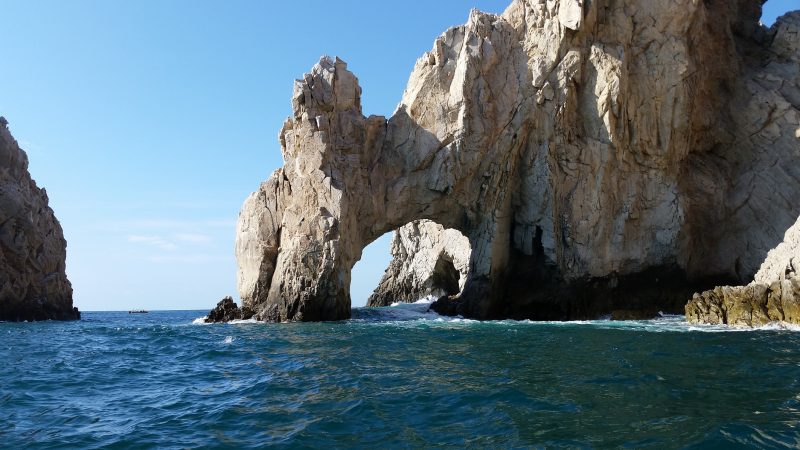 Heading north and in need of a little peace and quiet? Then take a detour off Transpeninsular 1 down Camino Cabo Este to the rugged coastline of Cabo Pulmo. This national marine park is also a UNESCO World Heritage Site and it's waters have been protected since 1995. Pulmo Reef is renowned for it's abundant marine life making snorkeling and diving in Cabo Pulmo legendary.
From San José del Cabo, Camino Cabo Este becomes a rutted dirt road shortly after Punta Colorada. Take this road slow you'll make it without needing a 4-wheel drive vehicle. Of course, road conditions are subject to change depending on recent weather. Get here before the developers do!
---
Highway 5 From Chapala to Gonzaga Bay
This stretches from Mexicali at the border and continues south to Chapala where it connects with Transpeninsular 1. Highway 5 has been in a state of construction for many years now. From the turn off at Chapala to just south of Gonzaga Bay Road, a distance of about 60 km (37 miles) the "road" is basically under construction.
Take it slow and your vehicle should make it. Here are several sites/forums with up to date information on road conditions throughout Baja California: Talk Baja Road Conditions and Discover Baja Travel Club.
Distances to San Felipe, Baja California From:
Tijuana border via Toll Highway 2D: 368 km (229 miles)
Tecate border via Toll Highway 2D: 322 km (200 miles)
Mexicali border: 197 km (122 miles)
Los Algodones border via Toll Highway 2D: 273 km (170 miles)
Overview:
San Felipe is a small nondescript fishing town that attracts visitors in droves. It has a slight honky-tonk feel to it and it's malecón is packed with families strolling amongst the vendors along it's oceanfront. Located relatively close to the border, San Felipe has a large expat population.
Where to Stay on a Budget in San Felipe
Hotel Aragón Hermanos
Where: 296 Calzada Chetumal
Rates: 450 MXN (22.50 USD) per night
This was the cheapest room we found in San Felipe after scouring the entire town. We're not picky but for a room that reeked of mould this was definitely over-priced. There was on-site parking, however the television didn't work and there was no hot water.
What To Eat in San Felipe
San Felipe is a fishing town with no shortage of fresh seafood. Both San Felipe and Ensenada each claim to be where fish tacos originated.
Day Trips From San Felipe
For a pleasant day trip from San Felipe why not pack a picnic and take a boat from the malecón out to Konsag Island (Isla Consag). This little known island lies 23 miles off shore, about halfway between San Felipe and Puerto Peñasco on the mainland. You are unable to alight on the island. Instead, enjoy birdwatching and the local marine life, or you can even do a spot of fishing from the boat.
As you continue south along the Gulf of California (Sea of Cortés) towns become smaller and more sporadic, with Puertecitos and Bahía San Luís Gonzaga the obvious choices for camping.
Bahía Gonzaga is dotted with sheltered coves and isolated beaches so this a prime spot for sea kayaking, stand up paddle boarding and beach camping. Look for Punta Tijereta, complete with five white sandy beaches. It's a bit of a paddle to get there but worth it for some perfect Baja beach camping. Alternatively as you drive south find your own perfect spot to boondock during your Baja California road trip.
Coco's Corner: A Legendary Baja Road Trip Spot in the Middle of Nowhere
Coco's Corner is located 195 km (121 miles) south of San Felipe or alternatively 21 km (13 miles) from the turn off at Laguna Chapala from Transpeninsular 1. Although this random anomaly in the desert is largely unknown, Coco's Corner is legendary amongst the Baja 1000 devotees and the overlander community.
Stop in for a cold beer and a chat with Coco. If you're lucky Coco will produce a guest book for you to add your name to the thousands who have signed before you. Festooned with ladies knickers and bras, Coco's home isn't gracing the front cover of "Better Homes and Gardens" magazine any time soon. Coco's Corner is a shrine for many and hanging out with him is an experience you won't forget any time soon.
Baja California Road Trip Round-Up
A road trip in Baja California isn't as easy as travelling mainland Mexico on a budget, but it can be done. Plan your itinerary accordingly depending on how much time you have. The more time you spend beach camping, the more you can stretch your pesos. Let's face it, the unfettered wilderness of the beaches and coastline is certainly the main draw here.
Hopefully this article serves as a useful guide for planning a Baja California road trip on a budget. Although it seems like I've covered everything on the Peninsula, I certainly haven't. If you've already done a Baja California road trip, please add any recommendations or advice –  we would love to hear from you!
---
Pin Me Now!