Last Updated on November 23, 2022
Baja camping is for adventurous folks who know it's all about the journey and the destination. Road trips down the *Baja Peninsula lead to stunning, quiet beaches suitable for sleeping out. Camping here abounds with natural beauty, total isolation and freedom to go almost anywhere in any season. This guide highlights what to expect, what you need, where to go and how to get the most from Baja California camping.
Specifics for 12 different Baja camping beaches are given in this article along with a general overview of the where these beaches are located.
*Note: The Baja Peninsula of Mexico consists of two states; Baja California and Baja California Sur. The ENTIRE peninsula is commonly known as Baja California and is often referred to simply as Baja Mexico. This guide uses the former and latter to denote the ENTIRE peninsula and each individual state will be noted where applicable: B.C. for the state of Baja California and B.C.S. for the state of Baja California Sur.
Baja California Camping: What To Expect
Aside from endless adventure possibilities, stunning blue water and plenty of sunshine year-round you must understand camping in Baja California is a bit different from what you'd expect north of the border, for quite a few reasons. Several of these differences can be pleasantly refreshing while some can be just the opposite. Be on the lookout for the following:
First come, first served: There are no reservations for most Baja California beach camping – simply show up and pick a spot.
Toilets: DO NOT expect clean, maintained toilets. DO expect dilapidated wooden sheds with a seat above a hole in the ground.
Vendors: Friendly locals arrive in the morning and throughout the day selling food, water, firewood, trinkets and tours.
Bugs: Sand flies (chitres) and regular houseflies haunt the beaches here. Come prepared with fly paper and repellent.
Heat: There is little to no natural shade when Baja camping. Have an awning on your rig or seek out beaches with palapas (see below).
Lack of organization: Baja camping is often free of any real restrictions or oversight.
Crowds: Winter months see plenty of snowbirders in RVs – beach camping in Baja Mexico is VERY popular this time of year.
No hook-ups: Looking for hook-ups for your RV in Baja California? Head to a proper RV campground instead.
Haggling: The price of Baja camping is often negotiable – and always get a receipt after paying.
Litter: Trash barrels are provided but efficient means to dispose of the litter is sorely lacking. Trash barrels are often overflowing.
Check Out Our Videos on YouTube and Discover MORE of Mexico!
Ready to Discover Much More on the Baja Peninsula?
 What You Need for Baja California Camping
Rely on only getting the most basic of supplies in Mexico like food, ice and water. Finding quality goods and especially Baja camping essentials is rather difficult. Consider getting these before you cross the border:
Saw and hand axe: There is plenty of dead wood around, even in this desert climate; make sure you have a way to cut and split it.
Bug spray: The price and scant variety of insect repellent here means you're better off importing it yourself from home (see above).
Fly paper: We searched for this in Baja California; fly paper (see above) doesn't exist here. You'll need this on the beaches – trust me!
Sun block: The selection, quality and price of sunblock here means you're best supplying your own. Come prepared.
A sturdy cooler: Throw-away styrofoam coolers are easily found here and you may find quality used ones at secondhand shops. These shops are found along the highway in every town. I suggest you come prepared with your own sturdy cooler.
Water containers: Avoid buying purified water or spring water in stores to save money. Instead, look for businesses called Purificadoras, available in every town and often found along Highway 1. Simply present your empty container(s) and watch as they're filled with purified water from a filtration system. Expect to pay pennies per liter of water – a huge money saver!
Maps and guide books: Nothing beats real maps and books to hold in your hands. Use these to figure out where you're going right now, where you've been and where you want to go next.
---
Getting to Mexico
Border wait times getting into Mexico are seldom a concern. Where to cross depends simply on where you're coming from. However, border crossings at either Tijuana or Tecate offer more direct routes down the main road, known as the Transpeninsular Highway, or Highway 1. Crossing the border at Mexicali is well-suited for Highway 5 to San Felipe, Puertecitos and Punta Willard.
Disclosure: This article contains affiliate links to products and services whereby we receive a nominal commission if you make a purchase through one of these links. This comes at no extra cost to you. Please see our Disclaimer for full information.
Again, traveling in Mexico is about the journey and the destination. To make the most out of your Baja camping road trip, consider the drive involved. Road conditions, driving habits and the remoteness here may differ from what you're accustomed to at home.
Need to Mix Up Your Baja Camping Trip With Some Creature Comforts?
You'll always find somewhere special to stay through Airbnb. From rural getaways to luxury spots in the city, Airbnb's Baja Mexico listings offer something for everyone. Find your ideal place to stay and wake up ready for more Baja adventures! 
For a good selection of conventional accommodations at the best prices we recommend Hotels.com on the peninsula and throughout Mexico. Choose from familiar national chains in the bigger cites or smaller independent hotels.
Need the Perfect Gift for a Camping Enthusiast in Your Life?
See our camping gift ideas and discover the things they'll want while sleeping under the stars! These presents are for anyone on your gift list and they're sure to fit your budget. Don't send 'em out into the wilderness without the proper gear.
Do you need a vehicle permit or insurance in Baja California? For information on these considerations and more, read our guide on what you need to know before any trip down the Baja Peninsula, located as a link in the 2nd box above.
---
Your Baja California Camping Style
No matter your style, Baja camping is possible in an RV, car, truck, van and even with a tent or hammock. Many formal Baja RV parks are scattered throughout the peninsula, but even the biggest rigs can find a secluded spot for beach camping. This article focuses more on informal Baja beach camping on the Sea of Cortez, suitable for any style.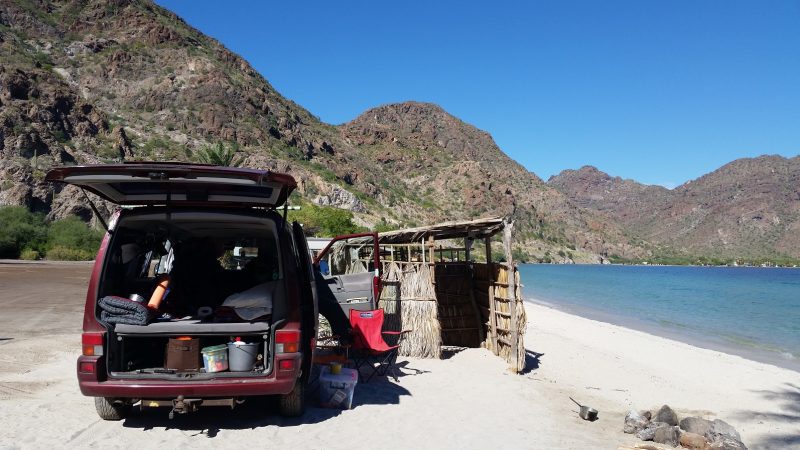 Shelter from the sun is critical for beach camping in Baja Mexico; having just a tent means you need a palapa overhead. Even camping out of your car or van means you need shelter from the sun. What is a palapa? Simply put, a palapa is an open-sided structure with a roof and often several walls. They are crudely built of organic material – wood, palm fronds, etc. but are sturdy and provide shade.
Where to Go Baja California Camping
The areas below are given much more detail later in this article, but here's a brief overview:
So, where should you go? The short answer is just about any beach you can physically get to. Also, keep in mind boondocking in Baja California is almost always an option; get familiar with www.ioverlander.com to learn more about where to really get away from it all.
Instead, the focus here is on beach camping and several general areas and those are:
Bahía de los Ángeles, B.C. features a gigantic arc of beach suitable for all vehicles. Bahía de los Ángeles camping is convenient to town, so basic supplies are just several miles away. The bay contains an astounding variety of marine life. Bahía de los Ángeles appeals to those looking for a less-busy Baja camping experience in winter – and it's free.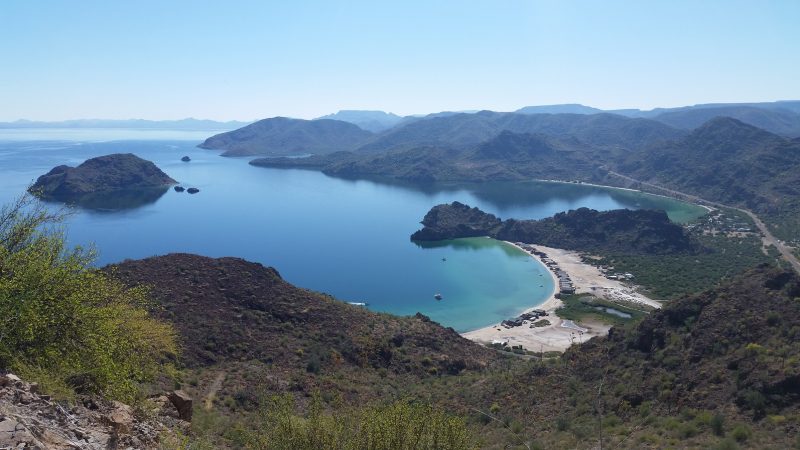 South of the small town of Mulegé, B.C.S. is Bahía Concepción, featuring a handful of very easily accessible beaches perfect for camping. The premier destination of Bahía Concepción is 12 mi (20 km) south of Mulegé along Highway 1. Sea kayaking here is among the best in the world and many folks in RVs return here each winter for Baja camping.
The big city of La Paz, B.C.S. offers all the services you'd expect and great Baja camping nearby. Deep sea fishing, nightlife, restaurants, museums and tours to protected Isla Espíritu Santo round out the great beaches in La Paz. Considering everything available here, this is a rather handy area for Baja camping.
When To Go Camping in Baja California
High season in Baja California runs roughly from November to after Easter. The weather is quite dry here but the temperatures in winter are much more comfortable than summer. High season is also peak time for RVs from Canada and the U.S. and Baja camping is rather crowded at this time with folks returning to their "spots" annually. Beach camping in Baja California is possible at this time, just expect more company.
Low season means hot temperatures, even throughout the night. However, if you're seeking quiet beaches in Baja California for camping, consider the months of May through early October. Many Mexicans go on vacation from mid July through mid August looking for lugares para acampar en Baja California. Beaches will be busier July through August although not as bad as winter RV season.
---
Great Beaches for Baja California Camping
Bahía de los Ángeles, B.C. or Bay of L.A.
Although not as popular as areas further south, Bahía de los Ángeles camping certainly has its advantages – the beach is only five miles from the town and getting in to get basic supplies is easy. Also, camping here is free and there's plenty of free firewood on the side of the road. The calm water in Bahía de los Ángeles is crystal clear, however the beaches tend to be pebbly rather than sandy.
Where Is It?
Bahía de los Ángeles, three hours north of Guerrero Negro, is reached from an extension of the Transpeninsular Highway, or Route 1. This extension, also called Route 1, begins at the locale of Punta Prieta and continues for about 40 mi (65 km) east to the town of Bahía de los Ángeles, on the gulf side of the peninsula.
From the entrance to BahÍa de los Ángeles go through the roundabout and exit left. The road soon makes a very sharp right; continue on this road for several miles. The paved road ends and leads to the beach, Playa la Gringa, roughly one mile further. The unpaved road to the beach is suitable for all vehicles, as is driving onto the pebbly beach.
Playa La Gringa 
Cost: Free
Toilets: Crude pit toilets at Playa La Gringa – wooden stalls atop a hole in the sand and a blanket for a door – let you know you are indeed Baja camping.
There is no shade or palapas; come prepared for that. Also, Bahía de los Ángeles weather can see extreme temperatures and the risk of red tide in summer months – check ahead. There are no hook-ups for RVs.
Marine life abounds here and beachcombing is quite good. We were here Christmas morning 2017 and witnessed an Italian family dispatch a good-sized squid right from shore! They promptly cut it up and prepared it for their Christmas dinner!
You can easily spend the day walking on the beach or hiking from your campsite here. Kayaking, SUP'ing, fishing and snorkeling in Bahía de los Ángeles is very good. Chartered fishing tours are also available in town.
---
Mulegé, B.C.S. and Bahía Concepción Beaches
The Lowdown
Two hours south of San Ignacio is Mulegé, a pleasant little town with services and a clutch of amazing Baja California camping spots. The waters of Bahía Concepción are clear and blue with white sand beaches. These beaches are surrounded by stunning desert landscape and no large-scale tourism infrastructure.
Mulegé really is a great little community year-round. Here, you'll find a laundromat and some very useful notice boards at several of the small grocery stores throughout town. Make sure you visit the local museum and the Misión Santa Rosalía de Mulegé while you're here. And don't skip Mariscos Peralta's as you enter Mulegé for some of the best fish tacos in Baja Mexico.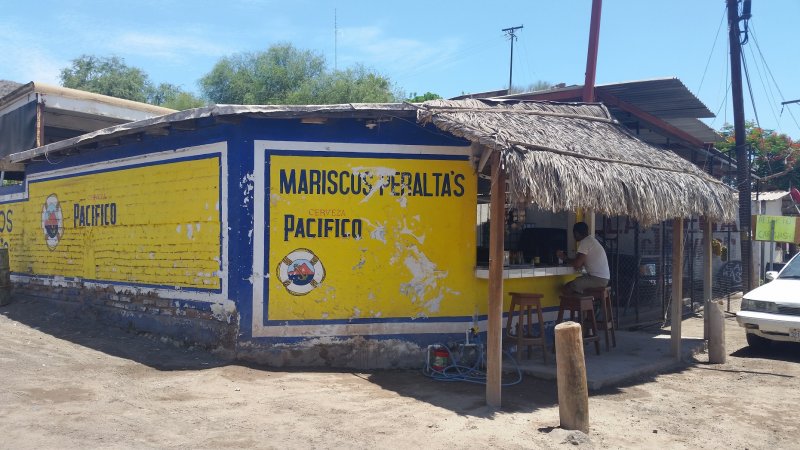 Baja camping here is popular with American and Canadian RV'ers in winter and Mulegé has some seasonal homes. That said, this area remains pleasantly low-key all year and you simply cannot beat the beaches here. The Bahía Concepción camping beaches mentioned below have palapas to keep you from wilting in the sun.
Where Is It?
Mulegé and the Bahía Concepción beaches are all easily reached from Highway 1. Mulegé is 175 mi (280 km) south of the state borders of B.C. and B.C.S. at Guerrero Negro. The beaches of Bahia Concepción begin 12 mi (20 km) south of Mulegé – the first being Playa Santispac.
Of the six beaches highlighted here, all but one (Playa Escondida) are well signed from the highway, however all are accessible by any vehicle. Driving distances between the first five beaches (north to south) are only several minutes apart. The last beach, Playa Requeson, is approximately 9 mi (20 km) south of the other five beaches.
---
Baja California Camping on Bahía Concepción: North To South
---
Playa Santispac
Cost: Baja camping on Playa Santispac ranges from 150 to 250 pesos depending on the caretaker's whim and the demand for space – haggling is acceptable.
Toilets: The ramshackle outhouses here round out your Baja camping experience – carry your own toilet paper.
Just before reaching Playa Santispac are several pull-ins off the highway with breathtaking views of Bahía Concepción in front of you. One look at the white sand, clear blue water and nearby islands is all it takes to let you know beach camping in Baja California is as good as it gets anywhere.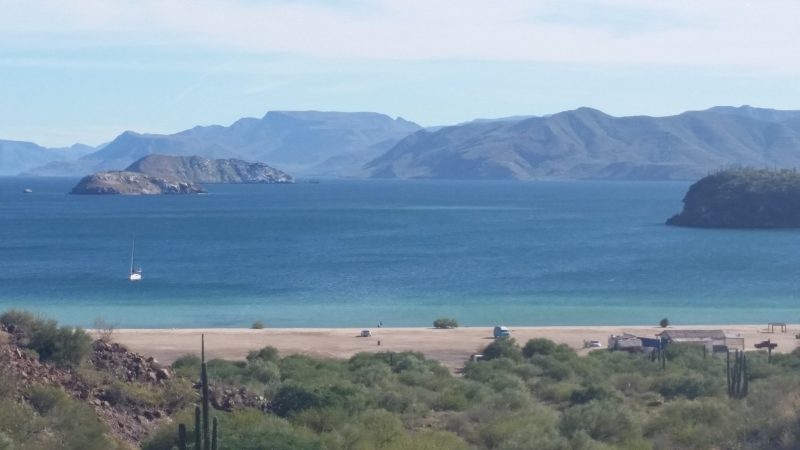 Several palapas line the beach here; these are perfect for slinging a hammock. The beachfront Restaurante Bar Ana opens in the winter and makes Playa Santispac a great choice for Baja camping. If you have a kayak Isla San Ramon awaits just offshore and behind that is a reef perfect for snorkeling. Within the mangroves behind Playa Santispac is a lagoon and some rather brackish hot springs.
---
Playa Escondida
Cost: Playa Escondida is 100 pesos per night, making this one of the cheapest spots for Bahía Concepción camping. Caretakers come by on an irregular basis to collect money and, on an even more irregular basis, to empty the trash barrels.
Living up to its name, Playa Escondida (Hidden Beach) is easy to drive past and miss altogether. Just south of Playa Satispac is Posada Concepción, a small collection of villas on the waterfront. Immediately beyond the entrance to Posada Concepción is the mangled sign pointing to Playa Escondida. Turn left here and follow the rough road for several minutes to a perfect slice of beach. Low clearance vehicles may have difficulty along this short road.
This really is a hidden little gem of a beach tucked away from the road. About 8 palapas are here along with 3 pit toilets. A small trail here ascends to an image of the Virgin Mary painted on the side of a rock formation. Colorful lights twinkle around her image throughout the night. A small island (Isla Liebre) with a beach sits just offshore from Playa Escondida. Paddling out to this deserted island takes several minutes.
Baja camping really doesn't get much better than at this beach. Playa Escondida is a very quiet and scenic spot; in summer 2018 we had this entire stretch of sand to ourselves for several weeks!
The caretakers at Playa Escondida have planted some vegetation in front of the palapas and the toilets here aren't as run-down as those at the other beaches. Still, don't expect any fancy facilities!
---
Playa Los Cocos
Cost: Expect to pay between 150 and 200 pesos per night for beach camping at Playa Los Cocos.
Just beyond the turn for Playa Escondida is Playa Los Cocos, where about 25 palapas line the beach. A small footpath at the left end of the beach leads over to Play Escondida. A small lagoon and mangroves are located just behind Playa Los Cocos.
If you have a kayak, follow the coastline to the right of Playa Los Cocos toward Playa El Burro for great fishing. A small reef lies between these two beaches, about a five-minute paddle away. If you don't fish you can view the teeming marine life swimming around this reef instead.
---
Playa El Burro
Cost: Unknown as we didn't camp at Playa El Burro although the price is likely similar to other beaches; ask around.
Playa El Burro is most noteworthy for the popular Bertha's Restaurant and Bar located just feet from the water. The beach here is a somewhat private community, although limited beach camping is available.
We've never camped here due to the "community" look and feel of this beach compared to others nearby. Playa El Burro also seemed too congested for our liking with RVs and palapas very close to one another. If you like the look of Playa El Burro just pop in to see what the deal is.
---
Playa El Coyote
Cost: Pay 150 to 200 pesos per night. The caretaker makes his rounds in the evening to collect fees.
Toilets: Expect plenty of crude toilets at Playa El Coyote.
This long expanse of beach has plenty of open sand and areas with a concentration of palapas. There's a trail at the south end of the beach leading to a hot spring and through the hills beyond. You can also paddle out to the spring with a kayak. Expect water that is fresh rather than hot.
A twenty-minute paddle from Playa El Coyote is Isla Coyote. On the far side of this small island is a perfect white sand beach ideal for a swim and exploration – you'll likely have it to yourself as a reward for paddling out here. Also, a secluded beach to the right of Playa El Coyote is reachable by kayak – follow the coast for about fifteen minutes to find this secluded beach.
Locals rent kayaks, snorkeling and fishing gear on Playa El Coyote during July and August. If you don't have your own kayak but wish to explore Bahía Concepción, Baja camping at Playa El Coyote may be just for you.
---
Playa el Requesón
Cost: Camping on Playa el Requesón is 100 pesos per night, making this another cheap spot for Bahía Concepción camping.
Roughly 9 mi (20 km) beyond Playa el Coyote is the rather unique Playa el Requesón. What makes this unique is a narrow spit of sand which is exposed briefly throughout the day; this leads to a small island. You can walk out to the "island" or even wade out when this spit is submerged. About 10 palapas are here along with plenty of open space if these shelters are occupied. Kayaking here is very good.
Approach Playa el Requesón from a paved road just off Highway 1. Before reaching Playa el Requesón, a dirt road curves right leading to several other small beaches. A few secluded palapas are located along the water here – try these beaches if Requesón is too busy.
---
Baja Camping Near La Paz, B.C.S. 
The Lowdown
La Paz certainly has it all – secluded, free beach camping and every service you'd expect from a big city. In that sense, La Paz offers the best of both worlds. A pleasant malecon (paved waterfront walkway) extends for several miles along the municipal beach in La Paz and many hotels, clubs, bars and restaurants line the waterfront here.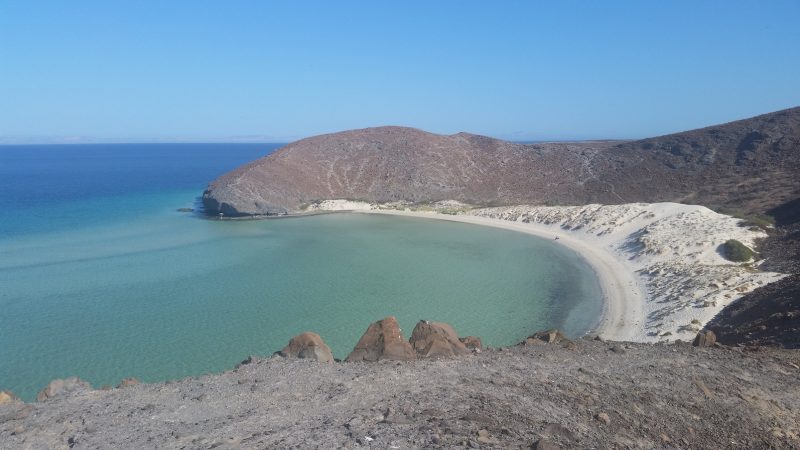 Where Is It?
La Paz is 300 miles (490 km) south of Mulegé, reachable from Highway 1. Despite its size, the city is very easy to get around and the five camping beaches near La Paz mentioned are an easy 30-minute drive from the center of the city. Look for Highway 11, which begins off Highway 1 as you enter La Paz; this road runs along the waterfront of the city and continues to the La Paz beaches.
Taking the Ferry From La Paz to Mainland Mexico? Keep the Adventure Going!
A Visit to Mexico City Is a Must! We Have a Few Articles to Get You Started.
Mexico City is full of free sights and we've found plenty which are just far enough off the beaten path.
Ride the Metro in Mexico City and discover a unique underground city full of shops, services and plenty of entertainment.
You'll visit Teotihuacan, but will you make the day trip to Tula? Getting here is easy and makes for a peaceful escape from the city.
---
Baja Camping Beaches Near La Paz
---
The following La Paz beaches are listed from the closest to the furthest from the city, heading north:
Playa Erendira
Cost: Free
Toilets: No
Highway 11 takes a very hard right at a PEMEX facility about 4 mi (6.5 km) from La Paz with Playa Erendira just beyond. There are no palapas here and the beach is little-used during the day. You'll likely have this beach entirely to yourself at night, too.
---
Playa Solitaria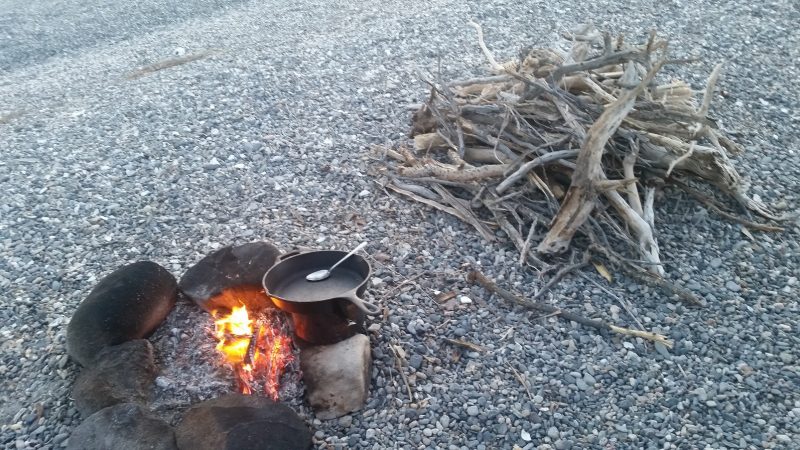 Cost: Free
Toilets: No
The name here says it all, really. This free camping spot is just a minute up the road from Playa Erendira. Again, no palapas are here to protect you from the merciless sun. Also, you'll likely have this beach to yourself during the day and at night.
---
Playa el Manglito
Cost: Free
Toilets: No
More isolated La Paz camping beaches continue along Highway 11 beyond Playa Solitaria. Thankfully there is some shade at Playa el Manglito due to the namesake mangroves here. You are in a narrow bay at Playa el Manglito and the clear, shallow water makes for excellent swimming and kayaking. Of the three La Paz beaches already mentioned, Playa el Manglito is the best.
---
Playa Balandra
Cost: Free
Toilets: Port-a-potty toilets were on-site during one of our visits and were gone on another – be prepared for anything.
Only 17 mi (27 km) north of La Paz is her most scenic beach, Playa Balandra, lined with palm parasols. Although you cannot take a vehicle onto this beach people still camp in the oceanfront parking lot, However, you can still tent camp beneath the stars on Playa Balandra.
Kayaking here is amazing! There are several secluded, white sand beaches reachable by kayak only. Much of the water in front of Playa Balandra is knee-deep and you can wade out for quite a distance. Kayak rentals are available here.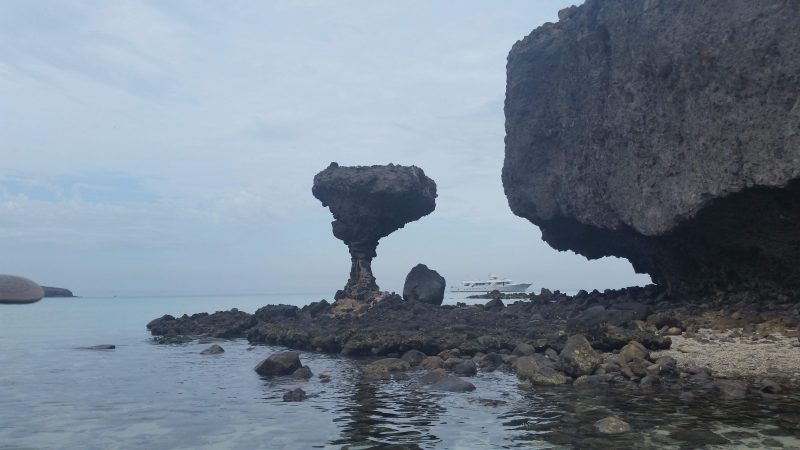 Reachable by kayak or by hiking over a hill to the right is the famous rock formation Hongo de Balandra, or Mushroom of Balandra. You'll be happy to know this precariously perched fungus costs nothing to see.
---
Playa El Tecolote
Cost: Free
Toilets: Basic, open-air outhouses here are designed for the ultimate in public shaming; find them scattered among the dunes.
Less than one mile from Playa Balandra on Highway 11 is an area filled with seafood restaurants known as Playa El Tecolote. To the left of these restaurants is a stretch of beach packed with day trippers; to the right is where you'll find open beach for camping.
The water here is slightly less suitable for kayaking as this point of land often sees more wind and choppy seas. Beyond Tecolote on a rough road are several grey sand beaches also suitable for camping. Isla EspÍritu Santo is visible just offshore from Playa El Tecolote.
---
Simple Baja California Camping Activities
Camping in Baja California camping is a dream come true for adventurous people. If your vehicle can handle, head off-road just about anywhere. In fact, the dirt roads far outnumber paved ones and all you need beside good suspension is a map and a sense of adventure.
Jacques Cousteau called the Sea of Cortez "…the world's aquarium…" and you'll understand why! Locals provide scenic boat tours around the bright blue waters and charter boats take folks out in pursuit of game fish. You can even swim with whale sharks here.
More active folks camping in Baja California enjoy sea kayaking on the waters of Bahía Concepción. The water here is clear blue and the conditions are mostly favorable year round, depending on winds. From the handful of beaches around Bahía Concepción numerous uninhabited islands are easy to paddle to.
Also, make a point to check out some Baja California missions. Are you doing your beach camping in Baja California on a budget? Find out where to find the tastiest budget bites as you get from one Baja California camping spot to the next! See the boxes above for much more information!
---
Pin Me Now!