Last Updated on July 25, 2020
After two years on the road, our daily budget of USD $15 each taught us how to recognize true van life essentials. We had no fancy custom build, strands of fairy lights, plush interior or evening charcuterie board beneath a starry sky. For us van life meant an extreme budget so we'll tell you how to keep van life costs to a minimum while you're on the road. Still, you do need to consider the bare necessities to stay both comfortable and sane, and that's what this article is about.
This isn't about choosing a van or interior layouts; our tips will keep you rolling on a budget. Discover where to safely (and legally) sleep for free in the city or wilderness. Don't have a kitchen in your van? Skip the gourmet meals while still keeping yourself fed. We also show you how beach camping and free luxury accommodation kept us on the road.
The essentials of van life include knowing how to identify and respond to common mechanical mishaps, so we"ll cover the importance of having basic tools and parts on hand. Properly dealing with a flat tyre is vital information you need to know for van life, as is knowing how simple your cooling system is. You don't need to be a mechanic to get out of simple jams and we'll show you some things to look out for.
Discovering Van Life Essentials For Ourselves
So, how much van life did we do? Too much! Two years was enough to figure out what we did right and wrong. Our travels started in Portland, Maine and took us to Cabo San Lucas, Mexico. In fact, we drove the entire length of the Baja Peninsula (down and back) twice and spent a considerable amount of time in the U.S. Southwest. Our van broke down more than once and we fixed it ourselves each time.
Need Some Van Life Ideas, Inspiration and Humour for Your Next Adventure? 
Along the way we froze at night in Utah and melted on a Baja beach in July. We woke to an F.B.I. sting in a truck stop parking lot and squirmed out of a shake-down from a crooked cop in Mexico. In short, we've learned how to make a go of it, mostly by limping along. What's amazing is just how inexperienced we were at the very start of our journey…
---
So, What Exactly Are Van Life Essentials Anyway?
Instagram is filled with fancy vans and hip occupants but the basics are all the same: powering electronics, storing and preparing food, staying out of the elements and sleeping. These essentials are easy to come by and with our advice you'll keep your van life costs to a minimum whilst living in relative comfort and simplicity.
Budget-minded travellers will learn how to stay on the road with the essentials for as long as possible. We show you how to easily manage things like showers, laundry, food prep and more without splashing out cash for too many van life accessories. Our equally-essential maintenance section comes at the end of this page.
---
Van Life Essentials 101: Where to Legally Spend the Night in the U.S.
Parking and sleeping overnight in your vehicle needs to be done with great care; rules exist against this sort thing with alarming regularity. We won't dwell on laws against sleeping in your vehicle, but staying within regulations is one of the van life essentials you must focus on instead. See Essential Apps for Van Life below for more information on where to legally spend the night.
Speaking of spending the night, you'll need to do this in total comfort. Our van featured a factory pull-out bed which could've benefited from a simple foam mattress pad. We recommend spending a few nights in your van prior to hitting the road; test your bedding for comfort and see how you feel in the morning after sleeping on it. Don't wake up each morning on the road with sore hips and backs like we did!
We are affiliates with TrustedHousesitters. If you sign up for TrustedHousesitters using our special 25% discount code below we receive a nominal commission. This deep discount is good for your first year and covers both sitter and homeowner memberships.
Ready to Trade Van Life for Luxury House Life?
Living in a van isn't always the most alluring prospect. That's why we relied on house sitting to keep our sanity! No matter where you do van life, house sitters may be needed for a few days or a few weeks. We couldn't have done this without TrustedHousesitters. Click this link to get a 25% discount on your first year of membership with them, or just use our discount code RAF101778 upon checkout.
Again, we mention only sleeping legally in the Unites States as this is where our experience is. However, you are responsible for knowing the current rules and regulations regarding spending the night anywhere. The bulk of our sleeping spots were far from dreamy spots surrounded by nature, but they did just fine. Here are some legal van life sleeping spots to keep in mind followed by certain things to look out for at each:
Walmart Parking Lots
This isn't Instagrammable, but all van lifers in the U.S. bunk here sooner or later. Not all Walmart locations in the United Sates allow this so always check with customer service to find out for certain and see the Allstays app below. We recommend choosing 24-hour Walmart locations for emergency toilet and/or supply needs. You'll also see other van lifers and RV folk here; kindred community is a good thing on the road!
Casino Parking Lots
These are also great places to sleep in your van; most are open all night and have self-serve soda and coffee machines. Similar to Walmart, use the Allstays app and check with the customer service desk before parking for the night. Often, casinos are easy-on and easy-off from highways, perfect after long days of driving. Simply put, don't overlook parking lots when it comes to van life camping.
Truck Stops
If it makes you feel better, consider truck stops a modern version of a stage coach stop. Here we have a place for road-weary folk to get a greasy meal and a chance to rest. Some truck stops even offer hotel rooms. Again, always check with staff before preparing to sleep in your van for the night. Of course, not all truck stops offer the same for amenities. See the website FindFuelStops below for more information.
Pilot/Flying J Truck Stops: Ah, yes…these are hands-down the best of the chain truck stops in the United States. Free wi-fi, a nice lounge area, decent coffee and good showers. Pilot and Flying J's are different brands operated by the same company, but any of their locations are a top choice. These truck stops frequently have the best prices on petrol as well.
 Love's Truck Stops: These are the most prolific brand of truck stops in the United States, with new locations being built constantly. Their facilities are often bright, clean and modern and their coffee is drinkable. Sadly, Love's doesn't offer free wi-fi to the masses, so we fault them on that. You'll find the best truck stop showers at Love's; see Van Life Housekeeping and Hygiene below for more information.
T/A Truck Stops: These just about pass the test for sleeping, as long as it's permitted! We were kicked out of a T/A in Albuquerque at 3:00 am! This truck stop chain features the forgettable Country Pride restaurants, no free wi-fi and small showers. Many locations do boast nice truckers lounges with video games and televisions and laundry coin-op laundry facilities.
Petro Truck Stops: We've always liked Petro locations; they're not too busy and the facilities are quite spacious. This would be our ideal truck stop chain if they offered free wi-fi. Petro locations are known for their famous Iron Skillet restaurants, too.
Free Dispersed Camping
Of course, finding free camping is essential to keeping your van life costs to a minimum. Paying to sleep next to a bush or a tree is a tough pill to swallow for us so we recommend dispersed wilderness camping instead. This is simply free camping on federal land away from developed campgrounds. However, dispersed camping almost always must be in a designated spot.
Boondocking – What Is It?
For van life, boondocking simply refers to free or wild camping. Perhaps the line between boondocking and dispersed camping is a bit fuzzy but expect the former to involve permission from private landowners in certain cases. Semantics aside, the goal of boondocking, wild camping and dispersed camping is the same: getting away from crowded spots to enjoy true peace and quiet in natural surroundings – legally, of course!
Check the following links for more information on dispersed camping on federal lands: U.S. Forest Service • Bureau of Land Management
---
Essential Van Life Apps and Websites
As mentioned above, knowing where to legally spend the night for free is critical. Of course, there's an app (or ten) for that so we'll share some we found essential to our lengthy van life stint. Choose which app works for you, but don't pass up our first recommendation:
Note: Apps aren't always free or available for each OS.
iOverlander: Both the iOverlander website and app are crucial to any van life experience. We admit overlanders are distinct from van lifers, however there's a lot of great information on this website to consider. iOverlander community members have covered the globe with places to get repairs and parts, wild camp for free, stock up on supplies, find good restaurants, hotels and so much more.
Simply scroll to your location and click on the service you need. Each of the recommendations on iOverlander have been submitted and reviewed by community members and many include photos. You'll even find information on road construction, tolls and general safety advisories from iOverlander community members. The app is free and you don't need to join the community to browse maps or read reviews.
Allstays: Similar to iOverlander, the Allstays website is loaded with info. However, Allstays has eight different apps, each centered on more specialised locations like truck stops, Walmart parking lots, campgrounds, rest stops and so on. We especially relied on Allstays for information regarding Walmart parking lots (see above) however you should always check with each store as conditions can and do change.
Alltrails: Our travels include hiking and this app became one of our must-haves for van life. The Alltrails app is loaded with over 50,000 hikes from around the world and it works offline. Your GPS beacon and the app work together meaning you'll never get lost on the trail, even when offline. Chart your distance and elevation gain and read trail reviews from other hikers. See the Alltrails website for more information.
FindFuelStops: For a list of truck stops and their amenities, we refer to findfuelstops.com. Get the price of petrol at local truck stops and local Walmarts too. For more nearby options select "vicinity truck stops" to broaden your horizons. This website also lists rest area amenities and if they allow overnight parking. This site also utilises google earth maps to hone in on your location.
---
The Power of Van Life Essentials
Forget complicated wiring and use a simple power inverter to keep your van life costs to a minimum. We operated electrical devices and kept our phone and laptops charged with an inverter plugged into our auxiliary 12V outlet, or cigarette lighter. Portable power inverters are one of those van life gadgets you simply can't do without. Get one before you leave or while on the road, but don't get caught without it.
We used this Tripp Lite 375W inverter complete with two USB ports; the rugged aluminum design meant accidentally stepping on it wouldn't be a problem! We also recommend carrying spare fuses for your power inverter; find these in any auto parts shop. Again, a power inverter is one of those must-haves for van life so don't skimp on quality and know how much power you'll need on the road.
A Cordless, Portable Power Inverter
Ready to take it to the next level? If so, consider a Jackery Portable Power Station! Taking your device charging and electric-powered goods with you just about anywhere, anytime. We didn't opt for one of these but would've gotten plenty of use from it if we did. Many van lifers swear by Jackery products so check them out for yourself and see what the fuss is about.
---
Van Life Essentials for Cooking and Eating on a Budget
Making food and staying fed on a budget is quite simple. If van life costs have you concerned just follow our advice on preparing food and staying fed on a simple budget. Basic crockery is easy to find at thrift shops either at home or on the road. Full kitchen or not, the following essential goods for van life cooking allow you to eat wholesome food, stay healthy and  they'll save you money over time.
Finally, many convenience stores have microwave ovens which you can use. We've used plenty of these as a way of prepping food when van life cooking over a fire wasn't an option. Of course, ask for permission first as these ovens are meant to heat foods purchased at the shop.
Kitchen Utensils, Gadgets and Other Essentials
Kitchen Gadgets and Cutlery: Knife Sharpener • Veggie Peeler • Spatula • Oven Gloves • Can Opener • Bottle Opener/Corkscrew • Lighter
Crockery:  Plates • Bowls • Cups • Mugs
Pots & Pans: Cast Iron Skillet • Saucepan • Pot With Lid
Pantry Basics: Salt & Pepper • Herbs & Spices • Cooking Oil • Bouillon Cubes • Coffee • Tea • Non-Stick Spray •
Storage: • Airtight Containers • Potable Water Container
A Decent Camp Stove, Burner or Boiler
We passed on an offer of a free camp stove and ended up cooking over a campfire instead, often under less than ideal conditions. Cooking and even boiling water on a fire is inexpensive but we recommend alternative ways of preparing meals, especially if living in a van for more than a weekend. For example, burn restrictions may include campfires but permit the use of stoves, burners and boilers.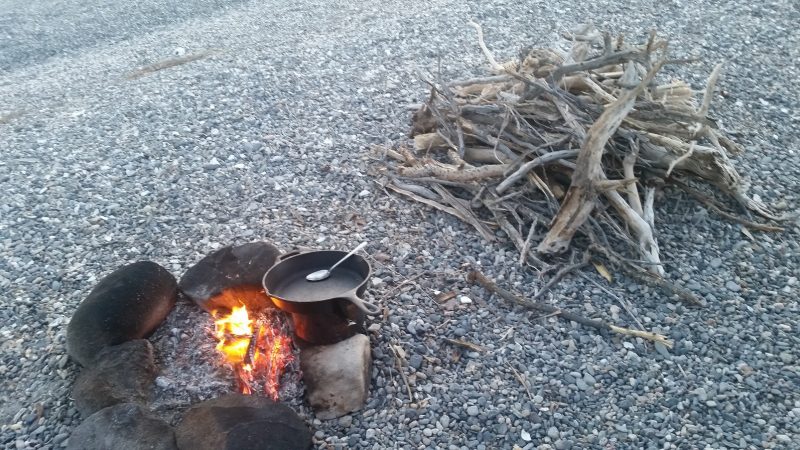 There's a mess of things to consider when it comes to cooking outside. For one, camp stoves are suited for cooking meals while simple burners and boilers are best for quickly heating water. Consider this essential van life equipment based on how many cooking surfaces you need and what you intend to use it for. It's up to you to study up and read reviews before settling on anything.
Classic Two-Burner Stoves: Enjoy enough surface area to get two pots/pans going at once. These are rugged and bulky compared to the examples below. The classic two-burner stove has been a staple of outdoor cooking for generations!
Burners: These lack custom-fitting pots and lids but they make up for that by being lighter and more compact. Again, burners, like boilers, are ideal for simply heating up water but also offer a means of heating up canned foods.
Boilers: For preparing rehydrated food and making coffee or tea consider this aptly-named class of camp cooker. Boilers feature a pot and lid designed to fit the unit. Don't rely on these to do more than boil water, though.
Heating Element
We used a simple travel heating element to boil water when campfires weren't an option. These just plug into your power inverter (see above) and hang off the edge of your mug for hot water in minutes. Of course, you can boil water in a pot with a heating element as well.
The Omnia Camp Oven
For the van life gourmet inside us all, we recommend taking a look at the Omnia Oven! Take that famous casserole or cookie recipe on the road with you and bake something in style. An Onmia Oven fits atop any classic two-burner stove. Acquiring van life accessories which allow for baking bread means you've brought your kitchen situation to the next level!
Other Cooking Appliances For Van Life
You might want to look into the full range of handy 12V-powered small appliances available for van lifers. Truck drivers have been using these for a while and you'll certainly find these for sale at truck stops everywhere. We never considered these essential, but perhaps you demand more from your cooking experience on the road? If you don't have a proper kitchen, but yearn for a crock pot, please read on…
A Sturdy Cooler
Keeping perishable food fresh is crucial for your van life budget. Good coolers like the YETI Tundra 45 maintain ice for up to five days, but these are expensive. Still, the price of a Yeti offsets daily purchases of ice, which is a reality with even quality conventional coolers like our Coleman. We paid up to $2.00 each day for ice. Multiply that by our time on the road and a YETI cooler looks like a wise investment.
We used our Coleman as a seat, a table and a stepping stool. So even if you don't opt for the YETI, make sure your cooler is sturdy and serves double or even triple duty elsewhere in the van! Also, we recommend buying block ice when you can; this lasts longer than cubes and still keeps your cooler chilled enough for food and drinks. Capture water from the melted ice to wash your dishes and utensils.
---
Van Life Wi-Fi
Staying connected wasn't a concern of ours; we had no talk, text or data plan. Instead, we used public wi-fi whenever we could. That meant using a good VPN to encrypt browsing activity and you'll want to do the same. Even unsophisticated hackers can spoof a public wi-fi connection and steal your data. We've been with  TorGuard for years; use or promo code Drifters for a recurring 50% off deal on any of their VPN plans.
We didn't have a data plan while living van life and instead relied on free wi-fi. This may or may not work you, but free wi-fi is easy to come by. As mentioned above, always use this with your safety and privacy in mind and use a good VPN while on any public wi-fi network. Check out or link above to see how affordable TorGuard is and then use our discount code for an even better deal.
Must-Haves for Van Life Comfort and Privacy
Simply put, comfort is crucial when camping! No matter the season or the climate, consider the simple, minimal efforts to stay comfortable in the van. Chances are you'll be chasing warmer temperatures during your trip but cold nights are a definite reality.
Dealing with privacy means tinted windows and solar shades; these also combat excessively high temperatures and serve double duty to keep van life costs down. We'll discuss both comfort and privacy in more detail below…
Privacy/Staying Cool
Don't overlook the easiest way to stay cool: find a shady spot to park. Whether at that perfect camping spot or in a parking lot, avoiding direct solar rays in warmer temperatures is crucial. Depending on where you camp, shade may be difficult to come by so try to seek out all you can. Some parking lots may feature shade from other buildings, trees or even other vehicles.
An awning is a necessity for van life comfort. These are often custom-made and expensive compared to our suggestions below but they would be worth it. We didn't have an awning and we seriously regretted our decision. Whatever your choice, take our advice and consider the cheaper alternatives to staying cool and never overlook the importance of some type of shade.
Tinted Widows: Consider getting professional tints for your van. Simply put, speak with a shop specializing in this and get the job done right. Proper tinting will greatly minimize the effect of pesky solar glare as well as oppressive heat. Tints also provide a level of privacy.
Solar Shades: Keeping your windscreen covered with solar shades while parked keeps the van's internal temperature low. These also provide privacy when needed. Due to their affordability we recommend having enough for all the windows in your van.
The Cross Draft: When you can, position your van to take advantage of the wind. Roll down the windows and catch a cross breeze whenever you can! With solar shades and a spot out of direct sunlight, you'll be comfortable.
Keeping Warm
Higher elevations can mean chilly nights anywhere at anytime. Be prepared with the proper clothing and bedding. We don't recommend portable heaters in this case; these pose safety risks and they simply aren't that practical. Instead, go against our recommendations for beating the heat and get all the solar benefit you can.
A Decent Sleeping Bag: We recommend at least a three-season sleeping bag if you plan on sleeping outside the van. We suggest a rectangular-style sleeping bag; these easily unzip to be used as a comforter or blanket.
Thermal Underwear: Don't forget to pack your long johns! Cold nights are a reality in certain locations any time of year. Have thermal socks as well; your feet won't get too much heat at the bottom of your sleeping bag.
Duvet or Comforter: When your sleeping bag isn't enough to fend off the cold, a duvet or comforter adds a second layer of insulation.
Sitting Around the Campfire
Be prepared to do a lot of sitting at the fire – in style, of course! A reclining camp chair with a beer can holder is a van life necessity which cannot be overlooked. Put your feet up by the campfire after all that driving and enjoy a cold one! Consider a simple camp axe for splitting deadwood.
---
The Essentials for Van Life Housekeeping and Hygiene 
Living in a van means proper hygiene takes a hit from time to time. Travelling hard presents unique challenges and, unfortunately, few chances to shower daily. Public restrooms become too common and doing laundry is a must. Still, we managed to keep ourselves and the van quite tidy! Follow our down-to-earth tips for keeping it clean, no matter how dirty you get!
The Toilet: Of course, our bare-bones van life experiment meant no toilet, however you may consider this necessary. If so, how do you do this on the cheap? A shovel and roll of toilet paper works wonders. Just remember dig a hole at least 8 inches deep. Or check out the very simple Luggable Loo. You can also easily fashion your own using a plastic bucket, this custom toilet seat and some cat litter.
Showers: Staying clean is important but we never had a portable shower. Instead we relied on baby wipes or buckets of soapy water. A treat for us was sharing a private shower at truck stops; for about $6 each we had all the hot water, towels and soap we needed plus our own toilet! Truck stop showers are clean and safe and it beats the lack of water pressure from portable units.
Laundry: Simply put, laundromats are widely-available and cheap. Nothing will top a real washer and dryer and aside from a bucket, detergent and water there's no reason to fuss over any special contraptions. If you decide on the bucket method, drying your laundry is just as easy with any old line strung up. Don't forget a few cheap clothes-pegs, either.
Cleaning House: Our best cleaning tips involves nothing more than a firm-bristle brush, Windex and paper towels. Don't forget air fresheners; fabric softener dryer sheets work good too. Hoovers (vacuum cleaners) are available at most car washes if you really need one. This simple brush easily keeps any carpet and upholstery free of hair, dirt and lint and makes a portable hoover a waste of space.
Bin: A simple, small rubbish bin tucked away in the corner keeps your van tidy. Ours was the perfect size for wedging behind the front seat which meant it never tipped over while driving.
Fly Paper: Being without this overlooked van life essential will set you up for a disaster. We did have some during our time on the road but soon ran when we needed it the most. Getting fly paper in Baja Mexico proved to be impossible and we should've had more with us.
---
Van Life Maintenance and Safety
As stated, this article is for budget-minded and mechanically-challenged people interested in van life. Our purpose it to let those know what's needed, what isn't and how simple van life necessities are. Having said that, you must always be prepared for breakdowns and that means simple tools to get yourself back on the road when the van life gremlins attack.
We'll focus on common, simple mishaps and the inexpensive tools you need to handle them. It's advisable to keep some spare parts on hand as well and we'll tell you which ones. Also, we recommend having a very basic knowledge of how your vehicle's different systems operate. You do need skills to overhaul an engine, but anyone can quickly learn what to do if the engine overheats.
Also, inspect your van or have a mechanic look over it before hitting the road. Are the hoses in good shape? How about the belts – do they need to be replaced? Are all the fluids your van needs topped-off? Does your air filter need to be replaced? A simple visual inspection goes a long way so don't defer replacement of old and worn components.
Spare Parts, Fluids and Quick Fixes
Don't hit the road without the simple, inexpensive parts which keep your van going. Temporary fixes you perform may get you to a mechanic should you really need one. Also, having a bit of simple mechanical knowledge may prevent you from being taken advantage of at a repair shop. Here are some parts to have on hand for the breakdowns that never happen at the right time:
Fuses: Know which type of fuses your van needs, what each fuse operates, where to find them and how to replace them. This is all rather simple and fuses are very inexpensive. If the fuse responsible for your radiator fan blows, have a spare of the same amperage. Keep an assortment of fuses rated for different amps; very important vehicle functions rely on fuses.
Bulbs: Keeping spare bulbs for your interior and especially exterior lights is very important! A burnt-out exterior light is an invitation to get pulled over, so perform a visual inspection on these from time to time and replace when necessary.
Hose Clamps: A selection of these won't cost you more than a few bucks so don't get caught without them. Look at the hose clamps on your van and know how to replace them in your driveway before hitting the highway.
Jumper Cables: Keep proper cables handy and know how to use them properly. We went to help someone in Mexico and discovered ours were worn out! Luckily, someone else was nearby to save the day for the stranded motorist. Make sure yours are in good repair!
Belts: Any auto repair shop can sell you each belt your vehicle needs. Consider having some spares in case they break while on the road. Know the proper routing of the belt(s) and pulleys; a photo or diagram showing how these relate to one another is a good idea.
Fluids: Have steering and brake fluid with you. Also, have enough oil (and the right type) at all times. Know which type of engine coolant you need and keep an old plastic bottle full of a water/antifreeze mixture.
Tyre Repair Kit: Often, damaged tyres can be repaired instead of replaced. Repair kits are easy to use and inexpensive so have one with you. These are simple to use, allowing you to plug holes in the tread caused by screws and nails. Once plugged, just inflate and go.
Traction Mat: Getting caught in mud, sand or snow quickly changes your plans. We narrowly escaped a sand trap in Baja California by adding some carefully-placed rocks under our tyres for traction! Still, these simple traction mats would've saved us time and effort.
Duct Tape: We relied heavily on this crucial van life accessory, both inside, outside and under the bonnet! We kept one roll up front and one in the back at all times.
Blu Tack: This is for hanging posters at home but on the road it's useful for much more. For example, we relied on a good-sized blob of this goop for hanging our flashlight from the ceiling of the van at night. What'll you use it for?
Wire Ties: We used these on many occasions for all sorts of projects! These inexpensive things come in a variety of sizes and colours, perfect for whenever the need arises – and it will!
Pry Bar: This may be handy for a number of reasons. We hope you don't need to pry anything but don't overlook this essential tool.
Tools and Accessories
We discussed the reality of simple breakdowns so you'll need basic tools to handle these. If you don't need these yourself, someone else on the road will. Also, we reveal a few inexpensive and simple maintenance necessities for making van life easy.
Sockets/Wrenches/Screwdrivers: Of course, you cannot anticipate every need but a basic toolkit is essential for van life. It's important to keep your tools organised so consider a kit which features a sturdy carrying case.
Bottle Jack: Don't rely on the lousy jacks which come standard with vehicles; invest a few dollars in a bottle jack instead. The latter is far, far more stable than the traditional scissor jacks or farm jacks most vehicles come with. Never rely solely on a jack when working under a vehicle.
Tyre Inflater: See Tyre Repair Kit above and you'll understand why the Slime Inflator is an important van life accessory that needs to be on your list. Even if you don't get a flat your inflator comes in handy when you're low on air.
Roll Mat: Having some type of roll-up mat to lie on while beneath the van is a good idea. We used a lid from a plastic storage tote, however we suggest something with less bulk.
Safety Necessities for Van Life
Don't overlook our recommendations for keeping yourself and your van safe and sound on the road. Safe driving and obeying the rules of the road is your responsibility; take just as many precautions in your van while not driving.
---
Learn From Our Mistakes
Van life meant a lot of mistakes for us; we didn't know this was a thing until after we hit the road in late 2017! That budget of $15 each per day coupled with an uncool 1999 Volkswagen Eurovan meant we weren't Instagram-worthy in any sense! We drag our van life fails out into the light that you may learn from our mistakes and avoid them.
We never meant to be in our van for two years, and we got a lot of it wrong. Our level of preparedness was suited for perhaps a month of living in a van at the most, not a few years. Along the way we bought things we found out we needed and ditched stuff we didn't. If your idea of van life is longer than a few weeks, we hope this article prepared you for considerations to make before setting off.
---
Pin Me Now!