Last Updated on June 3, 2021
What is it exactly about Southwest road trips in the U.S. that evoke such wonder? Why is this part of the country ground zero in our imaginations for the classic road trip? We sought answers to these questions ourselves and as a result drove around for a few weeks looking for them. What did we find? We found that some of the most pointless wanderings are often the most memorable.
We've compiled off the beaten path Southwest road trips to inspire you. We'll reveal plenty of rather unique things and iconic attractions to keep you interested. From a secret location on the Extraterrestrial Highway in Nevada, a singing road in New Mexico and an odd convenience store located inside a mountain, our following itineraries are perfect for those ready for quirky attractions and stunning scenery.
Choose Which Southwest Road Trip Suits You Best
Simply deeming any long drive a road trip makes the experience something to revel in rather than just muddle through. Keep that in mind on your next drive, no matter where you are. Use our ideas and take these routes individually or combine some into a 5 or even 10 day Southwest road trip. Our suggestions below feature the distance of each route and approximately how much time to devote to them during your trip.
Disclosure: This article contains affiliate links to products and services whereby we receive a nominal commission if you make a purchase through one of these links. This comes at no extra cost to you. Please see our Disclaimer for full information.
Make the Most of Your Southwest Road Trip, or Any Trip and Book With the Best!
Book accommodation and get inspiration for future road trips at Hotels.com right now. Need more road trip ideas? Check out some of the most iconic routes in the United States.
Whether booking a rental car for your road trip or even flights, Skyscanner instantly searches over 1,200 sites to get you the best deal. Take control of your next getaway and find everything on Skyscanner to book your own travel and save. 
Of course, enjoy our suggested road trips in any direction as this depends on where you're coming from. You don't really need much to claim your piece of the following road trips in the U.S. Southwest – simply grab a map and go. Our suggested routes are presented in no particular order.
---
1. Legendary Road Trips in the Southwest on Route 66 in New Mexico
Description: Surviving segments of Route 66 run through Albuquerque and Tucumcari, New Mexico. Here you'll find surviving  establishments from the heyday of The Mother Road as well. These places proudly embrace tourists in search of a classic Route 66 road trip. When the glow of neon lights fades simply switch gears and head south of Tucumcari to see Billy the Kid's grave.
Visit Our Favorite New Mexico Attractions and Discover Even More Road Trips Through the Southwest!
Watch Our Video and Learn More About New Mexico!
Visit the town of Santa Rosa and marvel at its natural blue water swimming hole which is a welcome respite from the heat. Would you like to drive down a highway which plays America The Beautiful on your next road trip? Of course you would, so follow our guide and be amazed! A bit of Route 66, the grave of an American legend and a quirky attraction make this one of the best Southwest road trips anywhere.
Distance: 300 Miles
Start: Albuquerque, New Mexico. Finish: Tucumcari, New Mexico. This also makes a great loop route, perfect for starting in either location.
Time: Allow yourself two full days on this road trip to take in these classic and quirky Southwest sights.
Itinerary: Albuquerque is full of atmospheric restaurants on old Route 66. These places are cooking up good food like they have for decades and serving up plenty of vintage charm to go with it.
Try the Frontier Restaurant on Central Avenue (Route 66) for economical New Mexican food and make sure you order a cinnamon bun to-go for the drive – you'll thank us for this later! Also on Route 66 is Kap's Coffee Shop and Diner, famous in Albuquerque for the heaping plates of breakfast they've been proudly serving serving to folks since 1968.
Head east along Central Avenue in Albuquerque; this quickly becomes NM Route 333 just outside of town. It's here where a curious section of black top plays a tune as your vehicle cruises along. Find the exact spot of the Singing Highway between mile markers 4 and 5 eastbound on NM 333.
Turn Up The Volume And Check Out Our Video Of The Singing Highway!
Video by: acoupleofdrifters.com
As you drive, line up your passenger-side tires with the specially designed grooves in the road to hear one chorus of America The Beautiful as you trundle along! For best results, roll up the windows and maintain 45 mph as your speed determines the tempo of the chorus.
You may need to attempt this several times before getting it right, followed by several more times when you get it right. I dare you to find this attraction unimpressive! Unusual Southwest road trip attractions like this simply should not be missed!
Does Your Southwest Road Trip Include Route 66?
Look at these great Airbnb stays in Tucumcari and spend a night or two on the Mother Road! Take time to enjoy more of this road trip destination!
Continue east on Interstate 40, dull except for a few kitsch gift shops still managing to pull in road trippers. The almost-legendary Clines Corners has been getting people to stop since 1934. The selection of junk food and cheap souvenirs here are enough to make it either worth the stop or not – pull over and decide for yourself.
The pleasant town of Tucumcari is relevant for seeing the worth in its present because of its past. Hotels and restaurants here still stand testament to the fascination known the world-over as Route 66. These businesses pull in the customers and still look sharp while doing it. We wonder why more towns in the United States don't share the same confidence Tucumcari has about its past, present and its future.
Next is a drive down NM 209 on your way to visit one of America's biggest legends! From 209 connect to NM 252 south which becomes NM 268 south, then onto US 60/84 west toward the town of Fort Sumner; this is the final resting place of Billy the Kid. Follow signs to his grave site from US 60/84 before entering the town of Fort Sumner, See our detailed directions to Billy the Kid's grave listed below.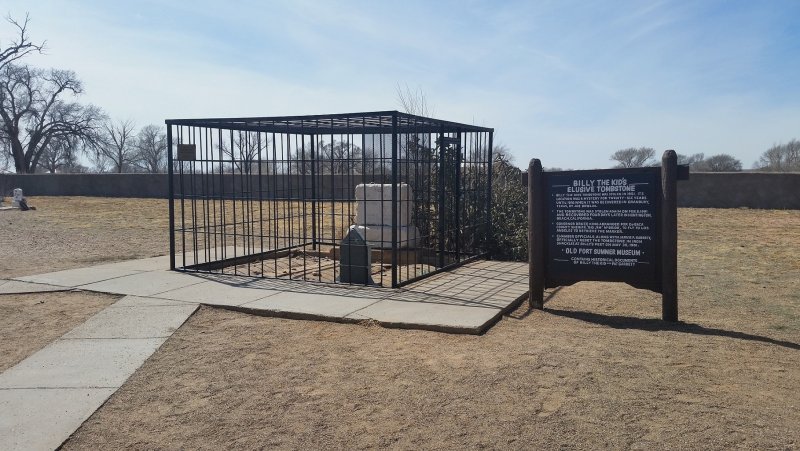 Pay your respects graveside and then learn a bit more about the rapscallion himself. Head directly from the cemetery to the worthwhile Billy the Kid Museum located in the center of Fort Sumner on US 60/84. The Museum has a great documentary on the namesake hero along with his gun and other personal items. While away an hour with displays and information on the life of Billy. Admission to the museum is just $5.
Directions to Billy the Kid's Grave: Take US Route 60/84 east from Fort Sumner to Billy the Kid Road and turn right. Continue straight to Old Fort Sumner Cemetery. Alternatively, head east from Fort Sumner on US 60/84 to NM Route 272 and turn right; follow this to the cemetery.
Finally, who expects to discover a big blue pool filled with clear water in the middle of the desert? The next town on U.S. 84 west, which breaks from U.S. 60 in Fort Sumner, is Santa Rosa. This is home to a delicious-looking naturally formed swimming hole in a park just outside town.
This park is free to everyone, making for a sweet spot indeed to visit on a hot day. We tip our hats to the town of Santa Rosa for maintaining this special place and  for letting everyone in to enjoy it for free.
You're just minutes from Interstate 40, signifying the end of this road trip. We have plenty of suggestions for more things to see in New Mexico to keep that Southwest road trip going! This is one of our favorite states and we encourage you to see even more of it!
---
2. An Iconic Southwest Road Trip on the Extraterrestrial Highway
Description: Just 80 miles north of Las Vegas, yet a world away, begins the fabled Extraterrestrial (E.T.) Highway, known for its proximity to Area 51 and claims of UFO sightings in this area. This is your chance to finally spot strange things in the while being followed by a mysterious white truck from the gates of Area 51. This is likely one of the strangest road trips in the Southwest you'll take…
Distance: 150 Miles
Start: Las Vegas, Nevada. Finish: Rachel, Nevada.
Time: Expect at least 1.5 days for the E.T. Highway road trip from Las Vegas
Road Trip Itinerary: Start this Southwest drive with some grub before spotting your first alien. Don Tortaco is a Las Vegas chain with about a dozen locations and their bean burritos are pure perfection! Don Tortaco is open 24-hours, perfect for noshing and starting your road trip at any hour. Fuel yourself for this epic journey – you'll thank us later!
This makes a great road trip to escape the hustle of Las Vegas. If that sounds good then head to Pahranagat National Wildlife Refuge on U.S. Highway 93 just north of Las Vegas for some free camping – this is what we did after spending several days in Las Vegas. This little-used campground features 15 sites scattered around peaceful Pahranagat Lake.
Need Somewhere to Stay in Las Vegas?
Get your southwest road trip off to a good start; check out these great Airbnb stays in Las Vegas right now and stay someplace unique.
You may hear sonic booms at night while camping from mysterious aircraft flying overhead. These are no doubt Air Force planes on training maneuvers, or are they something more? We heard several unidentified flying objects (UFOs!!) break the sound barrier while standing at our campfire that night. Of course, these were only unidentifiable because it was dark…
Break camp early and head 15 miles north on U.S. 93 to the junction of Nevada Route 318, where the folks at E.T. Fresh Jerky  offer choice, alien-abducted beef expertly dried and seasoned. This locally sourced, desiccated delicacy is always in season so try some today!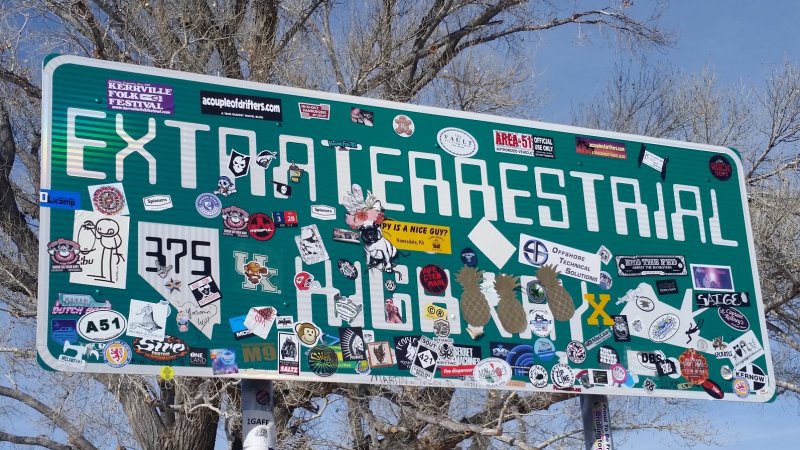 The official start of the E.T Highway begins where Nevada Routes 375 and 318 fork at the locale of Crystal Springs, just opposite E.T Fresh Jerky. Grab all the photos you need in front of the official E.T. Highway sign and look for our bumper stickers. Just beyond this sign is the world-famous Alien Research Center, which is really just a gift shop.
Don't overlook the infamous Black Mailbox on the E.T. Highway. The location of this mailbox is a landmark, not least because it's the only thing around for miles! UFO enthusiasts have gathered at this mailbox for years to watch the skies at night. Because of its popularity and alleged importance the mailbox is frequently stolen from its lonely roadside perch. A shrine of sorts to the mailbox was on offer during our visit.
Directions to The Black Mailbox: From the Alien Research Center drive about 19 miles to the location of the black mailbox, located on the left side of the highway. You won't have any problem spotting this curious attraction while heading to the town of Rachel.
No Southwest road trip on the E.T. Highway is complete without stopping at the Alien Research Center. The lovely woman working there gave us tips on how to get to the back gate of Area 51. The dirt road to the gate is quite evident as you descend a mountain pass heading west on Nevada 375. In fact, you'll see this road off to your left for miles before you actually reach it.
Directions to the Back Gate of Area 51: The access road to the gate, conveniently called Back Gate Road, is 37 miles from the Alien Research Center, or about 18 miles beyond the black mailbox (see above). As mentioned, this road is strikingly visible as you approach the town of Rachel from the east and you certainly won't miss its location. Back Gate Road is just several miles from the town of Rachel.
Note: The road to the back gate of Area 51 is gravel, however this should be suitable for any vehicle. The road to the back gate of Area 51 is about 15 miles long from the turnoff at the E.T. Highway. Also, many people report being followed back to the E.T. Highway by government vehicles, especially white pickup trucks – more an annoyance than a danger.
Step up to the gate of Area 51 for your obligatory selfie as a mysterious white truck stands sentry on a nearby hilltop. DO NOT ENTER THROUGH THE GATE. Attempts were made in 2019 to storm Area 51 to uncover the truth; just take a photo like we did and leave! TAKE THE SIGNS AROUND THE AREA 51 GATE SERIOUSLY – YOU'RE BEING WATCHED AND THIS IS NO JOKE!
The tiny town of Rachel is the next stop along Nevada 375, noteworthy as the end of the E.T. Highway. In Rachel you can stay the night at the Little Aleinn or just pop into their restaurant for a bite –  the roast beef sandwiches and alien burgers are out of this world. Finally, enjoy another photo op in the parking lot of the Little Aleinn and tick this famous road trip in the Southwest off your to-do list.
---
3. An Overlooked Southwest Road Trip From Utah to New Mexico
Description: The jaw-dropping beauty of southern Utah and the geographic significance of Four Corners makes this one of our favorite road trips in the Southwest. It starts and ends with some tasty food, should the thoughts of travel make you hungry. Along the way is some of the greatest earth on show and you'll get the chance to physically be in four states at once. Grab your camera!
Begin in Beaver, Utah, taking state route 153 east. Along the way connect to four consecutive scenic routes (U.S. Highway 89 and Utah Routes 12, 24 & 95), each passing through stunning southwest countryside. Finally, the scenic part of this road trip ends in the aptly named town of Blanding, Utah. New Mexico and the roadside attraction of Four Corners is next, along with a great meal in the town of Farmington.
Distance: 480 Miles
Start: Beaver, Utah. Finish: Farmington, New Mexico.
Time: Allow at least four days to complete this epic journey through four states (read on…).
Itinerary: Start this scenic Southwest road trip with a bean burrito from Valerie's Taco Shop (7 am – 12 am daily) at the Flying J Truck Stop in Beaver, Utah. In addition to offering a restaurant with an assortment of tasty grub, this truck stop is also a great place to spend the night. We slept in our VW van and enjoyed the free wi-fi all night long!
Take Utah Route 153 east from Beaver to U.S. Highway 89 south. Follow Utah 12 east to Bryce Canyon National Park. Continue on Utah 12 east to the town of Esacalante (break your journey here), which is the best base for exploring Grand Staircase Escalante National Monument. This national monument boasts over one million acres and is quite fragmented. As a result, hiking and camping here require some serious planning.
Need Time to Explore Grand Staircase-Escalante National Monument?
Hiking and exploring this area requires time and planning; allow yourself several days with one of these Airbnb stays near Esacalante, Utah. Get some fresh air during the day, then come back to your own unique accommodation and relax.
Check the road conditions for Grand Staircase Escalante (GSE) before your visit as these things change frequently. Most noteworthy to serious adventurers, this national monument is best suited for those devoting plenty of time and even more forethought to visiting. Simply put, Grand Staircase Escalante isn't full of paved roads leading to scenic overlooks and picnic grounds.
For an easy way of seeing GSE and a chance to slip into Capitol Reef National Park for FREE simply take the Burr Trail Road from the locale of Boulder on Utah Route 12. Marvel at natures handiwork all around, best enjoyed in the early morning light.
Moving on, the paved road soon turns to gravel as you gain free access to Capitol Reef National Park! Take it easy descending the infamous Burr Trail Switchbacks which aren't suitable for large RVs or vehicles towing long trailers.
The mostly dirt back road to Capitol Reef National Park brings you to Utah Route 24; head east (right) on this. In Hanksville check out Hollow Mountain (7 am – 10 pm daily), unique because it's likely the only convenience store you'll find anywhere located inside a mountain!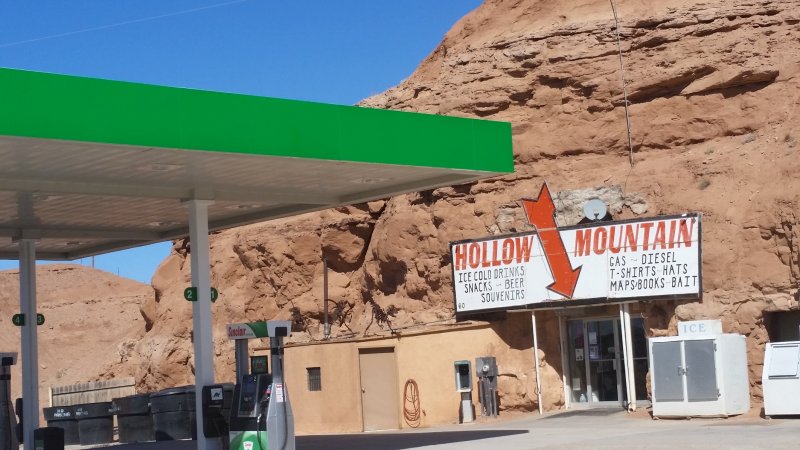 Utah 95 begins in Hanksville; take this south. About 30 miles beyond Hanksville this highway passes through a dramatic and lengthy stretch of scenery between Canyonlands National Park and Glen Canyon National Recreation Area. This section of Utah 95 is full of picnic spots, great hiking trails and campgrounds. We suggest Alltrails app for hiking information and Allstays for an overview of campgrounds along this route.
Pull into scenic Hite Overlook, offering a commanding views over Glen Canyon National Recreation Area. Break your trip for the night in the town of Blanding, where you'll find plenty of services, so-so restaurants and not much else.
In the morning head south on U.S. Highway 191 to Utah Route 162 east. This brings you into Colorado for several miles on state route 41, then onto U.S. 160 westbound into New Mexico at Four Corners. This is the only place in the country where four states join, allowing you the chance to physically be in each state at the same time! This is certainly multi-tasking at its very finest!
From Four Corners head west on U.S. Highway 160 into Arizona. At the town of Teec Nos Pos turn east on U.S. 64 into New Mexico. If you follow our suggested route for this Southwest road trip from Blanding, Utah you'll indeed find yourself driving through each of the states represented at Four Corners. Please note that you must drive through each state one at a time…for safety reasons, of course!
Continue on U.S. 64 east and snap a photo of iconic Shiprock which dramatically punches through the earth in an otherwise flat part of New Mexico. Continue east to Farmington where Chef Bernie's Diner (6:30 am – 9:00 pm Monday through Saturday, closed Sunday) has a place set for you along with your very own table-side jukebox! Order any dish with green chile – this is New Mexico, after all!
---
4. Can You Afford the Million Dollar Road Trip Through the Southwest?
Description: Not too many Southwest road trips are officially considered scenic, but the Million Dollar Highway is! As a result, this drive is all about the viewing rather than the doing. U.S. Highway 50 & its spur, U.S. 550, slink through the Rocky Mountains in dramatic fashion, passing through a handful of charming towns worth a stop. Break your journey in the quaint spa town of Ouray during your drive.
Camping is available along this route; you'll drive through plenty of towns offering services should you require creature comforts. We apologize for not offering any recommendations for bean burritos on this road trip (see above). Should you know of any worthy contenders along this route please don't hesitate to share these with us!
Distance: 235 Miles
Start: Salida, Colorado. Finish: Durango, Colorado.
Time: Allow two full days to explore the scenic Million Dollar Highway road trip.
Itinerary: Salida, Colorado is a town full of charm and you may find yourself lingering here for a bit. Plenty of services make this a great place to base yourself while planning your road trip further. From Salida head west on U.S. Highway 50 and as ascend lofty Monarch pass, topping out at 11,312 feet. This soon descends into a narrow valley skirting Tomichi Creek on the way to the town of Gunnison.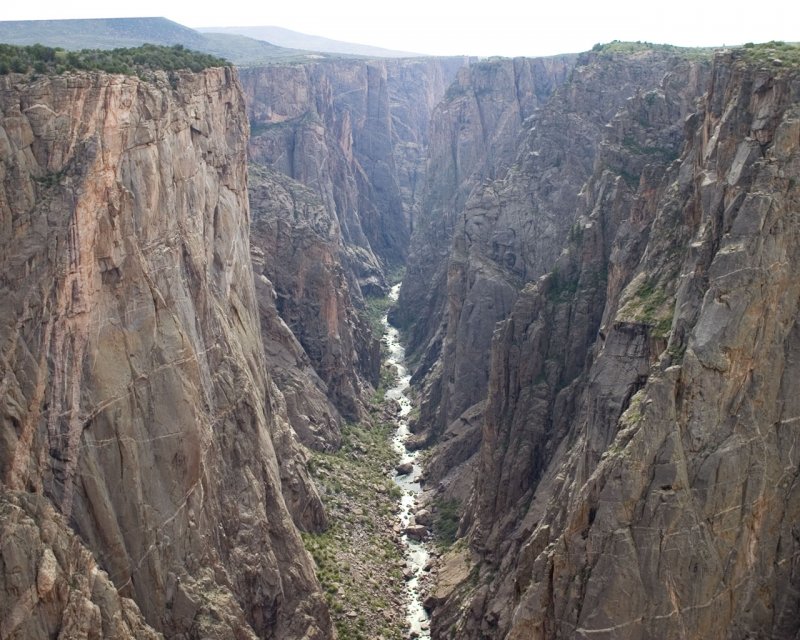 From Gunnison the road edges Blue Mesa Reservoir and climbs slightly on the way to the town of Montrose – the gateway to Black Canyon Of The Gunnison National Park. Come here just to peer into the river 2,000 feet below.
The pleasant town of Montrose is a mere 15 miles from the south rim of this national park and is full of services. This is also the junction to US 550 where the road trip then continues south.
This part of Colorado offers amazing opportunities for hiking and camping. You'll also find plenty of scenic viewing areas on the Million Dollar Highway to stop and admire the grandeur around as you consider your hiking, camping or lodging choices.
If a hot spring soak following a day of driving becomes too much to ignore, the town of Ouray certainly has you covered. The town is home to a rather wonderful public hot spring complex worth checking out.
This town is also a great base for four-season activities – they call this the Switzerland of America for a reason! Ouray makes a likely spot to break your journey because of its charm and for providing other services during your road trip.
Between Ouray and the next town of Silverton, U.S. 550 is called The Million Dollar Highway. The name is due to the quality of scenery and how you feel (like a million bucks) upon seeing it! The views out the passenger-side window (south) along this 25-mile stretch of highway is considered one of the most scenic drives in all of North America.
Spend a Night or Two in This Colorado Spa Town!
This makes for a great spot to break your journey and enjoy a mountain getaway. Stay somewhere truly special and choose one of these Airbnb options near Ouray right now. Find the perfect accommodation at a price that's just right for you.
That scenery, along with the curious lack of guard rails and the volatile weather, work in concert to make this one of North America's most dangerous roads as well. Therefore, keep your eyes on the road and your hands upon the wheel!
Your cautious driving means you made it to the lovely town of Silverton in one piece. Downtown is full of colorful old wooden buildings that certainly must have been general stores, hotels, hard-drinking saloons and perhaps even a haberdashery or two back in the day. Silverton is a very small town and a great place to get out and walk around for bit.
U.S. Highway 550 slowly descends to the great town of Durango, where boisterous mountain scenery gives way to muted high grassland. Durango does a good job serving as the last hurrah along this epic southwest road trip. You may find yourself pondering the last 235 miles over dinner and a drink, perhaps anticipating your next journey. You're now situated to enter New Mexico just south of Durango.
---
In Conclusion…
This area of the U.S. is certainly full of more famous Southwest road trips however ours are worth consideration, too. We simply happened upon these routes and were surprised by how significant they were. So, your perfect road trip experience is even closer than than you think!
Get inspired like we did and make sure to see our other suggestions for exploring more of the Southwest; the box above is full of links to our other articles. No matter what you do or where you go, take your time and appreciate each moment of it during your road trip.
---
Pin Me Now!