Last Updated on November 1, 2022
It's no secret the greatest thing about Mazatlan is the food, especially the seafood. There's no need to seek out high end establishments for a great meal. Let us take you on a tour of the best cheap, authentic restaurants in Mazatlan that'll keep both your belly and your wallet full.
This guide isn't just for budget-conscious backpackers travelling throughout Mexico. The goal of this article is to encourage everyone, regardless of budget to step away from the comfortable familiarity of tourist-orientated restaurants. Instead of being led around by the nose on a food tour, gather some gumption and strap on your own feed bag.
There's nothing wrong with food tours, but in a city crammed with food stalls and restaurants how difficult is it finding authentic local food? Not fluent in Spanish? Be adventurous! Just pick a dish from the menu and try it, or simply point to something that looks good.
Our Guide to Cheap Restaurants in Mazatlan and More
Our guide goes beyond seafood, although sampling the local catch should be your primary goal regarding what to eat in Mazatlan. We've got suggestions for filling breakfasts, local specialities and a type of slow cooked meat rarely found north of the border.
For a truly authentic experience we'll let you in on a fun secret revealing how to avail of an iconic, traditional indulgence.
By the time we're done you'll graze your way through markets, beach shacks and local restaurants wishing you had more time to explore Mazatlan's eateries. Each place we recommend offers an authentic experience and incredibly tasty food, all at great prices.
Tips for Exploring Authentic Mazatlan Restaurants
Many of these establishments are cash only. Do not rely on paying with a card.
Where listed, hours are merely a guideline. Mexican restaurants often open and close upon their own whim.
What is surtido? It's a mixture of meat and offal – stomach, skin, snout, ears, liver etc…. Only want meat? Ask for solo carne or maciza.
Disclosure: This article contains affiliate links to products and services whereby we receive a nominal commission if you make a purchase through one of these links. This comes at no extra cost to you. Please see our Disclaimer for full information.
---
Seafood Restaurants in Mazatlan You've (Possibly) Never Heard Of
---
Due to Mazatlan's strategic location on the coast of Mexico, this tropical beauty is known as the Pearl of the Pacific. Restaurants and street vendors alike jostle for customers with the freshest seafood served in a mouth-watering variety of ways.
Mariscos Toño
Where: 2611 Calle Guillermo Nelson, Centro
Hours: 10:00 am – 7:00 pm, daily
Telephone: 52 669 982 4373
Toño's is quite literally a roadside restaurant with tables and chairs set up on the side of the actual road. This family-run restaurant has been serving classic hot and cold seafood dishes for over 50 years.
While you won't find drizzles of coulis decorating your dinnerware, you will find some of the best seafood in Mazatlan served here. Locals come for the ceviche and cocteles loaded with shrimp, octopus and caracol. If you've never tried aguachile (120 pesos), Toño's is the perfect place to wake up your taste buds with this spicy shrimp ceviche.
---
El Molcajete Loco
Where: 2600 Calle Guillermo Nelson, Centro
Hours: 
11:00 am – 7:00 pm, Wednesday through Monday
Closed Tuesday
Telephone: 52 669 280 3664
A trip to Mexico isn't complete without ordering a molcajete. Typically either beef, seafood or a combination of the two are served in these volcanic cauldron-esque bowls (155-210 pesos). Here at El Molcajete Loco choose between a variety of cold seafood cauldrons, each comprised of a variety of both cooked and ceviched shrimp, oysters, conch, octopus and the exclusive callo de hacha scallops. Alternatively try one of their bubbling hot molcajetes of fish and shrimp.
The extensive menu here offers a variety of seafood dishes from simple soups to fancy torres and beloved tacos capeados (Baja style battered fish or shrimp). Try a chicken or beef dish if you're not a fan of seafood.
Need a Place to Stay in Mazatlan?
Check out the amazing selection of Airbnb rentals in Mazatlan. You'll always find something through Airbnb, no matter your style or budget.
See the impressive selection of rooms in Mazatlan at Hotels.com and discover the best deals, both here and throughout all of Mexico. 
This no frills restaurant is our go-to place to take visitors and is our own personal favourite for a mid-week treat. Fernando and staff provide top notch service with generous portions at affordable prices. This is the perfect spot to venture off the beaten path and ease into the realm of local dining. See for yourself why El Molcajete Loco comes recommended as one of our favourite Mazatlan restaurants.
---
Caguamanta Doña Mary
Where: 93 Paseo Claussen, Centro
Hours: 8:00 am – 2:00 pm, daily
Telephone: 52 669 983 8338
Doña Mary and her family have been nourishing locals with caguamanta (70 pesos) – her signature dish for over 40 years. This rich stew was traditionally made with sea turtle (caguama), however it's endangered species status means the main ingredient is now manta ray. The broth is mild enough for anyone's palate and is chock-full of vegetables and fish.
The small menu here includes the standard fare of birria and the ever-popular variety of tacos. However Doña Mary's is the best restaurant in Mazatlan to try a smoked marlin taco (19 pesos). Slather on some salsa and delicious accompanying avocado salad for the perfect snack. Local food tours have taken notice of this oceanfront neighbourhood institution. Grab a plastic chair, enjoy the sea breeze and indulge in a real Mazatlan meal.
---
Las Changueras (The Shrimp Ladies)
Where: On Aquiles Serdán, between Avenidas Luis Zúñiga and Alejandro Quijano, Centro
Hours: 7:00 am – 4:00 pm, daily
These ladies (and gents) are an institution in Mazatlan (the self-proclaimed shrimp capital of the world)! Find them daily selling a variety of shrimp from ice-filled plastic basins under a colourful canopy of umbrellas on Aquiles Serdán.
They also sell fish, lobsters, octopus, scallops and squid. The listed prices vary depending upon the size and type of shrimp. Some of the shrimp are absolutely massive – be prepared to pay market price.
Our Las Changueras Video From Mazatlán!
You Too Can Avail of a Traditional, Iconic Mazatlan Dining Experience…
On a cruise or staying in a hotel and don't have the means to cook shrimp yourself? Don't despair because you too can partake in this iconic, Mazatlan must-do. Conveniently located nearby are Mariscos La Palapa Efren, Bar La Ancla De Oro and Mariscos Dunia, each of which will cook your shrimp to your liking for a fee.
Simply select your shrimp from one of the changueras and take it to any of the above mentioned places. Order an ice cold Pacifico beer, select how you want your shrimp cooked and prepare to indulge in Mazatlan's most authentic dining experience.
---
Authentic Beachfront Palapa Restaurants in Mazatlan
---
Hang out with the locals and grab a table at any of the 15 or so seafood palapa restaurants located along the oceanfront on the malecón. You'll find all of these restaurants comparable both price and menu-wise, and all that separates them is individual preference. These beachfront palapas are the classic places to eat in Mazatlan while enjoying stunning views.
See Our Pescado Zarandeado Video from Mazatlán!
The house specialty at each of these restaurants is the zarandeado, a seafood dish we wholeheartedly recommend trying…at least once. So what is zarandeado?  This is a whole split, seasoned fish cooked over coals with peppers, tomatoes and onions served with rice.
Fish is sold per kg. Upon ordering either zarandeado or a whole fried fish your server arrives table-side with a choice of raw whole fresh fish (typically red snapper) to choose from. Simply select which fish appeals to you, sit back with an icy brew and wait for your meal to arrive.
Caveats to Beachfront Restaurant Dining
Typically beer is the only alcohol available at many of the beachfront seafood palapas in Mazatlan.
Unlike many other restaurants these beachfront palapas do not allow customers to bring their own beer or wine.
Be prepared to be bombarded by vendors and roving musicians. Bring ear plugs to alleviate the decibel level of the banda musicians.
Should you be terrified of birds (like me), the hordes of scrounging pigeons don't make for the most relaxed dining experience!
---
Mariscos Puerto Azul
Where: Malecón de Mazatlan
Hours: 11:30 am – 7:00 pm, daily
Telephone: 52 669 920 7728
Mariscos Puerto Azul is one of the more popular oceanfront palapa restaurants. Holidays like Semana Santa, Carnival and even just normal weekends are cause for queues to form outside this local's favourite.
Ready to See and Experience More of Mexico?
Bring along our useful travel tips to see you through; we've been to every corner of Mexico and have learned quite a bit!
Ready to visit Baja Mexico? From driving to fish tacos and plenty of free beach camping, we tell you what you need to know.
Seafood rules in all of it's glorious incarnations here. Hot and cold dishes are served with stacks of tortillas, crackers and the oh-so delicious Mariscos Puerto Azul smoky salsa. Even though dessert isn't available from the menu, keep your eyes peeled for roving dessert vendors offering coconut stacks and tasty flans at sweet, budget-friendly prices.
---
Traditional Cenaduria Restaurants in Mazatlan
---
What is a Cenaduria?
Cenadurias are traditional, local restaurants in Mazatlan providing simple comfort food in a relaxed, homey environment. Often these established businesses have been satisfying loyal neighbours for generations. Typically cenadurias open mid to late afternoon and close around 11:00 pm or whenever the food runs out.
Watch Our Complete Mazatlan Video Series on YouTube!
If you're seeking an authentic dining experience, look for a cenaduria. Don't be fooled though, the term cenaduria has become bandied around and is often used by commercial restaurants in a suggestive manner.
A typical cenaduria menu is quite basic, consisting of many antojitos (gorditas, tacos, flautas) – also commonly found at street vendors.  A standard favourite on the menu of a cenaduria is pollo a la plaza or asado a la plaza, both served with potatoes, vegetables, tortillas and a cup of broth (caldo). Seafood is typically not a feature on cenaduria menus.
Cenaduria La Copita
Where: 2501 Avenida Belisario Domínguez, Centro
Hours: 
5:30 pm – 11:30 pm, Monday through Saturday
2:00 pm – 11:30 pm, Sunday
Telephone: 52 669 123 9689
Tucked away in the Centro neighbourhood just two blocks from the malecón is La Copita. This cenaduria has been satiating loyal customers since 1965 with simple home cooked fare and ample portions at very affordable prices.
Try the pollo a la plaza, which consists of two pieces of fried chicken, crispy potato wedges, salad and a cup of yummy broth. Looking for just a snack? Be sure to order the res con papas tacos – deep fried tortillas with a blended potato and beef filling.
One of the best deals on any menu, anywhere in Mazatlan is the large pozole here at La Copita. For just 70 pesos, get a heaping bowl of chicken and pork in a flavourful broth along with home-made tostadas and salad/toppings. It is easily possible for two adults with normal appetites to share this large serving and be satisfied.
Why not round out your meal with an authentic local beverage to wash it all down? Order a Toni-Col, a Sinaloense soft drink that tastes like a vanilla coke…but better. Alternatively combine dessert and a drink by ordering a raspado – a blended frozen fruit concoction topped with whipped cream.
---
Cenaduria Tachita
Where: 420 Avenida Miguel Hidalgo, Centro
Hours: 
6:00 pm – 12:00 am, Wednesday through Monday
Closed Tuesday.
Telephone: 52 669 981 7300
We've been to many cenaduria restaurants in Mazatlan and this is hands down our favourite. As is typical the menu is not extensive, but you won't find better than what's on offer here.
Although pozole is a common offering amongst cenadurias, this is where you will find the best. Enjoy bowls filled with tender chunks of pork and hominy smothered in Tachita's deliciously, subtly, spicy red broth. Do your taste buds a favour and order the pozole (80 pesos) here. Remember if you don't want surtido (see the box at the beginning) specify "solo carne". Pozole is only available on Friday, Saturday and Sunday at Cenaduria Tachita.
Not all cenadurias offer asado a la plaza (grilled beef), in reality it is much easier to find pollo a la plaza (chicken) as a staple on menus. Cenaduria Tachita scores major points for how their asado a la plaza tastes and for the full and half size orders on offer. Expect crispy, seasoned potato cubes piled high atop tender chunks of beef, covered in escabeche onions and shredded lettuce. All of this comes with a cup of delicious broth. Do yourself a favour and get the full order (130 pesos).
Don't be fooled by the simplicity of this unpretentious eatery. Unlike other cenadurias gaining attention on the tourist trail, Cenaduria Tachita remains firmly rooted as a local's favourite. For a true cenaduria experience in Mazatlan, this is the place to go.
---
 Mazatlan Meals for Meat Eaters
---
El Montalayo
Where: 438 Avenida de la Marina, Colonia Alameda
Hours: 8:00 am – 5:00 pm, daily
Telephone: 669 983 0042
Seafood may be king in this city, but El Montalayo reigns supreme in the realm of slow-cooked meats. Chicken, steaks, seafood and carne asada are on the menu at this off the beaten path Mazatlan restaurant, but no visit is complete without trying barbacoa de borrega (slow roasted lamb).
Order by the quarter, half or full kilo (360 pesos per kg) and create your own tacos with the incredible array of condiments provided. Wheat tortillas are available for an extra fee. Order a single barbacoa taco for 20 pesos if you'd rather not commit to a mound of meat.
Although lamb rarely features on menus north of the border, when it does it comes at a premium price. Here you can indulge in the most tender, succulent lamb at a fraction of the cost elsewhere.
Both breakfast and lunch is served at El Montalayo, with roasted meats available as an option regardless of the hour. This restaurant also features a children's menu. Bring your own beer or wine if you're coming for brunch.
Divine is an understatement of what's on offer here. When it comes to quality, consistency, value for money and service El Montalayo is one of the best places to eat in Mazatlan. You'll become a regular here, we guarantee it.
---
Carnitas El Camarada
Where: 429 Calle Leandro Valle, Centro
Hours: 
9:00 am – 6:00 pm, Monday through Saturday
9:00 am – 4:30 pm, Sunday
Telephone: 52 669 982 5824
Website: Visit the El Camarada Facebook page for more information
Carnitas El Camarada quickly became a favourite of ours during our time in Mazatlan. Choose between dining in, take-away or have them deliver to your door. This humble little eatery serves the best Carnitas Michoacana outside of Michoacan.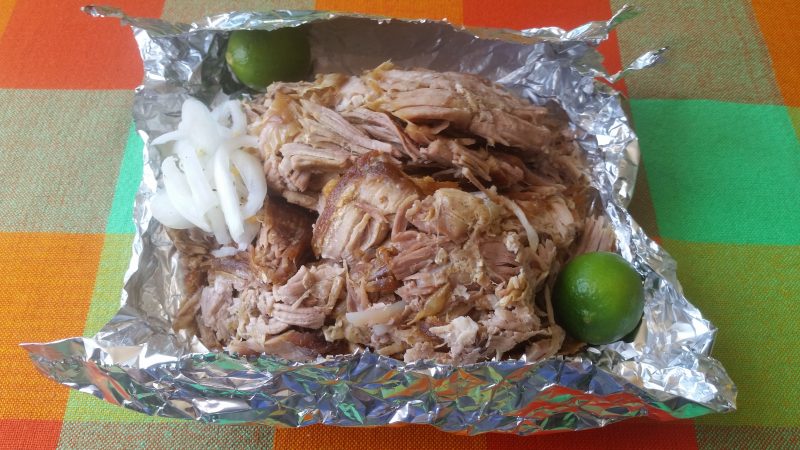 Traditionally carnitas are prepared from seasoned pork shoulder, braised in lard in large copper vats. Although carnitas are found throughout Mexico they originated in the state of Michoacan where the best are found. Carnitas are synonymous with surtido (see the box above). If you'd rather not partake in porcine particulars ask for "solo carne" (meat only).
Similar to El Montalayo above, order by the quarter, half or full kilo (250 pesos per kg). Servings consist of foil packages of tender, juicy pork with crispy roasted outer pieces hidden within. Each order comes complete with a stack of corn tortillas, limes, spicy house salsa and savoury pickled onions. While you're at it be sure to try their amazing frijoles de puerco (pork beans).
---
Market Restaurants in Mazatlan
---
Tacos El Mony 
Where: East side of Mercado Pino Suarez on Avenida Aquiles Serdan, Centro
Hours: 24 hours a day, 7 days a week
Tired of the same aul' tacos? Prepare your palate for a welcome change to the usual grilled meat tacos. Mony offers cochinita pibil (shredded, braised pork in achiote), puerco asado (grilled pork), birria (seasoned stewed beef), chicharrón (pork skin) and machaca (dried beef). El Mony lays out all the fillings in bubbling stainless steel chafing dishes, making it easy to pick your preference. Choose either wheat or corn tortillas and build the perfect taco from the slew of salsas and toppings available.
We discovered Tacos El Mony back in 2013 and have been loyal customers ever since. Located on the outer east side of Mercado Pino Suarez, this is more of a counter than a restaurant per se. Finding a place to eat that's open 24 hours a day, seven days a week is indeed a rarity, however look no further than Tacos El Mony. At 23 pesos per taco, why not try one of each at any hour of the day or night.
---
Taqueria El Chino
Where: Mercado Juan Carrasco on Avenida Gutiérrez Nájera, Colonia Reforma,
Hours: 6:00 am – 2:00 pm, daily
Throughout our travels in Mexico we've tried a lot of birria, indeed it is one of our favourite Mexican dishes. Whether you're new to birria or a connoisseur of this rich beefy broth, you won't find any better in Mazatlan than Taqueria El Chino.
Each bowl is filled with tender chunks of beef, however it's the distinct but very subtle hint of cloves in the broth that creates the perfectly balanced flavour of this dish. At only 50 pesos a bowl you won't find a better valued meal anywhere in town.
Other offerings on the menu include omelettes, steaks, seafood, chops, menudo, burritos and standard authentic Mexican restaurant fare. Mercado Juan Carrasco is a little more off the beaten path for most international tourists, but El Chino is well known amongst locals and visiting Mexican families. Give Taqueria El Chino a try and see for yourself why this popular place is one of the best restaurants in Mazatlan for inexpensive food.
---
Mariscos El Tigre
Where: Two locations on the ground level inside Mercado Pino Suarez on Avenida Aquiles Serdan, Centro
Hours:
8:00 am – 3:00 pm, Monday through Saturday
Closed Sunday
As you make your way through the marketplace keep your eyes peeled for this stall selling tostadas de ceviche, cocteles and all manner of seafood served in heaping portions. Just look for the stall that is absolutely crowded with people happily gorging while the staff hustle with the never-ending orders.
If you're looking for another genuine cheap place to eat in Mazatlan, this is it. You've read the warnings about only eating at busy street stalls, well this time you might want to get here early to avoid just how busy Mariscos El Tigre gets.
---
The Eateries Upstairs at Pino Suarez Marketplace
Where: Upstairs at Mercado Pino Suarez on Avenida Aquiles Serdan, Centro
Hours: 8:00 am – 5:00 pm, daily
Although the ground floor of Mercado Pino Suarez is a labyrinth of stalls, upstairs you'll find a simple circuit of basic restaurants all offering pretty much the same dishes at the same prices. Naturally this results in fierce competition among the restaurateurs, whose menu flapping and animated enthusiasm to gain a customer is heightened with each person that ventures up onto this level.
Portions are decent and the food is certainly tasty and fresh, along with some of the best prices in town for a meal. Typical entrees include grilled meats, chicken, seafood, soups and breakfasts, all served with the ubiquitous stack of corn tortillas.
Depending on which side of the market you choose to dine in you may have the option of outdoor seating. An outer balcony with seating runs along the marketplace on Benito Juarez and partially on Leandro Valle and Melchor Ocampo. Regardless of whether you eat inside or outside prepare to be pestered by pigeons.
---
Really Authentic Places to Eat in Mazatlan
---
El Sazon de Rossy
Where: 507 Avenida Miguel Hidalgo, Centro
Hours: 
7:00 am – 5:00 pm, Monday through Saturday.
Closed Sunday
Telephone: 52 669 125 5976
As the hours denote, this little hole-in-the-wall is way more than just a breakfast restaurant. The extensive menu includes seafood, soups, chicken, steak and standard favourites such as menudo, pozole, tacos, birria and more. Confusingly enough this restaurant goes by the names El Sazon de Rossy or alternately Rosy – check the signage!
Breakfasts include omelettes, huevos rancheros (eggs, salsa, tortilas), huevos con machaca (eggs, dried shredded beef), huevos a la mexicana (eggs, tomatoes, onions, peppers) marlin ranchera (smoked marlin, onions, peppers) or simply some eggs cooked to your liking. Order breakfast whenever you want, it's available all day.
If you want to know where to eat in Mazatlan on a budget, El Sason de Rosy offers the best comida corrida (el menú del día) we've ever encountered at an incredible price – 50 pesos. For those of you unfamiliar with comida corrida it's usually a set three course meal consisting of soup, rice or pasta and a meat dish, plus a drink for a fixed price. Typically it's available between twelve and four.
Whether travelling on a budget or an expat, you won't find a better value home cooked meal in Mazatlan than this cocina economica (cafe).  Mazaltecos flock to this wee gem so get here early to avoid the limited seating.
---
Tacos Raymundo  
Where: 427 Avenida Zaragoza, Centro
Hours:
6:00 pm – 12:30 am, Tuesday through Sunday.
Closed Monday
Telephone: 52 669 196 1646
First the warning – bring a container because you'll have leftovers. Tacos Raymundo serves incredibly generous portions of everything, with a complimentary small bean and cheese stuffed tortilla thrown in for good measure. You'll find this family-run restaurant in a neighbourhood not too terribly far from Mazatlan's Centro Histórico. Choose between dining indoors or sit communal style at the long table outside by the grill.
Raymundos is renowned for their criminales (100 pesos), which are essentially very large quesadillas stuffed with asada (grilled beef), cheese and onions. Another popular choice from the menu are the papas locos (100 pesos) – huge baked potatoes loaded with carne asada, cheese, crema and butter. Also available are tacos, chorreadas (55 pesos) and quesadillas (50 pesos). Should you need to satisfy your sweet tooth, try a slice of home-made flan or pie to complete your meal. Raymundo's doesn't serve alcohol however you can bring your own beer or wine.
Raymundo and staff are incredibly welcoming. If you're looking for an authentic, friendly dining experience grab a seat and feel like you're part of an extended Mexican family at this convivial local restaurant.
---
Tacos Hector
Where: Northeast corner of Plazuela Zaragoza at the corners of Guillermo Nelsón and Avenida Zaragoza, Centro
Hours: 
6:30 pm – 11:30 pm, Wednesday through Monday
Closed Tuesday.
Telephone: 52 669 238 0820
Website: Visit Hector's Tacos Facebook page for more information
See Our Video From Tacos Hector!
Though not strictly a restaurant, Hector's Tacos is without a doubt most deserving of an honorary mention. This street food stall has been catering to devout customers since 1980. Take a seat at the cart or join other diners at the picnic table. Enjoy a football match on the television, thoughtfully set up on the bonnet of the truck for the entertainment of customers.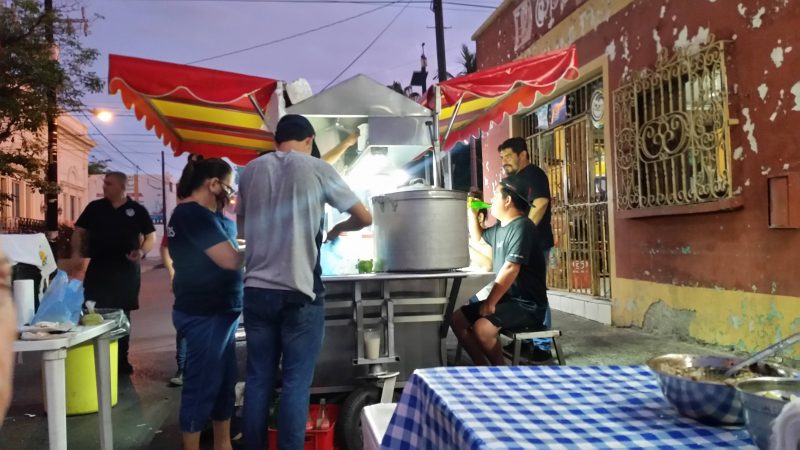 Although you'll find the usual menu associated with taco stands – vampiros, tacos, quesadillas, Hector and his crew create quality fare void of the gristle and toughness so often found in antojitos. Here, tortillas get extra flavour from being lightly dipped in dripping provided from chunks of lard set on the edge of the griddle. Flour tortillas are available for an extra few pesos. Even the most taco-weary diner will find renewed interest in Mexico's culinary national treasure at this neighbourhood favourite .
---
Conclusion…
What better way to truly get to know the city than to immerse yourself in dining with the locals at their favourite eateries. Go for a stroll and stop into any of the hundreds of humble restaurants Mazatlan has to offer. We guarantee you'll be treated to genuine hospitality, simple authentic food and amazing value for money. Buen provecho!
---
Pin Me Now!