Last Updated on October 29, 2022
It helps to know where to find the best restaurants in Gallup, NM whether you're just passing through or taking your time on a scenic road trip. Forget all the nationwide chains found here, discover some real food and eat your way to the heart and soul of this friendly city.
Take a drive through downtown or along old Route 66 in Gallup and discover some classic diners. This town is full of good places to eat and things to do, so stick around for a bit. We spent plenty of time here and we're more than happy to share with you some of the best restaurants in Gallup.
---
Bonus Supplement to Restaurants in Gallup, NM
At the end of this article you'll find a separate section focusing on Navajo food in Gallup. This part of New Mexico offers the chance to sample some unique Navajo cuisine only found in this area; it's delicious, wholesome and quite filling. There's a particular (and very interesting) new food trend sweeping the Navajo Nation you'll definitely want to know all about – much more on that below.
---
Most of the featured restaurants in Gallup are on old Route 66, now known as NM 118. Expect plenty of red and green chile no matter which restaurant you choose – this IS New Mexico. Several downtown restaurants make the best-of list and I especially encourage you to check out this part of Gallup.
The Best Restaurants in Gallup, NM
So which meal are you after and what are you in the mood for? In this article you'll find:
Breakfast restaurants in Gallup, NM: This city is full of places to start your day off with a filling, hearty breakfast.
Soups, salads and sandwiches:  Perhaps you want lighter fare?
Pub grub:  Enjoy the game with your meal and choose a good beer to wash it down.
Mexican and New Mexican food: From burritos and tacos to my favorite local dish: carne adovada made from smoky red chile.
Steaks and chops: Treat yourself to a nice dinner featuring expertly grilled cuts of meat.
Choose from the selection below and discover the tastiest restaurants in Gallup, NM right now. We certainly enjoyed eating at each of these restaurants and so will you.
See the Video Featuring Some of Our Favorite Restaurants in Gallup!
NOTE: Restaurant websites or online menus are included, where applicable. Vegetarian and vegan options are limited – check the menus online. Local artisans go table to table to offer their wares for sale at some of the restaurants in this article. Many restaurants in Gallup, NM are closed Sunday.
In no particular order….
---
Route 66 Railway Cafe
Where: 2150 East Route 66, Gallup, NM.
Hours: Monday – Saturday 7:00 AM – 8:00 PM. Sunday 8:00 AM – 2:00 PM.
Telephone: (505) 863-2535
Online Menu: www.singleplatfom.com/route-66-railway-cafe
Wi-Fi: No
Alcohol: No
Atmosphere: The booths and tables at Route 66 Railway Cafe are waited on by friendly staff. There's a railroad theme going on here at this popular Gallup diner and you'll enjoy watching plenty of real trains chug along on the tracks across the street as you eat.
Food: Route 66 Railway cafe, one of the best breakfast restaurants in Gallup, features home fries in addition to hash browns and they stand above other breakfast joints because of that. We split a huge omelet stuffed with bacon and green chile, along with those great home fries. Our waitress informed us that our bottomless cup of coffee can be taken to go – a nice touch, indeed!
The burgers are legendary here; order the 1/4, 1/2 or 1 lb. Conductor (bacon, green chile, choice of cheese) or Railroader (sourdough bun, Parmesan and Swiss cheese, green chile, mushrooms, onions). Order your burger with onion rings or green chile cheese fries. The vast menu includes classic dinner plates (grilled chicken, pork chops, roast beef) and New Mexican favorites, all served in heaping portions.
---
Oasis Mediterranean Restaurant
Where: 1301 West Route 66, Gallup, NM.
Update: As of late October 2022, Oasis Restaurant had moved from the above location to 1280 W Maloney Ave. Gallup – this is located in front of Rio West Mall. Oasis Restaurant didn't look open yet when we drove by in October 2022. The below information (hours/telephone number) may change at a later date.
Hours: Monday – Thursday 11 AM – 8:30 PM. Friday – Saturday 11 AM – 9 PM. Closed Sunday.
Telephone: (505) 863-8899
Online Menu: www.singleplatform.com/oasis-mediterranean-restaurant
Wi-Fi: No
Alcohol: No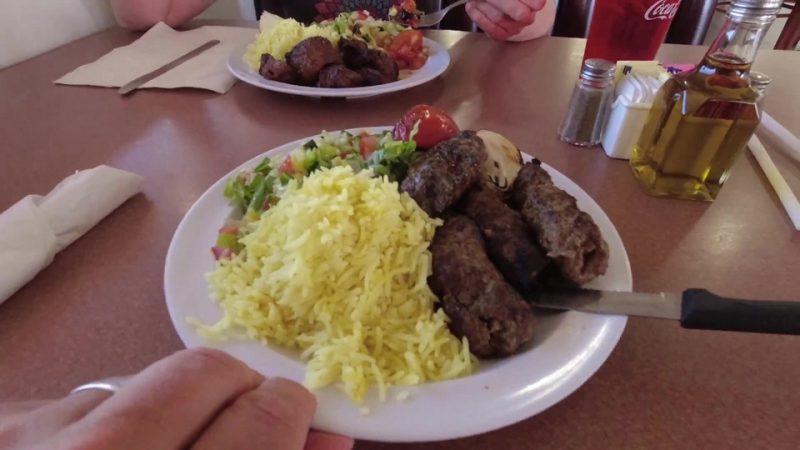 Atmosphere: The Oasis Restaurant in Gallup features a bright dining room with table and booth seating and minimal decor. Additionally, a  few Middle Eastern food products are for sale at the front counter. The building looks like it was once a drive-in restaurant.
Food: For a nice change from red/green chile and tortillas, Oasis Restaurant is the place to go – even the rice pilaf here is a pleasant departure from the standard Spanish-style rice frequently served with many New Mexican dishes. The seasoned, grilled meats (lamb, chicken, beef) are simply perfect and they're a great value. Vegetarians will love the falafel, stuffed grape leaves, hummus and baba ghanouj.
Each of the entrees on the menu are available as sandwiches on pita bread. We always choose entrees for an extra few dollars; these come with delicious, fluffy rice pilaf, grilled tomato and onion, a small salad and warm pita bread. We especially enjoy the lamb kabob and beef kufta at Oasis (grilled ground beef, onions, parsley). The menu also includes an assortment of syrupy-sweet Middle Eastern desserts.
---
La Barraca
Where: 1303 East Route 66, Gallup, NM
Hours: Monday – Saturday 8:00 AM – 9:30 PM. Closed Sunday.
Telephone: (505) 722-5083
Online Menu: www.yelp.com/la-barraca-restaurant-gallup
Wi-Fi: Yes
Alcohol: Beer
Atmosphere: We ordered a pint of beer with our meal and really enjoyed this dark, vintage-style Route 66 restaurant. Plenty of comfy booths and several tables sit beneath moody lighting at La Barraca Restaurant.
Food: Expect plenty of classic diner favorites like chicken fried steak, burgers, patty melts, sandwiches and pork chops. You don't need to look far for Mexican and New Mexican favorites – La Barraca Restaurant has good enchiladas and they do a darn good green chile stew.
On a separate visit to to La Barraca we ordered a nice ham and egg sandwich to go which kept us full during a day trip to nearby Cleopatra's Needle. La Barraca also serves filling breakfasts from 8:00 – 11:00 AM and plenty of combo plates for lunch.
---
Earl's Family Restaurant
Where: 1400 East Route 66, Gallup, NM.
Hours: Monday – Saturday 6:30 AM – 8:30 PM. Sunday 7:30 AM – 3:30 PM.
Telephone: (505) 863-4201
Online Menus: www.zomato.com/earls-family-restaurant & www.zmenu.com/earls-family-restaurant
Wi-Fi: Yes
Alcohol: No
Atmosphere: Earl's is a very large family-style diner which has been a Gallup institution for over 70 years. Friendly staff seems to know most of the devoted (and hungry) locals who fill the tables and booths; counter seating is also available here.
Food: Grab a spot at Earl's and enjoy their all day breakfast, classic dinner specials, several seafood options and plenty of New Mexican dishes. Sandwiches, soups and even a salad bar round out the menu here. Earl's is one of the largest restaurants in Gallup, NM and stays busy all day serving up a great variety of Mexican and American favorites.
We really loved the table-side carafes of fresh coffee at Earl's – you never need to wait for a refill. Perfect! Although breakfasts are served all day you must ask for the separate breakfast menu beyond morning hours.
---
El Charrito
Where: 2003 West Route 66, Gallup, NM
Horus: Tuesday – Saturday 7:00 AM – 9:00 PM. Sunday 8:00 AM – 2:00 PM. Monday 6:30 AM – 2:00 PM.
Telephone: (505) 722-8969
On The Web: www.facebook.com/El-Charrito
Wi-Fi: Yes
Alcohol: No
Atmosphere: El Charrito is a classic Route 66 restaurant, featuring brown tables and orange booths as well as counter seating with comfy swivel chairs and a large, separate dining area. We loved El Charrito for breakfast; this is a great choice in an authentic setting, free of crowds and vendors.
Food: Imagine our pleasant surprise to see some authentic Mexican breakfasts served at El Charrito. We shared a huge plate of Machaca (a shredded beef, onion and jalapeño scramble) with hash browns.
If it's familiar New Mexican and Mexican food you're after (chile, beans and tortillas!) you'll find it here along with classic diner-style plates like chopped steak, pork chops, grilled ham & cheese sandwiches, fried chicken and chicken fried steak.
---
Jerry's Cafe
Where: 406 West Coal Ave. Downtown Gallup, NM
Hours: Monday – Saturday 8:00 AM – 9:00 PM. Closed Sunday.
Telephone: (505) 722-6775
Online Menu: www.allmenus.com/jerrys-cafe-gallup
Wi-Fi: No
Alcohol: No
Atmosphere: A line of waiting customers typically forms out the door here, giving this small diner a congested feel. Booth service is efficient though and local craft vendors pop in and out to sell their goods.
Food: Jerry's Cafe menu features grilled steaks and chops, burgers, sandwiches, burritos, fried chicken and, of course, plenty of Mexican and New Mexican entrees. Giant breakfast dishes are served until 11:00 AM – order the chile relleno con huevos or hash browns with chile and cheese.
It's (sort of) official – Jerry's serves the best green chile in Gallup. Order their green chile stew, or any dish smothered in it and see for yourself. The menu includes vegetarian breakfast, lunch and dinner options – try the huevos rancheros, garden burger or the flat enchiladas.
---
Don Diego's Restaurant and Lounge
Where: 801 West Route 66, Gallup, NM.
Hours: Monday – Saturday 8:00 AM – 9:00 PM. Closed Sunday.
Telephone: (505) 722-5517
Online Menu: www.zmenu.com/don-diegos
Wi-Fi: No
Alcohol: Beer and wine
Atmosphere: This large, bright restaurant has some wrap around booth seating along with plenty of tables and is a another great choice for breakfast if some of the smaller establishments (Jerry's Cafe or Route 66 Railway Cafe) are packed. Have a drink in Don Diego's lounge after dinner.
Food: Don Diego's comes through with an extensive menu of American, Mexican and New Mexican dishes. Order any of the enchiladas – they're a local favorite here along with the fresh salsa. We had a really tasty breakfast at Don Diego's where we shared a huge stuffed omelet covered in delicious green chile.
For meat eaters, try the tender carnitas (braised pork) or ribeye. Hamburger steaks are a favorite of mine and I recommend them here. Locals love the Friday and Saturday specials at Don Diego's: green chile stew and carne adovada, respectively.
---
Sammy C's Rock ′n Sports Pub & Grille
Where: 107 West Coal Ave. Downtown Gallup, NM
Hours: Monday – Thursday 11:00 AM – 11:00 PM (kitchen closes at 9:00 PM). Friday & Saturday 11:00 AM – 1:00 AM (kitchen closes at 11:00 PM). Sunday 11:00 AM – 9:00 PM (kitchen closes at 8:30 PM).
Telephone: (505) 863-2220
Online Menu: www.sammysingallup.com/pdf/menu
Wi-Fi: Yes
Alcohol: Beer, wine and spirits.
Atmosphere: This large sports bar is a TEMPLE of genuine sports memorabilia showcasing autographed football and baseball jerseys, boxing gloves, helmets, bats and game balls. Also featured are plenty of autographed photos and items from rock bands as well as television and movie stars. Sammy C's has been voted one of the Best Sports Bars in the U.S. by CNN.
Food: Sammy C's serves some great appetizers to go with your beer, like fried ravioli, jalapeno poppers and nachos. Watch your game and enjoy a platter of wings or a full rack of BBQ ribs. The menu also includes hot and cold sandwiches, salads, Mexican food, pizza and pastas as well as fish & chips.
Order a half pound burger or a chile-smothered 8 ounce sirloin off the grill. Of course, enjoy an impressive range of local microbrews or national and imported beers on tap. Grab a pint and peruse the extensive collection of sports and music memorabilia at Sammy C's.
---
Genaro's Cafe
Where: 600 West Hill Ave. Gallup, NM
Hours: Tuesday – Saturday 10:30 AM – 7:30 PM. Closed Sunday & Monday.
Telephone: (505) 863-6761
Online Menu: www.singleplatform.com/ genaros-cafe
Wi-Fi: No
Alcohol: No
Atmosphere: Genaro's is a simple locals favorite with several booths and plenty of tables under a drop ceiling and bright fluorescent lighting. This restaurant, one of our favorites, is just west of Downtown Gallup in a residential neighborhood.
Food: We loved Genaro's for their thick, smoky red chile sauce and huge portions, which we shared. Also, we think their fresh-cut fries  are simply the best in town. Posole (a rich pork stew with hominy) makes a nice change from the tortillas and beans that dominate menus here and Genaro's has some of the finest I've tasted outside of Albuquerque.
Hot and cold sandwiches and salads also offer a break from often stodgy Mexican and New Mexican dishes. The homemade salsa here is delicious, so get some to go by the pint.
---
Alicia's Burrito Express
Where: Located inside Lowe's Shop n' Save in the Uptown Plaza at 1120 East Route 66, Gallup, NM
Hours: Monday – Friday 7:00 AM – 8:00 PM. Saturday 8:00 AM – 8:00 PM. Closed Sunday.
Telephone: (505) 863-9090
Online Menu: www.squareup.com/alicias-burrito-express
Wi-Fi: No
Alcohol: No
Atmosphere: Alicia's is the finest restaurant you'll ever find located along the back wall of a supermarket. Don't be discouraged from coming here based on Alicia's odd location – the ladies who run this truly hidden gem and the food they cook are what it's really all about.
Food: Sizzling plates of tacos, chimichangas and fajitas are on the menu at Alicia's along with delicious burritos – the carne asada and carne adovada burritos are especially tasty. Take a seat at this humble establishment and the waitress will bring out a basket of tortilla chips and Alicia's AMAZING homemade salsa while you're waiting for your order.
That salsa is also sold just outside the restaurant in the supermarket's refrigerated section. There are 8 different types of breakfast burritos here, perfect for a portable meal before heading out of town.
---
Cocina de Dominguez
Where: 1648 South 2nd St. Gallup, NM
Hours: Monday – Friday 10:00 AM – 9:00 PM. Saturday 9:00 AM – 9:00 PM. Closed Sunday.
Telephone: (505) 863-9640
Website: ww.cocinadedominguesnm.com
Wi-Fi: Yes
Alcohol: Beer and wine.
Atmosphere: This cozy, inviting restaurant has a nice lounge feel to it, accentuated by the soft lighting and plenty of wrap around booths. Come here for a quiet breakfast, lunch or dinner.
Food: Although Cocina de Dominguez serves Italian and New Mexican food come here instead for their grilled ribeye steak or pork chops. Weekly dinner specials include fish tacos on Wednesday and prime rib on Friday.
Treat yourself to their surf & turf or try their fish & chips. Sit at the bar or grab one of their booths and get a sandwich, sopapilla burger or the unique tortilla burger. Don't forget dessert during your visit – choose from assorted fruit pies, cheesecakes and their famous fried ice cream.
---
Bonus: Navajo Food in Gallup, NM
Perhaps you're ready to look beyond typical restaurants in Gallup, NM and try something really different like authentic Navajo food. Anyone passing through this area will be familiar with fry bread, but Navajo cuisine goes beyond that and typically centers around lamb or mutton, squash, corn, dumplings and potatoes.
I've included in this bonus section a Navajo restaurant in Gallup and a weekly flea market featuring over a dozen vendors selling a variety of traditional foods you won't find away from the reservation, some of which are not for the faint of heart.
---
Navajo Cuisine
This is by no means an exhaustive list of Navajo foods, however it's an example of some unique specialties you'll find in Gallup.
Mutton or Lamb Stew: This rich stew is served different ways with either assorted vegetables, corn or dumplings.
Mutton or Lamb Posole: Similar to pork posole: a hearty stew with a red chile broth and hominy.
Fry Bread: Simple fried dough, hand formed and made to order – not sweet like fried dough found at a carnival or fair.
Mutton Sandwich: Strips of grilled mutton with assorted toppings served on freshly made fry bread.
Chili Beans: Not chile in this case. Chili beans is a dish similar to chili con carne familiar across the country.
Roast Mutton or Lamb Ribs: Lightly seasoned ribs often served with fry bread or wheat tortillas.
Achii or Achee: Grilled sheep intestines wrapped around it's colon. These are often wrapped around stomach fat instead of the colon.
Navajo Taco: Grilled mutton or sometimes ground beef served on fry bread. Navajo tacos are much bigger than traditional tacos.
Kneel Down Bread: Corn dough filled with chile and occasionally meat, wrapped in a corn husk and steamed – similar to a tamale.
Piccadilly Snow Cone: This trendy Navajo food is a snow cone with dill pickles on top, sprinkled with your choice of Kool-Aid powder.
Kool-Aid Pickles: Giant dill pickles marinated in (usually) cherry or fruit punch Kool-Aid, widely available at convenience stores in the area.
---
Where to Find Navajo Food in Gallup, NM
We've been to the Diné Grill in Gallup and enjoyed their mutton. This is a very basic restaurant serving simply prepared Navajo dishes. However, we strongly suggest the weekly Gallup 9th St. Flea Market where plenty of food stalls set up to feed hungry shoppers each Saturday. This is one of the largest American Indian flea markets in the country and, in our opinion, the best flea market in New Mexico. 
Additional information on the these 2 locations below…
---
Gallup 9th St. Flea Market
Where: 9th St. Gallup, NM
When: 10:00 AM, every Saturday year-round.
Admission: Free. Ample parking is also free.
Website: www.gallup9th.com
Atmosphere: This event is equal parts shopping venue and social event for much of the area. Expect all sorts of goods from used tires, clothes and appliances to native crafts and medicinal goods, tools and even livestock – everything from a needle to an anchor, as I like to say.  Each of the foods mentioned in the list above are sold throughout the market.
Food: Over two separate weekends we tried everything except the achii. Many of the stalls sell equally priced foods; the mutton sandwich combo (grilled mutton & roasted green chile on fry bread, side of corn & potatoes) for example, costs $9.50 and was enough for us both.
Twice we sampled the bizarre Piccadilly snow cone concoction, opting for different flavors of crushed ice and Kool-Aid powder each time. This strange treat (above) tastes much better than it sounds. Kneel down bread ($3 to $4) is sold by several vendors; look for the blue corn and red chile varieties.
I regret to say the achii has yet to be sampled by us. At the time we didn't know what this was and, to be honest, wouldn't skip it based on what we now know it consists of. Several vendors sell AMAZING hot tamales filled with shredded pork and red chile out of a giant pot set up on a folding table for $1 apiece. As with market or street food anywhere, choose a place frequented by others – a reliable sign of quality, value and taste.
---
Diné Grill
Where: 1502 South 2nd St. Gallup, NM
Hours: Monday – Saturday 11:00 AM – 6:00 PM. Closed Sunday.
Telephone: (505) 863-7844
On The Web: www.facebook.com/Dine-Grill-Gallup
Wi-Fi: No
Alcohol: No
Atmosphere: A very simple and basic restaurant also selling cuts of locally raised lamb and mutton to take home. Diné Grill is a bit removed from the action of Gallup, however it's worth checking out; the staff is accommodating and the food is quite wholesome and delicious.
Food: The menu at Diné Grill tends to focus on different types of hearty lamb stews. Grilled green chiles and the Navajo staple chili beans (not chile beans!) also feature on the menu here. Sides include tortillas and, of course, plenty of fluffy fry bread to soak up the rich broth from your lamb stew. I especially loved the filling dumpling lamb stew at Diné Grill as an alternative to the vegetable stew.
---
In Conclusion…
As you can see, there are plenty of good restaurants in Gallup to make any stop worth your while. It's easy to focus on the fast and familiar no matter where you are in this country, but doing that is just a shame. New Mexican and Navajo cuisine cannot be found just anywhere, so make the most of your time here, take some of my suggestions and share them with anyone you know who enjoys wholesome regional foods.
---
Pin Me Now!