Last Updated on June 1, 2021
Gallup is a sizable Northwest New Mexico city often overlooked by many visitors, ourselves included until very recently. We've compiled a tally of notable things to do in Gallup NM, that includes stunning hikes, historical snippets, unique shopping, native dances and fascinating foods. Did you know Gallup hosts the second largest hot air balloon rally in North America?
In it's heyday Gallup played host to Hollywood's elite, with the surrounding countryside providing the classic backdrop to many Westerns from the 40's and 50's. Indeed Gallup could be considered the catalyst for New Mexico earning the moniker Tamalewood.
This was also a major stopping point on historic Route 66. There are still plenty of things to see in Gallup today as long as you give it a chance to reveal it's treasures. Avail of the free downtown parking all day, every day and check it out. In short, don't gallop through Gallup!
---
For More Information on Things to Do in Gallup, NM
 Gallup Visitor Information Center: 106 W. Highway 66, Downtown Gallup, NM (Inside Gallup Chamber of Commerce).
Phone: (505) 722-2228 or 1-800-380-4989
---
What to Do in Gallup, New Mexico
Within this post you'll find this city has more to offer than an initial cursory glance may belie. You'll find attractions in Gallup to keep the whole family entertained. For the food connoisseurs there are tasty traditional Navajo specialties you won't find anywhere else.
Continue reading for a bonus scenic drive only the locals know about and discover our favourite day trips from Gallup.
Watch Our Video and Learn More About New Mexico!
No matter what you're looking for we've got plenty of suggestions for what to do in Gallup, NM to keep you going for just a few hours or even a long weekend. Included in this piece you'll find the following:
Exciting rodeo events
A guide to the second largest hot air balloon rally in North America
The best local company providing year-round hot air balloon rides
Hiking near Gallup at Red Rock Park
Unique shopping in Gallup for all budgets
An introduction to some unusual, local food specialities
Cultural attractions, including Indian dances
Museums and street art in Gallup
Route 66 attractions.
Quirky attractions
Trail of the Ancients Scenic Byway map
Places to stay in Gallup, NM
Disclosure: This article contains affiliate links to products and services whereby we receive a nominal commission if you make a purchase through one of these links. This comes at no extra cost to you. Please see our Disclaimer for full information.
---
Iconic Things to Do in Gallup, NM
---
Attend Your First Rodeo
Where: Red Rock Park, 825 Outlaw Road, Church Rock, NM 87311 (see directions above).
When:
Throughout the summer Red Rock Park plays host to a variety of rodeo competitions. Check the links above for current rodeo dates. These are some of the most anticipated annual events in Gallup and typically include barrel racing, bronco bareback riding, bronco saddle riding, steer roping and bull riding to name but a few.
Competitors of all ages show off their skill and daring in these competitions, providing an exciting day out for the whole family. Whether it's your first rodeo or not add this to your list of fun things to do in Gallup during your visit. Nothing compares to the thrill of a rodeo for that true out-west experience.
The Red Rock Balloon Rally in Gallup
Where: 825 Outlaw Road, Church Rock, NM 87311
Directions: The Red Rock Balloon Rally is held at Gallup's Red Rock Park. To access this park from Gallup head east approximately 8 miles on NM Route 118 (Historic Route 66) to NM Route 566; turn left and continue about a half mile to the entrance of Red Rock Park.
When: The 40th Red Rock Balloon Rally will take place December 3 through December 5th, 2021. Please see the official website below for further information.
Website: redrockballoonrally.com
Phone: 1-800-242-4282
Admission: Free
Parking Fee: $5 per vehicle (Cash only)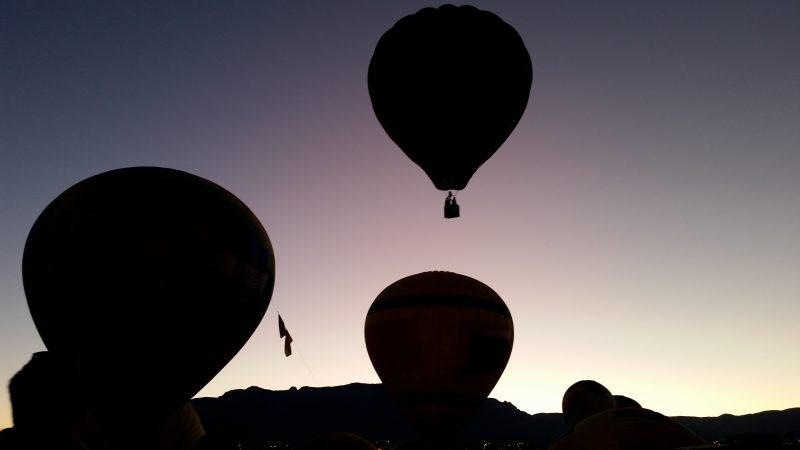 This has grown into the second largest hot air balloon rally in North America, held annually on the first full weekend of December. Watch as 200 hot air balloons take to the skies against a backdrop of massive red sandstone bluffs cut with deep canyons. This has quickly become one of the most amazing things to see in Gallup, NM.
2021 Red Rock Balloon Rally Schedule of Events: 
Friday, December 3rd 2021:
7:30 am – Mass Ascension from Fox Run Golf Course in Gallup and also from Red Rock Park.
6:00 pm – Glow in the Rocks. Balloons are tethered whilst being fully illuminated by their burners. The Balloon Glow is accompanied by Indian Dancers performing by bonfire at Red Rock Park.
Saturday, December 4th 2021:
6:30 am – Dawn Patrol at Red Rock Park
7:30 am – Mass Ascension at Red Rock Park
8:00 am – Pyramid Rock Run Registration – Register the morning of the run or pre-register at the Chamber of Commerce located at 106 W. Highway 66. Phone: (505) 722-2228.
9:00 am – Pyramid Rock Run – The course of this fundraiser run follows the trail to the top of Pyramid Peak as the balloons fly.
1:00 pm – Downtown Christmas Parade
6:00 pm – Balloominaria at Rio West Mall – a Balloon Glow at the Mall
Sunday, December 5th 2021:
6:30 am – Dawn Patrol at Red Rock Park
7:00 am – Mass Ascension at Red Rock Park
10:00 am – Awards Brunch and Auction at Red Rock Park.
Unique Hot Air Balloon Rides in Gallup
Website: www.scenicballoonrides.com
Phone: (505) 979-2012
Why not get a bird's eye view of Red Rock Park? If experiencing a hot air balloon ride at sunrise is on your bucket list, Gallup is the place to fulfill your dream. Drift over classic Southwestern scenery as the rising sun illuminates the sandstone bluffs and canyons of Red Rock Park beneath.
Although Albuquerque is typically regarded as the quintessential destination for a hot air balloon ride, why not get off the beaten path and blaze your own trail here. Make a balloon ride one of your most uplifting attractions in Gallup, NM.
---
Hiking Near Gallup, NM
---
Where: Red Rock Park, 825 Outlaw Road, Church Rock, NM.
Directions: To access these hiking trails near Gallup at Red Rock Park head east approximately 8 miles on NM Route 118 (Historic Route 66) to NM Route 566; turn left and continue about a half mile to the entrance of Red Rock Park.
Hiking Tip: Download the free app directly from the Alltrails website and make the most of your hikes.
Church Rock Hiking Trail
Difficulty: Moderate to Strenuous
Elevation Gain: 750 feet
Church Rock Stem Trail Distance: 0.7 miles
Church Rock Loop Trail Distance: 0.8 miles
Pyramid Connector: 1.3 miles
The stem trail begins in the parking lot by the post office at Red Rock Park. After about 0.7 miles the trail splits to become a loop. All of the trails within the park are marked with rock cairns. As you hike through washed out canyons on this loop trail you'll contour fingers of striking red rock.
Depending on which direction you take you'll either ascend or descend out of or into the canyon via steps carved into the sandstone. Should you have time on your side and you're feeling ambitious take the connector trail from Church Rock to Pyramid Rock.
Pyramid Rock Hiking Trail
Difficulty: Moderate to Strenuous
Pyramid Rock Trail Elevation Gain: 777 feet
Pyramid Rock Trail: 3.4 miles
The hiking trail near Gallup starts at an elevation of 6,710 feet and ascends to the actual peak of Pyramid Rock. The trail passes some hoodoos and cap rocks. From the peak you'll find extensive views in all directions including fine views of Mount Taylor to the East.
---
Unique Gallup Shopping Experiences
---
The 9th Street Flea Market in Gallup: One of the Best Flea Markets in New Mexico
Where: 340 N. 9th Street, Gallup, NM.
When: 9:00 am – 5:00 pm, every Saturday.
If you're looking for flea markets in New Mexico, look no further than this. This is one of the largest American Indian markets in the country. We love perusing these trash to treasure troves no matter where we are, but this is quite possibly the ultimate rummage sale. If you find yourself in town on a Saturday make it a priority to visit this flea market – it may well be the highlight of your visit to Gallup.
Whether you're looking for one-of-a-kind retro fittings for your home/business or maybe you're just browsing, you cannot fail to be amazed by this market. If you're searching for a unique gift there are local Zuni and Navajo artists selling hand-crafted jewellery and pottery. This is one of the year-round family fun things to do in Gallup, complete with pony rides for the kids!
Not impressed yet? How about vendors selling firewood, tack (western saddles), livestock and hay. Should you visit in the Autumn you'll be treated to the sweet smell of freshly roasting New Mexican chiles. You may even see wolf pups or peacocks for sale! This is truly one of the best local's flea markets in New Mexico with the majority of vendors being American Indian.
Navajo Foods at the Gallup Flea Market
Aside from the bric-a-brac this is also the perfect opportunity to indulge in some fascinating local Native foods. Make sure you bring your appetite because this isn't your typical fair food. Make 9th Street Flea Market one of your top things to see in Gallup, New Mexico and try these unique Native foods while you're here:
Kneel Down Bread
These are also referred to as Navajo tamales as well as kneel down bread. Indeed, this is very reminiscent of a tamale, right down to being baked in a corn husk. Kneel down bread is made with corn which is still in the milk stage. Unlike a tamale, kneel down bread has a subtle sweet taste and flavoured with locally grown and roasted green and red chile.
Mutton Sandwich
Sheep rearing is integral to the Navajo people. The wool is spun, dyed and weaved into unique rugs whilst the meat is a common staple food on the reservations. Take your pick of the plethora of stalls selling mutton stew and all things mutton-related at 9th Street flea market in Gallup. The mutton sandwich is typically served on frybread – a Navajo specialty.
Piccadilly
And now for something completely different! Although this may be something of an acquired taste, it's definitely worth trying – at least once. Piccadilly is essentially a slushie/snow cone on steroids. Select which flavour of syrup you want for your snow cone. Next, you choose between regular or spicy dill pickles which are then placed on top of your snow cone. This is then all topped with your choice of Kool-Aid powder.
Visit Richardson's Trading Post
Where: 223 W. Historic Route 66, Gallup, NM.
Hours:
9:00 am – 6:00 pm, Monday through Saturday.
Closed Sunday
Phone: (505) 722-4762
Gallup is referred to as either the Indian Capital of the World, the Gateway to Indian Country or similarly the Heart of Indian Country. This is due to it being bordered by the Navajo Nation, Zuni Pueblo and Hopi Reservation. Therefore, it's not surprising Gallup is a hub of historic trading posts; come here if you're in the market for authentic high quality Native craftsmanship.
Aside from shopping you may witness the time-honoured tradition of an actual pawn transaction between a pawn clerk and a local tribal member. Gallup trading posts denote the reality of the classic Western town, still going strong today.
Gallup trading posts are completely different to typical pawn shops elsewhere. You won't find old Playstations etc… but rather rooms full of Pendleton blankets, saddles, silver and turquoise jewellery, rugs, pottery, kachina dolls, paintings and all manner of treasures are traded. Trading posts in Gallup are often used as repositories for priceless family heirlooms by customers.
Take a step back in time and visit any of the well-established Gallup trading posts, many of which are located along historic Route 66, including Richardson's. This trading post is an institution in Gallup and has been operating since 1913.
---
Cultural Attractions in Gallup, NM
---
Experience Nightly Indian Dances
Where: Courthouse Square, 207 W. Hill Avenue, Downtown Gallup, NM.
When: 7:00 pm nightly, Memorial Day through Labor Day
Admission: Free
Experience traditional Indian dances nightly during summertime at Courthouse Square downtown. Photos and videos of this cultural attraction are permitted; this is one of the more popular seasonal things to see in Gallup, New Mexico.
Check Out the Gallup Inter-Tribal Indian Ceremonial
Where: Downtown Gallup and at Red Rock Park, 825 Outlaw Road Church Rock, NM. See directions to Red Rock Park above.
Website: www.gallupceremonial.com
The Gallup Inter-Tribal Indian Ceremonial holds the distinction of being the oldest constant annual event in New Mexico. Events include a parade, nightly tribal dances, a competition pow wow and an all-Indian rodeo.This is also a perfect chance to sample traditional food and admire the skills of local artists and weavers. The Inter-Tribal Indian Ceremonial is one of the best family-friendly things to see Gallup, New Mexico in August.
Take a Free Tour of El Morro Cinema
Where: 207 W. Coal Avenue, Downtown Gallup, NM.
Phone: (505) 726-2600
Website: elmorrotheatre.com
The historic El Morro Theatre dates to 1928 and was designed by the famous architect Carl Boller. He also designed the KiMo Theatre in Albuquerque and the Lensic Theatre in Santa Fe. The El Morro is most impressive from the outside and the foyer with it's original doors is also worth a look. Tours of the single screen facility are free during business hours (evenings after 6:00 pm and weekends from 2:00 pm – 10:00 pm).
---
Museums in Gallup, NM
---
Visit Virgil at the Rex Museum
Where: 300 W. Highway 66, Gallup, NM.
Hours: 9:00 am – 5:00 pm, Monday through Friday.
Phone: (505) 863-1363
Admission: Free, though a $2 donation is appreciated.
The Rex Museum is a wonderful little mishmash of Gallup's past. It's housed in a building which has served as a brothel, a hotel, a grocery store and a police station throughout it's life.
Displays include Gallup's coal mining history, Gallup bricks and Hollywood's infatuation with the area in the 1940's and 50's.The highlight of the museum is Virgil – the knowledgeable, friendly, quirky caretaker whose fascinating insights into Gallup are worth every second of your time.
Stumble Upon the Storyteller's Museum at the Gallup Cultural Center
Where: 201 E. Highway 66, Gallup, NM.
Hours: 9:00 am – 4:00 pm, Monday through Friday
Phone: (505) 863-4131
Admission: Free
The Cultural Center is a joint project by the City of Gallup and the Southwest Indian Foundation. Located in downtown Gallup's historic train station on the second floor, here you'll find exhibits covering weaving, sand-painting, kachinas, silversmithing and even a breakdown of the Navajo code used in World War II. There is also a fantastic display of local plants used in the dying process of Navajo weaving. This small museum is definitely worth stopping into.
Learn the Secret Language at Navajo Code Talkers Museum
Where: Gallup Cultural Center, 201 E. Highway 66, Gallup, NM.
Hours: 9:00 am – 4:00 pm, Monday through Friday
Phone: (505) 863-4131
Admission: Free
A small exhibit in a few glass cases is dedicated to the Navajo Code Talkers at the Gallup Cultural Center. From 1942 to 1945 Navajo Code Talkers served in all six Marine divisions stationed in the Pacific. The uniqueness of the Diné language proved indispensable to the U.S. in the Pacific War.
Not only did the Japanese never crack the secret of the code, but in the three years of the their mission there was never a single instance of a message being misquoted or inaccurately deciphered. The Navajo Code Talkers programme was only declassified by the military in 1968.
Discover a Hidden Museum in Gallup
Red Rock Park Museum
Where: 825 Outlaw Road, Church Rock, NM 87311. See directions to Red Rock Park above.
Hours: Monday – Friday 8:30 am – 4:30 pm
Within the grounds of Red Rock Park, next to the park office and to the west of the Convention Center, you will find a small museum. On display here are pottery, rugs, kachinas, turquoise and silver.
Exhibits chronicle the Ancestral Puebloans (300 – 1200 A.D.) and present day Navajo, Hopi and Zuni. If you have even a remote interest in the local Indian culture, this small museum is worth a little of your time, especially if you are already staying at the campground here.
---
Iconic and Quirky Things to Do in Gallup
---
Find the Galoop Structure
Where: Joseph M. Montoya Blvd., Gallup, NM.
Directions: From Downtown Gallup take North 2nd St. to W. Maloney Ave. and turn right; Maloney Ave. then becomes Montoya Blvd. Pass the Galoop Structure on the right, about a quarter of a mile along Montoya Blvd. Park at either Babe Ruth Park on the right or the City Park across the street and walk to the Galoop Structure.
Reminiscent of a Scalextric race track loop, this sculpture overlooks Gallup on the east end of town. There is no parking so be careful if you want to snap a shot. There is a shoulder on the far side of the road or you can park East of the Galoop structure at one of the two parks mentioned in the directions above.
Take a Walking Tour of the Murals in Downtown Gallup, New Mexico
Downtown Gallup is compact enough to park your car (remember that free parking) and stretch your legs as you seek out some local street art. A small map of the murals can be found in the Gallup Real True visitors guide.
This self guided tour provides insight into Gallup's fascinating past. The murals depict scenes of historical and cultural significance within the area. Gallup has a history of supporting and promoting murals within it's downtown. Discover WPA (Works Progress Administration) murals in McKinley County Courthouse dating to the 1930's.
Don't forget to look for the beautiful Indian portrait tucked away behind the El Rancho Hotel & Motel sign. This one is not listed on the mural map but was our favourite find amongst the art on display in Gallup. We encourage you to discover your own bits of hidden art throughout the city!
Drive Along Route 66 in Gallup
Gallup played an integral role in visitors coming out west. Not only was the current railway station built there in 1918, but Route 66 also ran through Downtown Gallup. Even today plenty of cars and especially trains pass through this city.
Remnants of the history of the Great American Road Trip remain, as original motels and diners complete with their Googie neon signs continue to illuminate this stretch of the Mother Road. Indeed, Gallup still proudly recognises this section of Route 66, retaining the hallowed though defunct route number for posterity.
Pick a Sunny Day to Visit the Sun Daggers
Where: North side of McKinley County Court House, 207 W. Hill Avenue, Downtown Gallup, NM.
These rough-hewn sandstone daggers serve as a sort of sun dial. In front of the daggers and embedded in the courthouse plaza are plaques commemorating significant events in the history of Gallup. Throughout the day the shadows cast by the daggers strategically land on the plaques.
See the Bullet Hole in Dude Man's Forehead
Where: 416 W. Coal Avenue, Gallup, NM
Looking for what to do in Gallup that's really different? Visit the Muffler Man fibreglass statue, also known as "Dude Man" locally. It seems this poor cowboy was target practice for someone and took a bullet to the forehead – the mortal wound is still visible today! What is there to do in Gallup off the beaten path? Paying a visit to Dude Man certainly hits the target!
---
What to Do Near Gallup, NM
---
Trail of the Ancients Scenic Byway
Gallup is on the Trail of the Ancients, a 480 mile long scenic byway circuit with a further 110 miles off of the loop. Complete the entire scenic drive or plan your own route. You'll find great hikes, fascinating ruins, historical landmarks and unique geologic formations all along the way.
Looking for a one-of-a-kind camping experience? Don't miss what many consider a spiritual experience at the ancient ruins of Chaco Culture National Historic Park, located roughly 96 miles from Gallup.
---
Bonus: Other Scenic Drives and Day Trips Near Gallup, NM
---
Window Rock
Where: Window Rock, AZ
Directions: From Gallup take US Route 491 north approximately 8 miles to NM Route 264; head west on 264 approximately 19 miles to the town of Window Rock, AZ. From Window Rock head north on Navajo Route 12 for about half a mile and follow signs (right) to Window Rock Tribal Park.
Admission: Free
This peaceful little park is located among the administrative offices of the capital of the Navajo Nation and is often overlooked by passersby. The highlight of the park is the natural window rock formation in the sandstone. You will also find a Veteran's Memorial here, dedicated to the Navajo soldiers who have served in the U.S. military.
Cleopatra's Needle
Where: Cleopatra's Needle is approximately 3.7 miles north, then 1.5 miles east of Navajo, NM. A series of dirt roads lead to Cleopatra's Needle and reliable directions are too vague to list; see GPS coordinates below.
Directions: From Gallup head north on US Route 491 for 8 miles, then west (left) 16.5 miles on NM Route 264 to the town of Window Rock, AZ. From Window Rock head north on Navajo Route 12 about 17 miles to the town of Navajo, NM.
From the gas station in Navajo continue north 4 miles past a very obvious green rock formation on the right; turn right on Indian Route N31 (paved) and continue for almost 1 mile to a dirt road; turn left. From the dirt road follow the GPS coordinates below to Cleopatra's Needle, about 1 mile further.
GPS: 35.9616775 (latitude), -108.9853713 (longitude). 
Recommended: All wheel/4 wheel drive or taking it really slowly across the dirt roads!
The drive from Window Rock and especially the drive along Navajo Route 12 is absolutely stunning. More surprisingly it is well off the tourist trail. As for Cleopatra's Needle, this sandstone pillar is popular with serious rock climbers – or at least those that are in the know of this secret spire.
---
Gallup, NM Lodging
---
Harking back to it's glory days as a stop-off on the Mother Road (Route 66) Gallup is still a prime layover easily accessed from I-40. As a result this city is teeming with hotels and motels for all budgets. One hotel in particular is also one of the most popular Gallup, NM attractions.
Looking to Spend the Night in Gallup?
For accommodations we suggest looking at Hotels.com for a wide range of options in Gallup, NM. Find a last-minute bargain at a familiar national chain or a classic motor lodge and enjoy your time in this town. Book with Hotels.com and always get the best deal. 
This city is home to the historic El Rancho Hotel. Built in 1936 and listed on the National Register of Historic Places, this landmark hotel hosted Hollywood's elite in the 1940's and 50's. Aside from the hotel this rambling structure includes motel rooms, a restaurant and the 49er lounge.
Even if the El Rancho Hotel isn't in your budget make sure you stop by the beautiful lobby. Head upstairs to see the signed photos of former Hollywood guests including Errol Flynn, John Wayne, Humphrey Bogart, Betty Grable, Katharine Hepburn and Doris Day to name but a few.
Hotel Tip:
An incredibly busy railway line runs through Gallup – both Amtrak and freight trains along with their associated noises are common throughout the day and night here. Oddly enough, planning and site selection for many hotels and motels in Gallup neglected to take this into account!
Have earplugs on hand.
Research the location of your hotel in relation to the proximity of the train tracks.
---
In Conclusion…
Hopefully this guide is enough to encourage you to take a detour and discover what to do in Gallup, NM. Whether you're up for a scenic hike or just fancy a casual stroll through downtown, come see for yourself why this town in Northwest New Mexico continues to be an attraction.
Looking for More Resources on Gallup, New Mexico? 
Check out Gallup Real True, the city's official website for tourist information, complete with a free downloadable visitor's guide.
Considering it's easy on-off access to Interstate 40 and the plethora of hotels and motels available, it's easy to think of this as just a place to rest one's head for the night. As you can see Gallup, New Mexico is so much more than that.
---
Pin Me Now!