Last Updated on June 21, 2021
If you're looking for a quick break away from the hubbub of daily life, we've got the perfect New Mexico weekend getaway for you on a portion of the Trail of the Ancients Scenic Byway south of Grants and Gallup. This compact route along NM 53 takes in free national monuments, an ancient frozen volcano, easily accessible pueblo ruins, restaurants, an art gallery and a few truly unique events should you be lucky enough with your timing.
This New Mexico getaway follows an incredibly scenic stretch of road between Grants and Zuni and also NM Route 602 leading to Gallup. Both of these highways offer plenty of diversions worthy of a stopover en route. Located only two hours from Albuquerque or three hours from Santa Fe, this makes for an easy weekend trip from either.
We Cover Even More New Mexico Weekend Getaway Ideas Nearby!
Disclosure: This article contains affiliate links to products and services whereby we receive a nominal commission if you make a purchase through one of these links. This comes at no extra cost to you. Please see our Disclaimer for full information.
Aside from staying in a chain hotel in Grants or Gallup, why not spend your weekend away in any of the amazing and sometimes quirky accommodations available right on NM 53. We outline camping, cabins, RVing and Airbnb opportunities on this scenic stretch throughout this article.
Using Our New Mexico Weekend Getaway Guide
All sights, dining and accommodation options are presented in order from east to west on NM 53. The eastern portion of our suggested route begins in Grants and ends in Zuni Pueblo. Quick weekend getaways from Albuquerque or Santa Fe are easier than you think; this route begins directly off Interstate 40 west to exit 81 (San Rafael/Grants), then south on NM 53.
When you've completed your weekend escape return via Gallup on NM 602 and follow our links in the box above for even more things to see and do.
---
Planning Your Off the Beaten Path Weekend Getaway in New Mexico
---
Although it's possible to take in some of the attractions along these scenic back roads as a day trip, ideally it's best to take your time and make a long weekend of it. Follow our insider advice on what you need to know for making the most out of your quick sojourn to this off the beaten path corner of the state.
Depending on which direction you come from, either Grants or Gallup are your last chances to stock up on food, snacks and beverages for your special weekend away. Likewise, Grants or Gallup are where you should stock up on beer or wine, as your only options on our suggested route are a couple of petrol stations on NM 602 selling incredibly overpriced beer.
If you plan on self-catering at any of the Airbnbs, check to see what they have for cooking options – is there a cooker or simply a toaster oven? Is there a fridge/freezer? Plan your weekend trip and come prepared with everything you need for this rural Northern New Mexico escape.
---
A Weekend Escape Along NM 53
---
El Malpais National Monument
Visitor Center: 1900 E. Santa Fe Avenue, Grants. From Interstate 40 west take exit 85, then turn left. Continue straight to Cliflear Blvd and turn left.
Website: www.nps.gov
Admission: Free
Hiking Tip: Download the FREE Alltrails app so you don't get lost on any trail, anywhere.
El Malpais is 460 km² (114,000 acres) of fascinating geologic formations and natural wonders. It is comprised of El Malpais National Monument and the adjoining El Malpais National Conservation Area, which includes sandstone bluffs and La Ventana Natural Arch.
In all there are lava flows, cinder cones, ice caves and lava tubes all waiting to be explored. If you want to go caving you just need to pick up a free caving permit in advance at El Malpais Visitor Center in Grants. Leashed dogs are allowed on trails, however they are NOT allowed inside caves.
During the summer months join a ranger-guided hike to witness thousands of Brazilian free-tailed bats exit their cave for a nightly feeding frenzy. Check with the visitor center for details about the bat out-flight programmes.
Hiking at El Malpais
The most popular hikes at El Malpais are El Calderon Loop Trail and Zuni – Acoma Trail. El Calderon is an easy 4 mile gravel trail which gently climbs amongst piñon and juniper to the cinder cone volcano itself. Along the way are caves, sink holes, and plenty of evidence of the area's volcanic past. The trail is well marked, maintained and easy to follow. Continue to the top of the cinder cone for views of the surrounding area.
The Zuni – Acoma Trail is considered difficult due to it's 15.4 mile length. This out and back trail doesn't have much of an elevation gain but the jagged terrain across the lava beds is challenging enough. Sturdy hiking boots with ankle support are essential here. Pay attention and follow the cairns and wooden sign posts.
---
 A Cool New Mexico Weekend Break at Ice Cave and Bandera Volcano
Where: About 25 miles south of Grants on the south side of NM 53
Hours: 9:00 am – 6:00 pm, daily
Website: www.icecaves.com
Aptly known as the Land of Fire and Ice, this family owned property is home to two rare, natural attractions unique to New Mexico. Take yourself on a self-guided tour of these geographic marvels located right on the Continental Divide.
Follow the quarter mile long trail to the Ice Cave and make sure you bring your jacket. Inside the cave the temperature is a constant 31° F, allowing for the gradual accumulation of ice over 3,000 years in this collapsed section of lava tube. Be aware there are 70 steps down to the actual viewing platform to behold this natural phenomena.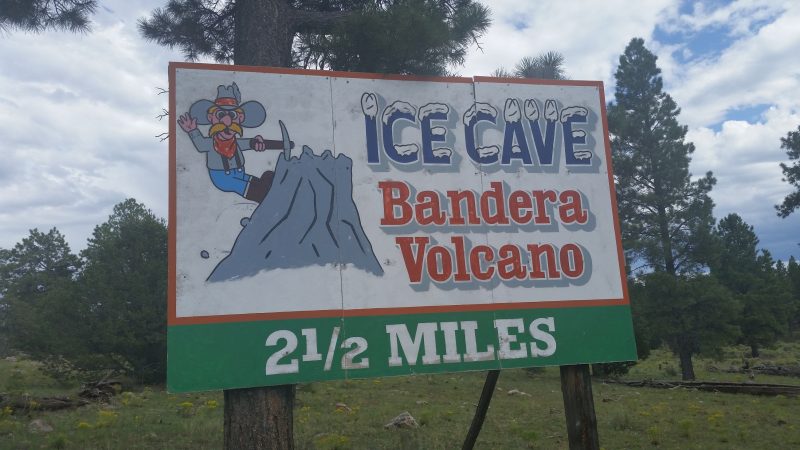 Enjoy an easy half-mile stroll with a gradual elevation gain of 150 feet to a lookout above the crater of Bandera Volcano. From this elevation you have perfect vistas of the beautiful surrounding scenery, not to mention unique photography opportunities in this other-worldly landscape. Check online for on-site accommodation options and availability. Basic cabins, RV parking and tent camping are all on offer.
---
The Old School Gallery
Where: You won't miss this colorful place located on the north side of NM 53, about 15 miles west of Bandera Volcano.
Hours:
12:00 pm – 5:00 pm, Thursday through Sunday.
Closed Monday, Tuesday and Wednesday
Website: www.theoldschoolgallery.org
Not only does this serve as a local art gallery but it's also a community centre for surrounding residents. This multi-purpose facility goes way beyond being solely a meeting-house. It gives neighbours a central hub to enjoy poetry, yoga, local theatre, dance, book clubs and film festivals.
For visitors it's a great photo op highlighting the quirky, bohemian vibes of this remote corner of New Mexico. From time to time local artists present workshops here, check online for further information.
---
Ancient Way Cafe and El Morro RV Park & Cabins
Where: Located on the south side of NM 53, across the road from the Old School Gallery.
Cafe Hours: 
9:00 am – 5:00 pm, Monday, Tuesday, Thursday and Sunday.
9:00 am – 8:00 pm, Friday and Saturday.
Closed Wednesday.
Website: www.elmorro-nm.com
The Ancient Way Cafe and its RV park and cabins are a pleasant surprise on this stretch of beautiful but desolate highway. Choose between tent camping, RV sites with full hookups or relax in one of their mountain cabins. Experience the ultimate weekend break with a rejuvenating stay on these rustic premises, complete with an on-site cafe lauded as one of the best restaurants in New Mexico.
The Ancient Way Cafe prides itself on locally sourced, organic ingredients. Gourmet dinners are offered on Friday and Saturday evenings, whereby you can even bring your own beer or wine. Note: weekend dinner reservations are strongly recommended at this local's favourite.
---
El Morro National Monument
Where: The entrance to El Morro National Monument is on the south side of NM 53, one mile beyond Ancient Way Cafe.
Hours: 9:00 am – 5:00 pm, daily
Website: www.nps.gov
Admission: Free
This sandstone bluff soaring above the El Morro Valley has attracted the attention of humans for centuries. Over the years these visitors have left their marks in various ways on the landscape here. Take an hour or two to explore the appeal of this setting with it's panoramic views and historical graffiti. This beautifully situated site has been an outdoor getaway for many generations!
Watch Our Video and Learn More About El Morro National Monument!
Hiking at El Morro National Monument
There are two hiking trails at El Morro National Monument, each allowing leashed dogs. Inscription Loop Trail is an easy half-mile paved trail which passes by Woodpecker Arch, the Pool and iconic Inscription Rock. The Pool is a natural feature fed from rainfall and melting snow run-off from the top of the bluff. Both travellers and settlers have availed of this welcome oasis for many years.
Close to the Pool you'll find what has become known as Inscription Rock. Scrawled across the sandstone surface are the scratchings of ancient visitors ranging from Puebloan first settlers, European colonists and later pioneers heading west. Marvel at the uniqueness of the inscriptions here, the remaining historical legacies of those that have passed through this part of New Mexico.
For those of you with more time and energy consider the Headland Trail. This 2-mile loop includes Inscription Rock Trail, however it continues to the top of the bluff, with a 250 foot elevation gain. From here enjoy panoramic views of the Zuni mountains and the extensive views across the valley below.
You'll also encounter Atsinna Pueblo on this trail, a ruined ancestral Puebloan settlement built atop the promontory. This short-lived site was only occupied from from 1275 – 1350 A.D. Today it offers photographers one more opportunity to capture a classic southwest snap.
Camping at El Morro
Looking for an overnight escape on a budget? El Morro campground is FREE on a first come first served basis ONLY. Leashed dogs are allowed in the campground. You'll find 9 campsites, each with a gravel tent pad, fire pit/grill and picnic table. Restrooms with vault toilets are provided, as are strategically placed taps throughout the campground. There are no hookups for RVs.
Water is turned off during the winter season, however you can still obtain this from the visitor's centre only during hours of operation. During the summer months it is your responsibility to be aware of any and all fire restrictions.
El Morro has recently been certified as an International Dark Sky Park, in recognition of the quality of it's night skies unhindered by light pollution. Looking for a romantic weekend getaway? Lose yourself in the vast canopy of overhead stars at night whilst snuggled up at the campfire.
See the Camels at El Morro for a Truly Memorable Weekend Getaway
El Morro is stunning to visit at any time, however align your trip with the Camel Corps for a truly unique and memorable experience. Unfortunately the camels are only at El Morro every two years, with their next visit scheduled for September 2020.
Between 1856 and 1866 the U.S. Army undertook an unusual experiment known as the United States Camel Corps. Prior to the railroad and as part of the great expansion west the Camel Corps played a vital role in the surveying of Beale's Wagon Road, segments of which later become historic Route 66. On August 23rd, 1857 Beale's caravan passed through what is now El Morro National Monument, with members of the expedition carving their names into the sandstone surface known as Inscription Rock for posterity .
Since 1997 Doug Baum and his Texas Camel Corps have been educating the general public about this significant, albeit unknown aspect of U.S. history. Doug is an absolute wealth of knowledge and a great presenter who makes this story accessible to all ages. Kids and adults alike will be enthralled with this biennial interactive history lesson.
---
Weekend Escapes to Wild Spirit Wolf Sanctuary
Where: To get to Wild Spirit Wolf Sanctuary turn left from NM 53 onto Indian Service Road 125 and continue 14.5 miles to the settlement of Candy Kitchen. This turn is approximately 3.4 miles from the main entrance of El Morro National Monument.
Hours: 
10:30 am – 4:30 pm, Tuesday through Sunday.
Closed Monday
Website: www.wildspiritwolfsanctuary.org
This sanctuary has been rescuing wolves and wolf-dogs since 1991. Their mission is to rescue un-releasable captive bred, displaced and unwanted canids. In doing so Wild Spirit Wolf Sanctuary provides a safe, permanent home for these animals and offers an educational opportunity for the public to learn more about them.
Scheduled guided tours are the only way to see the wolves. The Standard Tour offers insights into behavioural traits and individual personalities of the pack. Reservations are not required for this tour. On the other hand if you partake in the Feeding Tour you must schedule this in advance. As the name suggests this tour gives visitors a chance to accompany guides as they serve breakfast to hungry wolves.
Group Tours of 10 or more are also offered – perfect for school outings. However the ultimate tour is the Photography Tour, whereby guests get to actually enter an enclosure along with a guide. This tour must be scheduled at least two weeks in advance and is compliant with strict rules and requirements. For further information check out the website above.
If you've ever wanted to go to sleep at night being serenaded by wolves in the wild, look no further! Wild Wolf Sanctuary offers tent camping, RV camping (no hookups) and on-site rustic cabins. There's even a luxurious retreat centre ideal for groups of 18 or more.
---
Zuni Cliff Dwellings
Where: These seldom-visited ruins are on Timberlake Road just off NM 53 east; turn right at the intersection of these two roads. Timberlake Road is approximately 10.5 miles from the main entrance to El Morro National Monument. The ruins are a half-mile from the highway.
As you travel from east to west on NM 53 keep your eyes peeled for Timberlake Road on the right. A quick detour down this gravel road takes you to the Zuni cliff dwellings (above), dating from 1200 – 1300 A.D. This is as much as there is to see but it's a pleasant and swift diversion. Although it makes for a nice drive continuing along Timberlake Road, there is no outlet!
Our Video Shows You How To Get To Nearby Ramah Falls!
A Guest Cottage on the Ancient Way Makes the Perfect Airbnb Weekend Escape
Why not have the comforts of home on your weekend break? Christine and Mike are indeed superhosts at this peaceful Airbnb tucked in just off NM 53 outside of Ramah village. The guesthouse is quiet, bright, spacious and comfortable, offering a welcome retreat after a busy day of sightseeing. Check out Chris and Mike's reviews and choose their cottage for your weekend getaway in New Mexico.
Chris has included some thoughtful extra touches to enhance your stay. Not only are tea and coffee provided, but yoghurt, oatmeal and granola bars are also on hand for breakfast or a snack. In the bathroom you'll find shampoo, conditioner and shower gel in case you didn't bring any.
If you're looking for a quiet getaway, this place is just for you. Step outside of the guesthouse at night to see the milky way and the most star-filled sky you've ever seen. If you're lucky you'll hear coyotes in the distance and in the morning see herds of deer grazing on the property. Relax in the flower filled garden and watch hummingbirds flit from flowers to feeders and back again.
The highlight of your stay here will no doubt be Nellie and Lily, the residents doggies who'll happily take you for a walk or will graciously accept as many pets as you're willing to dole out. You won't find a better home away from home during your weekend break! We've stayed here on many occasions and look forward to our next return in the future!
---
The Village of Ramah
Located in McKinley County next to the Navajo Nation and Zuni Pueblo, Ramah was established in 1876 as a Mormon settlement under the orders of Brigham Young. More recently Ramah has become synonymous with the writings of Tony Hillerman, whose mysteries are set in the immediate area.
If you blink you'll have passed through this historical neighbourhood. However don't underestimate this tiny village as there are still quite a few things to do in Ramah to while away a relaxing few hours. This is also a great place to base yourself whilst you explore the surrounding attractions.
Stagecoach Cafe
Where: On NM 53 in the heart of Ramah village.
Hours:
7:00 am – 9:00 pm, Monday through Saturday
Closed Sunday
Phone: (505) 783-4288
If you're looking for hearty portions of delicious food at a good price, the Stagecoach in Ramah meets all of your needs and then some. Grab an early breakfast before heading out sightseeing for the day – it's guaranteed to fill you up until dinnertime.
We strongly recommend the stuffed sopapilla and the green chile cheeseburger, although the menu is full of other great New Mexican fare. Check out the rooster decor as you ponder which piece of pie to have for dessert.
---
Ramah Farmers' Market
Where: Located in front of Ramah Museum (see below).
Website: www.ramahfarmersmarket.org
Every Saturday from 10:00 am to 1:00 pm from mid June through the first week of October visit the Ramah Farmers' Market. Here locals gather to chit chat whilst buying and selling local organic produce, free-range eggs, pasture-raised meat, homemade baked goods and handicrafts.
Held the first Saturday of October is the Ancient Way Harvest Festival, celebrating the end of the season for the Ramah Farmers' Market. Along with a parade there's music, kid's activities, festive displays and the not to be missed Most Beautiful Chicken Competition! This interesting local festival is held at the Ancient Way Cafe (see above), 12 miles east of Ramah.
Ramah Museum
Where: Intersections of Bloomfield Avenue and Lewis Street in Ramah, one block north of NM 53.
Hours: Sporadic
Phone: (505) 783-4215
Admission: Free
Today this small stone house showcases historical artefacts associated with the everyday lives of the town's inhabitants throughout the years. Depending on your interest in local history this may or may not be of interest to you.
---
Outdoor Getaways on Ramah Lake
Directions: From the only stop sign in Ramah turn right from westbound NM 53 onto Bloomfield Road. Continue on this road for approximately one mile, then turn right at the sign for Ramah Lake and continue to the the parking area.
Note: Unfortunately kayaks and canoes aren't for rent nearby, you must bring your own.
Just northeast of town is Ramah Lake, built by Mormon pioneers in order to irrigate the valley and sustain their farms. The lake is reliant on rain and melting snow run-off in the springtime to maintain it's levels.
This serene 100 acre man-made lake is ideal for kayaking, canoeing and fishing. Paddle about under the towering sandstone cliffs and soak up the solitude of this hidden gem. Alternatively, enjoy the stunning surroundings with a hike around the lake followed by a picnic.
---
Chu Chu's Restaurant
Where: This local's favourite is on the south side of NM 53, about 20 miles west of Ramah village.
Hours: 10:00 am – 9:30 pm, daily
Online Menu: www.zmenu.com/chu-chus-pizzeria-zuni
There's not a lot of choice when it comes to where to eat in Zuni. Chu Chu's has been serving the community for over 30 years and has the market cornered on dining options here. Although they're known for their pizza this local restaurant also serves sandwiches, starters, burgers, steaks, chops and more. There's both a kid's menu and a senior citizen's menu on offer. Alcohol is not available. If you've never had green chile on a pizza, now's your chance to try it.
---
Zuni Pueblo
Visitor Center: Located on the north side of NM 53, approximately 21 miles west of Ramah village.
Hours:
9:00 am – 5:00 pm, Monday through Saturday.
Closed Sunday
Website: www.zunitourism.com
Beyond Ramah you enter Zuni Pueblo which is the largest of New Mexico's 19 Pueblos. Immerse yourself in Zuni culture and traditions by taking one (or more) of the many tours offered by the Pueblo. Choose from in-depth archaeological adventure tours to traditional Zuni cooking classes, and much more. Certain tours must be booked two weeks in advance, see the link above for a full list of offered tours.
Begin your visit to Zuni Pueblo by stopping into the visitor centre for photography guidelines and a map of the area. A photo permit is required for ALL photography on the reservation. Permits are available for purchase at the visitor centre. Taking photographs of cultural or religious activities is strictly prohibited at Zuni Pueblo.
Although the pueblo offers numerous opportunities to experience Zuni culture and heritage many areas are restricted to guided tours only. Also keep in mind this is NOT a living museum, this is a real pueblo with people going about their everyday lives. Be considerate even if you've purchased a photography permit.
---
Where to Find a Memento of your New Mexico Weekend Getaway
---
If you're from out of town and would like a memento of your weekend getaway in New Mexico you'll find two of the best trading posts in the vicinity along NM 602. Heading north towards Gallup you'll find Winfield Trading Company which is one of the largest wholesale suppliers of Indian arts and crafts in the world. They deal in high quality, authentic Native Indian arts, crafts, jewellery, baskets, kachina dolls, turquoise and rugs.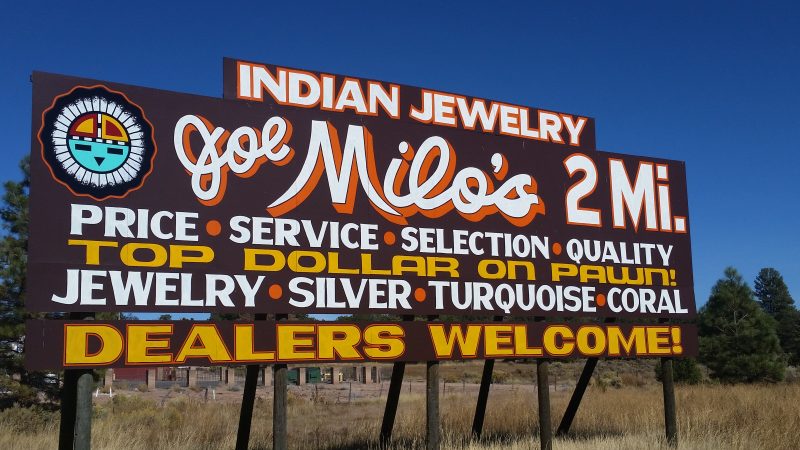 Continuing north your next stop is Joe Milo's, the other trading post along this route. Look for the colourful kachina cut-outs bedecking the outer perimeter of the property. Inside you'll find part museum, part trading post. Take your time and peruse the beautiful, authentic Indian craftsmanship for sale or simply browse the historical photos and curiosities collected over the years.
There are two options from Joe Milo's: NM 602 north takes you directly to Gallup, worthy of a stop for plenty of attractions and some great restaurants, or you can backtrack to NM 53. For the latter, turn right from Joe Milo's and either continue south on NM 602 to NM 53 or take scenic Indian Route 4 into Zuni Pueblo. We've provided links highlighting what to see and do in Gallup in the box at the top pf this page.
---
In Conclusion…
Create your own itinerary from our recommendations and explore the rich history of northwest New Mexico, or simply relax and enjoy the serenity of these ancient lands. Find each of our suggested attractions, restaurants and accommodation options directly on or within just a couple of miles of NM 53, making for a perfectly compact southwest weekend getaway in New Mexico.
---
Pin Me Now!