Last Updated on November 1, 2022
It's easy to get off the beaten path and still find plenty of things to do in Mazatlan. This coastal city is much more than sun, sand, tours and souvenir vendors. Those things are fine but you need to know what to do in Mazatlan that's different. This article shines a light on the less-obvious sights, attractions, activities and events.
What to Do in Mazatlan: Overlooked Attractions and Other Things to Do
We'll reveal some overlooked places to see in Mazatlan, how and when to get there and what to expect. You won't have most of these places entirely to yourself though; our suggestions are enjoyed by locals and adventurous, in the know visitors. Instead, enjoy things you never expected to find in Mazatlan and get inspired to see even more.
Forget the malecon – we'll show you where to walk and get the best views of Mazatlan at the same time. Check out an odd museum many visitors overlook, then go swimming in a unique oceanfront pool. Enjoy lively stretches of sea and sand, then head to the best beach in Mazatlan – minus the crowds.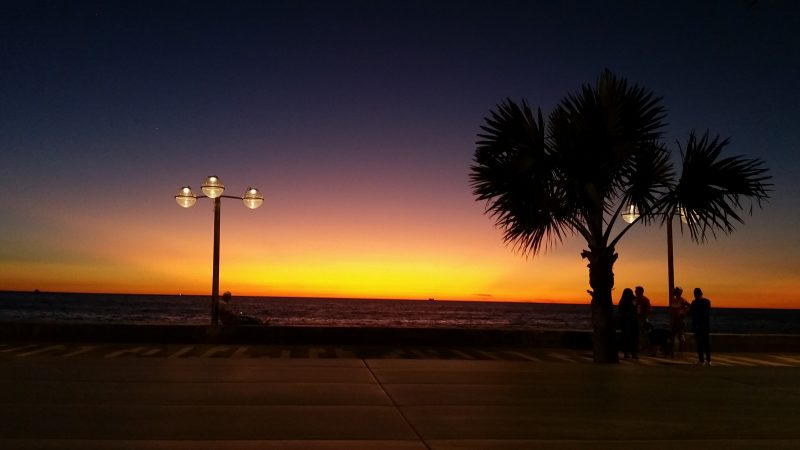 Know where to discover the most high-energy nightlife in Mazatlan and where to find a great taco stand that never closes. These are just some examples of what to do in Mazatlan when you think you've seen it all.
Watch Our Complete Mazatlan Video Series on YouTube!
Disclosure: This article contains affiliate links to products and services whereby we receive a nominal commission if you make a purchase through one of these links. This comes at no extra cost to you. Please see our Disclaimer for full information.
---
Bonus Section: Discover Other Mazatlan Markets
You'll also find a section below featuring a variety of markets for shopping in Mazatlan. Many visitors head straight to Mercado Pino Suarez, the city's main central marketplace – this is definitely worth a visit, but don't overlook the other markets nearby.
Do You Need a Place To Stay While Visiting Mazatlan?
Check out these great Airbnb listings in Mazatlan including beachfront rooms, entire abodes, hip and trendy lofts, colonial homes and much more. Discover these unique accommodation options perfectly suited for your next visit to Mazatlan.
For conventional accommodations we suggest looking at Hotels.com for a wide range of options. Find that all-inclusive resort, beachfront room or a romantic boutique hotel either here in Mazatlan or throughout Mexico.
The bonus section below features four additional markets to consider. If the bustle of Mercado Pino Suarez is too much for you simply head for another of our suggested markets instead. Each of these are easy to visit and should be on your list of places to go in Mazatlan.
---
24-Hour Food in Mazatlan
Several Mazatlan attractions mentioned below carry on well into the night. That means you'll need a place to eat at any hour. It's rare to find food served 24/7 in Mazatlan or anywhere in Mexico, but we've found a great taco stand ready whenever you need it.
Super Taqueria El Mony
Where: This is located on the east side of Mercado Pino Suarez on Avenida Aquiles Serdan.
Get here when you need delicious and inexpensive food, no matter the time. This locals-favorite taco stand goes against the grain and serves tacos with stewed meats instead of the usual grilled selections. El Mony also gives you the choice of either wheat or corn tortillas!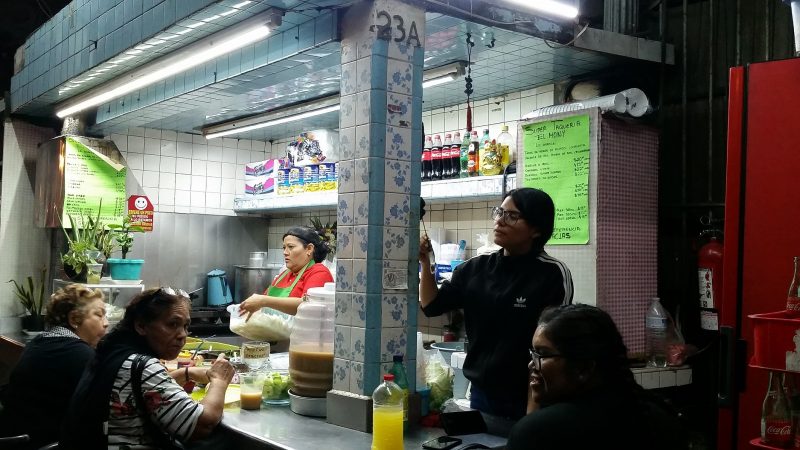 Are You Ready for More Food… and Festivities? See Our Other Articles Covering Even More of Mazatlan!
Our favorites are tacos on wheat tortillas filled with birria de res (shredded, stewed beef) and chicharrones (pork skin) fillings. Grab a chair at the counter, order several tacos and choose a variety of salsas to splash all over your grub. Perfection!
---
Discover The Best 360° Views of Mazatlan
Where: Cerro de la Neveria, also known as Icebox Hill, is immediately north of Playa Olas Altas. You won't have any problem spotting this natural landmark, capped with a handful of red and white microwave towers.
Directions From Playa Olas Altas: From the north end of Playa Olas Altas head uphill on Avenida Olas Altas, then left on Pedrogoso; this quickly heads uphill. A very steep cobblestone stairway leads to a loop road high atop Icebox Hill.
Directions From Zona Dorada, or the Golden Zone: Go south on Avenida del Mar. Turn left on Calle Guillermo Nelson; continue 6 blocks to Plazuela Zaragoza, then turn right on José María Morelós y Pavon. Continue uphill; this road ascends and loops around Icebox Hill.
Directions From Centro: Head to Plazuela Zaragoza; from the west side of Pino Suarez Market head three blocks north, then left onto Jose Maria Morelos y Pavon. Continue on this street and head uphill to Cerro de la Neveria.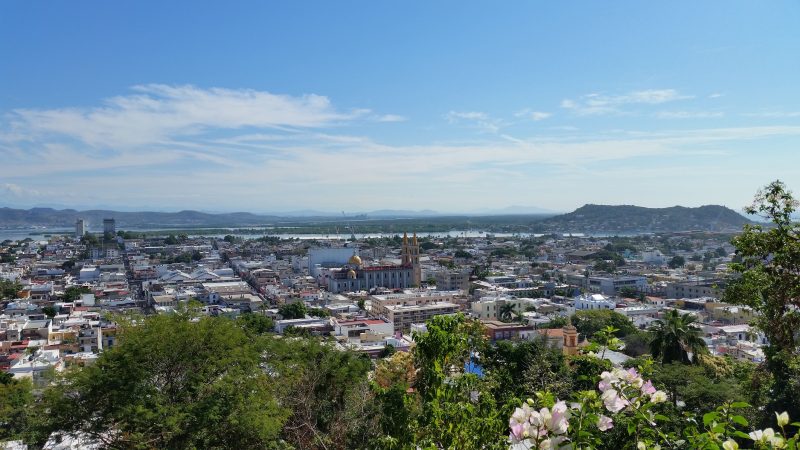 Escape the Mazatlan Malecon and give your exercise routine a boost with a walk up Icebox Hill. Your effort is rewarded with 360° views of Playa Olas Altas, Old Town Mazatlan and Zona Dorada. Several loops around Icebox Hill are enough to get your heart pumping and your camera clicking. A cobblestone viewing area on the west side of Icebox Hill offers fine views out to sea.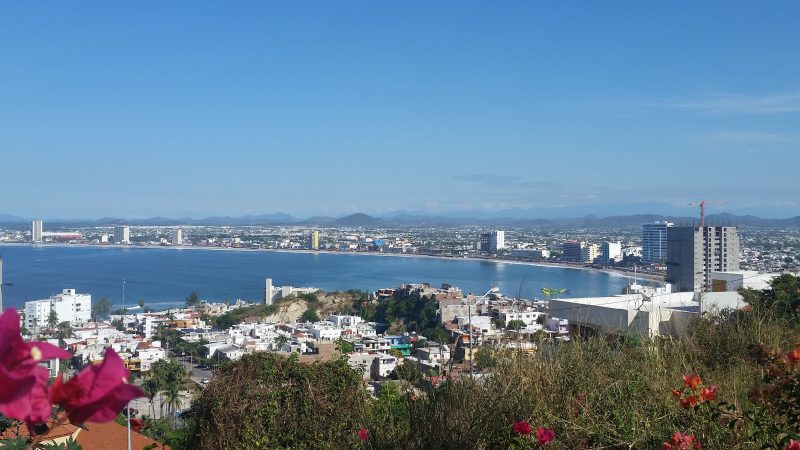 Expect plenty of spots along the way with unobstructed views in each direction. Also, expect to spot many landmarks including the Pacifico Brewery, Mazatlan Cathedral, Parrouquia Cristo Rey, Isla de la Piedra and El Faro. The Sierra Madre Occidental Mountains are also visible; these are especially stunning during the early morning and evening light.
---
Get in on the Fight with Live Lucha Libre and Boxing Matches
Where: Lucha libre and boxing matches are held at Cancha German Evers, a semi-indoor basketball arena about seven blocks east of Mercado Pino Suarez. Cancha Germán Evers is located at the corners of Avenidas Zaragoza and Corona.
When: Lucha libre matches are held monthly, while boxing matches are less frequent. These matches begin around 7:00 pm. Plenty of signs for these events are found all throughout Mazatlan leading up to fight night.
Ticket Prices: Admission prices range from 120 to 300 pesos, depending on how close you wish to get to the action. Tickets are available for purchase at the venue several days before each match.
Websites: www.luchadb.com and www.facebook.com/Zapari-Boxing
Attending a lucha libre match is a Mexican experience you cannot miss. Masked characters tumble and tussle in a constant clash of good versus evil. The maneuvers are extremely technical and the crowd simply goes nuts for it! Even non-fans will get caught up in this fun atmosphere; join in with your cheers and jeers and enjoy a different kind of nightlife in Mazatlan.
Boxing fans will love seeing hungry amateur fighters slugging it out for glory. We saw a card featuring eight exiting matches; several local boxers drew all the cheers as they faced opponents from throughout Mexico. Expect plenty of heart from these eager fighters and plenty of excited boxing fans. Consider yourself lucky if you catch one of these events in Mazatlan.
---
See Sea Shell City
Where: 407 Avenida Playa Gaviotas in Mazatlan's Zona Dorada.
Hours: 10:00 am – 6:00 pm, daily.
Website: www.seashellcitymuseum.com
Sea Shell City is a tongue-twister and Mazatlan's best Zona Dorada gift shop. However, come here to take advantage of the free museum located upstairs instead. Expect a space devoted to shells, giant whale bones, nautical antiques and several dazed fish swimming in turbid water. This is good fun and it's also one of the classic things to see in Mazatlan.
---
Go Swimming in an Oceanfront Infinity Pool
Where: North end of Playa Olas Altas on the Mazatlan Malecon.
When: Always open!
Admission: Free!
Ever seen an infinity pool located on prime oceanfront real estate? This pool, built in 1914, is still one of the most fun things to do in Mazatlan and doesn't cost a peso. High tide is the best time to visit this pool as foamy waves crash in all around. A section at the front features a shallow area perfect for kids. Although the pool is always full check out Mazatlan's tide chart for the most dramatic results!
You'll also find bars and restaurants just steps away from the pool along the malecon. The infinity pool is always open and totally free, however it remains one of the most overlooked Mazatlan tourist attractions.
---
Ride a Vbike in Mazatlan
Where: Pick up any Vbike 24 hours a day throughout many locations in Mazatlan.
Vbikes are a great way to cruise down the Mazatlan Malecon, or anywhere in the city. Simply download the free Vbike app and choose from hundreds of their bespoke green bicycles throughout the city whenever you wish.
These bicycles are found at over 50 pick-up/drop-off locations scattered around Mazatlan. Just unlock a Vbike with the app and go. Simply return the bicycle to any designated Vbike station when you're done.
---
Attend a Mazatlan Venados Baseball Game
Where: Teodoro Mariscal Stadium located on Avenida Justo Sierra, between old Mazatlan and Zona Dorada.
When: This independent professional Mexican Pacific League runs from early October through the end of December.
Admission: Tickets prices range from 90 to 330 pesos.
Website and Schedule: www.venados.com
The Mazatlan Venados are a venerated team in this small, professional baseball league. Settle in and watch as the enthusiastic crowd cheers on and mercilessly heckles the home team mascots, Vendy and Vendito. Considering the venue, beer is a good value here; a 24-ounce Pacifico cost just 60 pesos during our visit.
We always enjoy baseball games, more for the fun atmosphere than the sport itself. Both of us had a blast here and were quite impressed with the new stadium. Check out a baseball game in Mazatlan the next time you and the Venados are in town.
---
Watch the Crazy Cliff Divers, or Clavadistas
Where: Marvel at the Mazatlan cliff divers from the safety of the malecon, just north of Playa Olas Altas and the infinity pool (above).
When: Divers perform from about noon to late afternoon/early evening. Saturday and Sunday is the best time to see the cliff divers.
The experienced clavadistas of Mazatlan ascend a rocky point and jump into the swirling sea. Watch as they time their dives with the wind and swell of the ocean against the rocks below. After sailing head first into the foamy water the clavadista swims ashore, climbs to the malecon, collects tips from spectators and does it all over again.
Watching clavadistas perform their feats of daring-do is certainly one of the classic things to do in Mazatlan. Don't forget to give a customary tip of at least 20 pesos per person (USD $1) for every dive you see. Climb the platform yourself when divers aren't present and peer into the broiling seas below as you quake in fear – or just take a selfie and call it good!
Although not as famous as the cliff divers of Acapulco, the clavadistas of Mazatlan still deserve your attention. We mention this very popular Mazatlan tourist attraction because it's just a few steps from the infinity pool.
---
Float to the Best Beach in Mazatlan at Isla de la Piedra
Where: Isla de la Piedra (Stone Island) is located at the entrance to Mazatlan's port. Boats to the island depart from the southern end of the port.
When: Boats depart roughly every 15 minutes from 9:00 am to 6:00 pm, daily.
Price: Passage is 30 pesos round trip.
Note: Reservations aren't necessary – simply show up and buy a ticket for the next departure. Crossings take about five minutes.
Isla de la Piedra, or Stone Island, was indeed once surrounded by water. It's now connected to the mainland but you'll still enjoy this pleasant day trip from Mazatlan. Come here for a handful of palapa seafood restaurants and plenty of open beach. Arrive prepared with what you need – sunscreen, towels, ice – as shops and supplies are limited and what is available in is overpriced.
We promised you the best beach in Mazatlan free of crowds, right? Keep walking beyond the seafront restaurants and you'll find miles of empty beach in front of you. You don't need to walk far for a secluded stretch of sand, completely free of vendors. Again, come here prepared with whatever you need to enjoy the serenity.
The truly adventurous (and prepared!) can camp on the beach or enjoy some comfort at one of several hotels. A few RV parks popular with snowbirders are also found along the beach. Expect significant crowds during Christmas and Easter holidays. Stone Island remains one of the most popular Mazatlan tourist attractions, ironically with the quietest beaches around!
---
Browse Mazatlan's First Friday Art Walk
When: This event is held on the first Friday of each month from November through April.
Where: Galleries and vendors are located throughout Old Town Mazatlan at Plaza Machado and toward Playa Olas Altas.
Website: www.facebook.com/artwalkmazatlan
Plaza Machado is one of Mazatlan's most lively spots, especially during First Friday Art Walk. Vendors set up here and galleries roll out the red carpet for visitors, complete with complimentary red wine! So go take a walk – at Mazatlan's First Friday Art Walk.
First Friday events are a great way to celebrate art and community spirit in the city. We enjoyed First Friday events when we lived in Portland, Maine and were happy to see this in Mazatlan. These gatherings are like block parties focusing on food, entertainment and plenty of local art.
---
Visit the Felines of El Faro
Where: El Faro is located south of Mazatlan's port.
Hours: 5:00 am to 8:00 pm, daily
Admission: Free!
Distance and Elevation: The path to the top is 2,444 feet (745 meters) with 336 steps to climb! The elevation gain is 515 feet (157 meters).
This hilltop landmark – the world's second highest lighthouse – is one of our favorite places to go in Mazatlan. This strenuous hike features great views of the city, sea and Stone Island (above). However, the real treat for us is the colony of friendly felines inhabiting this hill. Stopping to visit the cats is a perfect excuse to catch your breath while enjoying views along the way.
Enjoy vistas along the Pacific coast from the glass observation deck (10 pesos) behind the lighthouse. Expect more playful cats at the top enjoying the scenery here, too. Don't feel bad for these cats; you'll notice small piles of food and bowls of water from kind volunteers. These friendly creatures have a sweet life and get plenty of affection and attention.
---
Stroll Through Mercado Pino Suarez
Where: Mercado Pino Suarez is located at the corners of Melchor Ocampo and Aquiles Serdán, in the heart of Mazatlan"s Centro district.
When: 7:00 am to late afternoon, daily.
Although this is one of the more popular Mazatlan tourist attractions it'll inspire you to visit other markets. Visitors come to Mercado Pino Suarez for a sensory explosion while locals come to shop for household goods, spices, cheese, meat, seafood, homemade confections and plenty of fruits and vegetables. This is also ground-zero for all of your Mazatlan souvenirs, however it's still a very authentic Mexican market.
Mercado Pino Suarez also has a section of potions and folk cures used by superstitious folk and witches, known as brujas. Hungry? A dozen simple eateries above the market eagerly await to serve you cheap, delicious Mexican food. Competition for your business at these eateries is fierce; expect overly-competitive staff urging you into their restaurants with promises of the best food.
---
Bonus Section: Discover Other Mazatlan Markets
---
Juarez Sunday Market
Where: Opposite Mercado Municipal Miguel Hidalgo in Mazatlan's Benito Juarez neighborhood.
When: This market operates every Sunday from 5:00 am to 2:00 pm.
How to Get There: We suggest taking a taxi/pulmonia or a bus to the Juarez Market, simply due to the congestion in that area. From Centro take any bus marked Juarez from Teniente Jose Azueta, two blocks east of Mercado Pino Suarez. From Zona Dorada take any Cerritos/Juarez bus.
Watch Our Juarez Market Video!
A lively Sunday market overflows into the streets here; the main action is found around a church across from Miguel Hidalgo Market. This weekly event sells new and used merchandise, meat, cheese and produce. Several simple restaurants get in on the action selling cheap, tasty Mexican food to hungry shoppers.
This is great way to spend a Sunday morning – it's best to simply ramble around and see what's on offer. Name a price and get ready to haggle if you see something you want. There's a heavy focus on used toys, tools and clothing here; I scored a nice used baseball cap for 10 pesos. The second-hand clothes are better quality and value than the new, counterfeit articles on sale!
Mazatlan Mercado de Flores
Where: Corners of 16 de Septiembre and Teniente José Azueta, about eight blocks north of Mercado Pino Suarez.
When: Daily
This is a collection of florists selling special occasion and funeral arrangements all under one roof. Come here to enjoy the sweet aroma and colors of many elaborate floral displays; vendors are constantly preparing flowers throughout the day. It's also pleasantly cool here, even on the hottest days.
Mercado Orgánico Mazatlan
Where: Plazuela Zaragoza in Mazatlan's Centro neighborhood between Avenida Zaragoza and José María Morelós y Pavón.
When: 8:00 am – 12:00 pm each Saturday from roughly late-November through mid-April.
Website: www.facebook.com/Mercado.Organico.Mazatlan
This farmers market, three blocks north and two blocks west of Mercado Pino Suarez, is a world apart from traditional Mexican markets. The Mazatlan Organic Farmers Market boasts thoughtfully grown and sourced produce, prepared foods, crafts and tango dancing beneath a two-story bandstand.
See what's going on here if the hustle and bustle of an authentic Mexican market isn't for you. This is also a pet-friendly market complete with an animal charity booth featuring information on helping animals in Mazatlan and beyond.
Mercado Juan Carrasco
Where: On Avenida Gutiérrez Nájera which begins at the Fisherman's Monument on Mazatlan's Malecon.
When: Daily
Mercado Juan Carrasco is much smaller than Pino Suarez Market and lacks the souvenir stalls. It sells more of the same: fruit, vegetables, dairy products, meats, seafood and baked goods. Mercado Juan Carrasco is conveniently located just one block from the beach.
This marketplace is also less crowded than Pino Suarez and features several simple restaurants out front, popular with locals and Mexican tourists. Try a bowl of birria stew from Taqueria El Chino – it's the best we've had in Mazatlan.
---
In Conclusion…
Our first visit to Mazatlan was in 2013 after a cargo ferry crossing from the Baja Peninsula! We really fell for this place after a subsequent visit some months later. Our plan was to return some day and take as long as we wanted here….
We're lucky to have spent 2019 through 2020 living in and getting to know Mazatlan. By chance and choice we stayed a bit longer than was originally planned, so we had time to uncover plenty of things to do in Mazatlan. Enjoy these suggestions and simply go at your own pace independently. See some of the more popular tourist attractions in Mazatlan and combine them with our recommendations.
---
Pin Me Now!