Last Updated on November 1, 2022
It seems everyone who visits Mazatlan heads for her famous malecon, or seafront walkway – it's an iconic attraction and one of the longest in the world! However, this is much more than just a walk along the ocean; the Mazatlan Malecon is full of things to do and see along the way. These attractions are fun, tasty, iconic and some are quite infamous as well. We'll introduce you to all of these attractions and a few more.
This article begins on one end of the Mazatlan Malecon and highlights the best attractions along the way. We'll share interesting factoids, include some great photos and tell you where to eat and drink along the way. Of course, you can begin your tour of the malecon at any end, or at any point in between. However, start your journey early, take a few breaks and then finish with a cold beer as the sun sets over the Pacific Ocean!
Watch Our Mazatlan Malecon Video!
Interesting Notes About the Mazatlan Malecon…
As mentioned, this is one of the longest oceanfront promenades on the entire planet! However, we've found many discrepancies about the length of the Mazatlan Malecon. Online, distances range from 20 km to just over 4 mi – we've also seen 13 mi or 13 km depending on the source! Also, some online sources say there's even a separate 21 km boardwalk, totally independent of the Mazatlan Malecon! Really? Let's sort it out…
What Exactly Is a Malecon Anyway?
A malecon is simply an esplanade or walkway along a waterfront. They often feature public gathering spots along the way such as small plazas, fountains, monuments and so on. The Mazatlan Malecon has all of these plus a few landmarks, plenty of tourist attractions, several secret features and even a bit of notorious recent history.
The Boardwalk in Mazatlan?
So, does Mazatlan have a boardwalk in addition to her malecon? No. Of course, the Spanish word malecon can translate to boardwalk in English, however that still doesn't explain why some sources mention something which evokes a raised, wooden walkway almost 13 mi. (21 km) in length.
Are You Ready To See More of Mazatlan During Your Visit?
Living in Mazatlan for over a year gave us time to find lesser-known places to enjoy. See our articles highlighting inexpensive, authentic restaurants as well as some things to do in Mazatlan when you've done everything else.
Do You Need a Place to Stay While Visiting Mazatlan?
Check out these great Airbnb listings in Mazatlan including beachfront rooms, entire abodes, hip and trendy lofts, colonial homes and much more. Discover these unique accommodation options perfectly suited for your next visit to Mazatlan.
For conventional accommodations we suggest looking at Hotels.com for a wide range of options. Find that all-inclusive resort, beachfront room or romantic boutique hotel either here in Mazatlan or throughout Mexico.
After living in Mazatlan for over a year, a 21 km wooden boardwalk certainly would've stuck out to us. Instead, the malecon in Mazatlan runs along the side of the road, very much like any other sidewalk. In fact, that's pretty much exactly what it is – a long, continual sidewalk.
Disclosure: This article contains affiliate links to products and services whereby we receive a nominal commission if you make a purchase through one of these links. This comes at no extra cost to you. Please see our Disclaimer for full information.
Where Does the Mazatlan Malecon Begin and End?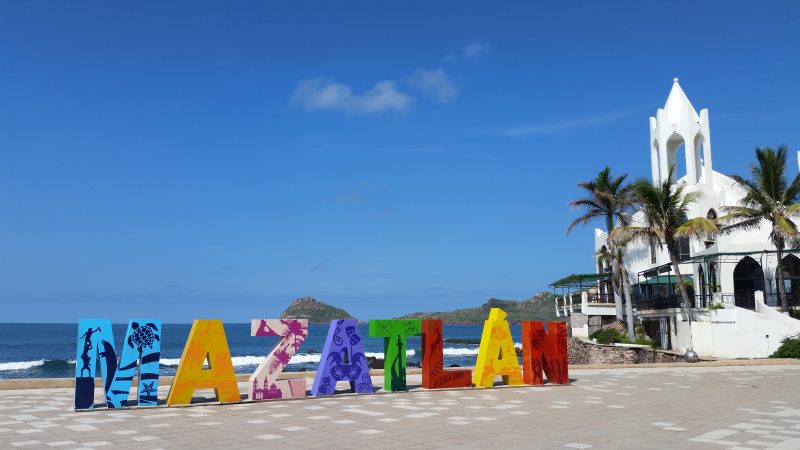 We didn't find official information about the end (or beginning) points. However, the unofficial answer from many locals makes sense: the Mazatlan Malecon runs from the Pedro Infante Monument at Playa Olas Altas to Valentino's, located at the beginning of the Golden Zone. Speculation continues as to whether the malecon extends past these points; simply walk beyond the monument and Valentino's to decide for yourself.
Watch Our Complete Mazatlan Video Series on YouTube!
So, How Long is the Mazatlan Malecon?
Considering the likely starting points – the Pedro Infante Monument and Valentino's – the length of the Mazatlan Malecon is about 4.3 mi, or 7 km. Still, this is one of the longest malecons in the world – certainly in all of Mexico. Sadly there's no additional boardwalk perched above the sand stretching for miles beyond this, but who cares – the attractions on the Mazatlan Malecon are worthy of an entire day of exploring, anyway!
---
What To See and Do on the Mazatlan Malecon
Of course, start your walk along the malecon at any point you wish. Having said that, the following points of interest begin at Valentino's and end at Olas Altas; the latter is a great place to hang out, enjoy the sunset with a beer and do a bit of people-watching. Also, the stretch of malecon just before Olas Altas really gets going in the evening with food vendors and other activity; plan on ending your day at this end.
In order, heading from Valentino's to Olas Altas…
The Sea Lion Monument
We promise the attractions along the malecon get much more exciting than this! Still, this monument featuring some rather odd-looking sea mammals, signifies the southernmost breeding range of the California sea lion. Use this moment to take photos, gaze out upon the Pacific Ocean and think about how much more interesting things get from here!
This stretch of the malecon used to hold one of our favorite attractions: a large antique brewing vat from the Pacifico Brewery in Mazatlan, part of the national Grupo Modelo brewery. From what we've gathered from locals, the section of the malecon which displayed this vat was damaged in a storm; the old piece of process equipment was then moved to the area's main distribution center and is said to be on display there.
The Pulmonia Monument
This monument is only marginally better than the prior one! Mazatlan's iconic form of transportation, the pulmonia, is a very popular photo-op along the malecon. Behind the pulmonia is another bit of monument to Cerro el Creston, the iconic landmass rising up from the sea at the entrance to Mazatlan's port. On top of Cerro el Creston (the monument and the actual landmass) is El Faro, Mazatlan's famous lighthouse.
Take a seat inside this life-size buggy and envision driving along with a salty breeze gently caressing your hair. Imagine some really loud music blaring into the atmosphere as you putter along in one of these… Or just flag down the next passing pulmonia and have them turn your malecon walking trip into a personal guided tour of Mazatlan – the going rate is about 350 pesos per hour.
The Miramar
This oceanfront condo is notorious in very recent history for one thing: the second arrest of Joaquin "El Chapo" Guzman. On February 22, 2014 at 6:30 am, the Miramar was the scene of a coordinated effort by the Mexican Navy and several United States agencies. The ensuing arrest of Guzman featured a very brief physical scuffle; he was cuffed and led away in less than 60 seconds without further incident.
Apparently, the man wasn't personally extravagant with his wealth – his room was only on the fourth floor of the Miramar. What's more, his wanted-ness meant he couldn't enjoy the beach or even take an evening stroll along the malecon in style. That's a real shame because the area just down the from the Miramar is the scene of our next malecon attraction and one of our personal favorites…
Palapa Paradise, or Restaurant Row
This stretch of the malecon features about a dozen seafood restaurants right on the beach! These palapas (palm-thatched, open air shelters) serve up the quintessential Mexican beach experience: delicious seafood, beer and plenty of traditional live music. Although we prefer the sounds of waves lapping the shore instead of Sinaloense music, these seafood restaurants simply cannot be beat for location, food and value.
Simply choose a place that grabs your fancy; they pretty much all feature similar dishes and prices. If you're unsure about where to go simply head to any palapa which looks busy. We've always liked Puerto Azul as it's often full of Mexican families having a great time feasting under the palapa or hanging out on the beach in front. Don't miss an opportunity to try one (or all!) of these beachfront restaurants!
The Underground Malecon Tunnel
Hotel de Cima features an interesting tunnel located at its entrance. This heads heads under the street and malecon and leads to a beachfront bar and restaurant! Taking this tunnel (free/open to all) is like magically stumbling upon a private beach club full of sun loungers, sand and plenty of good food and drink. The tunnel itself is noteworthy for its tropical fish mosaics, making this a must-see attraction on the Mazatlan Malecon.
There's at least one other hotel-to-beach tunnel (closed) and it's located next to Hotel de Cima. The tunnel on Flamingo Road, next to Hotel Hacienda, is one we recommend you stay far, far away from due to its current use as a lavatory. Sadly, the tunnel's pungent bouquet of stale piss is amplified by the heat, humidity and an omnipresent breeze passing through, even though its closed off.
Fisherman's Monument (Monumento al Pescador) and The Bird Man of Mazatlan
Sadly, this landmark fountain has seen better days; the water is turbid, the pumps don't work and it's full of scruffy-looking pigeons. The Fisherman's Monument still remains an attraction and it's the unofficial center of Playa Norte. Here you'll find vendors, families posing for photos, several restaurants, a waterpark for the kiddies and an assortment of free-to-use beachfront exercise equipment.
Fisherman's Monument is also where you'll see one of the most unique attractions along the Mazatlan Malecon: the Bird Man. This enterprising local has trained Frigate birds to respond to his whistle, swoop from the sky and take fish guts from his mouth! In reality he puts the viscera on a plastic straw sticking from his mouth; the birds then divebomb to retrieve the reward. For a tip, you can feed the birds, too!
Fisherman's Beach
Just beyond El Muchacho Alegre restaurant is an area we call Fisherman's Beach. This isn't the most inviting spot for swim but it is the place to buy fresh fish right off the boat – literally! Many outboard fishing boats pull ashore here throughout the morning. Some of their catch is sold right along the malecon; there's no middleman here and the fish is always about 30 or pesos cheaper per kilo.
We lived just three blocks from this spot and frequently bought fresh fish here on many occasions. We also recommend three amazing seafood restaurants across the street from Fisherman's Beach: Molcajete Loco, Caguamanta Doña Mary and Mariscos Toño – see inexpensive, authentic restaurants in the box above for much more information on these establishments.
Playa Los Pinitos
This small beach is popular with Mexican families eating two seafood delicacies in particular: oysters and cocolocos. The exotic-sounding cocoloco consists of various types of seafoods served in a coconut. About of handful of informal stalls set at Playa Pinitos during the day; they dismantle and vacate the beach by about 5:30 pm. These little stalls are great for fresh, light and inexpensive seafoods.
We paid 90 pesos (about $5 USD) for a dozen fresh-shucked oysters. Choose from several varieties and watch as they're shucked, put into a cup, spritzed with fresh-squeezed lime juice and spiced-up with hot sauce. Grab a table right on the beach, order something to eat and enjoy the experience. Take a bit of a rest at Playa Pinitos as your next attraction on the Mazatlan Malecon awaits you a little further on…
The Monument to the Continuity of Life
After eating all those oysters at Play Los Pinitos, it's fitting to happen upon an attraction featuring a nude couple in tender embrace, looking confidently off into the distance. The two lovers hold court over a very large fountain which is sadly lacking any water at all, leaving it totally lifeless. A gang of giant dolphins also adorn this celebration of all things alive. We certainly hope the city decides to fix this fountain soon.
This fountain marks the spot where the malecon becomes really popular with people strolling in the evening. The action becomes thick with plenty of souvenir vendors, street food stalls, additional monuments and a few more iconic sights. You'll also find along this stretch of malecon plenty of cruising vehicles blasting loud music and, after several additional sights, Mazatlan's first real attraction: Playa Olas Altas.
Clavadista Park at Explanada Sanchez Taboada
This very large oceanfront plaza is where you'll see Mazatlan's famous cliff divers, or clavadistas. These brave souls dive when tidal conditions are just right and when enough onlookers have gathered. Tourists also hang out here while browsing souvenir stalls and eating all sorts of greasy fried foods and sweet delights from food vendors. Several other monuments including the Siren of Mazatlan are found here, too.
When the clavadistas do dive from their perch, make sure to tip them at least 30 pesos; helpers come around before and after performances to collect. Or, tip the diver directly as he climbs out of the water to the cheering crowds above. Just opposite of where they dive is a another rocky perch which you can climb, the Mazatlan Malecon Mirador. Ascend the stairs, take some photos and shake in fear while looking into the water below!
The Cave of the Devil (Cueva del Diablo)
Just across the road from the mirador is a spooky cave, complete with a sinister red devil emblazoned on the gate! For a while, one of the metal bars on the gate was missing, making it possible to venture deep into a dark, frightful world reeking of stale urine. Instead, we recommend staying out of the cave and enjoying the fresh sea breeze and just snapping a photo of this underworld entrance.
This cave penetrates beneath Icebox Hill, a natural landmark in Mazatlan capped with big homes and a handful of microwave towers. Legend says this cave was used by fisherman to store ice, hence the name of the hill above. We've also jokingly heard that this cave serves as a sort of temporary jail for drunks and troublemakers during Carnaval in Mazatlan. Consider yourself warned!
Monuments to La Mujer and Some Musicians! 
Just beyond the mirador and cave is the Mujer de Mazatlan (Woman of Mazatlan) and three musicians directly across from her. We aren't sure if the woman is fictional, or what genre of music the three entertainers are associated with – the famous performer in the middle was added in December, 2020. If it's even more monuments you seek, a few more await you toward the end of the malecon.
Behind the musicians are several restaurants located at the foot of Icebox Hill. These oceanfront, open-sided restaurants are spread out over several levels, making them a perfect spot for amazing views over the Mazatlan Malecon. Save some room in your belly as there's even more food and drink options just a short distance away along Playa Olas Altas.
The Oceanfront Infinity Pool (Carpa Olivera)
There aren't enough free public oceanfront infinity pools out there, however you'll find one located along Mazatlan's world-famous malecon. This large rectangular pool is filled by the ocean throughout the day, however it's quite stunning at high tide when the waves crash in! Carpa Olivera is open 24-hours. Sadly, the iconic concrete sliding board next to the pool doesn't work and is slowly falling apart.
There's a small snack stand here, located below the malecon and in front of the pool. Additionally, vendors sell fresh-shucked oysters here to swimmers from time to time. This is a great place to hang out on the malecon, especially during summer months. Take a break from Mazatlan's heat and humidity while enjoying a dip in the crystal clear waters of a free oceanfront infinity pool!
Playa Olas Altas
This is where tourism began in Mazatlan and it's still the place to be during the evening and throughout the night. Playa Olas Altas is also home to Hotel Belmar, Mazatlan's first waterfront hotel built in 1920. Grab a sidewalk table at the Belmar Bar, order something cold to drink, soak up the scene along the malecon and enjoy the setting sun – this might be the best part of your entire day!
Like the Miramar mentioned above, some notorious history surrounds the Belmar: Sinaloa's governor was assassinated in the hotel's ballroom in 1944. Today, the lobby of this hotel (and the ballroom) are certainly worth a look around while you're here; check out the reception desk (made of imported ebony) and look for the vintage bullfighting poster. The lobby of Hotel Belmar is also home to Mazatlan's best book exchange!
The End of the Malecon, Featuring More Momuments!
Down the malecon from Hotel Belmar is a small garden featuring a monument dedicated to Lola Beltrán, a famous Mexican singer and actress born in Sinaloa. Across the street form here are two mosaics: the Escudos de Sinaloa y Mazatlan – the official shields, or emblems of the state and city. These are located in the middle of a small traffic roundabout, quite near the very end of the malecon.
Across from the shields is the monument of a true piano man, Fernando Valdés. Up next, the Pedro Infante monument marks the end of the Mazatlan Malecon, about 500 ft. from the entrance of Hotel Belmar. Pedro Infante, born here in Mazatlan, was an iconic singer and actor, like a Mexican version of Elvis. You won't miss him in his hat, sitting atop a motorcycle; this statue commemorates his role in the film Full Speed Ahead.
In Conclusion…
Of course, there's no need to end your walk here; a very narrow footpath continues beyond the Pedro Infante monument and heads towards Mazatlan's lighthouse, or El Faro. This narrow sidewalk, almost a mile in length, turns inland very briefly before following the ocean again. This section is often considered part of the malecon as well; the views here feature many stunning rocky outcrops and dramatic cliffs.
Likewise, there's plenty beyond Valentino's as well – this is the start of Mazatlan's Zona Dorada, or Golden Zone. This area is ground-zero for luxury resorts, villas and condominiums. The Golden Zone also features plenty of restaurants, clubs, shops and services geared towards visitors.
Pin Me Now!