Last Updated on November 28, 2020
Are you just starting out as a house sitter? Maybe you haven't made that leap yet but are seriously considering it? This is a big responsibility of course, however long-term house sitting requires some extra considerations over shorter sits. What are these extra factors to keep in mind and is house sitting for a month or longer (or at all) the right choice for you? Let's sort through it all and find out right now!
How Long Is Long-Term House Sitting Anyway?
Well, what does long-term mean to you in this case – three weeks, three months or somewhere in between? Keep one month in mind for the purpose of this article. Our house sitting experiences, about 30 sits altogether, range from three days up to six months. The vast majority of these have been multi-month assignments. We'll reveal possible circumstances to consider before and during your long-term sit. Can you handle these?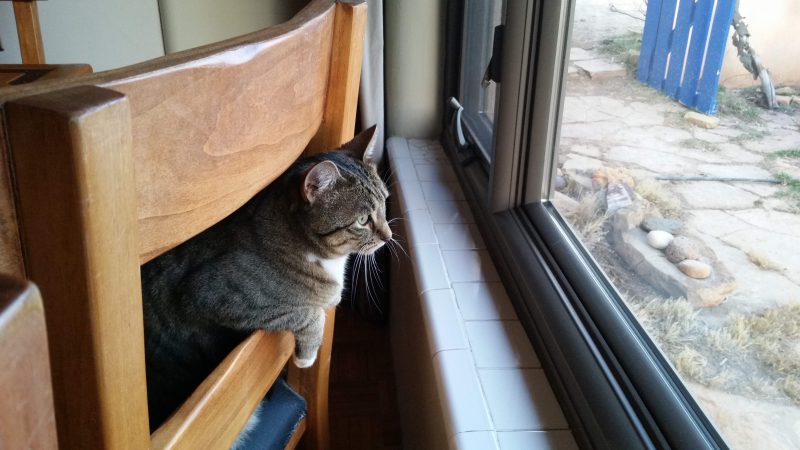 No matter what your definition of long-term house sitting is – seven days, weeks or months – you'll learn from our vast  experience in the field. If it's right for you, by all means go for it! Use a long-term house sit to spend time with pets, relax and save money on accommodation while traveling the world, or more of your own country. If a multi-month house sit isn't for you then it's best to find out right now.
So, Where and How Do You Find Long-Term House Sitting Opportunities?
Competition for house sits became fierce throughout year the 2020, however plenty of homeowners are still looking for help. Knowing where to find the most sits is crucial and for this we recommend TrustedHousitters, an online service matching homeowners with sitters throughout the world. TrustedHousesitters overwhelmingly features the most sits among competing services. Joining is easy and affordable, too.
How Easy Is It to Start House Sitting?
We've detailed the entire process of joining TrustedHousesitters from creating an account, understanding verification options and even how to build a profile homeowners will notice. Use our unique 25%-off discount for joining TrustedHousesitters right now, or enter our promotional code RAF101778 upon checkout and take advantage of this amazing offer!
What to Expect While Doing Any House Sit?
Discover our tips on everything to expect while housesitting and when to refrain from applying for them. We've seen it all as sitters; learn from our successes and our mistakes after completing over 30 house sits!
Many homeowners are traveling less due to pandemic-related reasons, affecting the quantity of house sits. Likewise, many sitters are traveling less as well, further affecting the situation. There are still long-term house sits available these days; let's get into the finer details and decide if pursuing these makes sense for you.
---
Here's Everything to Consider Before a Long-Term House Sitting Assignment
Of course, homeowners put a massive amount of trust in a sitter. Put some trust in yourself as well by knowing you can handle everything that comes with a long-term house sit. Don't forget our links in the box above – these provide plenty of additional information.
First Things First: Have You Done Any House Sitting Yet?
Dip your toe in the water before jumping in! In other words, don't commit to house sitting long-term without doing a few short assignments first. Complete a few sits lasting three days or so and get a taste of what's involved. After that, try getting a week-long gig and ask yourself if an extended sit would be right for you. Gain some experience and then consider applying for long-term house sits as time goes on.
You'll Need to Be a Homebody – Can You Handle That?
Most homeowners expect sitters to be a consistent presence in and around the house – does that clash with your expectations? House sitting means free accommodation while traveling, however this doesn't always involve having a base for constant day trips and sight-seeing opportunities. Your job is to take care of property and pets rather than your own personal travel wishes.
Being a physical presence in the house throughout much of the day is your job. Of course, many homeowners have pets which require care but they also want the house to appear occupied, or lived in. Your presence sends a clear message that the home isn't empty. Simply put, you must keep the lights on, bring in the mail and keep those home fires burning while the owner is gone. Are you willing to do this?
Seasonal House Sitting: Are You Comfortable With the Climate and the Weather?
What's the climate like and in what season(s) are you needed for the sit? This is a very important consideration! Think about what you're comfortable with weather-wise – can you deal with it in the long-term? A few chilly, rainy days or perhaps some scorching heat won't bother you, but what about one month (or more!) of extremes? Are you ready to shovel snow for an extended amount of time or do yardwork in the heat?
Depending on where they live, homeowners either escape to warmer climates in winter or more comfortable climates in summer. That means it's your responsibility to mind the house inside and out, no matter the temperatures. Again, can you muddle through the bitter cold or weed and water a garden in oppressive heat/humidity? We've dealt with every season and many chores while house sitting – can you do the same?
Read the House Sitting Requirements and Responsibilities
We've already recommended TrustedHousesitters for the best selection of sits world-wide. Each of their assignments has clear requirements and responsibilities about the house sit – pay close attention to these! Many homeowners are vague and others are extremely detailed about what they expect. Does the sit involve gardening several times a week? Do you need to walk the dog three or more times a day?
As mentioned in our other house-sitting articles (see box above), you'll "interview" with the homeowner, usually by phone first and then in person. We recommend making a list of questions for them – know if the sit is right for you, too. Sort out any concerns you have regarding their requirements! Don't let amenities like a rooftop infinity pool overlooking the ocean sway you without considering all the details first!
Are Pets Involved? Pay Attention to How the Homeowner Describes Them
Homeowners often mention their pets in detail and this often means reading between the lines. Ask yourself what's likely meant when a homeowner describes their dog as chatty or very vocal. The same goes for energetic and/or lively dogs. If you must walk the dog, how do they behave around other dogs? If living with and caring for noisy, hyperactive or viscious dogs isn't for you, don't consider applying for the sit.
Pay close attention to the age of the pets – do they need to be administered any medication(s)? If so, how? One of our house sits had us giving a subcutaneous drip to an old dog several times a week…for five months. End-of-life care for older pets and even dealing with euthanasia during a long-term house sit is certainly possible. Are you ready to care for incontinent, grumpy and sick old pets?
Transportation: Do You Need a Drivers License or a Vehicle?
Homeowners may require you to have a vehicle for long-term house sits. We've even been asked by some homeowners to use their personal vehicles from time to time – are you comfortable with doing this if asked? Even if you don't own a vehicle, are you licensed to drive?
Remember, house sitting for a month or longer is like moving in; you'll need to run errands for yourself and occasionally the homeowners, too. Of course, some homeowners don't require the use of a vehicle but the majority will. In short, know what's required of you before applying.
Are You Fine with Other People Being on the Property?
Homeowners may have a rental unit on their property or they may have hired help, like gardeners and housekeepers. Are you okay with this? The owner may even have contract work being performed on the property while they're gone. See the second paragraph in the section Read the House Sitting Requirements and Responsibilities above; ask questions and make sure the sit works for you.
The above scenarios may not be problematic for you, or they'll mean the difference between a comfortable house sit or one that doesn't live up to your private, peaceful expectations. Again, read everything about the house sit and ask a lot of questions.
Do You Have Basic Home Skills?
Of course, you won't be expected to rewire the electrical system in the home, but do you know how to flip a breaker switch if needed? Can you operate a lawn mower, maintain a pool or hot tub, change a light bulb, unclog a drain or close the water main? These are examples of basic skills you'll need to successfully complete many long-term house sits. How handy are you around the house?
Are you comfortable with performing simple repairs if the homeowner asks you to? Of course, these aren't your responsibility but having a bit of know-how is a good thing. We've chased a squirrel out of a house, taken apart and cleaned a central A/C unit and installed firmware updates on a wi-fi modem. Are you ready to roll up your sleeves? If an emergency arises, how calmly can you relay the situation to the homeowner?
Changes Happen. Can You Roll With Them?
Homeowners are often flexible with their own long-term plans – can you accommodate that? They may need you to begin or end the house sit by a different date than originally mentioned. This is true of any house sit, not just long-term ones. How easily can you adjust your own plans in order to arrive a by a different date, or leave the house if the sit ends earlier or later than expected?
Can You Afford Long-Term House Sitting?
Many house sitters travel long distances from one sit to the next – that costs a lot of money! What means do you have once you arrive? You'll need to feed yourself and shop for basics. We've already discussed above how most homeowners require you to have a vehicle for long-term sits – that means you'll need to pay for gas. Be aware of one other possible expense…
Homeowners have never asked us to pay for the use of utilities during our long-term house sits; it's rare for them to require this, however it's not unheard of. This may seem awkward to bring up during the "interview" process but it's important to know if added expenses will become a reality for you. Make sure this is fully sorted out before accepting the sit!
More Pet-Related Considerations To Make
We mentioned above looking after hyper and annoying pets as well as old ones and the special issues they have. Do you even like pets? Do you know the amount of care they require? Are you prepared to clean up after them? Does the homeowner have a fenced-in yard for letting the dogs out to do their business, or are you meant to walk them through the neighborhood – in all types of weather – several times a day?
Cats are quite easy compared to dogs, however they still have their own unique ways. We've sat for two cats (Ned and Molly) with some rather adept hunting skills – can you deal with all sorts of deceased critters being left around the house? Simply put, most house sits involve pets. If you haven't taken care of animals before, perhaps minding them for a month or more is biting off more than you can chew?
---
In Conclusion…
Figure out if long-term house sitting is right for you before you apply. This is a big responsibility you shouldn't back out of. House sitting for one month or more presents challenges which may clash with your abilities and/or expectations. Know your strengths and weaknesses, anticipate the many possible scenarios and then apply for that perfect long-term house sit!
---
Pin Me Now!