Last Updated on November 5, 2022
There are plenty of things to do in Xela (Quetzaltenango) which is great news for independent tourists to Guatemala's second city. Looking for a hike? Most tourists hire guides for treks up Santa María and Santiaguito volcanoes, however there are other great solo day hikes here to consider.
If the thought of another guided tour leaves you looking for independent hikes near Xela, this post is for you. Looking for the best hot springs near Xela? Forget Fuentes Georginas and get yourself to Los Baños – they are closer to the city and much easier (and cheaper) to get to.
Need a Place to Stay in Xela?
You'll always find somewhere special to stay through Airbnb. From rural getaways just outside of town to luxury spots in the city, Airbnb's Quetzaltenango listings offer something for everyone. Find your ideal place to stay and wake up ready for more adventures!
For a good selection of conventional accommodations at the best prices we recommend Hotels.com for your next stay. Choose from boutique properties, mid-range options and plenty of independent hotels in Xela.
Disclosure: This article contains affiliate links to products and services whereby we receive a nominal commission if you make a purchase through one of these links. This comes at no extra cost to you. Please see our Disclaimer for full information.
Before attempting this or any hike know the weather, know where you're going, bring plenty of water, snacks and sufficient protection from the sun! Also, carry a stick or a few stones in your pockets – dogs in the countryside tend to be very protective of their turf!
Briefly…
In 2014 we discovered some great hikes near Xela as we were training for our solo climb of Volcán Tajumulco. These trails go through fields with stunning views of Santa María volcano and the village of Chicuá. This featured hike makes for a great day trip from Xela with the option of either hot springs or a natural sauna waiting for you at the end.
See The Video Featuring Our Favorite Xela Hike!
… And See Our Very Steamy Los Baños Video Below!
Hike these trails either directly back to Xela, to the natural steam baths at Los Vahos, or to a spot where chicken buses bring you to the hot springs at Los Baños, just beyond Almolonga. No matter how you choose to finish the hike, you will pass the extensive lava fields of Almolonga (Cerro Quemado) volcano; exploring this site is one of the more unique things to do in Xela.
Again, this trail features several different end-points and each will be highlighted in detail below. The trail begins in the town of Llano del Pinal, a very short bus ride from the Templo Minerva monument, opposite Minerva bus station. See below for full details…
---
Getting There
Mini-buses (2 Q, 10 min.) for Xela's bus station, Terminal Minerva, ply the roads around the Parque Central from early morning to late evening, daily. Chicken buses to Llano del Pinal (5 Q, 20 minutes) leave from the left side of the hulking Templo Minerva, not from Minerva bus station. Look forLlano del Pinal displayed on the front of the bus.
As the bus enters Llano del Pinal the driver will likely indicate the stop for the trail to Volcan Santa María, different from the trail featured in this post. Instead, stay on the bus through town to the final bus stop in Llano del Pinal, opposite a soccer field, to begin the walk to the trailhead. The hike from the trailhead continues to the village of Chicuá. See map below for the location of the Final Bus Stop In Llano del Pinal (top marker) and the walk to the Trailhead (bottom marker).
Final Bus Stop in Llano del Pinal To The Trailhead
From the the final bus stop in Llano del Pinal turn right and continue straight exactly 1 mile (20 minutes), then left for the trailhead.
---
The Trails
To Xela: 

____    

To Los Vahos: 

____    

To Bus for Los Baños:

____
Zoom in for detail.
Distances: From Llano del Pinal to Xela: 7.5 miles; Los Vahos: 7 miles; the bus for hot springs at Los Baños: 6.5 miles.
Elevation Gain: 780 feet
---
To Xela
Begin in the dusty town of Llano del Pinal and stock up on snacks and drinks along the way. You soon climb as the trail, used by local farmers, passes patchwork fields of cabbage, onion, lettuce and other vegetables.
Soon, the valley opens and views of Volcán Santa María appear behind you. Here, the fields briefly turn to colorful blankets of ornamental flowers; take a moment to enjoy these amazing views! Peer down into the Almolonga valley as you make your way to Chicuá.
Pass through the village of Chicuá, full of more tiendas and a smattering of places selling fried chicken and tacos. From here the trail heads back to Xela. For more options, see below for details on Los Vahos and Los Baños, respectively.
---
To Los Vahos
Admission:
20 Q for 1 hr.
Insider's Tip:
Grab boughs from the eucalyptus trees that line the road to use at Los Vahos. Place these on top of the steam vents for a sinus-clearing effect.
Beyond Chicuá a dirt road switchbacks to a small community in the hills above Xela. Enjoy fine views of the city before heading uphill from the local school. You soon approach the saunas at Los Vahos, several concrete buildings atop natural steam vents formed by Cerro Quemado volcano.
Admission to Los Vahos gets you a small, private room featuring a few chairs set around a steaming hole in the ground. This natural steam creates a wonderful spa experience, pepped up by the addition of eucalyptus boughs placed across the fuming vent. Brace yourself with a cold shower(and a can of Gallo) in the adjoining room or step outside for a jolt of cool mountain air – an exhilarating experience!
---
To Los Baños
Private Hot Spring Bath:
15 Q for 1 hr.
From Chicuá the hike passes the turnoff for Los Vahos and arrives at the road into Xela. Here, take any chicken bus (4 Q, 20 minutes) marked Zunil to the hot springs at Los Baños. The bus will stop for 10 minutes in Almolonga prior to continuing to Los Baños. Here, choose from nearly a dozen bathhouses, each providing individual tubs for an hour (or more) of pure soaking bliss! The bathhouses at Los Baños are our favorite hot springs near Xela!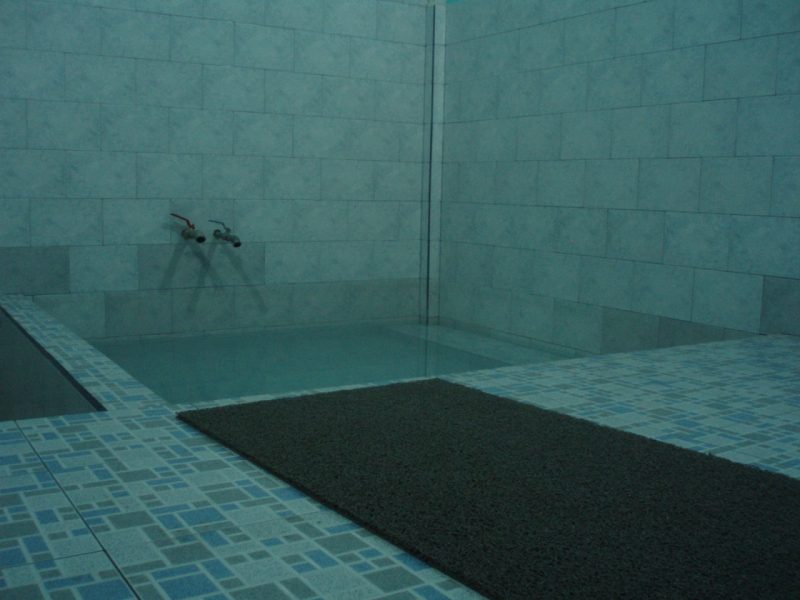 Each bathhouse offers dozens of private rooms with a changing area, a small rinsing tub, a very large soaking tub (enough room for 6!) and taps delivering plenty of naturally heated spring water and cold water for tempering. The bathhouses also sell soap and shampoo, perfect for washing off the grime from your hike. Fill the tub, soak, drain, repeat.
Check Out Our Los Baños Video!
For the best service, the hottest water and tubs big enough to practice your backstroke, stop in to Feunte Saludable which has earned our Drifters Recommendation. Bathhouses in Los Baños are nothing fancy but are certainly a great way to relax after a long hike. Stepping into the cool mountain air after a soak (and a few cans of Gallo) is an experience not to be missed!
---
In Conclusion…
Although there are plenty of things to do in Xela, independent exploration is often overlooked by tourists. The Fuentes Georginas hot springs near Xela –  worth a visit themselves – only represent a bit of the geothermal activity in the area. For some rather unique and authentic hot springs near Xela, visit any of the establishments in Los Baños and don't forget the natural saunas at Los Vahos. As for hikes near Xela, you'll find plenty of opportunity for stunning, independent trekking through nearby villages and countryside. Get out and see more!
---
Pin Me Now!