Last Updated on
Love at first sight. That is the summation of my feelings for Mexico City (D.F. – Distrito Federal). It is a top class city. There is so much to see and do there, without busting the budget of the average backpacker. Cheap accommodation within the Centro Histórico is plentiful and means hoofing it around the city is easy. There are also the cheap and nifty Metro and Tren Ligero, not to mention bustling bus stations to take you to those further out sights. There are cheap eats on every corner and everywhere in between. This is a city which will have you enthralled in no time and wanting to stay "just one more day".
Where We Stayed
We have to admit to being a wee bit intimidated by our initial foray into D.F. We had sat with our guide books researching what seemed a daunting task of navigating one of the world's largest cities! One of our concerns was – would we find central digs within our budget? This was no bother, it just involved the usual shopping around.
We found a great deal at the "Hotel República", 210 Pesos ($15-$16) per night for both of us. We got an "I Love Lucy" style room with a couple of single beds. The pros: The shower was fantastic, with tons of hot water with the turn of the tap at any time. The cons: My bed had a spring sticking out of it that appeared to have been filed into a sharp point. Glad my tetanus shot was up to date! I soon learned the safe place to position myself for sleep. Jerry got devoured on a nightly basis by the resident bed-bugs in his bed.
The rooms were cell-like, there were no windows to the outside, just a small window over the door. The rooms were situated around the interior lobby. It was just dank, dark and had a lingering smell of a locker-room. Having said all that I was fine with it, but I wasn't getting eaten alive nightly! The "República" soon became known as the "Repugnant".
Returning North we decided to give the "Repugnant" another try. We got an even better deal this time 145 Pesos ($9-$10) per night for both of us and we got a double bed. Bizarrely enough Jerry gets attacked again by the nocturnal, ravenous mites. He is a mess of oozing, swollen pustules. I did not qualify for their feast. Four nights in and we decided regardless of the deal we must move, if there was to be anything left of Jerry.
We moved just a few streets over to the "Hotel Atlanta". The price was steeper, 250 Pesos ($20) per night for us both, but oh what a difference. Aaaaahhh, where to begin about the wonderful Atlanta? The room had a window and it opened up to let fresh air in! The room was spotless, as in clean and no mystery bodily fluid stains anywhere. The room was cleaned daily and we got fresh towels daily, yes we got a towel each daily.
The location was fantastic. It was quiet, there were no mirth-makers, so we slept great. There were no mystery microbes dining on either of us. The resident cat was lovely, as were the folks at the reception. We hated leaving there three weeks later.
On the Go, 12 Hours a Day
We spent 5 weeks in Mexico City over the course of our travels, South and returning North. We settled in nicely to a routine of frequenting what we believed to be the best birria stand in Mexico, interspersed with days of gorging on rosti pollo and fresh bread rolls, from the conveniently located bakery right next door.
We filled our days with rambling through markets, strolling through Chapultepec Park indulging in its castle, museums and zoo. We manically manoeuvred our way through murals, ruins and museums both within the City and as day trips to nearby sites. We went to a bull-fight (please don't judge us), a luche libre wrestling show and had a day at the races, that was after we spent a day on a recon mission trying to find where the ponies were!
The Districts
We discovered how Mexico City is divided into its own little districts, for e.g there's a district for safes and stationery (office supplies), a district for musical instruments and another for cameras, to name but a few. These districts were comprised of a few blocks, so if for e.g. you were in need of a wedding dress you could conveniently select your limo as well, all within the same few square blocks. Should make shopping around "a breeze," not to mention prices competitive.
A Love Note for Your Sweetie
Not too far from our second hotel (Hotel Atlanta), was Plaza Santo Domingo flanked by "Portal de Evangelistas". Congregated under the portals are present day scribes and printers with their type-writers and "can-do" attitude to whip up anything from a business card, to an official document or a love letter. For over 200 years these clerks have been plying their trade to illiterate citizens, tongue-tied lovers and originally, the merchants who occupied the surrounding buildings.
Unfortunately, lately the plaza and it's resident archaic profession has gained a reputation for falsification of documents. Investigations have uncovered fake birth certs, university degrees, driver's licenses and passports being churned out here. Not all who produce paperwork under the portals are involved in it's seedier side. There are some old-timers who defy todays world of instant technology that all seem to partake in, and have generations of clients who continue to seek their services. They can also quite happily whip you up a love note for your sweetie.
The Mexico City Metro
We were a little apprehensive about the Metro before we got to Mexico City. Guidebooks took great pains to highlight that there were carriages solely for women and children, especially during rush hour. Drawing comparisons to life-boat protocol at the sinking of the "Titanic" doesn't conjure up the best images for public transport. Undeterred, we took the metro pretty much daily and from our own personal experience we can only sing it's praises.
The Metro has more then 200 km of track and is the busiest in Latin America. Each station has a pictogram representative of the name of the station alongside the printed name. These icons serve many people who are still illiterate in Mexico, not to mention the many tourists who find the pictures easier to identify than actual station names.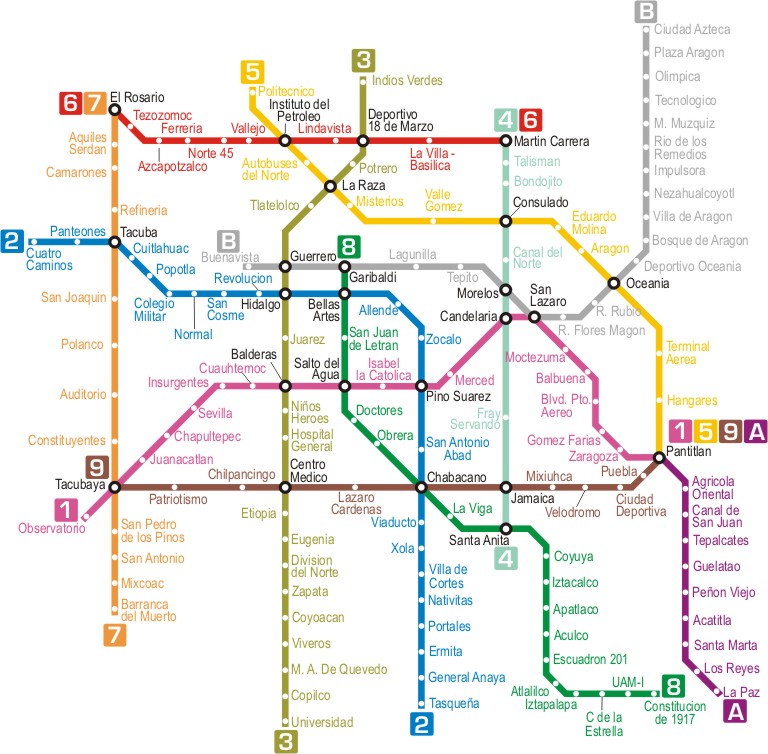 Many of these subterranean stations are like mini-towns unto themselves with shops, small cafés, public-speaking areas and art installations. One of the more fascinating exhibits is in "La Raza" station on the olive green line (Line 3). The "Tunel de la Ciencia" (Science Tunnel), is over 600m long and lays claim to being the longest permanent exposition in the world. It is designed to emulate walking through the night sky; the transfer passageway is illuminated by the solar system, constellations, astrological bodies and all things celestial.
If you are not a fan of walking or climbing stairs, the Metro may not be for you. Often within a station you may have to walk a ways to connect to your transfer line; note the mention of the 600m long transfer passageway above. Also it is not unknown for escalators to be broken. Rush-hour on the Metro is another sight to behold and indeed that is what is best; stand back, watch and wait until the chaos subsides, or abandon your destination, or just walk.
It is like a violent rugby tackle as those trying to alight clash with those trying to clamber on and gain a foothold, as the doors just miss closing in on bits of their bodies. It's painful to just watch the contorted, flattened beings in the carriages being whisked away as bits of clothing caught in the doors flap a farewell to those left on the platform.
A fare on the Metro costs 5 Pesos (0.30¢), this allows you to travel throughout the system and transfer as often as you like, as long as you do not exit. This is one of the cheapest modes of public transport in the world and is subsidized by the government to keep it so. We would recommend buying a bunch of tickets in advance for convenience. At the end of your time in Mexico City make someone's day by handing any leftover tickets you may have to them.
We became acquainted with what we dubbed "the Mexi Metro Mix". There are a constant stream of individuals with massive speakers strapped to their backs, who ply the carriages and lines selling c.d.s of the tunes emanating in snippet form from their booming burdens. You never know what you'll see on the train between stops, we even got to see a "Metro performer" efficiently and safely lay prostrate on the broken glass that he carries around for his performance. Obviously this wasn't a rush-hour show!
The above panels are just a sampling from Auditorio Metro Station, showcasing a who's who in pop culture. Play spot the celeb!
Smitten
Mexico City, you stole our hearts. You presented us with a behemoth task of exploring the extraordinary, hotchpotch buffet that you have to offer and we relished every last bit of it. You introduced us to pulque and it's subculture.
You've given Jerry the fond memory of his first and worst hair-cut on the road. It was so bad he returned to the same barber for another hair-cut heading north just to see if it could be emulated. It could!
You even reminded us of your vulnerability to nature and your precarious position in relation to the underlying and unforgiving tectonic plates. Yep, we got to experience a 7.2 magnitude earthquake whilst here.
Trying to write a single, overall piece about Mexico City and encapsulating everything which made us fall head over heels for it, is as difficult as trying to write an overview of Mexico itself and trying to convey what it is/was that besotted us from day one. We are just smitten!
---
Pin Me Now!