As we continued our way south from Colorado, complete with new tie rods, Fiona and I were looking forward to some time in New Mexico. This beautiful state was our home for a while 20 years ago, and we were both ready to see parts of New Mexico we did not see then. After four weeks spent driving back and forth through the state, we pushed on to Arizona, California and finally to the Mexican border!
This post will deal with, mercifully, only a few points along that action-packed final route of our epic journey across the country. During our cross-country drive we sought out some unique flavors along the way; the U.S.A is full of regional specialties, and we were determined to fill up on them. New Mexico is no exception in this case, and I am happy to feature New Mexican cuisine in this post.
Anyone really familiar with New Mexico will likely have the state's most famous crop come to mind: Red and green chile. New Mexico is quite famous for their red and green peppers; they even feature in the official state question: "Red or green?" You will be asked this question with just about any dish you order while in New Mexico and this is the only state to have an official question, so choosing red or green is a serious deal.
Keep in mind, however, there are actually 4 answers to this stately question, so you will never give an incorrect response…ever. Of course, you can reply to the question by saying "red" or "green", but should you get flustered in the "heat" of the moment, simply reply with the third response: "Christmas". This simply means a combination of red and green chile, which is always a safe bet. Saying "neither" is the fourth answer, which simply means you are aware of the fact you have a rather bland palate and have just denied yourself one of the greatest things you will ever eat.
We are proud to say we busted our daily budget in New Mexico by answering the official state question as many times as we could, often times returning to the same restaurant with a different response. Red and green chile is something that simply must be tasted in New Mexico. Period. New Mexican cuisine must certainly be some of the most amazing food this country has to offer; it is incredibly rich and somehow has the added ability of turning you into an addict, which adds weight to my claim. Enjoy the following photos!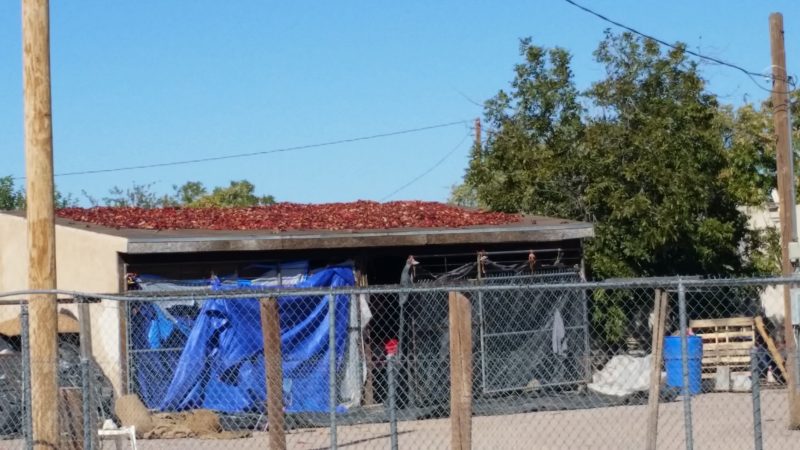 Any true epic journey involves personal trials, and tribulations, and the same must be said about the Volkswagen van that has carried us this far! Little Elvis II developed an electrical problem in the most inconvenient of places: a 2 hour drive to the nearest town.
Fiona and I were enjoying the hikes of Chaco Canyon, along with a handful of nights camping under the stars, when the van decided to no longer allow me to unlock the driver-side door. After blowing several fuses for the power-lock system I discovered most of the electrical wires were burnt up, waiting to spark and, you know, ignite something. The insulation on most of the wires was shot, and I needed to get this problem resolved quick.
We limped into Albuquerque to shop around for a mechanic. An appointment was days away and only a few hundred bucks within reach. Feeling powerless (pun or no pun intended, you decide), I decided to fix those wires myself and learn a bit about the electrical system of the van in the process.
With help, patience and a very sweet dose of confidence from Fiona, I spliced together the correct wires and regained full use of all the electrical functions! All I needed was 16 and 18 gauge wire, electrical tape and some spare fuses, along with a safe place to take the door apart. Wal-Mart provided all these things, and it was in her parking lot I fixed the malfunction. Making that repair ourselves in that Wal-Mart parking lot in Albuquerque was a huge boost for our trip and it only set us back about $15!
No longer feeling as if the van was about to burst into flames, we decided to answer the red/green question a few more times for good measure and see some of the best things New Mexico has to offer, including some steamy natural hot springs and the peculiar White Sands National Monument.
I was a bit underwhelmed by White Sands National Monument. The name really says it all folks; just a large patch of cool white sand about 15 or 20 miles outside of Alamogordo, New Mexico. It was stunningly beautiful for a few minutes. Even learning it was the largest concentration of gypsum in the world left me ready for something else. I was, however, very impressed to learn the loop "road" throughout the park must be plowed each day, for the sands blow and drift constantly. You could certainly be forgiven for thinking all that white sand was indeed snow. That resemblance was a painful reminder of winter in Maine.
Fiona and I visited our 9th hot spring outside wonderful Silver City, New Mexico. We had a chance to visit our 10th hot spring, but something told us it was time to leave New Mexico once and for all; Mexico was calling.
Fiona was excited to make it back to Tucson, Arizona in order to re-visit a truck stop we were dropped off at way back in 2013. Back then our hitch-helpers, a wonderful family on their way to California, happened to drive us to one of the last independently owned truck stops in the country: The Triple T.  It was there that we ate a great meal at their restaurant, Omar's Hi-way Chef, and treated ourselves to a hotel room above the lobby of the truck stop!
Everything about The Triple T in 2013 was just right, and Fiona was really looking forward to another visit. We ate at that same great restaurant and even treated ourselves again to a room. Sadly, we feel as if we were seeing this place make one last desperate swipe at the changing times while hobbling along on it's final leg; a nation-wide competitor has since moved in next door and, sadly, the Triple T is slowly fading into the backdrop as nothing more than a quaint notion.
According to our waitress Omar's Hi-way Chef is no longer open for 24 hours like it was in 2013, citing Arizona's new minimum-wage law. I would guess that is part of the problem, along with dwindling customers and/or owners who may see this as a way out. News was just as grim at the main counter within the truck stop. We asked about the gas station/convenience store that was on the property in 2013 that now sits dusty and forlorn. The lady at the counter said the owner of The Triple T needed new underground tanks for the gas but "It was too expensive". The writing is on the wall. Get to The Triple T now, for we feel like it may be gone soon. This is a vanishing icon, a sweet taste of Americana and an old reminder of the spell the open-road has cast upon our psyche.
I must say I can see where the nation-wide chains have the edge. People feel comfortable with a certain type of uniformity. They feel good knowing the next truck stop will look, feel and act like the last one; throw in a "rewards" program where one can earn "loyalty" points worth a free 20 ounce beverage and you've got 'em hooked. There is a whole generation of customers disappearing who appreciate old-fashioned service, constantly being replaced by a new generation who are accustomed to nothing more than getting in and out as quick as possible with their free bag of "duh-ritos".
Passing through Tucson anytime soon? Stop in and let Omar cook you a meal. Let everyone at The Triple T know how much they are needed.
We would have loved to have seen more of the desert in southern Arizona, but Mexico really was calling out to us. We spent our final night in the U.S. in El Centro, California. We grabbed some last minute supplies in El Centro and, quite effortlessly and non-ceremoniously, filled out our papers and payed our fees to enter Mexico at Mexicali the next morning.
I had to pause for a moment along the border road in Mexicali, Mexico to snap the following photo:
This was a huge accomplishment, for us and for the van! It DID make to Mexico after all!
Stick around for my future post. I type these words from deep inside Mexico, where the van has had a very tough time since entering. Very tough indeed. In an up and coming post I will explain how, in a sense, those trials and tribulations have only begun and just how interesting it can be getting 4 repairs done in 48 hours while in Mexico with barely enough grasp of the Spanish language to describe exactly what the problem is. Yes, this old Volkswagen van made it to Mexico. Will this old Volkswagen van make it out of Mexico?
---
Pin Me Now!