Last Updated on June 21, 2021
Whatever the season (or weather!) it helps to know which day trips from Portland, Maine are worth the journey. We lived here for 14 years and made a lot of quick escapes from the city in search of things to do. Everyone needs a quick getaway and we have you covered! Our easy Portland day trips feature the best of Maine and each of our suggestions will have you home before dinner!
Note: Where applicable, check with each entity for revised opening/closing hours and other information.
We uncover a variety of attractions nearby from hikes and Maine landmarks to mysterious megaliths in the woods. Our day trips have something for everyone, on any budget. In fact, you don't even need a vehicle for one of our recommended city breaks. We even include our very favorite Portland day trip for picking wild Maine blueberries on a quiet mountaintop between Bridgton and Fryeburg.
More About Our Day Trips From Portland, Maine
This article doesn't focus on cites or towns in Maine – our day trips feature actual attractions instead. We briefly turn our attention to a rather curious destination located in New Hampshire, too. Our getaways over the years brought us to an ancient, peculiar Granite State spot we still can't quite figure out. It's up to you to make your own trip from Portland and see this mysterious site for yourself.
Get to Know More About Us – We Answer Questions From Subscribers and Followers!
Are You From Away and Planning a Visit to Portland, Maine?
You'll need somewhere to come back to after taking these day trips – have a look at Hotels.com for accommodation options during your visit.
Disclosure: This article contains affiliate links to products and services whereby we receive a nominal commission if you make a purchase through one of these links. This comes at no extra cost to you. Please see our Disclaimer for full information.
We also recommend combining some day trips for a sweet two-in-one deal; keep reading to learn more. Combining Portland day trips makes sense and we'll recommend a few excursions to roll into one. Get the most from your time and see as much of Maine (and New Hampshire!) as you can in a day! Don't forget to check out more local road trip ideas when you have more time to explore the area.
---
1. Otter Ponds
Perfect For: Hiking • Swimming in Summer • Picnics • Canoeing and Kayaking • Fishing
Where: Otter Ponds are located at the southern end of Sebago Lake on Maine Route 35 between Windham and Standish.
How to Get There: Head out of Westbrook on Maine Route 25 to Gray. Turn left on Maine Route 327 (Mosher Rd.) and continue eight miles to Maine Route 35. Turn left and continue approximately one mile to either the Sebago to the Sea Trail or Johnson Field parking areas.
Ah yes, the Otter Ponds make for a peaceful day trip just a stones throw from Sebago Lake. This quiet spot was our place to go for a refreshing swim in summer. A picnic, cold drinks and a dip in the ponds was our antidote to steamy days and we always had it to ourselves. There are two bodies of water here, each split by a decommissioned railroad line passable on foot; swimming is best furthest from the highway.
The Mountain Division section of the Sebago to the Sea Trail passes near the pond furthest from the highway; take a hike or bike ride on this path before hopping in the pond to cool off. Cast your line for chance to catch largemouth bass, pickerel or trout. You can easily bring a canoe or kayak to Otter Ponds from either of the nearby parking areas mentioned above.
---
2. Pleasant Mountain
Perfect For: The First Hike of the Season • Wild Blueberries in July • Leaf Peeping • Snowshoeing
Where: We recommend Bald Peak Trail, located off US Highway 302 between Bridgton and Fryeburg, Maine. Go to AllTrails to learn more about their free app; it's full of trail maps, including this one, which work offline.
Need Ideas For Things to Do After Your Portland Day Trip?
We gathered a lot of our favorites in Portland, Maine after living here for 14 years; see if your local haunts made our list. 
How to Get There: Leave Portland via US Highway 302 west to Bridgton. Approximately 5.5 miles from Bridgton (and just past Moose Pond) turn left on Mountain Road; parking for Bald Peak Trail is approximately 1.7 along this road.
Trail Distance/Elevation Gain: 4.6 miles round-trip/1,984 feet.
This moderately difficult hiking trail is perfect all year but mid-July is when wild Maine blueberries are ready for picking! The trail to Bald Peak is lined with lowbush blueberries near the mountaintop. We've picked blueberries here for hours in the past and always came away with full tubs. You won't miss the carpet of blueberry bushes on the way to the top; they're heavily concentrated in natural clearings.
The end of the trail is capped with an old fire tower; this is where views to New Hampshire and even more blueberries await. You'll find a dense bank of bushes practically overhanging the top of Pleasant Mountain. Do some more berry picking, then look over the edge for stunning views! This spot is pure perfection! Again, Bald Peak Trail is good any time of year, even if you don't make it for the free mid-July harvest!
---
3. America's Stonehenge
Perfect For: Solstices • Family Day Trips from Maine • Autumn Foliage • Snowshoeing • Combining with Mount Agamenticus (see below)
Where: 105 Haverhill Road, Salem, New Hampshire
Website: www.stonehengeusa.com
This peculiar site is still a mystery after 4,000 years! Here you'll find man-made stone structures and standing slabs aligned with particular lunar and solar events. Who made them? Was it native peoples or, based on Phoenician script found here, a group from much further away? The jury is still out regarding who exactly built this site. Make this road trip from Portland, Maine and solve the mystery yourself.
Take a self-guided tour through the grounds and enjoy the peace and quiet of this wooded spot. Don't miss the giant sacrificial table, carved with a channel to collect and drain blood from offerings. Learn more about the evidence America's Stonehenge has yielded to archaeologists and astronomers over the years. Visiting this megalithic monument comes with an especially strong recommendation.
---
4. Mount Agamenticus
Perfect For: Lazy Drives • Hiking • Coastal Day Trips • Biking • Families • Combining With a Trip to America's Stonehenge (see above)
Where: Via Mountain Road off US Roue 1, between Ogunquit and York.
Website: www.agamenticus.org
Perhaps your day trip form Portland includes southern Maine. If so, consider a brief detour inland for a drive or hike to Mount Agamenticus. The mountaintop features a visitor center, an abandoned ski lift and a mysterious grave site. Of course, the views from the easy hiking trails are the real draw here. You'll see both New Hampshire and the Atlantic from the Big A hike. See their website above for trail information.
A day trip to Mount Agamenticus is also easily combined with visits to Cape Neddick and Nubble Lighthouse. How about Ogunquit or Kennebunkport for lunch or dinner? Mount Agamenticus also combines easily with visits to America's Stonehenge (see above) in New Hampshire. In fact, this is our most versatile day trip from Portland, taking in classic Maine scenery from the mountains to the coast.
---
5. Camden Hills State Park
Perfect For: Maine Coastal Road Trips • Autumn Foliage • Picnics • Legendary Views • Family Day Trips
Where: 280 Belfast Road, Camden, Maine
Website: www.maine.gov
You can hike or drive to Mount Battie for classic views of Camden and her harbor. Serious hikers can choose from 20 trails throughout the park for even more stunning vistas in every direction. The drive to Camden on US Route 1 is like several Portland day trips in one, taking in some quintessential Maine coastal towns along the way. Grab a bite to eat and take a detour on your day trip to Camden Hills State Park.
Our favorite trail here is the Maiden Cliff Trail. We prefer more technical hikes, but the views over Megunticook Lake in summer and autumn make this trail worthy of a mention. See the 20 trails link directly above for information on each hike and don't forget to look for wild blueberries in mid-July! Simply put, Camden Hills State Park is a classic coastal Maine day trip you need to make right now.
---
6. Bailey Island
Perfect For: Picnics • Scenery • Seafood • Day Trips Without a Car • Something to Do With Visiting Friends or Family • Combining with Cabot Mill in Brunswick or Wolfe's Neck Woods State Park (both below, respectively)
This Portland Maine day trip is easy, with or without a car. Drivers will take US Highway 1 north just beyond Brunswick to Route 24 toward Harpswell. However, we really recommend the Bailey Island Cruise aboard a Casco Bay ferry. No matter how you get there, expect classic Maine coastal scenery, a unique man-made structure and a great seafood restaurant perfectly situated on the coast.
You'll see the famous Bailey Island Cribstone Bridge, unique for its design using only stacked granite slabs and no mortar. This is the only bridge of its kind in the entire world. Cruises to Bailey Island feature a two-hour layover, perfect for a meal at the famous Cook's Lobster and Ale House. Of course, check with Casco Bay Lines for current information regarding this scenic cruise.
---
7. Cabot Mill
Perfect For: Wintry/Rainy Days • Shopaholics • Collectors • Foodies • Music/Film Buffs • Combining With Wolfe's Neck Woods State Park (below) and a drive to Bailey Island (see directly above)
Where: Located on Main Street in downtown Brunswick
Three things make this historic Brunswick mill a worthwhile day trip: antiques, a flea market and a great restaurant. We aren't collectors, but winter getaways from Portland often brought us here for something to do. Cabot Mill Antiques is a great place to simply browse and the Waterfront Flea Market is filled with an impressive amount of memorabilia, knickknacks and collectibles.
Also located within Cabot Mill is the Frontier bar and restaurant. This spot has great views over the Androscoggin River and also serves as a film and music venue, gallery and cafe. Reserve a table for lunch or dinner or just come in for a drink; see their website for full details on the different entertainment options and special events held here. In short, a day trip to Cabot Mill is perfect for everyone!
---
8. Wolfe's Neck Woods State Park
Perfect For: Coastal Hikes • Birdwatching • Family Day Trips • Snowshoeing/Cross-Country Skiing • Combining With Cabot Mill (see above)
Where: Wolfe's Neck Woods State Park is located 11 miles southwest of Brunswick via Pleasant Hill Road, or 4.8 miles south of Freeport.
Website: www.maine.gov
A series of easy yet scenic hiking trails makes this day trip a great choice. At just over 200 acres in size, Wolfe's Neck Woods State Park features several different ecosystems and great opportunities for spotting ospreys. This is a great place for picnics and the park even features a warming hut for winter visitors. Free guided tours from naturalists are available year-round; see the website above for further information.
Grab a trail map and cover the four miles of paths through the park. Of course, the star of the show here is the half-mile Casco Bay Trail with access to tidal pools, rocky coastline and several scenic overlooks along the way. Other hiking trails meander through hemlock and pine forest and along the Harraseeket River as well. The proximity of this Maine State Park to the city makes this one of our easiest Portland day trips.
---
9. Maine State Museum in Augusta
Perfect For: History Buffs • Winter/Rainy Day Trips • Families
Where: Located next to the Blaine House in Augusta
Website: www.mainestatemuseum.org
Our day to the Maine State Museum was perfect. At the time, we arrived mid-week and pretty much had the entire place to ourselves! You'll find this collection of Maine facts, oddities, artifacts and displays worth the drive from Portland. From prehistoric times to modern history, discover what contributed to the unique heritage of Maine. For even more history, head across the Kennebec River to Fort Western.
Learn more through geological dioramas, ancient stone lithics, wildlife displays, information on past and present industries, antique vehicles and more. We easily spent a few hours here and you just might do the same. Augusta is also a good place to grab a bite after your history lesson; head downtown to Riverfront Barbeque and Grill, get comfort food at Downtown Diner or, for a treat, check out Cushnoc Brewing Co.
---
10. Cruising Casco Bay
Perfect For: City Escapes Without a Car • Picnics • Seasonal Scenery • Family Day Trips
Where: All cruises leave from Casco Bay Ferry Municipal Terminal on Commercial Street in Portland.
Website: www.cascobaylines.com
Note: Check for current information regarding all departures aboard Casco Bay Lines.
Bring your own picnic and hop on board the Casco Bay ferry for a relaxing harbor tour. Choose the Mailboat Run which serves four islands in the bay. This is the perfect tour for staying aboard and enjoying the scenic ride. Alternatively, make your Portland day trip to one of Maine's island communities and explore on foot for several hours. Again, don't forget to pack a picnic and some drinks for these cruises.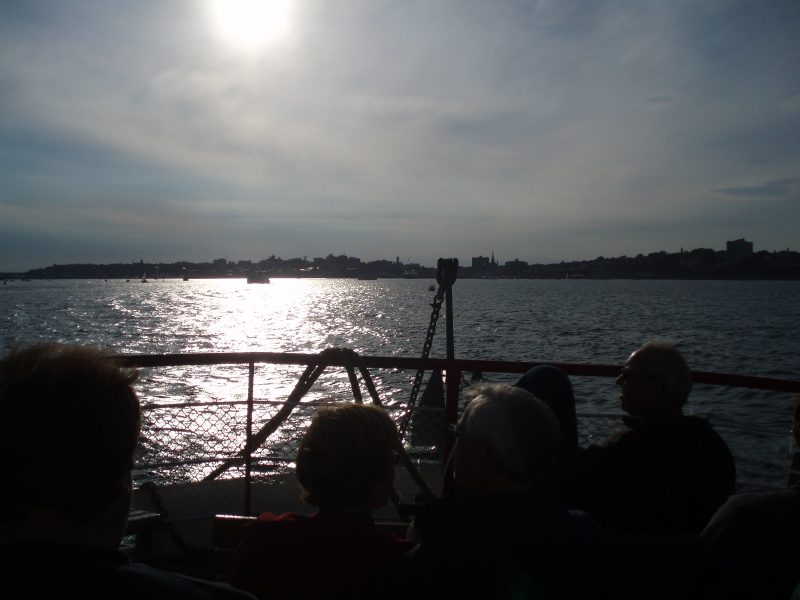 We've done these day trips from Portland in all types of Maine weather; take our advice and bring a long sleeve top in summer! Ready for a winter cruise through Casco Bay? Bring a big thermos of coffee on a chilly day and stay warm inside during your cruise. This is the perfect day trip, no matter what the weather has in store for you.
---
Pin Me Now!